Colorado College Wasabi are your 2023 Men's D-III College Champions!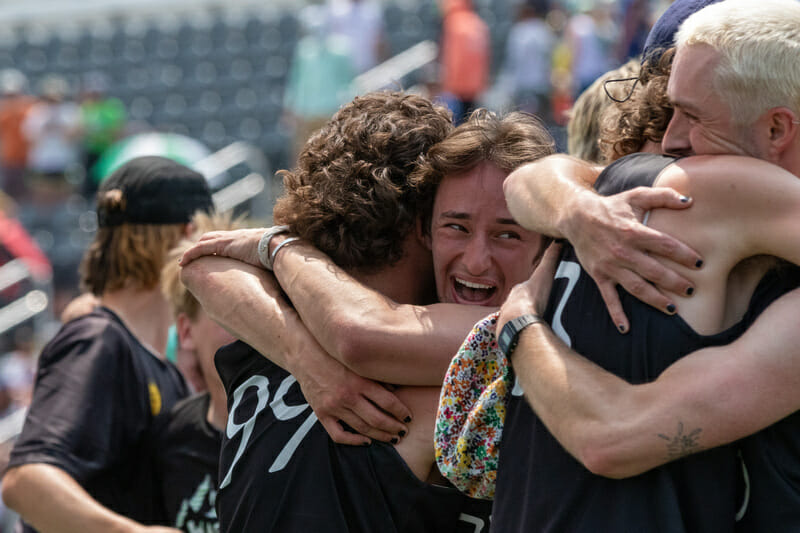 Ultiworld's coverage of the 2023 college ultimate season is presented by Spin Ultimate; all opinions are those of the author(s). Find out how Spin can get you, and your team, looking your best this season.
After a weekend of competition in Columbus, Colorado College Wasabi ran the bracket gauntlet to take home their program's first national title. The championship win capped a dominant weekend performance for the first-seeded Wasabi all weekend, as they went undefeated and won all their games by at least four goals. As they progressed through the bracket, we speculated whether this stress-free win streak would continue when they faced more difficult opponents. The commanding win over the Richmond Spidermonkeys in the semifinal (15-9) dispatched lots of those doubts, and the 15-11 result over the very talented Middlebury Pranksters washed away the rest. Wasabi played like the best team at this tournament because, frankly, they were. Their perfect blend of star power, depth, adaptability, and athleticism was a recipe for national success.
D-III Men's editor Mike Ball talks a lot about the difficulty of winning and how hard it is to score 15 goals against a good team. More than that – and this is obvious – teams don't have to do this just one time. To win a national title you can, at most, drop two games in pool play and make an undefeated run starting with prequarters. The other national finalist in this game, the Middlebury Pranksters, were a testament to these difficulties. All of their bracket games were difficult. Their quarterfinal game against Missouri S&T Miner Threat was tight, as the larger S&T frustrated the Middlebury offense. That game ended 15-13, but Middlebury found themselves down 5-2 early and an epic back and forth ensued that was, in a phrase, expectedly unexpected. Middlebury's semifinal against the St. Olaf Berzerkers was another tight game–it was also an instant classic.1 St. Olaf took half against the Pranksters 8-7, which meant Middlebury needed to rally. Out of half, they took a more decisive path to victory, getting the best of a very good St. Olaf team 15-11. Entering the final, then, Middlebury were battle tested in a way Colorado College were not. While this is helpful for the mental, it can be taxing on the physical; this latter point became apparent in the final.
Even with the loss, the Middlebury Pranksters can hang their hats on a great run to the final. They have a swath of individual talent that makes their games exciting to watch. Ethan Lavallee, a mainstay handler for the Pranksters, had an impressive weekend, accruing six goals, 18 assists, and two blocks in total. In the final, he had the difficult task of the Kraft matchup, which was less one-sided than Kraft's matchups in the semifinal. Other key contributors for the Pranksters in the final included Louis Douville Beaudoin (1G/2A/2D), Raffi Najarian (2G/2D), and Geir Hartl (2G/1A/1D). Middlebury ran tighter lines, which hurt legs, but were still able to make some highlight plays. One to note that made the crowd pop later in the game was Max Rogers' strong, two handed sky in the deep space; Rogers ended the weekend with seven goals, seven assists, and a block.
https://t.co/esAvV5tEfQ pic.twitter.com/TVgPxlwHsD

— Ultiworld (@Ultiworld) May 22, 2023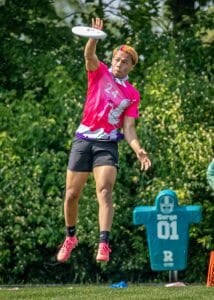 Coming into this weekend we highlighted two big players for Middlebury: Malachi Raymond and Max Hanscom. Raymond was a force in the final, scoring three goals and putting good pressure on the Colorado College offense. Hanscom, however, was a little quieter. He had a single goal in the final, and a statline of six goals, six assists, and two blocks this weekend. It looked like Hanscom was playing more of a backseat role in the final, drawing matchups and creating space for his teammates to make plays. This is not to say he didn't make plays, but more that we would have expected Hanscom to take over in this game when the going got tough. Some throws that would be automatic missed the mark, deep cuts were looked off, and some of the movement downfield looked stifled by the Wasabi defense. While we can look at this as a relative underperformance from Hanscom, we can also note it as a testament to a very good Wasabi defense, stifling one of the more efficient offenses in the division.
But the team to really talk about here is Colorado College Wasabi. This season, and entering the tournament, we talked about their underperformance, questioning whether Wasabi would be able to hold the one seed and make a deep run into the bracket. These takes were based on some different observations from seasons' past. But, we can admit when we're wrong.2 Judgements were clouded by the loss at Nationals last year, and this season was a different team entirely. Oliver Kraft returned for Wasabi and put on a defensive clinic.3 He had eleven blocks this weekend, as well as 23 assists and four goals. Kraft took the toughest matchups on the field, playing lockdown defense on the Middlebury handlers to make all throws difficult. More than that, Kraft was a key contributor on the offense after breaks, crossing over to work with the offensive mainstays Lincoln Grench and star rookie Billy van Linder.
https://t.co/qxHjvPwDZi pic.twitter.com/dZZ42EHKUx

— Ultiworld (@Ultiworld) May 22, 2023
Grench leaves Columbus with five goals, 21 assists, and three blocks. He was the initiating cutter on their offense and a tough cover by even the best defender on the Pranksters. While his performance was likely second to Kraft, Grench was the crucial part of the Wasabi offense at all times, and had lots of points to rest because of the defensive pressure. With six goals, 19 assists, and two blocks, van Linder played himself into ROTY conversations. Van Linder was not afraid to take shots downfield, at times shooting over the stack and throwing his receivers open for goals.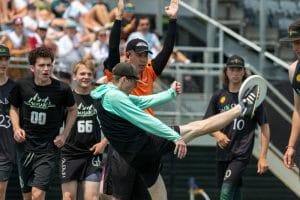 Wasabi have other impressive cogs in their system. Tanner Flagg was a resilient handler on their offense, bouncing back from errors in the final to throw a slick inside flick for the game-winner. Samuel Davis was another standout on the weekend, scoring eight goals, throwing three assists, and getting one block. Someone who we've mentioned in preseason, but not as much in tournament coverage, is Eliot Kirkham. His stat line won't show it, but he was a critical part of the Wasabi defense. His long mark forces throwers to look off breakside cuts and he's a steady handler on the turn, and able to distribute the disc to some of his scoring-heavy teammates. These players are a testament to, what I would call, the shallow depth of the roster. They have their stars and a strong top 7-10 players, but all these players are athletic and conditioned to where they can take point after point, and they're drilled enough to run the system with depth players as they cycle through rotations.
Keys to success for Wasabi on their way to the championship? Adaptability. This whole weekend their coaches noted their team's ability to pick up on defenses and adjust their sets accordingly. This was especially apparent in the final against Middlebury. The Pranksters came down in zone for many points, forcing Wasabi out of their side-stack set and into a standard horizontal zone offense with poppers and wings. The offense was able to alter their offensive strategy immediately, shifting from strong vertical cuts to back crashes, swings, and finding space in the first-second layers of the zone. Then on the other side of the disc, Wasabi ran a really effective force middle on the Pranksters. It's clear they scouted Middlebury, as this junk set mucked up the flow of offense through the center of the field. And as much as Wasabi were good at identifying and staying with what worked, so too did they adapt to what was not working. When Wasabi abandoned their poach sets, Middlebury were able to play much more even on downfield matchup defense. After notching a quick hold anyway, Wasabi would adjust on the next point, forcing a multi-turn hold from Middlebury or punching in another break.
Wasabi demonstrated this weekend that they were a worthy no.1 seed. While the final at times felt like it was a close game, it really wasn't after the first half. Colorado College peaked at the right time this season, and blew away the competition. They proved the doubters wrong, and put themselves in the upper echelon of D-III talent that we'll look back at in years to come. Colorado College Wasabi, rightly so, are the 2023 D-III Men's College Champions.
Colorado College @WasabiUltimate are national champions! 🏆 pic.twitter.com/Owswhukh08

— Ultiworld (@Ultiworld) May 22, 2023
---
Ultiworld subscribers can rewatch this Middlebury v. St. Olaf game and many more from D-III Nationals in our video library ↩

Colorado College compiled a receipt thread on Twitter of just how wrong we were ↩

Check out Mike Ball's breakdown of Kraft's impressive defensive performance in the semi. ↩