UNC narrowly gets by Brown and Vermont locks up Pitt's offense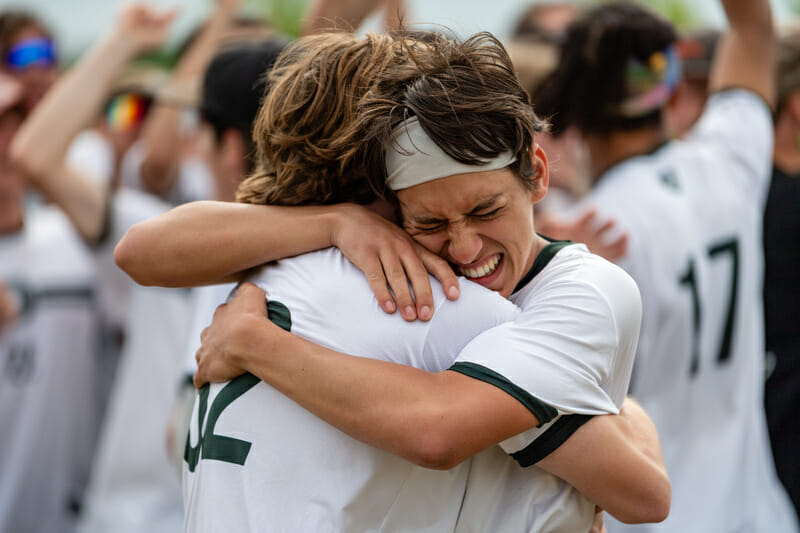 Ultiworld's coverage of the 2023 college ultimate season is presented by Spin Ultimate; all opinions are those of the author(s). Find out how Spin can get you, and your team, looking your best this season.
We're down to the final four at the 2023 D-I College Championships! Quarterfinals this morning went to seed, with top-seeded UNC making their ninth straight semifinal after an electric battle with Brown and Vermont choking Pittsburgh's offense to roll to a comfortable win.
Follow along on the D-I College Championships event page for updates as the College Championships reach their crescendo!
UNC Sneaks Past Brown in 2022 National Final Rematch
Continuing their streak of nine consecutive semifinal appearances, UNC Darkside took down Brown Brownian Motion on double game point 15-14 in a game that featured stellar offensive play and a few moments of magic.
These two teams are no strangers to facing each other in the bracket at Nationals. Brown defeated UNC back in 2019 to win their most recent national title. Since then, UNC has 15-11 and 15-10 wins, respectively, in the 2021 semifinal and 2022 final. Though this game happened earlier in the bracket than previous matchups, it turned out to be the most evenly matched contest of them all.
Brown was in position to face top-seeded UNC early because they entered this tournament as the seventh overall seed. While they won New England regionals, Brown's merely average results from earlier this season knocked down their ranking in the USA Ultimate algorithm enough to see B-Mo slip to a pool second seed.
"It was not our intention to be shorthanded at Florida Warm Up. But we had a short roster that allowed a lot of our rookies to get a lot of playing time, get a lot of minutes, which in the end had very positive effects on the team. It also–at the same time–contributed to a lower seed at Nationals, which led to a quarters matchup versus UNC, which might have been avoided had we played a little better in the year, which is something I'm thinking about," said Nissen.
Though seeded lower to start, Brown started the game on the front foot. Leo Gordon's tight mark forced Jayden Feagan's around backhand to blade into the dirt before Rutledge Smith could get there. Gordon then picked up the rolling disc and lifted a backhand that drifted perfectly along a gust of wind into the waiting arms of Emmett Young for the game's first break and a 3-1 lead.
UNC got their break back when Elliott Rosenberg's huck looking for Nissen flew half a yard too far and Nissen caught it with a foot out the back of the end zone. Eli Fried showed off his throwing range with a curving flick to Andrew Li, who flipped a short dish to Kevin Pignone to bring the game back on serve.
Gordon, Rosenberg, and Nissen traded sharp inside flicks and ankle breaking handler cuts with Smith, Dameron, and Hawkins. Both defenses were only giving an inch and each offense was simply that precise.
Nissen and Gordon in particular seemed to have a telepathic connection. We've seen dynamic duos take over for top teams before, but these two were making anticipation throws like they've practiced with their eyes closed. "Whenever the going gets tough," Nissen said, "I know we can look to him. Like anytime I faced a high stall, we just make eye contact for three seconds and one of us would be open for each other."
With the score tied at 7-7, each team geared up for a key point. Smith, Dameron, and Hawkins crossed over for some extra offensive punch in the event of a turnover. Darkside would indeed get a chance to score when Luca Duclos-Orsello couldn't grab a fast-moving disc while monitoring his position close to the sideline. UNC's quick-tempo offense got to work, bringing the disc to the goal line, but Will Steinfeld closed in on the front cone and laid out to block Darkside's scoring chance. Brown avoided a short field turnover by hucking to Henry Egan, but Fried read the play and got the block. Brown refused to fold, pressuring the UNC handler set. Hawkins has probably thrown thousands of around resets in his life, but this one hit the turf. With just a few yards to go, Noah Ball-Burack hit a short dish to Nissen to bring the game to halftime with Brown on serve 8-7.
Each team played precision offense to start the second half. UNC got the second half's only break to gain their first lead of the game. Gordon's inside flick sailed too high for Steinfeld. Duclos-Orsello seemed to have a beat on it, but pulled up before he got within layout range and couldn't save the errant throw as it floated harmlessly to the turf. In a game between two offenses that were executing at the highest level (there were just nine turnovers in the entire game), the little moments of hustle make an outsized difference. Pignone picked up the disc and fired a deep flick to McKnight with the perfect touch of breakside fade to put it out of reach of a well-positioned defender. UNC led 11-10.
As they have all tournament long, Brown answered right back. Nissen was going over, around, and through whatever defense UNC sent out. Whether hammering to poached cutters, speeding through give-and-go moves, or curving blading flicks around marks designed to stop them, Nissen did everything he needed to to put Brown in a position to succeed.
With the game tied at 13, Brown was gifted a golden opportunity to get back on top. Rosenberg leapt up from the back of the stack to knock down a huck that Dameron launched too low. As Brown moved the disc upfield, McKnight burst into the lane and blocked a throw intended for Cal Nightingale. Pignone found Smith for one of his four goals, and Darkside celebrated their key hold as they moved within a goal of a semifinal berth.
Nissen found a tight window and lasered a cross-field flick to force universe point. With both team's seasons on the line, UNC cautiously moved the disc upfield. Josh Singleton spotted Hawkins streaking deep in isolation and launched a picture perfect backhand. Hawkins made a great read and a great catch, but Singleton deserved credit for a throw that was placed in a spot no defender could have touched. "They hit pretty much all their shots," Nissen said, "which was tough, especially on that last one. I don't think we could have played that last point any better."
Incredibly, UNC moved on to their ninth consecutive semifinal, advancing to the stadium games every year since 2014. Their offense has not been perfect, but it's been pretty close. Dameron, Smith, Hawkins, and Singleton take turns being the star like wholesome kindergarteners learning how to share in the sandbox. McKnight, Pignone, and Li can run circles around most handler defenders and pace the D-line offense that is one of the most effective counterattack units in the division. They have been the favorites in the men's division for the past few seasons and they've only confirmed that the expectations were warranted.
This is Brown's earliest exit since 2018. With Gordon and Ball-Burack the only players not confirmed to be coming back next season, Brown is already among the favorites to return to the bracket in 2024. Steady improvement became Brown's hallmark this season. They finished 9th at Florida Warm Up in February, 5th at Smokey Mountain Invite in March, 3rd at conferences in April, and 1st at regionals in May. With so many of the same players returning, this won't be Brown's last go around in the Nationals bracket.
Vermont Rolls Past Pitt Despite Missing Allen
Vermont dispatched Pitt 15-10 with a crushing second half performance by playing deep into their roster and playing lock down defense on Pitt's main contributors. Chris Kiepert (5A/1B) and Declan Kervick (1G/4A) were standouts, but the stats were evenly distributed across the roster from there.
Vermont was without star do-it-all cutter and anticipated Henry Ing matchup Turner Allen, who suffered a concussion late on Saturday. Allen may have been the most effective potential matchup for Ing in the entire tournament, but without him it was Kuochuan Ponzio that took on the matchup. What he lacks in size, especially compared to Ing, he makes up for in elite lateral quickness and a knack for switching downfield, when it would give the defense an advantage. He gave Ing a lot of trouble after the opening few points, reducing his influence and making Pitt work through its role players.
When I asked what made the difference in this game, Vermont senior captain Johnny Sickles said, "We played together. We played with love and trust more than we had any other time in the season." The sense of trust was apparent in the aggressive, punishing style of the Vermont D-line offense. They trusted their guys to make plays downfield. Over the course of the game, that depth shone through.
Pitt, on the other hand, played through a much more concentrated group of contributors. Henry Ing, Tristan Yarter, Scott Heyman, and Aiden Landis played an exhausting number of points, and it showed down the stretch as they started to tighten up a bit as Vermont started to run away with it. Although the season didn't end as they hoped, Dillon Garrett said "how proud he was of the team for being resilient and grinding the entire game. There wasn't a single point where guys were putting their head down and stopping the fight."
With the win, Vermont reached the National semifinals for the first time in program history; the last time the team was in quarters was in 1990.