A look at how each of Friday's pool shook out.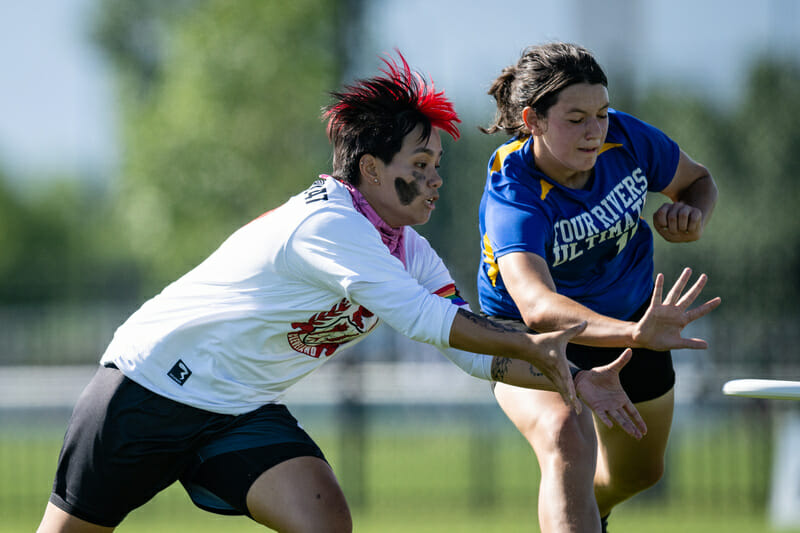 The first day of the 2023 High School National Invite featured undefeated days from the top teams, but with just enough excitement to leave Saturday's outcomes in doubt. Teams battled tooth and nail, clearly showing how much playing well at this event feels like it defines their season. And in this challenging environment, we saw some stars thrive, some teams wilt, and some lower seeds score memorable upsets, all while leaving in tact the appearance of an elite title-contending tier.
The Pool Winners
The undefeated cohort consists of the tournament's top four seeds: No.1 Roosevelt, no.2 Lincoln, no.3 South Eugene, and no.4 Nathan Hale each secured a trio of wins on Friday, avoiding getting dragged into the messy confrontations taking place below them on their pool ladder. In fact, all of the pool winners had a 20+ point differential, something only one other team in the girls' division (no.8 Green Canyon) managed do through three.
In a continuation of last year's theme, all of these clubs shared the ability to carve through zone defenses and spring their own space-eating formations when their opponents had the disc. While players like Roosevelt's Chagall Gelfand, Lincoln's Ella Widmyer, South Eugene's Ollie Bunson, and Nathan Hale's Isabella Pharr provided strong individual offensive engines, all of these teams got it done by committee. They were adept pushing defenses into uncomfortable shapes, breaking through traps, and attacking with confidence.
While each will be a favorite in their quarterfinal, facing off with a team playing an extra morning game, they aren't infallible. South Eugene (OR) was the day's most dominant side, with Lincoln (WA) also showing the ability to pull away from opponents later in their matches. Both Nathan Hale (WA) and Roosevelt (WA) were tested in pool play, which could provide inspiration potential challengers. Nearly everyone — perhaps save South Eugene — had to battle through at least a period of close play.
Pool A
The game of the day in Pool A was the group-capping matchup of Roosevelt and Green Canyon (UT). Both teams played fierce defense, with the separating factor being the offensive skill possessed by the Ryders' handlers. While the Utah team stayed on the top seed's heels for the first part of the opening half, their tight rotation got bogged down by the Seattle defense. Roosevelt built up plenty of momentum offensively and hindered the Green Canyon deep game to go on a 4-0 run and end the first half up 8-4. But Green Canyon dug deep to find renewed energy during the break, came out aggressively in the second half, led by Stella Ahnder and Madi Seedall, the latter of which had a spectacular layout block on a huck that looked like a certain score, and put a scare into Roosevelt. Sophomore star Chloe Hakimi was decleated, but Gelfand, her sister ZsaZsa, and Nora Snyder showed they had things under control, closing the game at a 12-10 scoreline.
For their part, Green Canyon got good run from Edina (MN) in the opening round, with Harper McIntyre showing the requisite throwing ability to match Canyon's deep game. But Green Canyon's team speed helped them generate blocks and get behind the defense to open up their narrow halftime edge and dominate in the second half in the 15-7 win.
Edina finished third in the pool by defeating Garfield 11-7.
Pool B
All four teams looked to be in close matches in the pool's round one games, but the final scores were not that close. Lincoln's swarming defense gave them plenty of opportunities to stretch the field with their deep throwers as they widened their lead over SAAS (WA). Meanwhile, Lower Merion (PA), powered by Myra Woerderman's fast pace and solid play from their handler core, recovered from an early deficit to get the better of an athletic Summit team.
In the game to decide the pool, the Pennsylvanian's capitalized on Lincoln's steady inefficiency to keep it close early on. Lower Merion had the disc just outside the attacking end zone with a chance to tie it at 5-5. But it was they who squandered their opportunity, and Lincoln found their rhythm. They rolled the rest of the first half and into the second with four straight goals, on their way to an emphatic 15-8 win. All that was left was a fading vision of when Lower Merion could have brought it to even.
Summit (OR), led by Coral Reed and the Melner triplets, showed fight throughout the day, but it was SAAS who needed to find new inspiration in the final round. Jenna Li's break throws and Kyliah McRoy's acceleration weren't enough to overcome the fatigue of a long hard day in the thin Utah air. Summit kept their season alive, booking a trick to the prequarters with the 12-6 win.
Pool C
As South Eugene's +31 point differential can attest, nobody could run with the reigning champs in pool play. Despite the absence of last year's stars, this team remains skilled, versatile, and athletic. Perhaps more than any other team, they seemed comfortable switching gears to hit their opponents where it hurt. If that meant opening up the field with hucks, or playing small ball inside of the cup, South Eugene showed they could diversify their angle of attack.
The pool's most thrilling contests came with the same team taking back to back universe point losses for Northwest (WA). Scout Noble led the charge for a comeback against Newton North (MA) that came up just short, felled by a beautiful flick huck from North's Grace Vaughn. Northwest had to do it again after Lone Peak (UT) went on a sizable run to go up 9-6. But on DGP, the Knights received the pull and never gave up possession, patiently working the disc among the handlers until they got the game winner, 11-10.
Lone Peak finished 2-1 with a dominant performance against Newton North.
Pool D
After a morning win over Cleveland (WA), it looked like Four Rivers (MA) might get the best of another top Washington state seed when they faced Nathan Hale. No team seemed quite as at home playing zone defense as the Massachusetts-based team, who relied on Eve Macek's imposing presence patrolling the deep space and shrinking the field. And while Hale's offense was not shy about trying difficult throws to break through, they were perhaps boosted in confidence knowing they could generate plenty of blocks. Rowan Lymp was perhaps the division's best turnover-forcer, hounding handlers to give her team short fields. She had a highlight-worthy layout interception that led to the game being tied at 6-6 that was one of the plays of the day. Eventually, their disc movement on offense overloaded Rivers' zone and Nathan Hale won 15-10 in a game that felt much closer.
Hale got another very close win against familiar foes, Cleveland. This was one of the day's most grinding affairs, a test of depth and will for both sides. Teams exchanged blocks, hucks out of bounds, red zone errors, and close calls in nearly equal measure. Cleveland's handler-driven attack relied on getting their throwers into power position, including Cindy Nguyen, one of the tournament's most technically sound players with the disc. But another Hale run got them back in it late, and after both teams got chances to score on universe point, a jump ball to a pack of players was gobbled up by an airborne Lymp, the original intended target, for the 9-8 victory.
Cleveland's strong play was enough to get them to the bracket, however. They topped Madison 13-4 to get the necessary W.