Teams flashed Nationals and even championship potential at PEC's eastern version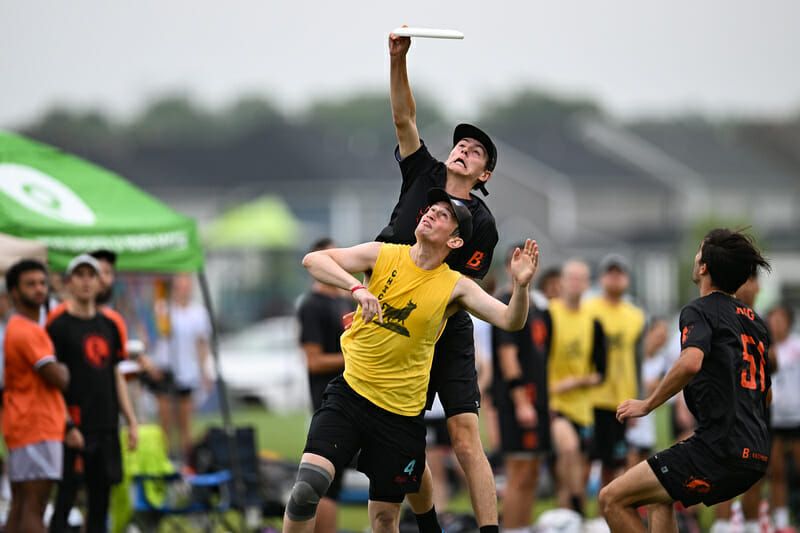 Ultiworld's coverage of the 2023 club ultimate season is presented by Spin Ultimate; all opinions are those of the author(s). Find out how Spin can get you, and your team, looking your best this season.
Welcome to Clubhouse Chatter, where the Ultiworld staff keep you caught up on the major events of the club season. Here are our top-line stories that you should be paying attention to in the wake of PEC East.
Scandal Brewing
The top of the women's division, as we framed it in our Club Primer, seemed to be a contest between three teams (Fury, Molly Brown, Brute Squad), with the "scraps" of a fourth semifinal slot set to fall to one of a handful of teams the next tier down. It is looking more likely after Pro-Elite Challenge East, however, that the title contention tier is at least one team larger that we originally estimated. Setting aside the cases of Traffic and Flipside for another time – we'll get a good look at both in a couple of weeks at the US Open – could Washington DC Scandal have the pieces they need to compete for the club's first championship since their back-to-backs almost a decade ago?
It's probably too soon to put all the chips on black, but the early signs point to the affirmative. They battered the competition at PEC-East (including four clubs who played at Nationals last season) by an average score of better than 10.5 goals. More to the point? They looked the part. Their bright orange cotton jerseys were dull in comparison to the display of talent in the final. Superstar Claire Trop appears to have taken yet another large step forward. Meanwhile a pair of newcomers, Ashleigh Buch and Amanda "Beans" Murphy, have already taken on massive roles. Kami Groom played some of the team's early games before sitting out the semi and final, and the (unconfirmed) rumor is that she may join Scandal in an official capacity before long. What's not to like?
Next month's US Open, featuring Fury, Brute Squad, and Molly Brown, will either pad this theory or undermine it, of course. For now, though, Scandal are in the mix.
Ringing in 2023
Let's not be too hasty to call 2023 a rebuilding year for 2021 National Champions Raleigh Ring of Fire. Yes, they have undergone a significant roster change from last season to this. Yes, they have to work in some faces who have not, to this point in their careers, played at the level or in the high-usage capacity Ring will need from them if they are going to be able to tangle with the rest of the division's elite class. But as we have now seen in their gritty wins over Machine in quarters and Vault in the semifinal, as well as an emphatic victory in the PEC East final over Dig, the kids are all right.
With venerable graybeards Matt Gouchoe-Hanas and Anders Juengst setting an example, the Ring first- and second-years played up to the moment. Matt Tucker has found a new gear of speed since returning from the midwest, Rutledge Smith's break throws show no sign of being any less effective at a higher level of play, and both Suhas Madiraju and Kevin Pignone are looking like the two-way D-line bulldogs they have been in the college division. Scatter in a few highlight reel plays from Jacob Fairfax and schedule a return to play from absence or injury for Sol Yanuck, Alex Davis, Ben Dameron, and (yet to make his Ring debut) Matt Rehder, and you have a recipe for success now. No need to push it off into the future.
They'll be out of the spotlight until Pro Champs in September, so let this serve as your placeholder until then: Ring haven't gone anywhere.
Great(er) Lakes
Is there any doubt the Great Lakes has seen the most bid hardship in the mixed division over the past few years? By the time Regionals has rolled around in recent seasons, the region has been stuck on no more than the autobid, despite having as many as four Nationals-quality teams in the fold. That scarcity has meant spectacular high-stakes play in the scramble for the lone ticket to San Diego that has been a treat to behold from the outside. But you just know the clubs on the outside of the Great Lakes championship are dying to have a back-up plan in the form of strength bids.
They may finally – FINALLY – have a good shot at multiple bids in 2023. Both Cleveland Crocs and Chicago RAMP converted their attendance at PEC-East into fruitful runs to the tournament semifinals, where they lost close to 'Shine and AMP, respectively. These wins are against clubs who will be have a chance to float them into bid range by the time the final rankings are out. The region's bid-earners for the last couple of seasons, Ann Arbor Hybrid, took an unfortunate loss to Chad Larson Experience and lost on universe to AMP, but otherwise handled their business and will be in action at Pro Champs over Labor Day weekend. They can still earn plenty of rankings points. With any luck – or a stumble from one of the Northwest, Southeast, Southwest, or Northeast – this could be the first year since the redraw that the Great Lakes sends multiple teams to Nationals.