There was clear separation in nearly every bracket game.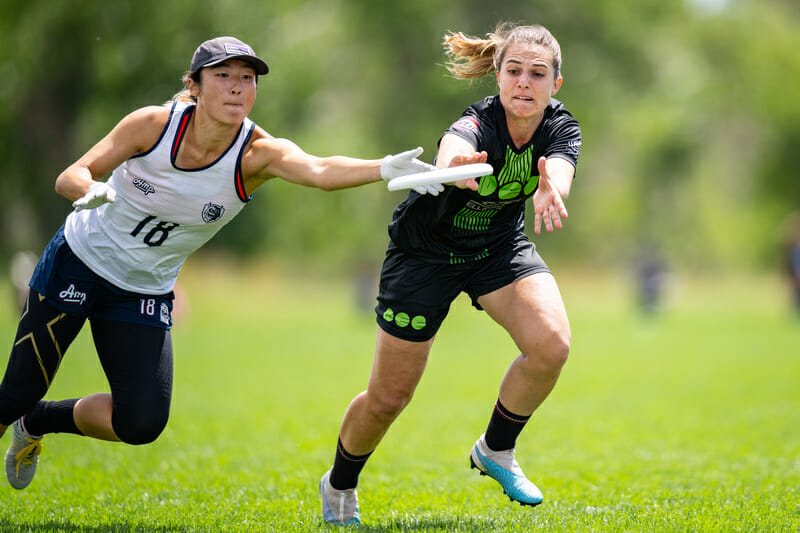 Bracket play got going in earnest on Saturday at the US Open with quarterfinals and semifinal matchups, setting up an exciting finals matchup on Sunday between Philadelphia AMP and Seattle BFG. Here's a look at the six bracket games from day two in Denver.
Quarterfinals
While three out of the four quarterfinals ended with the same 15-12 score line, how each game arrived there was different. It's true what they say: ultimate can be a game of runs.
Familiar with the challenges that Australian teams throw at them – think of the contested game against Brisbane Lunch Box at last year's WUCC – #3 Seattle Mixtape took on Melbourne Ellipsis. Early in the morning round, Mixtape took some time to wake up. Running a strong matchup defense, Ellipsis opened up a 5-1 lead over the defending national champions. Mixtape also fell victim to the lane poaches thrown by Ellipsis. Although they fought to get back into the game, at one point getting back to within one, Ellipsis ended up pulling away again in the end to win 15-12.
"I think Mixtape can do a better job at waking up in the first half, making sure we're at 100," said Marc Muñoz. "I think we can do a better job at dialing into our team system that we want to build and create towards the end of the season."
It was a game of two halves in the matchup between #6 Madison NOISE and #9 San Francisco Polar Bears. Throughout the first half, Polar Bears built up a three point lead with a pair of breaks. But you can never underestimate the team from Wisconsin, and they answered with two breaks of their own and took half, 8-7. NOISE started the second half with another two-point run before Polar Bears bounced back to get back within one at 13-12. Polar Bears could not get quite enough momentum to finish things out: NOISE broke to end the game to win 15-12. Carolyn Drewry and Piers MacNaughton were scintillating for the PBR offense, but NOISE had more playmakers: Emily Cohen and Kelsen Alexander were simply outstanding.
Defending US Open champions #12 Philadelphia AMP faced #5 Fort Collins Shame in the third quarterfinal and seized control from the start in a 15-12 victory. It helped that they started on offense, but after the fourth point, they went on a three-goal run to put them up 5-2. Shame broke them once to follow, but AMP responded by rattling off another three straight.
If there was one player who was the difference-maker in this match-up, it was Henry Ing, who played a phenomenal game. If Shame planted a deep poach to keep him out of the end zone, he got wide open on the unders and hit throws on the break side, opening up the whole field. But if they didn't provide over the top help, he hauled in hucks.
AMP's success didn't just come from Ing. They made their "weird" throws work and worked their way down the field 10 yards at a time. Shame tried to throw different defensive looks, but in the end they couldn't find any that would slow AMP down. Although Shame fought back with some second half breaks to lessen the margins, they couldn't loosen AMP's grasp on the game.
The fourth game was the tightest of them all. #4 Seattle BFG took down #1 New York Xist, 15-14, on universe point. The game started and stayed close. The lead switched hands multiple times before Xist finally gained a two-point lead at 9-7. That was short-lived, however, as BFG dialed up the heat to tie things back up at 10-10. On universe, BFG's offense was steadily finding the cutters, including looks to Jason Yun, Derek Mourad, and Thomas Li on the break side. Despite Xist's best defensive efforts, Li hit Yun on an upline cut to end the game 15-14.
Mixed Update: @SeattleBFG beats @XIST_Ultimate on Universe,
15-14, final pic.twitter.com/nhb6VUTJaa

— Ultiworld Live (@Ultiworldlive) August 5, 2023
"BFG is a tough team and I think it was our best game of the season right now, but the statement's right, iron sharpens iron," said Xist coach Izzy Bryant. "That was two teams battling it out and emotions ran high from the first point. So I think there are certainly some strategies that we're certainly going to work on and take away from that game. But in general, it's hard to be so downtrodden when you play a freaking good game against a really good team."
Semifinal #1: BFG 15-5 NOISE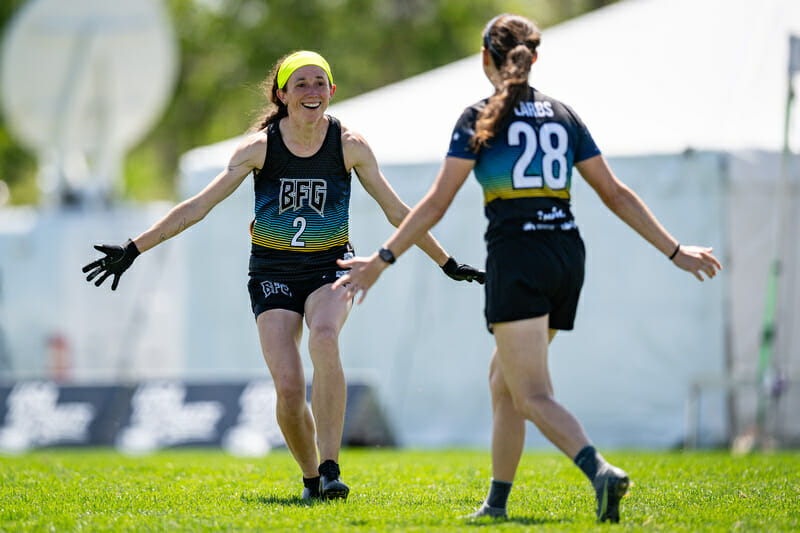 There seems to be a new trend in the mixed division of semifinal games at the US Open: blowouts. It happened last year when AMP crushed Minneapolis No Touching! 15-3 and it happened again this year as #4 Seattle BFG blasted #6 Madison NOISE 15-5.
The previous two games that these teams played against each other resulted in universe point wins for NOISE, including their game on Friday in pool play. This semifinal seriously flipped the script.
After a smooth BFG hold to start the game, NOISE made several early, short-field miscues, and BFG had an easy time converting them into four straight breaks. After NOISE gave up yet another turn, Jack Kelly got his hand on the disc to get it back. NOISE released a stall nine huck pulled in by Jimmy Sykora, and Robyn Fennig found Jack Kelly to punch in NOISE's first score. After three clean holds a piece, BFG took half thanks to an incredible forehand huck launched by Cheryl Tsu pulled in by Leah Bar-On Simmons sending them to half up 8-3.
Things didn't get any better for NOISE. They threw the disc into the turf immediately coming out of half, and Derek Mourad found Tommy Li for a quick BFG break. Perhaps BFG turned up the heat that their opponents could not match. Or perhaps the Wisconsin team lost their footing completely and couldn't calibrate everyone to their normal weird. They continued to make small mistakes, and BFG countered with a D-line offense that was mistake-free. The Seattleites went on another three-break run, increasing their point cushion from 9-4 to 13-4. By locking down on defense and cleaning up on offense, they found the recipe for a practically perfect semi to win the game 15-5.
"We came into this tournament focusing on ourselves and looking to grow," said BFG's Tommy Lin. "We're doing the full Triple Crown circuit this year for the first time in a while and we're really looking forward to that to get these high-level reps. I'm just really stoked to see how this team embraced adversity. NOISE plays really well, and they played a great game against us yesterday and that was a bummer. And we talked about the stuff that they did and had some adjustments for today, and I'm really excited to say how that paid off."
"I'm less upset about the outcome of the game, I just wish we could have played up to our standards," said NOISE captain Katy Stanton. "I don't care about winning or losing at this point in the season. It's more about growing as a team and building towards the future. We learned a lot of valuable lessons and they just outplayed us."
Semifinal #2: AMP 15-10 Ellipsis
In the other mixed semifinal, #12 Philadelphia AMP opened up an early lead and held off Melbourne Ellipsis to win 15-10.
Ellipsis started the game with a dirty hold, regaining possession thanks to some plays by Anouchka Beaudry, and AMP responded with a score from Paul Owens to Luke Greenley. With a series of blocks and overthrows from both teams, AMP's heavy hitters — Linda Morse, Max Charles, Eric Nardelli, and Lindsay McKenna — secured four breaks in a row to go up 5-1. Throughout the game, AMP's individual defense constantly won their matchups to generate blocks.
It shouldn't be a surprise to anyone that on the Ellipsis side, Beaudry made big moves to keep her team in the game. She unleashed a massive forehand to Alex Gan to end AMP's 5-0 run. AMP still held into half, leading 8-3.
"Perhaps we were a little bit shook by the moment. I think with such a new O-line, there have constantly been things that we had to improve on, like connections we need to smoothen out, but sometimes it doesn't go your way," said Ellipsis' Lucien Noël after the game. "We just have to trust those connections more. And because we're such a new team, I think not knowing everyone means playing with a little more freedom, being more organic, perhaps even less system-oriented. We just have to trust in more individual matchups and trust in a system because everyone's coming from different styles of play."
After searching the entire first half for a break, Ellipsis finally found one to start the second half, with the help from Jonathan Keyes who made a sneaky hand block and immediately launched a hammer across the field to Jodie Palmer. After two straight clean holds — a rarity in this game — Ellipsis snagged a break that injected some energy into their sidelines: Penny Wu caught a block in the deep space, fell to the ground, and sent a perfect flick to a teammate – from her back! After a few more throws, Ellipsis scored another break to get back within three at 9-6. To their dismay, Raha Mozzafari threw two perfect, symphonic deep shots for scores in back-to-back points — one as a hold, the other as a break — to open the lead back up to five. The remainder of the game was more of the same: AMP capitalized where Ellipsis could not. In the end, AMP punched out the 15-10 win.
"For us, it's been about coming into this tournament feeling very confident. We play well here always, we're the only team to win this tournament twice, and we have that in the back of our minds," said AMP captain Spencer DeRoos. "Even if we don't win the pool, we're always in it and always play well on the second days at tournaments and it's about growing throughout the weekend for us. We're very happy with the growth and excited about more opportunities tomorrow."