Philadelphia AMP win their second straight US Open tournament with wire-to-wire final victory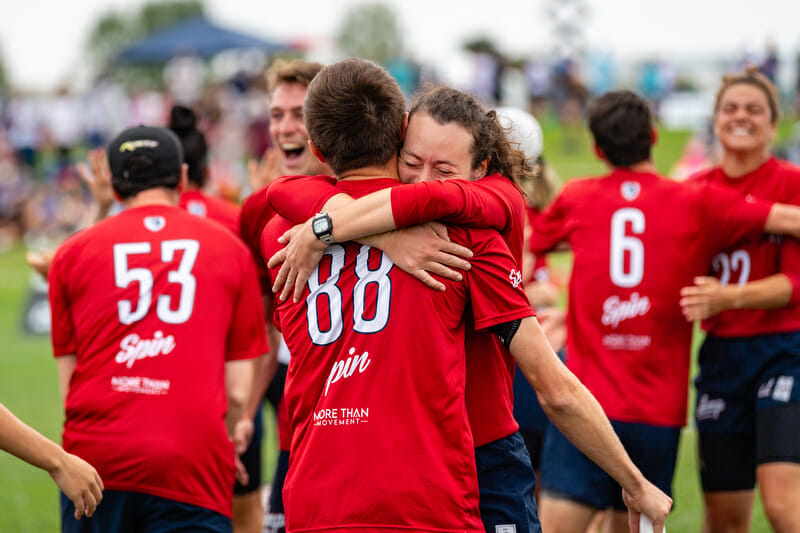 Ultiworld's coverage of the 2023 club ultimate season is presented by Spin Ultimate; all opinions are those of the author(s). Find out how Spin can get you, and your team, looking your best this season.
Aurora, CO – The last time Seattle BFG and Philadelphia AMP faced each other at a US Open final was in 2018. In that game, AMP played cleaner than BFG and won the game 15-13. Though much of the personnel has changed since then, this year's rematch was a similar story with the exact same outcome.
The game started cleanly enough, with one hold apiece. But on the third point BFG missed a catch, and a deep put from Raha Mozaffari to Mike Campenella set up Eric Nardelli for a big catch and AMP's first break. They weren't done, however, as AMP forced another BFG miscommunication in the next point and capitalized for another break to take an early 3-1 lead. AMP came out with the energy BFG lacked and in doing so were rewarded.
"I've never been a part of a team that has this much camaraderie, this much spirit, this much energy. It just comes straight from the top [leadership] down, but it's supported by every player from the bottom up as well," said AMP player Eric Witmer. "It's incredible to feel everybody working together no matter what the result is on the field, to have us continually coming together and reorienting and refocusing on what matters, which is that we're playing for each other and just having a ton of fun."
"It's hard work, it's intentional work, it does not always come naturally, and so we really try and push to make sure that we are doing those things from the start of the game," added AMP coach Andrea DeSabato.
BFG managed to shape up their offense and stop the bleeding with a hold, but still were not able to add pressure defensively and their energy on and off the field seemed stuck in sort of a lull. For the remainder of the first half, AMP's four turnovers were all unforced errors which they were able to get back by making defensive plays.
AMP's D-line offense also looked solid, but lacked a last degree of consistency that would have led to even more first-half breaks. When BFG's Tommy Li overshot his deep look, AMP quickly made their way down the field to punch in a third break. The following point, BFG dropped a zingy pass and it looked like Philadelphia would take half then and there, but they missed connections. Even after they regained possession with a run-through poach block by a stealthy1 Mozaffari in the endzone, AMP once again turned the disc to allow an easy Jeffrey Pape flip to Crystal Koo that ensured the BFG hold. It took a Paul Owens laser, seemingly through his mark, to Lindsay McKenna for AMP to take half, up 8-5.
Owens was among several standouts for Philadelphia throughout the course of the weekend. In the final alone, he scored three goals and had three assists with zero turnovers. He worked the field like a farmer in the harvest season and was perhaps the hardest player on the field to defend. Whether throwing or receiving, he saw the field better than his defenders.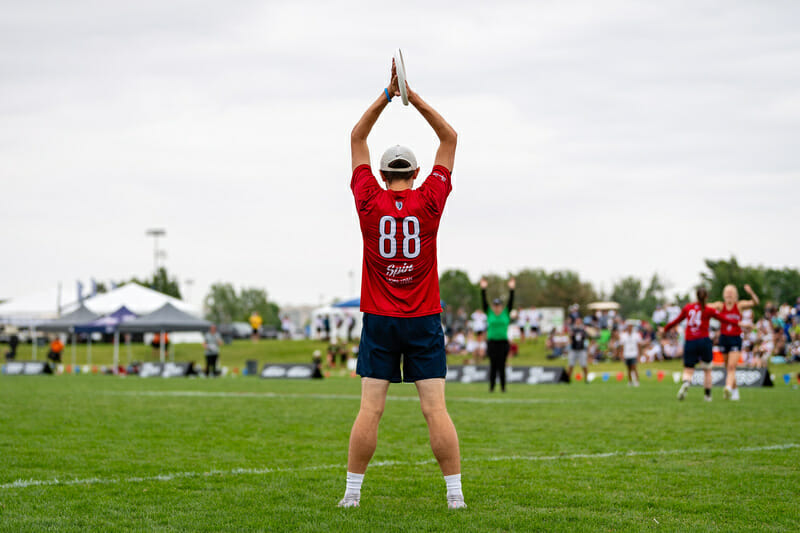 "Paul Owens has been the highlight of my weekend, honestly. He just does literally anything so well, so consistently," said Witmer. "Seeing him here in his element is just incredible."
Owens's favorite target was his partner in crime, Henry Ing. The two were unstoppable together, combining for five goals and six assists against BFG. Ing took creative licenses with his throws to hit his targets every time and always got open on his cuts.
Going into the second half, BFG finally ramped up their intensity. Right off the bat, Reid Koss picked off an AMP miscommunication, called a timeout, and scored their first break of the game to make it 8-6. Their defensive point to follow forced a turn, and while AMP still held, BFG were evidently hungry to play.
"We went into that half ready to punch back, fight, and focus on ourselves and I think that allowed us to come back there through the rest of the game," said BFG captain Kaitlynne Roling. "This is part of our refining and we definitely have more to refine and reform."
At halftime, BFG took a minute to refocus on their full-team perspective. It's not just the seven people that are on the line, we needed everyone that was also on the sidelines to really bring themselves to this game. We felt that [in the first half] when we were on the line, we didn't have the whole team with us on the sideline," said Roling.
There was also a concerted effort from BFG to dig into the roots of why they put so much of themselves into ultimate. "We focused on our joy and love for this sport and wanted to make sure we reminded ourselves that we play this game to compete and have fun. And if you're here for other reasons, then find that other reason and bring it out in this next half," said Roling.
The Seattlites did well at adding pressure, trying to limit AMP's throwers more than they had earlier in the game, which pushed AMP to get more creative (and a bit more risky) with their looks. BFG forced AMP into an unsuccessful high-stall huck, allowing them to score another break and bring their point deficit back to a one-point margin at 10-9.
But that margin would be all AMP needed, as while both teams improved at executing their systems, and there were a handful of blocks and added defensive pressure, neither team would break for the remainder of the game. Of course, this was not without some additional highlights: Eric Nardelli and Linda Morse proved to be major deep threats, Cheryl Hsu (two goals, three assists) practically ran BFG's offense, and AMP ran an "ideal" point, where Owens sent a deep shot with a tiny bit of OI to Ing, who then threw a cross-field hammer to a deep-cutting Luke Greenley for the score.
View this post on Instagram
Finally, AMP punched in the final point to win 15-13, depriving BFG of the opportunity to force a universe point.
Philadelphia AMP are your 2023 mixed division US Open Champions! pic.twitter.com/wydGpnJJQL

— Ultiworld (@Ultiworld) August 6, 2023
"We did it the hard way and didn't feel super safe until the final goal was scored, which is what you want. You want the hard games, you want to be challenged. And we needed that to expose what we have to work on. And we needed to also feel some confidence when we did win," said DeSabato. "It's good for the planning and it's also good for 'now we know we can still do it and rely on that.'"
"It feels like we're on an upward trajectory, we're still calling open lines and playing super loose, but still having great results," said Witmer. "We're still missing a lot of pieces but we're just having a lot of fun."
All in all, it was a great step forward for a club looking to return to the top.
---
She really came out of nowhere ↩