Which S-Tier teams might make deep bracket runs?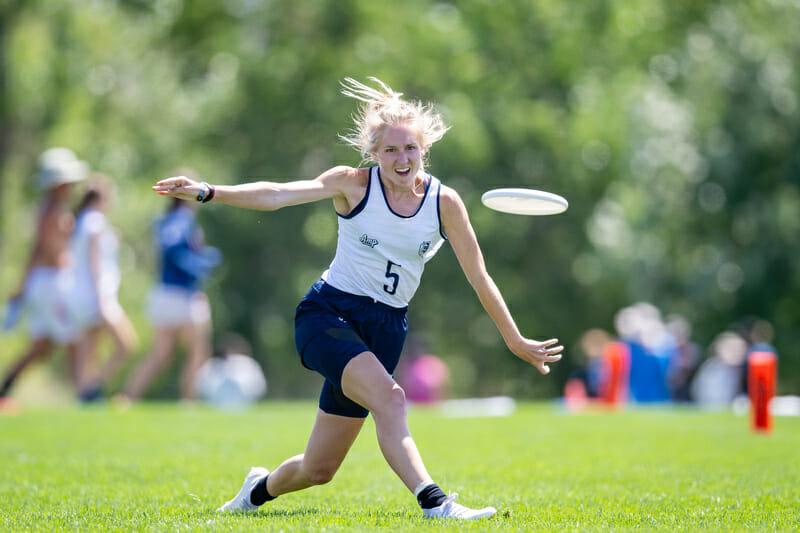 Ultiworld's coverage of the 2023 club ultimate season is presented by Spin Ultimate; all opinions are those of the author(s). Find out how Spin can get you, and your team, looking your best this season.
The mixed division laughs at rankings. A constant harbinger of chaos, there is simply more volatility in the mixed division than men's or women's, making activities like rankings and seeding a challenge. Adding in 10-15 mph wind gusting up to 25, the mixed division on day one of Pro Champs featured plenty of drama, intrigue, comebacks, and breaks. Many points lasted longer than the average music video1, as legs grew weary and a tournament format that had few bye rounds took its toll. Based solely on today's play, here's an ill-advised attempt to rank each team in the field.
S Tier – AMP
Philadelphia AMP won three games by a combined 15 goals, the most dominant showing in the division. It never felt like AMP really needed to step on the gas. At different points, each of Sumi Onoe, Henry Ing, Lindsay McKenna, and Jordan Rhyne looked like AMP's most important player. AMP has such a strong depth that only one of them really needs to be on any given line to give AMP the feeling of 'the better team' during open play. AMP has the potential to roll through this tournament and enter the club championships with powerful momentum.
A Tier – BFG
At their best, Seattle BFG can rival AMP as the best team at this tournament. They still might get that chance in bracket play. Their weird loss to Love Tractor also showed that BFG can sink as low as D tier if they drop open passes or let rushed decision making take over in the wind. Conor Belfield stood as the best defensive stopper in the division and managed to add significant pop to the counterattack. Cheryl Hsu, Tommy Li, and Jeffrey Pape are the backbone of a strong offense that is predicated on effective system play and the occasional moment of brilliance. The only thing keeping BFG from reaching S tier was their one point loss to Love Tractor, a weird, windy game that reminded us all that the mixed division was built to provide chaos and entertainment.
B Tier – XIST, NOISE
New York XIST did well to put away Love Tractor and Drag'n Thrust and they played competitively in a losing effort to BFG. They'll need to level up to make it deeper into the bracket than their current seed, but looked like a competent, capable team even in the wind. Genny De Jesus lives up to her hype as a top player in the division, but Jolie Krebs, Oscar Kohut, and Elias Levey-Swain each had standout moments as well. With a solid floor established, there's nowhere to go but up for the mixed division's newest contender.
Madison NOISE also played nicely today, racking up wins over Toro (a 6-0 start!) and Hybrid (by nine goals!) while also looking uncompetitive against AMP. For a team with legitimate championship aspirations, these early tests against top teams are valuable. NOISE is finding success with veterans (Robyn Fennig, Jack Kelley, Matt Grinde) and new players alike. Pieran Robert and Jeffrey Rehm each had spotlight worthy moments. NOISE will need more of them if it wants to do better against a team like AMP.
C Tier – Hybrid, Toro, Love Tractor, Drag'n Thrust
If Ann Arbor Hybrid could only play D points, they might be the best team in the division. With a shaky offense, the Hybrid D-line did just enough to win two games. In round one, Hybrid beat Slow 14-13…after holding a 14-9 lead and letting Slow come back until hard cap saved them an embarrassing comeback. Likewise against Toro a few hours later, Hybrid held a second half lead before letting Toro take control. Hybrid had twice as many breaks as holds in the second half as they eked out a double game point victory. With so many points on the O-line's legs, Hybrid took 6- and 9- point losses to AMP and NOISE to close out the day. At this point, it's nothing new, but Hybrid will need a higher level of offensive efficiency to break into a higher tier.
Durham Toro lost three games by a combined four points today. After going down 6-0 in round one, Toro fought back to tie their game against NOISE (before ultimately losing). Against Hybrid, Toro led 13-11 before falling 14-13. Slow took a lead against Toro and their comeback attempt fell short with tired legs. Matthew McKnight can make a case for the best offensive player at the tournament. Claire Revere has been an offensive force in her return to the mixed division. Unfortunately with three losses, Toro is guaranteed to miss the bracket. However, at a tournament like Pro Champs with good teams falling to consolation, Toro will have a chance to boost their rankings back into the Top 16 to earn an additional bid for the Southeast and make their path to nationals a bit more certain.
Denver Love Tractor had the upset of the day with their win over BFG. Cole Wallin, Akane Kleinkopf, and Henry Konker had a stellar day as the offensive axis for the Denver squad. Each brings something different: Wallin's every-other ability, Kleinkopf's outstanding break throws, and Konker's calm power brought Love Tractor to their most successful outcome of the season. Of course, Love Tractor was not too competitive in their other games and will miss the bracket.
Minneapolis Drag'n Thrust shot up 23 spots in the unofficial frisbee-rankings.com rankings now that they've played enough games to make the algorithm effective. With a core of talented, experienced players, Drag'n Thrust is in every game they play. At the same time they looked a bit out of sorts against an XIST team that overpowered them with athleticism at the end of the day, and got off to a slow start against Polar Bears with a series of unforced errors. If Drag'n starts playing to their potential, they will shoot up these tier rankings, but based on what we saw today they are a talented team who hasn't yet put all of the pieces together.
D Tier – Polar Bears, Slow
San Francisco Polar Bears got lucky that Love Tractor was one of the few teams who had to play four games in one day and also expended what was left of their energy in beating BFG during the prior round. It's a solid win, but comes with an asterisk. Otherwise, Polar Bears simply looked like they lacked the firepower to compete with the top teams. Drag'n Thrust knocked them out of round one with a classic late game comeback. Then Polar Bears faced off against an ascending XIST team that went on a late game run again to pull away. Mac Taylor, Amanda Meroux, Ryan Hoffman, and Margo Donahue are a capable core who can move the disc on both lines, but Polar Bears' depth looks a bit thin beyond their starting fourteen.
Boston Slow looked, well, slow today. Though they fended off a good Toro team, they couldn't hang with AMP and they were down by five to Hybrid before staging a late game comeback that had as much to do with Hybrid capitulating as it did Slow playing well. Ben Field was the best player on the field today. He won his matchups and was reliable with the disc. Slow dropped 77 points in the unofficial frisbee-rankings.com algorithm but is still holding on to a bid and could absolutely get back to the club championships…based on what we saw from them today, Slow is a long ways away from their 2016 title though.
A Note About Sunday
There is one more round of pool play before we settle into the bracket.
Pool B houses the most intriguing matchups as BFG, Drag'n Thrust, and XIST all still have a chance to win the pool. They all sit tied at 2-1 right now and BFG holds the best point differential. Polar Bears can also sneak into the bracket with a win over XIST.
In Pool A, Slow will play NOISE with a bracket spot on the line. The only thing guaranteed is AMP's spot atop Pool A and Love Tractor and Toro's spots in consolation play.
---
some even longer than this one recommended by music aficionado Edward Stephens ↩