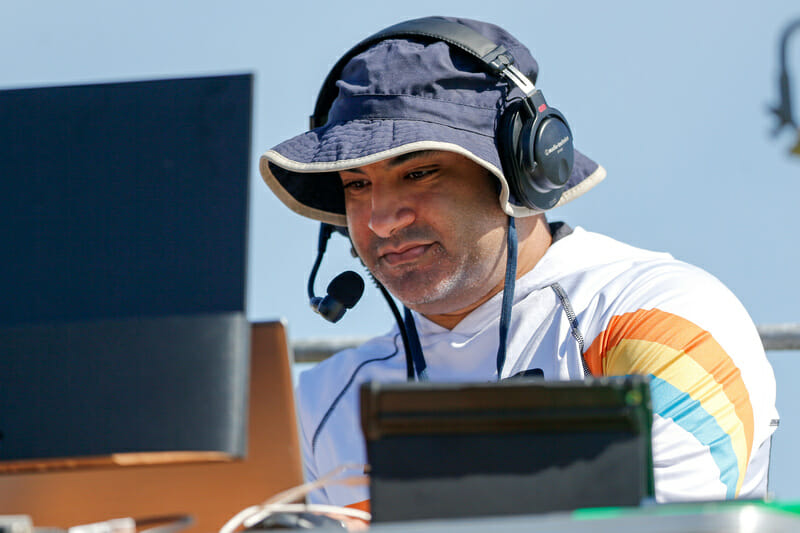 Ultiworld will be streaming 37 games from the 2022 National Championships, starting on Thursday, October 20th, at 9 AM Pacific / 12 PM Eastern! You can tune in live on Ultiworld.com/live.
We are excited to announce the commentators that will be bringing you the action from San Diego.
Andrea DeSabato is a long-time elite ultimate player and commentator. She played for Philadelphia AMP for 11 seasons with 3 as a captain, winning 2 National titles in that stretch. She has also played with the PUL's New York Gridlock for two seasons. She has coached for the USA National Team program, the AUDL's Philadelphia Phoenix, the University of Pennsylvania, and various other leagues and clinics. And she is an experienced commentator, providing analysis and play-by-play for the All-Star Ultimate Tour, USA Ultimate events, and the AUDL's Philadelphia Phoenix in ultimate while working professionally in broadcast media with ESPNU, NBC10, Atlantic 10, and Temple University.
Katie Killebrew is an actor and comedian with an ultimate frisbee obsession. She started playing at USC, making two Nationals berths with the Hellions of Troy in 2009 and 2010. Staying in Los Angeles after college, she never stopped playing (LA Metro, Viva, Lotus, Astra), coaching (USC Hellions, many youths orgs), organizing, or talking about ultimate. She brings her wealth of experience and enthusiasm to the booth for the AUDL, WUL, ESPN, Ultiworld, and WFDF.
While watching sports on the couch, Chris Mazur's wife frequently rolls her eyes at him when he utters commentary just before the announcers do on TV. Chuck Kindred once laughed at one of his jokes and said he might be good at commentary. He went to a baseball game with the daddy of ultimate commentary, Evan Lepler, and he didn't want to leave before the game was over despite all my questions. He has coined key phrases at past Nationals on live commentary like — "My man, pots and pans! My lady, biscuits and gravy!" and "Better get him a throwing buddy, because that one went straight into the ground." So after 18 years of throwing turnovers for 15 club/semi-pro teams, some might say Chris was born for this talking part of the game.
Having called games with Ultiworld since 2013, Keith Raynor brings a wealth of experience to the booth. A long-time coach who has been around ultimate for over 20 years, Keith began playing at Paideia high school in Atlanta and has played in communities in DC and Ohio. He now lives in Connecticut, where he coaches the women's division team at UConn. You can hear Keith every week on Ultiworld's news podcast, Deep Look.
Sam Swink played five seasons and captained at UC Davis under the tutelage of Eric Halverson and Kevin Cissna. He played club on a variety of now defunct teams including Oakland Guerilla and San Francisco Blackbird, Coached a season of College for the UC Davis Men's Team. Sam won a title with the 2017 Flamethrowers (played 2015-2018) who Even Lepler called the greatest AUDL team of all time. He has been in the commentary booth for the Oakland Spiders AUDL broadcasts for the past two seasons. You can find him on socials `@saswink` on twitter and `@raretode` on twitch.tv.
Ian Toner is an experienced ultimate player, reporter and broadcaster. He's played the game on four continents, winning a world championship (Team USA Men's U23 2013), a USAU club championship (Johnny Bravo 2014), and a beach national championship (And The Warhawks 2016). In addition to hosting Ultiworld broadcasts, Ian's been a part of ESPN, Fox Sports, Stadium, AUDL.TV, NexGen, and Ditch ultimate broadcasts.