Catch some classic college ultimate this weekend!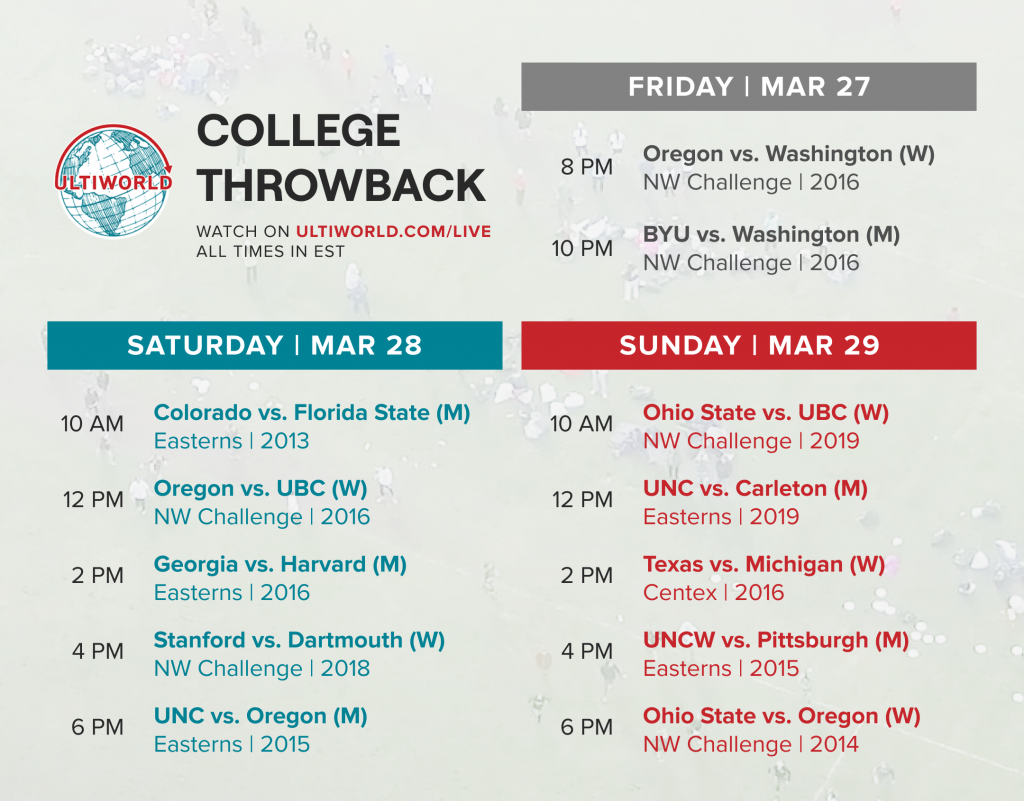 We know you miss ultimate and we do, too. This weekend was scheduled to be the biggest of the college ultimate regular season, hosting Northwest Challenge, Easterns, Women's Centex, Huck Finn, and more in a smorgasbord of teams fighting for postseason seeding, bids, and bragging rights.
That's why we're having a College Throwback weekend. While we don't have live games, we reached into archives to find the best games from Northwest Challenge, Easterns, and Women's Centex, and we'll be streaming them round by round Friday through Sunday. Watch along on our Live page or on our YouTube channel, where you can join the conversation! If you enjoy our coverage and want to see more, please consider becoming a subscriber! We need your help as much as ever before.
All times Eastern.
Friday, March 27th
8:00 PM: Oregon Fugue vs. Washington Element (W) [NW Challenge 2016]
10:00 PM: BYU CHI vs. Washington Sundodgers (M) [NW Challenge 2016]
Saturday, March 28th
10:00 AM: Colorado Mamabird vs. Florida State DUF (M) [Easterns 2013]
12:00 PM: Oregon Fugue vs. British Columbia Thunderbirds (W) [NW Challenge 2016]
2:00 PM: Georgia Jojah vs. Harvard Red Line (M) [Easterns 2016]
4:00 PM: Stanford Superfly vs. Dartmouth Daybreak (W) [NW Challenge 2018]
6:00 PM: North Carolina Darkside vs. Oregon Ego (M) [Easterns 2015]
Sunday, March 29th
10:00 AM: Ohio State Fever vs. British Columbia Thunderbirds (W) [NW Challenge 2019]
12:00 PM: North Carolina Darkside vs. Carleton CUT (M) [Easterns 2019]
2:00 PM: Texas Melee vs. Michigan Flywheel (W) [Centex 2016]
4:00 PM: UNC Wilmington Seamen vs. Pittsburgh En Sabah Nur (M) [Easterns 2015]
6:00 PM: Ohio State Fever vs. Oregon Fugue (W) [NW Challenge 2014]