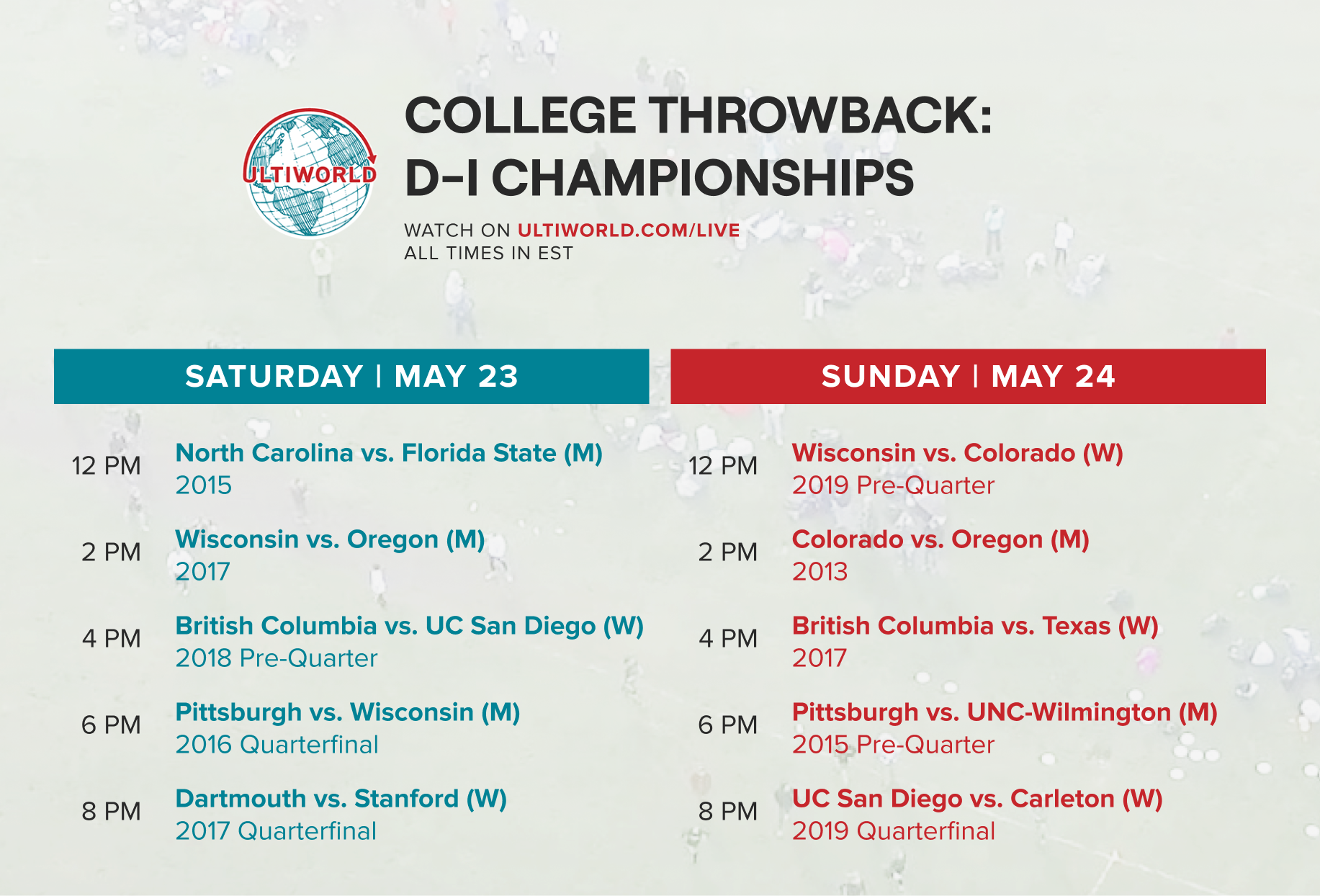 As we head into Memorial Day weekend, we'd already be one day into one of the most exciting events on the ultimate calendar: the Division I College Championships. Like many of you, we're bummed we're not in Milwaukee right now reporting on and streaming that tournament.
That's why we're having another College Throwback weekend. While we don't have live games, we reached into our archives to find some of the best games we've filmed at D-I Nationals past, and we'll be streaming five rounds of them on both Saturday and Sunday. This time, we're even trying to capture some small part of the magic of semifinals night, so we're stretching our broadcasts into primetime.
Watch along on our Live page or on our YouTube channel, where you can join the conversation!
If you enjoy our coverage and want to see more, please consider becoming a subscriber! We need your help as much as ever before.
All times Eastern.
Saturday, May 23rd
12:00 PM – North Carolina vs. Florida State (M) [2015 Pool Play]
2:00 PM – Wisconsin vs. Oregon (M) [2017 Pool Play]
4:00 PM – British Columbia vs. UC San Diego (W) [2018 Prequarter]
6:00 PM – Pittsburgh vs. Wisconsin (M) [2016 Quarterfinal]
8:00 PM – Dartmouth vs. Stanford (W) [2017 Quarterfinal]
Sunday, May 24th
12:00 PM – Wisconsin vs. Colorado (W) [2019 Prequarter]
2:15 PM – Colorado vs. Oregon (M) [2013 Pool Play]
4:00 PM – British Columbia vs. Texas (W) [2017 Pool Play]
6:00 PM – Pittsburgh vs. UNC Wilmington (M) [2015 Prequarter]
8:00 PM – UC San Diego vs. Carleton (W) [2019 Quarterfinal]