The Canadian team welcomes back former players from both sides of the 2019 USAU women's club final.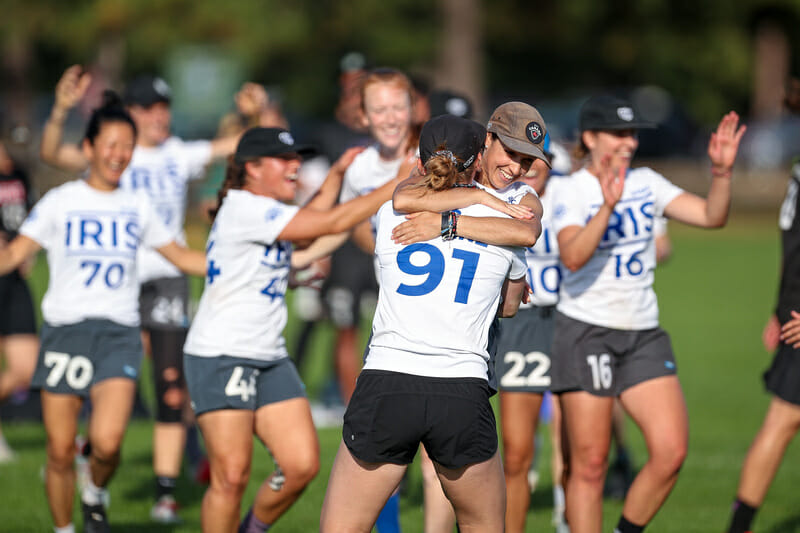 With the WUCC-qualifying Ultimate Canada Invitational announced for fall and cross-continental travel a realistic possibility for teams participating in the USA Ultimate Series, Canadian club teams can look forward to plenty of competitive action in the back half of 2021. Accordingly, women's club Quebec Iris — historically a force to be reckoned with on either side of the border — has released their 2021 roster.
While the team sees some turnover this year, they also welcome back Anouchka Beaudry and Jessie Grignon Tomás after 2019 seasons as major contributors to both 2019 USAU club women's national finalists in Toronto 6ixers and Boston Brute Squad.
2021 Roster
Alessia Vinet
Anouchka Beaudry
Chloé Émond
Corine Massé
Diana Trinh
Elsa Chu
Erin Daly
Florence Dionne
Gabrielle Comtois
Geneviève Richard
Jessie Grignon Tomás
Julia Biris
Julia Topart
Laure Drouin-Jacques
Laurence Champagne
Marie Genest
Marikha Nguyen
Maude Roy
Nina Heloir
Nyna Prévost
Pénélope Robert
Roxanne Goderre
Sandra Williams
Shaunagh Howard
Virginie Côté
Virginie Maltais
New for 2021
Alessia Vinet
Anouchka Beaudry*
Geneviève Richard
Jessie Grignon Tomás*
Julia Topart
Laurence Champagne
Marikha Nguyen*
Maude Roy
Sandra Williams*
*former Iris player returning from 2019 season off or with other teams
Returning from 2019 USAU Series
Corine Massé
Elsa Chu
Erin Daly
Marie Genest
Nina Heloir
Nyna Prévost
Shaunagh Howard
Pénélope Robert
Virginie Côté
Virginie Maltais
Additional Returners from 2019 CUC Series
Chloé Émond
Diana Trinh
Florence Dionne
Gabrielle Comtois
Julia Biris
Laure Drouin-Jacques
Roxanne Goderre
Departures
Alexandra Abboud
Alisha Zhao
Amélie Bergeron (2019 CUC only)
Caitlin Fowler (2019 CUC only)
Catherine Carrier (2019 CUC only)
Catherine Poirier
Danielle Cantal (2019 USAU only)
Gabrielle Beaudoin (2019 USAU only)
Gabrielle Ouellet
Jessica Circe (2019 USAU only)
Julie Landry (2019 USAU only)
Marie-Ève Beauchemin
Marie-Andrée Pambrun
Marina Beaudoin (2019 CUC only)
Melissa Dunbar
Melissa Poulin-Cadovius (2019 USAU only)
Sophie Dagenais (2019 USAU only)
Valerie Plante (2019 USAU only)
Wynne Gee (2019 USAU only)