Rounding out the season's top 14 players.
Ultiworld's 2019 Women's Club Awards are presented by Tokay Ultimate cleats. With their new Flight cleats, your feet can shine like these stars! Check out Tokay, the cleats you were looking for.
Ultiworld is pleased to announce our seventh annual Women's All-Club teams. While we consider both regular season and postseason performance, because of the nature of the Club Division, we weight success in the Series and at Nationals above all else. The All-Club teams are selected based on input from Ultiworld reporters, contributors, and editors.
Player of the Year Award
Offensive Player of the Year Award
Defensive Player of the Year Award
Breakout Player of the Year Award
Coach of the Year Award
All-Club 1st Team
2019 Women's All-Club 2nd Team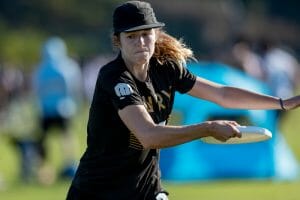 Beth Kaylor (San Francisco Fury)
Kaylor was always a great fit for Fury. It'd be difficult to find a more well-rounded college women's player over the past 10 years. A tenacious defender, efficient mid-range thrower, quality hucker, and smooth cutter all in one, Kaylor's strength has been her lack of a weakness. That's perfectly in line with Fury's gameplan. But she's been busy getting better and better, sharpening the edges of her already dangerous weapons. Accordingly, her role with Fury has grown in tandem.
With her team constantly playing in high-stakes games, the unflappable Kaylor has shown off the ability to be a reliable presence who is also capable of a wild block or possession-saving bid for the UltiPhotos highlights folder. Add to her poise and balance an intensity and passion that helps keep her keen mind focused, and you get one of the most predictably productive players in the division.
– Keith Raynor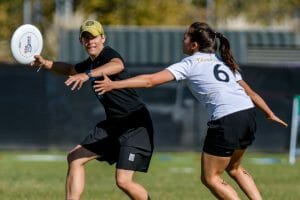 Mariel Hammond (Portland Schwa)
After virtually every Schwa game at Nationals, opponents could be heard saying something along the lines of "Murl was so good." Mariel "Murl" Hammond didn't put up a jaw-dropping stat line in San Diego, but she was such a valuable, do-it-all player for Schwa on both sides of the disc.
Hammond plays like a grinder, working her tail off to get open for resets or busting downfield as a cutter or defender. But she complements that hustle with an elite level of skill that makes her vital to Schwa's success. Just look at how Schwa struggled without her at Pro Championships to see what Hammond meant to this year's Schwa team. Whether taking tough matchups like Claire Chastain in their quarterfinal win over Denver Molly Brown, or doing all the little things to make their offense run, Hammond was invaluable to Schwa's big season.
– Daniel Prentice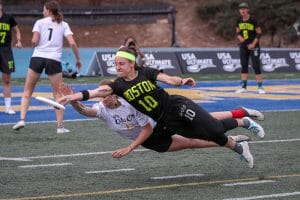 Amber Sinicrope (Boston Brute Squad)
On a team renowned for defense, Sinicrope was the shining light that made Brute Squad's offense just as impressive. No player has more pressure than an O-line central handler, but Sinicrope must not have gotten that memo. Every time she took the field, she was locked in and battle-ready. Whatever it took to get a hold for Boston, Sinicrope was willing to give everything and more to get her team that point.
It's clear that practicing against the best defenders in the country prepared Sinicrope with nerves of rebar. No matter the defender, Sinicrope never flinched. She faked, shimmied, and broke her way through every opponent, making it easier for her team to cut with authority, knowing Sinicrope would get them the disc.
It's easy to praise Boston's defense for rewarding them with another national title, but make no mistake, Sinicrope had the arguably the toughest job on the team. Her team-high 16 assists clarify one point: Brute Squad doesn't win Nationals without Sinicrope.
– Graham Gerhart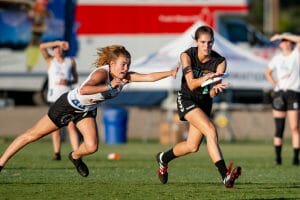 Dena Elimelech (San Diego Wildfire)
Dena Elimelech is one of the most exciting players to watch in the division, but not just because she is such a dominant force and racks up stats like it's her job (13 goals, 6 assists, 4 blocks at Nationals, for example). Sure, her unparalleled athleticism is entertaining, her effort is inspiring, and her level of composure is admirable for someone so young, but what is most distinct about her play is how calculated she is.
Watching Elimelech on both offense and defense is like watching a predator stalking its prey. On O, when she wants the disc, she will get it — as Wildfire's biggest threat both under and deep, defenders simply cannot contain her and she always waits for the precise moment to strike. On D, her wingspan and height make her a natural powerhouse, and her mark is stifling. Elimelech keeps her arms close to her sides for the duration of the mark, perhaps to lure the thrower into a false sense of security, but the moment the disc is released, her arm, and sometimes her whole body, is there to stop it. This is the teammate you want on your team, regardless of what side of the disc you're on.
– Kelsey Hayden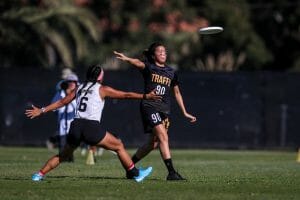 Catherine Hui (Vancouver Traffic)
Just as the sun rises in the east, so does Catherine Hui put in work at Nationals and further cement her position as a premier player in the women's division. If Hui has lost a step off her top of the line speed, she's made up for it in craft and relentlessness, still charging her way to division-leading 15 goals. What has only improved with time is her already impressive ability to hurt teams when they forced her underneath, particularly with her signature backhand huck. With a wide swing and a high release point, Hui is often able to put up back-shoulder deep throws past frustrated marks for quick strikes in the Traffic offense.
And of course, her combination of savvy and athleticism makes her a strong defender, giving her quality two-way value to help balance her shot-taking. This is her fourth selection to the All-Club second team, a nod to how consistent she has been throughout her impressive career.
– Keith Raynor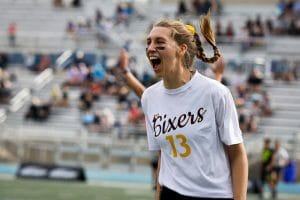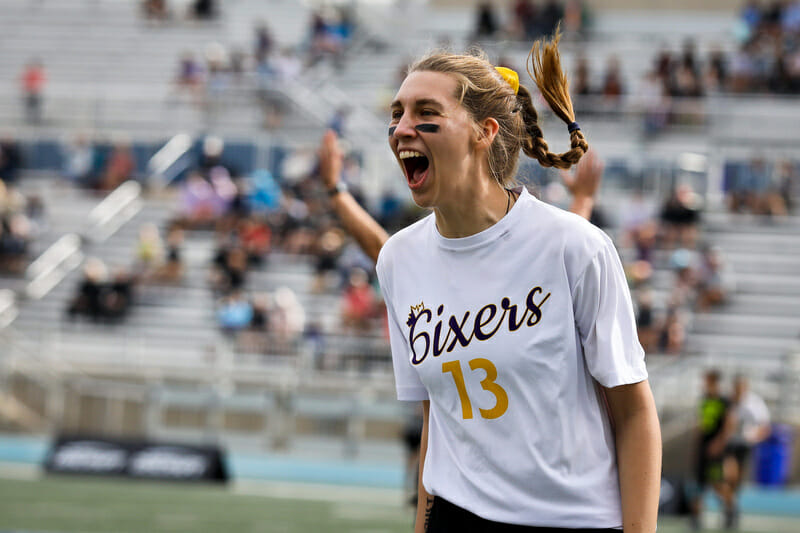 Anouchka Beaudry (Toronto 6ixers)
It feels like we've been watching and admiring Anouchka Beaudry for so many years, and yet she is still somehow only 21 years old. In the Canadian ultimate scene, she is definitely one of the best. Toronto 6ixers went undefeated to claim the Canadian Ultimate Championship title this year with Beaudry leading the team and locking in 15 assists and 7 goals. On the American side of the border, things are not much different.
After earning herself the Breakout Player of the Year award in 2017, Beaudry didn't participate in the postseason in 2018 and so she made her first trek to San Diego for Club Nationals this October. 6ixers made a historic run to the final this year in large part thanks to Beaudry's confidence and assertion on the field. Anouchka put up 6 goals, 13 assists, and 1 block throughout Toronto's seven games, and played with a level of passion that often went unmatched on the field. Even in the final moments of the championship matchup against Brute Squad, when most of Toronto 6ixers appeared to have emotionally checked out, Beaudry was still throwing her body around in an effort to keep her team alive.
– Kelsey Hayden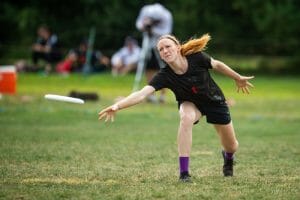 Kelly Johnson (Seattle Riot)
Johnson has certainly carved out a role for herself, building a hard-earned reputation as perhaps the most feared handler cover in the women's division. While her namesake may be all about gambling, it's hardly a roll of the dice to sic "Vegas" on the top opposing thrower, knowing she'll be clamped to their every move. It's how she landed atop the Defensive Player of the Year podium in 2018, when she was also an All-Club Second Team selection.
What kept Johnson from that same DPOTY slot this year was her increased offensive role. Riot made more use of her abilities in the offensive backfield this season, translating to a team-leading 11 assists at Nationals. Add in her four goals, and you get 15 points, good for the third on the team in scoring contributions. With her motor, high-tempo play, and break-throwing skills, she can push the opposition to exhaustion on both sides of the disc, and simply wear them down.
– Keith Raynor