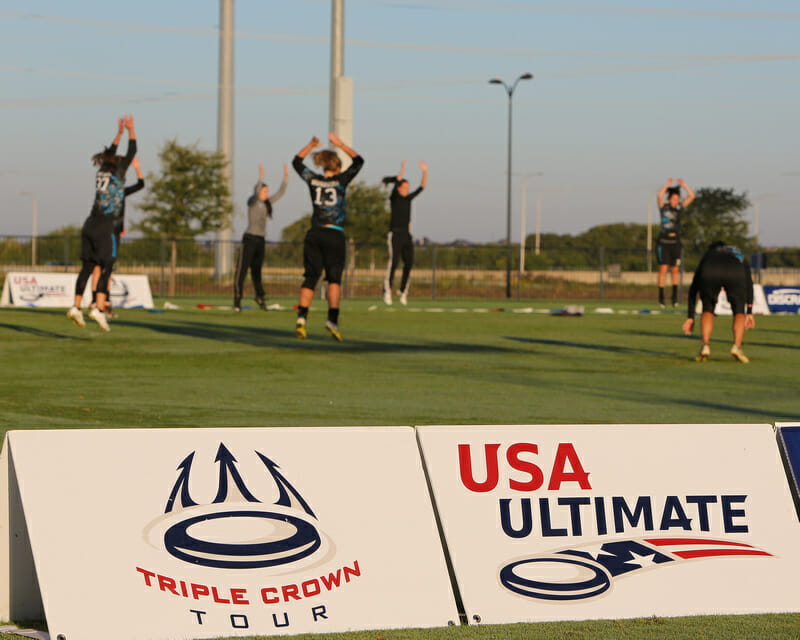 The 2019 USA Ultimate Triple Crown Tour club season schedule was announced earlier today on the USAU website.
As has been the case for several years, the official season kicks off on June 1. The tournament schedule is largely the same as it has been for the past three seasons, with the biggest change coming in the form of a second Select Flight Invite to split this event into East and West editions.
The regular season will conclude with the Pro Championships on Labor Day weekend in Philadelphia; the postseason will once again kick off in early September with Nationals moving back towards the end of October.
Here's the full schedule of 2019 Triple Crown Tour events:
| TOURNAMENT | DATE | LOCATION | VENUE |
| --- | --- | --- | --- |
| Pro-Elite Challenge | July 13-14 | Denver, CO | Aurora Sports Park |
| Select Flight Invite (West) | July 13-14 | Denver, CO | Aurora Sports Park |
| Select Flight Invite (East) | July 27-28 | Columbus, OH | Spindler Road Park |
| US Open | Aug. 2-4 | Minneapolis, MN | National Sports Center |
| Elite-Select Challenge | Aug. 17-18 | Rockford, IL | Sportscore Two |
| Pro Championships | Sept. 1-3 | Philadelphia, PA | Hilltop Farm Complex; Germantown Academy |
| Sectionals | Sept. 7-8 | Various | Various |
| Regionals | Sept. 21-22 | Various | Various |
| National Championships | Oct. 24-27 | San Diego, CA | Surf Cup Sports Park |