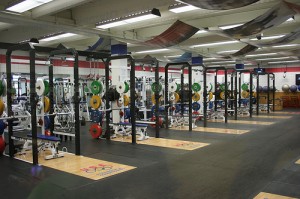 Looking for an ultimate frisbee training program? Check out Breakside Strength & Conditioning! It's brand new and the most affordable ultimate training option on the market, led by me (Charlie Eisenhood) and Pat Kelsey, both NSCA Certified Strength & Conditioning Coaches with years of experience in the sport.
In 2008, Tim Morrill found himself tired of his Salisbury college Ultimate team lacking in the strength and conditioning aspects of the game. He went to the university's head strength coach and, with his support, started to put together workouts that truly improved the team. He got hooked.
Today, after training with some of "the best in the business," Morrill is a Certified Strength and Conditioning Specialist and an MA in Exercise Science, running clinics and programs for some of Ultimate's top teams and players.
Ultiworld talked with Morrill yesterday about what Ultimate players really need to know about training for the sport.
*
We began our conversation about what makes the sport unique.
"The thing about Ultimate is it's so fricking asymmetrical," said Morrill. "We're stepping out around the mark, time and time again, for years and years." That lunge to the same side causes a major muscle imbalance, he explained, shortening everything on the the right side (for a right handed thrower) and stretching everything on the left.
That asymmetry may be OK for ripping a backhand huck, but it can really hold you back when running and jumping. Morrill used the example of how most players can do well jumping off of one of their legs, but find that their other leg doesn't have the same springiness. "Balancing that out is huge," he said.
So how do you balance that out to become a stronger, more powerful athlete while focusing on the unique demands of Ultimate?
STRENGTH
Perhaps nothing is more important to improving as a player than getting stronger. "It's strength before power," Morrill explained. "Strength is the precursor to power. We've got to build that base, build the capacity to produce force, and then we've got to do it in a short amount of time and that's power."
Many Ultimate players focus too much on the little things — like jump training and endurance — and not enough on building a bigger engine.
Take for example, plyometrics. "The majority of Ultimate players are too weak to be doing what people would define as plyometrics," said Morrill, suggesting that instead they focus on hitting the weight room to improve their vertical leap.
So what gets the most bang for your buck in the gym?
He recommends split squats, single leg deadlfts, and some explosive hip movement, whether a kettle bell swing, a snatch, or a clean.
The single leg focus of the split squats and SLDLs help to build leg strength while correcting imbalances caused by the asymmetrical movement patterns in ultimate. The explosive hip extensions — Morrill likes to teach the hang power clean — increase your power (applying strength in a short amount of time).
"I like the idea of explosive ultimate," he said. "It's an explosive sport. And people have done so much on the conditioning side of things that nobody has that strength or power. And it's like, 'well we want this thing to be on ESPN.' But the only time we see it on ESPN is when there's a big explosive play. In order to increase spectator appeal, we've got to start thinking that way."
To round out your training, Morrill suggests a focus on a push (e.g. bench press, shoulder press) and a pull (e.g. rows, pull-ups) for the upper body, along with some core work. That combined with knee-dominant movements (squats) and hip-dominant movements (deadlifts, cleans) "makes an all-encompassing training program."
CONDITIONING
Morrill is currently working with Boston's elite club teams Ironside and Brute Squad to improve their strength, speed, and conditioning. His main conditioning workout he calls the 10-cut agility. It involves ten 180 degree direction changes in around 30 seconds of sprinting, and then 90 seconds of rest. Yesterday, Ironside and Brute Squad did that twelve times.
That drill, he said, "is how you develop speed endurance, or power endurance…that you need for a power sport like Ultimate. Is that going to transfer to the field? Hell yea! Is riding a bike for 10 minutes or running five miles? Maybe, but not as dramatically."
Along with the conditioning work, he emphasizes relearning movements — things like how to sprint and how to cut — through agility drills. "If we just cleaned up all the movement patterns, if we just came out and did that and didn't do any weight room stuff," he said, "these guys would be so much better."
*
Morrill is committed to changing the training culture in the sport. He is surprised at how little even top club teams know about the proper approach to strength and conditioning.
"It's nuts," he said. "Nobody has a clue. Ironside and Brute Squad, they've done a lot of training in the past…I thought that these guys were gonna be good. But they just had no idea how to move…People that have just been crushing it in ultimate are just leaving so, so much on the table.
"This sport could be so much – and will be so much – more explosive and athletic once we start hammering some of this stuff home."
I asked him what it will take to get the importance of training to sink in with ultimate players. "Maybe Ironside winning a championship?"
*
Photo courtesy of Flickr user lars hammer.