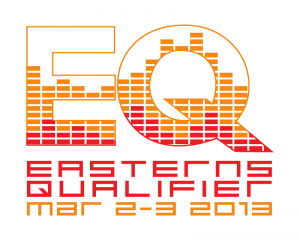 The 24 team Easterns Qualifier is a big test for a lot of Nationals hopefuls. Of course, the most obvious advantage of getting a win at the EQ is a prized bid to Easterns to face off against the best in the country.
Although the EQ doesn't carry the same weight as a major like Easterns, in some ways it can be even more important. The teams at this tournament are among those that will have the opportunity to earn their regions an extra bid. Strong play here could help tip the balance. At the very best tournaments, often times the teams have all already locked up a bid, making the implications of a tournament win less important. Those teams are playing to warm up for Nationals; these teams are playing to just get to Nationals.
Here's a look at the teams and the stories coming into this weekend.
POOL A
Ohio (#12): Coming off of a strong performance at the Queen City Tune Up, Ohio is the clear favorite to win the Easterns Qualifier for the third year in a row. The question will be if they have the legs to win after a long, eight-game weekend. At QCTU, they didn't have much left in the tank in their game against UNC in the finals and got rolled 15-4. With such a heavy reliance on Mitch Cihon (just announced as a 2013 NexGen player) and Connor Haley, Ohio will have to work hard to manage playing time to be ready for a likely matchup against the much deeper UNC-Wilmington in the finals.
Alabama:This will be Bama's first tournament since the early January T-Town throwdown, where they played very well, losing only twice, both times to tournament champions Central Florida (#4). 2012 2nd team All-Region player Chris Browning returns for his second year as a graduate student and will look to lead Bama to another strong weekend. Captain Brian Moore and Matt Hardman should also feature as key players for the Tide. They won't have an easy walk to the quarterfinals, though, with some very tough teams behind them in the pool.
Michigan: MagnUM was in the top 25 at the start of the season but fell out after an ugly performance at QCTU that was compunded by poor behavior (that captain Carson Mailler subsequently apologized for). More than anything, their losses (all by fewer than two points) showed a lack of mental toughness. The best team they played that weekend — Penn State — they beat. The worst team they played — Appalachian State — they lost to. The young team will be looking to rebound at the EQ — it shouldn't be a surprise to see them come out of this pool in 2nd.
Rutgers: Considered one of the top teams in the Metro East this year (at least on paper), Rutgers will be looking to celebrate this weekend as a coming-out party. This team, in development for a couple of years now, is packed with athletes, including 2nd team All-Region player Mike Sender, Scott Xu, and Jibran Mieser (who, for better or worse, got a lot of attention playing for Philadelphia's Southpaw last year). After a ho-hum fall, this will be their first real test as they eye dethroning Cornell as the perpetual Metro East king.
Delaware: Due to a desire to spread out the regional matchups at the EQ, Delaware finds themselves seeded quite low despite having an outstanding performance at the Hellfish Bonanza last weekend. Despite missing a crop of starters, Sideshow lost to just two teams — semifinalist Carnegie-Mellon and finalist JMU. Presumably bringing most of their roster this weekend, they will — like almost everyone in this pool — have a shot at getting the two spot and heading to quarterfinals. Their game against Rutgers should be a good one to watch.
William & Mary: W&M had a decent showing at Business in the Burg last week, taking their pool before falling to Lehigh in the semis. 2012 2nd team All-Region player Cody Johnston returns as a captain to lead the team. As the bottom seed at the tournament, they have nowhere to go but up.
POOL B
UNC-Wilmington (#14): The Seamen are coming off of an undefeated weekend at the Hellfish Bonanza where they rarely looked challenged. This weekend is a much bigger test of their skill. "It's a stepping stone for us to prep for Stanford," coach Greg Vassar told Ultiworld. "We'll be running open lines with an eye towards developing players to be ready in late March. Not that we're underestimating any team at the tournament, we expect to face adversity and have some great games." After Hellfish, captain Tommy Lamar said that they aren't focused on earning additional bids for the Atlantic Coast, but considering how strong North Carolina looks this year, they might want to consider it.
Michigan State: Burning Couch had an up-and-down showing at QCTU, playing tough in a 12-10 loss to Tufts (#19) and beating Cincinnati but also losing to Georgia Southern and Georgetown. They'll be looking to improve their consistency this weekend at the EQ. They'll have rematches against Ohio State (who they beat) and Georgetown in the first two rounds on Saturday.
Ohio State: Leadbelly didn't have a great weekend at Queen City, losing five straight before eking out a win over Wisconsin-Milwaukee in the bottom bracket on Sunday. Their roster turnover was apparent in Charlotte — and they'll need to find some more grittiness to pull out wins. They lost all of their games at QCTU by 4 points or fewer. With Michael Meilstrup and David Bentrovato leading the team, they don't lack for top-end talent, but they need to continue to focus on developing their younger players.
Georgetown: Georgetown may have lost four games at Hellfish last weekend; they're still eying a Nationals bid. They showed what you might expect a young team (15 rookies) to show: inconsistency. They almost beat a strong Penn State team but lost to Wake Forest and George Mason. But coach Ryan Thompson is keeping the lines open and trying to get his guys ready for April, not trying to win games now. Expect mixed results this weekend — their focus is on winning at Centex, not at the EQ.
Princeton: At the 2012 Metro East Regionals, Princeton surprised many by making a deep run to the finals, beating one seed Connecticut in the semis. Once they made it to the finals, they went the way many have in the past few years: with a loss to Cornell. 1st team All Region player Osman Khwaja returns and should continue to do damage with his unassuming frame. Princeton has yet to play this spring — this will be a great tournament to assess their strength this year. They will feel — like most Metro East teams — that this is their year.
Towson: Pandamonium had a disappointing performance at the Hellfish Bonanza, notching just one win, against Mary Washington. They just didn't look like a team that was prepared to win — little defensive pressure, sloppy turnovers. They have some talented players, but they need to dial in the intensity if they want to get wins, especially in this pool.
POOL C
Dartmouth (#24): We are sorry to report that Dartmouth will not be making the tournament this weekend after a van accident. Although nobody is seriously hurt, the team is shaken up. We wish them well.
Cincinnati: After a forgettable QCTU showing, Cincinnati sent a skeleton crew to the President's Day Invite where they actually did some real damage. Despite going 4-5 on the weekend, Cinister made it to quarterfinals by winning when they needed to. They got quality wins over Cal, Vermont, and UC Santa Cruz. Back on the east coast, they'll be thinking they can win this pool.
Clemson: At late January's ACCUC, Clemson dropped seed but got some good wins, notably over eventual finalist and 2012 Nationals qualifier Georgia Tech (#22). Kyle Corley and James Cox will lead this team to any success this weekend. They'll have a rematch against Virginia, who beat them at ACCs. But first they'll need to get up for their first round game against Cincinnati, which should be a good one.
Virginia: A team looking to rise back to the top of the Atlantic Coast region, Virginia hasn't really had any important wins this year, but they also haven't lost to bad teams. Four of their six losses have come to ranked teams. Anything less than a quarterfinals appearance should be a disappointment for this veteran-heavy team — they list 11 graduate students on their roster.
Kenyon (#6 – DIII): SERF came into DIII College Championships seeded 2nd last year but fell all the way to 11th place by the end of the weekend. They'll be hungry to get back to Nationals and make a deeper run. They started the season off well with a 6-1 performance at Cat Fight — they'll really be tested this weekend. They return 2nd team All-Region player Jordan Rhyne — also a captain — who will be one of the players to watch at the EQ.
SUNY-Buffalo: After beating Cornell at Conferences last year, SUNY-Buffalo found themselves with the two seed at the Metro East Regionals. After winning their pool, they got unceremoniously bounced by Wesleyan in the quarterfinals. Certainly they are motivated to get back to the top, but they've got some work to do after a weak QCTU showing. With even tougher matchups at the EQ, they will need to bring a sharper focus to get any wins in this pool.
POOL D
Connecticut: Another of the Metro East contenders, UConn surprised some teams at QCTU with their athleticism and playmaking ability. They run their offense through Kamil Skwarek, a 1st team All-Region player, who can put the disc anywhere using sharp throws and his 6'2″ frame. This veteran-heavy team (there are no freshmen on the roster they have updated their roster, they have plenty of freshmen) will need to make a run this year. The big question is whether they will be able to adjust to teams locking down their main handlers. We'll find out this weekend.
Brown: With a renewed focus on conditioning, Brown has taken big strides already this season. They made it to the quarterfinals of the President's Day Invite and had good wins over Las Positas and UC Santa Cruz. They will look to captains — and 2012 All-Region nominees — Jake Price and Jordan Taylor to get them off to a good start against east coast competition. This pool looks like the easiest to get out of — they should be eying a quarterfinals spot.
Maryland: Maryland is coming off of the long trip down to Tampa to play the country's best at Warm Up. They lost a lot of games there, mostly to top 25 teams, but did notch three wins against some of the bottom teams at the tournament. That big game experience can be quite valuable (they only lost to Carleton (#9) by 2 points). Against AC rivals at the ACCUC, they lost a lot of games as well, but by just a point or two each. They'll be looking to reverse the trend this weekend — they should have a good shot at breaking seed.
North Carolina State: NC State got things started off right at QCTU with a win over Michigan, at the time a top 25 team. Although they went 3-4 on the weekend, they were close in each of their losses and could have won three of them. Almost every one of this team's games have been close this season (biggest differential was five against #6 ranked North Carolina). They will need to work on their mentality, closing out worse teams quicker to save their energy for the tougher matchups. I expected them to get some upsets at QCTU — I expect the same here.
Toledo: This is the first 2013 tournament for Toledo. They are coming off of a season where they lost each of their games at Regionals. But they had a solid fall showing with a lot of wins and will be looking to get some higher level experience in this year. This will be the most competitive regular season tournament they've been to in recent history — it should be a good test for the Ohio Valley team.
Appalachian State: Appalachian State has just one win this season — over Michigan at the QCTU. Despite getting swept in the rest of their games, that win should give this team some confidence heading into this weekend. They will look to continue to develop their program at the Easterns Qualifier.
PREDICTIONS
With just two teams coming out of each pool to the quarterfinals, it's very difficult to pick. Pools are also likely to get rearranged due to Dartmouth's drop. But here's a preliminary shot at who will advance:
Quarters: Ohio, Rutgers, UNC-W, Michigan State, Cincinnati, Virginia, UConn, Brown
Semis: Ohio, UNC-W, Brown, UConn
Finals: Ohio, UNC-W
Winner: Ohio (in a close game)