This year at the Stanford Invite, perhaps the best regular season tournament of the year, 15 of the 16 teams competing are ranked in the Ultiworld Top 25, including 8 of the top 10. With bids on the line, teams will be battling for supremacy.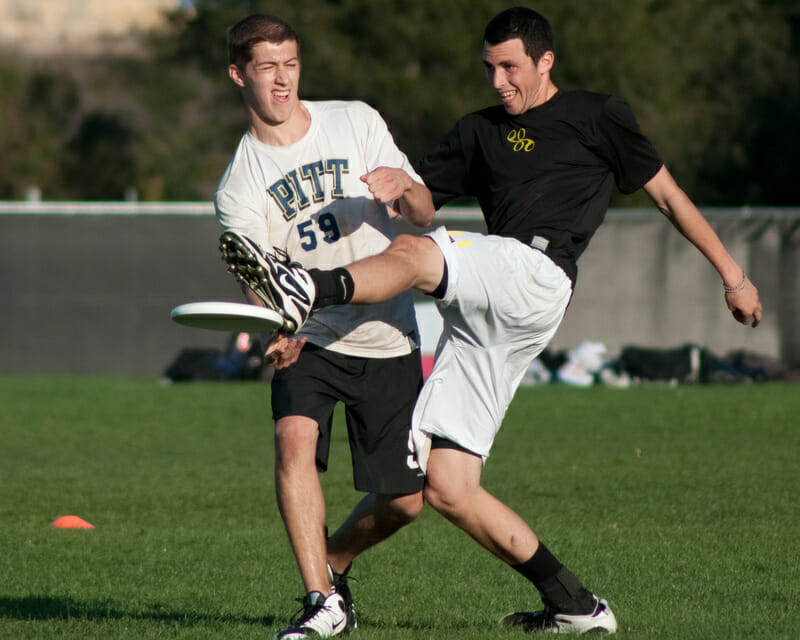 The Stanford Invite, perhaps the top regular season college tournament in the country, pits the nation's best teams against each other under the sunny Palo Alto skies. This year, 15 of the 16 teams competing are ranked in the Ultiworld Top 25, including 8 of the top 10. The only team not ranked? Whitman, who earned a bid to the Invite by winning the Stanford Open earlier this month.
As USA Ultimate likes to say, now it counts. With their rankings now posted — and bids on the line — teams will be looking to preserve their spot in the top 20 to hang on to a strength bid. 13 of the 16 teams are currently in USAU's top 20; Stanford, Oregon, and Washington (all in Pool A, probably to their chagrin) are outside looking in.
For many of these teams, though, this weekend won't be about earning bids. It will be about testing themselves against the best, as they look ahead to the National Championships in Madison just a few months away.
POOL A
Oregon (#8): As usual, Oregon is stacked with talent. Last year they had five players on the All-Region teams; they return three: Dylan Freechild, Camden Allison-Hall, and Aaron Honn. There's no doubt they will miss John Bloch, but they have the pieces to be very strong again this year. They have no real results of note this season. They easily won Colluvium in early February, but they made news more for almost losing to Oregon State in pool play than for winning against the weaker competition. They come into this weekend as the overall top seed, but they aren't the favorites; six teams are ranked higher in the top 25. Their game against Carleton should be one of Saturday's best games (watch it live on NGN).
Carleton College (#9): Carleton opened the season with an unremarkable showing at Warm Up, which dropped them in the power rankings from #2 to #9, where they sit today. They really played to the level of their opponents, which showed as almost every game was close. Their game under the lights against Wisconsin (#1) — available in our video store — was great, and really showed Carleton's potential. Led by Simon Montague and Nick Stuart, they looked like the most explosive team, other than the Hodags, at the tournament. We are likely to see Justin Norden back in action this weekend, and Carleton could well win this pool.
Stanford (#22): Stanford didn't have impressive results at the Santa Barbara Invite in late January, but that's to be expected. This is the point in the season that they show up to play. They return Ben Funk and Tyler Boyd-Meredith — both All-Region — and a host of other playmakers, including captains Cody Mills and Kellen Asercion. They are one of the wildcards at this tournament; they'll be looking to protect their home turf.
Washington (#18): After a forgettable performance in Santa Barbara (where they were missing their young star Khalif El-Salaam to U23 tryouts), the Sundodgers rebounded nicely at the President's Day Invite, losing only to Arizona (#5), Colorado (#12), and UC Davis (#17), all of them semifinalists. Their losses to Mamabird and the Dogs were each by one. At Prez Day, Sundodger coach Gabe Pedersen told Ultiworld, "With our team we are still finding out who is playing where." With another few weeks of practice under their belt, maybe they've found that mix. They'll certainly have a tough test in this pool.
POOL B
Wisconsin (#1): It's hard not to say great things about this year's Hodags team. At Warm Up in February, they dominated, becoming the first team since the 2010 National Champion Florida team to go undefeated. They had impressive wins over defending champions Pittsburgh (twice) and never looked like they might lose a game. Brian Hart and Colin Camp led the way all weekend. They will get their first look at Central Florida at Stanford — should be a very good game. Wisco is the team to beat at the tournament and the favorite to take the title this weekend.
Central Florida (#4): The UCF Dogs of War had a pretty strong showing at Warm Up, losing only to Pitt (#2) and Texas (#3), despite missing a good chunk of their top talent. With Mischa Freystaetter and Michael Hickson set to rejoin the rotation, they will have a good chance to break seed and score some upsets. Coach Andrew Roca pointed out at Warm Up that he wanted to get his younger guys less reliant on their big cutters like Freystaetter — we'll see how that strategy has worked out this weekend.
Colorado (#12): Mamabird had just one loss (to #5 Arizona in the semifinals) at Prez Day — their first tournament of the season — but showed some signs of weakness. They had to pull out some very close games against Washington, UC San Diego, and Vermont. Coach Brent Zionic told Ultiworld,  "Our defense did very well, doing the things we asked them to do, which is keep the energy high. That being said, we still have a lot of work to do on offense. We were very poor on discipline." They will need that discipline to get wins in this very tough pool. As outstanding as Jimmy Mickle is, he cannot carry this team all by himself.
Whitman: Whitman comes into the tournament as the only unranked team by winning the Stanford Open two weeks ago. They had an early scare after losing to Las Positas in pool play, but avoided the finals rematch after UC Santa Cruz dismantled Las Positas in the semifinals. Whitman narrowly missed out on a bid to Nationals last year after losing to Washington in the backdoor game (after beating them in pool play). Ethan Parrish and Jacob Janin (NexGen) return for the Sweets, but they lost All-Region standouts Jeremy Norden and Ben McGinn. Even one win in this pool would be a good result.
POOL C
Pittsburgh (#2): Warm Up may have been a bit of a wake-up call for Pitt, where they lost in a 13-7 blowout to Florida (along with two losses to Wisconsin). The defending National Champions, on paper, are still clearly top-caliber this year. They bring back a huge crop of all-stars, led by Alex Thorne and Tyler Degirolamo, and have the depth and experience to succeed again this season. But their mental focus seemed to let them down at times, as they let teams well below their level (like #24 Dartmouth) stay with them. "We take a lot of pride in preparation," said coach Nick Kaczmarek after Warm Up. "It is the backbone of what we do. We need to be stronger. We need to be faster. We need to be more skilled. We need to be smarter. And so we need to work." We will see if that work has begun to pay dividends this weekend.
North Carolina (#6): One of the few remaining undefeated teams in the country, UNC will look to continue their impressive season at Stanford Invite. One little problem: they've only played three ranked teams this year (#22 Georgia Tech, #15 Harvard, and a depleted #14 Ohio). Can this UNC team match up with the best? They certainly looked strong at Queen City Tune Up, led by Aaron Warshauer and Jon Nethercutt on offense and defense, respectively. They looked very polished for a team playing in early February, but now that other teams have had a chance to get their legs under them, how will they stack up?
UC Davis (#17): The Davis Dogs bounced back at the President's Day Invite after a so-so performance at Santa Barbara with seven straight wins before falling to Colorado and Minnesota (#7) on Sunday. But they established themselves as fully capable of returning to the College Championships this year, looking like the #2 team behind Arizona in the Southwest. Eli Kerns is one of the players to watch at the tournament.
Texas A&M (#20): Will this be Texas A&M's coming out party? The rising South Central squad had a huge fall win over Pitt and has been talked about as a contender to not just make Nationals but win the SC region. This is their biggest tournament invitation in school history, and they have a lot to prove. They're led by the outstanding Matt Bennett and now well-known Dalton Smith. More than anything, they'll want to earn a third bid for the region. Right now they are ranked at #6 in USA Ultimate's rankings, but they haven't had a tough matchup yet this season. Their rematch against Pitt should be a fun one.
POOL D
Texas (#3): Texas is coming off of a finals appearance at Warm Up, a tournament where they used a tall zone to grind teams down and get win after win. Their only two losses came to Wisconsin. Coach Calvin Lin praised the depth of his team, but also pointed out that they were still working on rotations. They'll need to have some playmakers step up this weekend against a tricky pool that's harder than it looks (UNC-W as the four seed is crazy). Will Driscoll certainly has the potential to be that guy, but he wasn't dominating at Warm Up. There's no question the height and athleticism of this team (which has come to define Texas teams, including Club Champions Doublewide) gives them an edge on paper.
Arizona (#5): People still seem to doubt Arizona, despite the fact that they continue to rattle off wins. They have not lost this season, and they have impressive victories against Minnesota, Colorado, Florida State (#10), and Washington. This weekend will be a chance to put questions about their strength to rest. Brice Dixon and Sean Ham lead the way for Sunburn, which has relied on a tricky zone to give teams trouble all season. With a win over Texas in pool play, they can safely call themselves the best of the west.
Tufts (#19): The Emen went 6-1 at QCTU, their first tournament of 2013, but probably felt disappointed. They lost their only game against a ranked team — and it was crosstown (and Regional) rival Harvard no less. This weekend, they will get a much tougher test, with all their pool play games coming against teams ranked higher than them. They'll need good performances from Carter Thallon and captain Gene Buonaccorsi to excel.
North Carolina – Wilmington (#11): UNC-Wilmington has crept steadily up the rankings by continuing to get wins. But the reality remains that they haven't faced a very good team other than Ohio, whose players, like they were against UNC at QCTU, were exhausted when they played. But UNC-W has the pieces to get some upsets in this pool. They looked very good on defense at last weekend's Easterns Qualifier, with Mark Evans and Xavier Maxstadt leading the way. One question for the Seamen: will fatigue be a factor? They've played back-to-back tournament weekends heading into the Invite.
FEARLESS PREDICTIONS
Quarters: Oregon, Wisconsin, North Carolina, Arizona, Carleton, Central Florida, Pittsburgh, UNC – Wilmington
Semis: Central Florida, North Carolina, Pittsburgh, Wisconsin
Finals: North Carolina, Wisconsin
Winner: Wisconsin