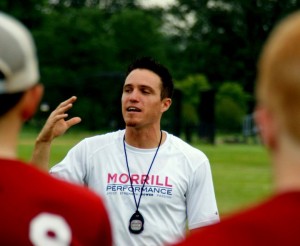 Yesterday on the social news site Reddit, Tim Morrill — one of the sport's leading strength and conditioning coaches — answered questions from users in an AMA (Ask Me Anything).
Below we've aggregated some of the most interesting questions and answers (block quoted). Some have been edited for length.
Morrill just released a new book, The Foundation, a primer on all things strength, speed, power, and agility.
***
What are your thoughts on the long, dynamic warm-ups that most teams seem to do before every game?
[quote]Depends. I think warm ups should look something like these two videos.[/quote]
What are your thoughts on Starting Strength or other similar lifting programs for ultimate players who are novice(novice being defined as still able to linearly progress on a per lift basis) lifters?
[quote]I do like Coach Rippetoe's book a LOT! It's a great book, but I do not think it is for Ultimate players simply because we are so asymmetrical. The bulk or our training should be unilateral.[/quote]
Given that almost all Ultimate games include at least one player with some sort of brace (ankle, knee, etc.), if not an entire line, and ACL tears are common place, do you think injuries are just part of the game? Is it possible to play every season and do it in a healthy way, without taking time off?
[quote]I do NOT think injuries are just part of the game. I think we need to recognize the unique demands of the game and train for them to reduce these injuries.
I have been astonished to learn how many of the "elite" players train. The bulk of the athletes are doing NOTHING in the realm of ACL reduction or achilles reduction. Most people do not start to pay attention to this stuff until they are injured and it should NOT be that way.
Many players do NO single leg training and many are still doing ridiculous things like backsquatting and crossfitting.
I believe if we can educate the community on how to train intelligently and to meet the unique demands of the sport then the injury rate will decrease drastically.[/quote]
I remember in your presentation on misconceptions you said that it is important to address asymmetry. So do you think it would be a good idea to do things like lunges or pistol squats instead of the standard back squat?
[quote]Yes absolutely. I am not a fan of the back squat for Ultimate players in most cases. Pistols are a little progressive for most too. Stick with 1 leg squats, split squats, RFE Split Squats, SLDL's and staggered deadlifts.[/quote]
Do you think the Snertz work out is really as good as advertised?
[quote]I just looked at it and that workout looks absolutely ridiculous. I would use the word "BAD" to describe it.
there is no rhyme or reason to any of the movements. To start, High knees and butt kicks are specific speed development exercises. You can not maintain proper form for 40 yards.
Therefore, that is adding strength to dysfunction. I didn't even look at the rest, you lost me after the first two.
We need to be smarter!
PS: I don't mean to sound like a jerk but this is the reason that Ultimate players have so many injuries and are leaving so much on the table. This workout reminds me of something you would see in a crossfit gym.[/quote]
If you had only two 1-hour workouts a week, what would you do to most improve your ultimate fitness?
[quote]Kettle bell & Body-weight circuits and conditioning in the form of shuttles and air-dyne bike sprints.[/quote]
In your opinion, what are the all-around best plyometric exercises for someone looking to be a more explosive player?
[quote]Depends on your level of strength. Across the board for all athletes, I'd go POGO, Vert Jump Continuous, Split Jump[/quote]
How do you or how have you seen other athletes get over mental barriers after injuries? I tore my ACL last year and everything is back to normal except hard cutting. Any tips?
[quote]I am a believer in never ending mental improvement. Read the self help books and find which one works for you. I bet a warrior mind would be a good one for you. Its also about regaining confidence, so you need to train to the point that you KNOW that knee can handle it. Develop that confidence by challenging it in a fixed environment with a good strength coach supervising you. Find a guy who is good with knees and he will make sure you can handle anything the field offers. You got this![/quote]
Timbo, what have you taught elite ultimate athletes that they have been most appreciative to discover? What are they the most surprised to find out?
[quote]Hmm, I believe the biggest thing is how to deal with their own nagging injuries. So many of these guys are always so beat up. Teaching them how to stay healthy has gone a long way.
Also, the functional training model was new to most of them. Teaching these guys how to do O lifts and single leg training has made a big different in their athletic development.
As far as Speed & Agility training, many of my progressions are new to them. Teaching proper acceleration, crossovers and jab steps has been fun and they have been very receptive.[/quote]
You can also watch Morrill's Ultimate Coaches and Players Conference presentation in full below:
[youtube QGdyNRNnkSI 600 377]
Previously: George Stubbs' Q&A, Ben Wiggins' Q&A