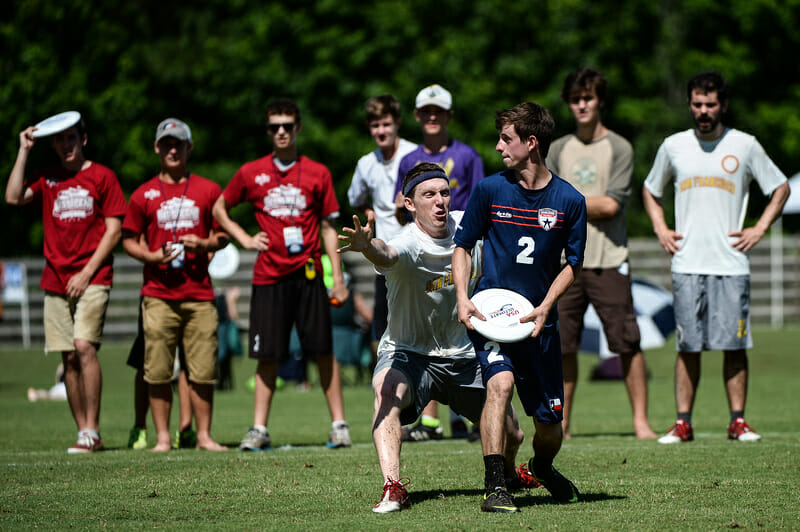 For defending Club Champions Austin Doublewide, the Bigger in Texas cliche rings more than a bit true.  Big offseason roster moves; out with Brodie Smith, Cole Sullivan, and Tim Gehret, in with Alex Thorne, Ethan Pollack, and Tyler Degirolamo.  An army of large receivers (including Pollack, Degirolamo, Jake Anderson, Will Driscoll, and Dan Emmons) and a four man cup that intimidates with size.  An offensive system designed to exploit their size advantage with throws to the sidelines and downfield hucks that hang; a defensive playing style built around big skys and layout Ds.  A rotation and subbing system that isn't afraid to lean on the guys at the top of the roster.
All of those factors probably make Doublewide the most feared-single game opponent coming into the Club Championships in Frisco.  The bigger question mark is whether the defending champions are as strong as the other favorites in the intangibles, like team energy, team depth, consistency and chemistry  — and if those weaknesses could make them vulnerable in a new tournament format that is all about survival.
Doublewide in a Nutshell
Overall Indicators:
Overall #3 seed at Club Championships
2012 Nationals Performance: First place
#1 in Ultiworld Power Rankings
#5 in Skyd Power Rankings
#5 in USAU Club Rankings
Positives:
Second place finish at the Pro Flight Finale, the most elite tournament of the Triple Crown Tour
Dominating second half in a 15-11 win over Revolver suggests they're the scariest team in the country when "on"
2-1 record against regional rival and championship contender Johnny Bravo, including two wins on double game point that shows they know how to win close games
Frighteningly strong top of roster that includes Kurt Gibson, Degirolamo, Thorne, Michael Natenburg, Kiran Thomas, Pollack, Driscoll . . . (does it ever end?)
Question Marks:
Will mail in some performances. Lackluster and short-handed at the US Open in July; simply lackluster in the Pro Flight Finale championship game against GOAT
Super dependent on sideline energy and big plays to get going
With so many stars, they may not know their go-to lineups yet. Degirolamo has moved between lines
A traditional rostering approach makes their second D Line unlikely to generate turns against elite opponents; will likely have to run a narrow roster after Thursday
Season Recap:
The Doublewide preseason had to be the most talked about in all of Club ultimate after they landed Pittsburgh stars Alex Thorne and Tyler Degirolamo. But the regular season started off slow for Doublewide after they continued their tradition of taking the US Open less seriously than their peers do (and perhaps USA Ultimate would like; one player looked nearly bored playing against the shorthanded Doublewide squad there). Those scores lines hurt them in the USAU rankings, and one wonders if something like a finals appearance at the US Open would have been good enough to get Doublewide the overall 1 seed in Frisco.
Since the US Open? Two tournament victories, one finals loss at the Pro Flight Finale, and a 15-4 record. That includes two double game point wins over regional rival Johnny Bravo after losing to them on Saturday at the Colorado Cup. In fact, subsequent wins has become a theme for the Doublewide boys, who have avenged losses against three other opponents this year. After losing to Revolver and Ironside early in the season, they defeated both at the more recent Pro Flight Finale; a Saturday loss there to Machine was reversed in the semis on Sunday. One mark of a potential champion is the ability to make adjustments and Doublewide looks strong in that department.
On the ground, the story on Doublewide has been one of oscillating energy. Doublewide tweeted that the early loss to Bravo at Colorado Cup was a "punch in the mouth" and that they had "work to do" on Sunday. Captain Jerrod Wolfe told Ultiworld at the Pro Flight Finale that the team was struggling with energy on Saturday; they responded with much more in the quarterfinals against Revolver before looking tired in the final versus GOAT.
For what it's worth, Doublewide seems to know their regular season weakness. "The energy and focus issue is something we really stressed at Regionals after a disappointing Pro Flight Finale," Wolfe told us. "Coming into each game focused and energized no matter who our opponent is."
But the high pressure, elimination format at the Club Championships might be exactly what they need. "I don't think it will be hard for us to generate that energy and sense of urgency at Nationals," said Wolfe. "We know every game we play is taking us one step closer or further away from our one goal as a team."
Playing Style:
Doublewide is one of the best in the vertical and sidestack offensive style and maybe most epitomizes its return to elite ultimate. It helps to have dominant handlers. Thorne acts as the most hub-like for the O Line — our US Open stats indicate that he uses about 20% of the team's throws when he's on the field — while Gibson takes the most touches on the D Line.
The system plays especially well for Thorne, who is great at throwing around flicks into space.  It also helps Thorne, who can use his quickness as a handler to gain reception yards for the team as he weaves his dump cuts upline; of course he's not afraid to throw it deep either.
Jeff Loskorn, Max Cook, and Natenberg also see their fair share of touches around the disc and add experience.  Thomas and Pollack set up downfield the most; Thomas shows signs that he's developed great chemistry with Thorne.  The team is less afraid to take upfield yards along the sideline than some of their peers.  Their speed and size helps for this: Doublewide throwers can throw outside-in to the edge of the sideline but trust that teammates can get there while beating or bodying out the defender.
Driscoll can be an offensive wildcard, with an ability to hurt you with deep throws or deep catches.  With flexible pieces like Thorne, Driscoll, and Natenberg working together in vertical stack movement, the offense can be reminiscent of NexGen's. They may play this style better than anyone in the world. And, when they're able to get air underneath the hucks (without overthrowing), Doublewide's athletes are always better than a 50-50 proposition.  Yet Doublewide's tolerance for risk and willingness to play the athletic game may be both a strength and a weakness.  In their Pro Flight Finale loss to GOAT, they simply threw away too many long balls.
On defense, Doublewide wants you to throw it deep.  Some of their cutter defenders have excellent help instincts and opposing teams need a larger window when they throw deep against Doublewide than they do against other teams. Revolver got baited into the deep shots in their quarterfinals loss to Doublewide at the Pro Flight Finale, and Machine had some of the same issues in their semifinals first half. Dan Emmons, a 6'5″ Doublewide rookie we highlighted back in early August, stepped up big in that Revolver game with a few outstanding blocks within a few points of each other. At other times in the Pro Flight Finale he looked a bit more raw, but if Doublewide can get him going, it will be yet another big athletic weapon for them.
The starting D Line on the turn is plenty skilled enough to generate breaks, though the bottom of the defensive roster has some obvious drop off in both defensive and offensive skill. As a D Line player for this team, one good look after Doublewide generates a turn is for Kurt Gibson to "catch a disc, dish it back, go up the sideline, dish it, and go into the endzone for a score." But a mid-season adjustment saw Degirolamo move onto the D Line and add yet another game changer for Gibson1 to find. Captain Wolfe, a cerebral D Line handler who does an excellent job complementing Gibson's skill, spoke highly of Degirolamo's skill and fit with the defensive unit.
"He is such a dynamic playmaker and having him over on the D-line seemed to fit his personality more," he said. "We're a pretty free spirited D-line after the turn and he's able to cut when he wants, where he wants with our other primary cutters."
With that type of attitude, sometimes it seems like it only takes one big play to get Doublewide rolling.  Somehow, big plays beget bigger plays, everything starts firing on all cylinders for them, the free spirit clicks, and all of the risk pays off at the same time for this team. When Doublewide gets on one of those types of runs, they are scary.  Their captains' biggest challenge in Frisco may be keeping that level of energy and focus high the entire time — something Doublewide has struggled with this season — and making sure they can play smart, boring Ultimate if they happen to get stuck in a game where things aren't coming so easily.
Likely Ceiling: 
National Champion. Throw out the US Open, where Doublewide didn't care. This team should be the objective favorites to repeat. As far as the format change? "I don't think we will approach it any differently then we ever have," Wolfe said. "We know that if we are lucky enough to win our pool it will put us in a better position to be successful down the road . . . [the only] difference now is you just have to be ready to win or go home on Friday morning. Our team tends to thrive in that atmosphere and I think the new format will benefit us from a mental standpoint." We tend to agree.
Likely Floor:
Semifinals exit and 3rd or 4th place. Ironside is good enough to potentially take the pool from Doublewide, but Doublewide will still win their prequarters matchup. If Doublewide dropped to second in their pool, they would probably have quarters against Pool D winner Johnny Bravo or Machine. If there's one constant in Doublewide's season, it's been that they win those games when they count.
Worst Match-Ups:
Ironside and GOAT. The Northeast region is admittedly strong in Mens this year, but those teams have been especially difficult for Doublewide.  Ironside is 1-1 against Doublewide this season and it could be a close pool play game if the Boston team really goes for it.
GOAT presents an even scarier challenge. GOAT's handlers have been playing creative, consistent, and smart ultimate. They had mixed success against the Doublewide four-man cup look but that will be easier to break the second time GOAT sees it.  GOAT's patient style of attack doesn't quite play into Doublewide's defensive strength — they're less likely than other teams to be baited into throwing into a medium-sized window. On defense, GOAT has enough athleticism to get a few of the Doublewide deep balls; would 25% be enough?
---
An elite player told us coming into the tournament: "[Gibson] is probably the most influential player in the world." ↩