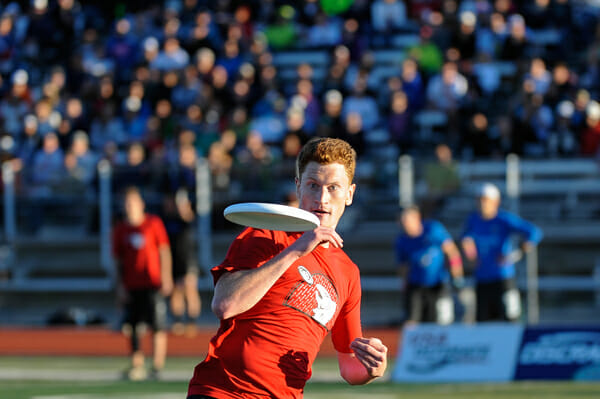 Just a few years ago, Seattle Sockeye was the undisputed top program in the Men's Division. They won three titles in four years from 2004-2007 and vaulted to international fame. However, since their last title in '07, they have not returned to the Club Championships final.
Few expected them to make a triumphant return to the sport's biggest game this season, after injuries and up-and-down play brought them into the tournament with the seventh overall seed. But return they have after an outstanding weekend, including a brilliant performance against Boston Ironside in the semifinals.
They will face the recent familiar role as an underdog, going up against the best program of the last five years: San Francisco Revolver.
Revolver, in their fifth straight National Championship final, hopes to bring home their third program in four years, which would match their former Regional rivals' results from the previous decade.
Sockeye's resurgence this season has been led by star performances from Matt Rehder, who rejoined the team just weeks ago after a broken arm kept him out of the lineup for the vast majority of the 2013 season, and Joe "BJ" Sefton on the offensive side of the disc. Sefton has completed nearly 97% of his passes while ranking 5th on the team in total yardage — a remarkable statistical couplet.
Rehder has been the top downfield threat for Sockeye, averaging over 14 reception yards per point to led the Seattle team.
Despite having some standouts, Seattle's offensive attack is balanced by contributions across the roster, including those from Chris Kosednar, Nate Castine, and Adam Holt.
Revolver's offense is more top heavy. Ashlin Joye and Beau Kittredge dominate the yardage metrics for the San Francisco unit — each player is responsible for over 30 yards (throwing + receiving combined) on their average point. Often, it's Joye hitting Kittredge deep for big gainers and goals.
Josh Wiseman and Cassidy Rasmussen have also been very important to Revolver's offense with 20+ average yards per point.
Ultimately, though, it has been Sockeye that has put on the most impressive offensive performance at the tournament this weekend, completing over 94% of their passes and efficiently scoring while also playing excellent defense after any turnovers.
The inconsistencies of their "small ball" offense we saw earlier in the season have largely been erased thanks to an much improved deep threat with the Phil Murray/Rehder combination. Those two players stretch the field for Sockeye, making their quick attack, fast-moving offense better than ever.
The problem for Sockeye is that its defense has not been as strong as Revolver's. In their semifinal matchup with Ironside, Sockeye's D Line only generated three turnovers — by punching in two of them, they did just enough to outpace Ironside to a 14-13 win.

Sockeye's defense this weekend has averaged 7.0 points per game where they are never afforded an opportunity for a break. Revolver? Just 4.8.
Andrew Hagen and Sam Kanner have been outstanding at generating blocks and causing high pressure situations for their opponents. If defense wins championships, Revolver has the edge.
They may also have the mental edge. Although Revolver and Sockeye have both had wins against one another, it has consistently been Revolver getting the better of Sockeye at the most important moments.
Sockeye does have a win against Revolver in their only meeting this season: 17-16 at the West Coast Cup. Revolver has proven, however, that they are very difficult to beat when it matters most at the Club Championships.
For Sockeye, this game marks an opportunity to truly prove themselves, in the words of their coach Roger Crafts. They have embraced the scrappy underdog role — one that fits perfectly into the narrative of a game against the consistent powerhouse Revolver.
Revolver, who Johnny Bravo captain Ryan Farrell said was the weakest iteration of the team since its inception, has an opportunity to silence the discussion about parity at the top of the Men's Division. The belief and buy in shared by the team is frequently discussed by their players as a reason for the consistent success.
"All these teams have so much talent, but it doesn't take a lot to get a little bit above all those teams if you do things the right way," said Joye after last night's semifinal victory.
Above all, good money says recent championship experience will serve as that extra "little bit" Revolver needs in the Championship.