San Francisco Fury has seven straight Club Championships. Revolver has made it to four straight National finals. Doublewide looks poised for a strong title defense. All of these championship teams are different, but share some features that make them great.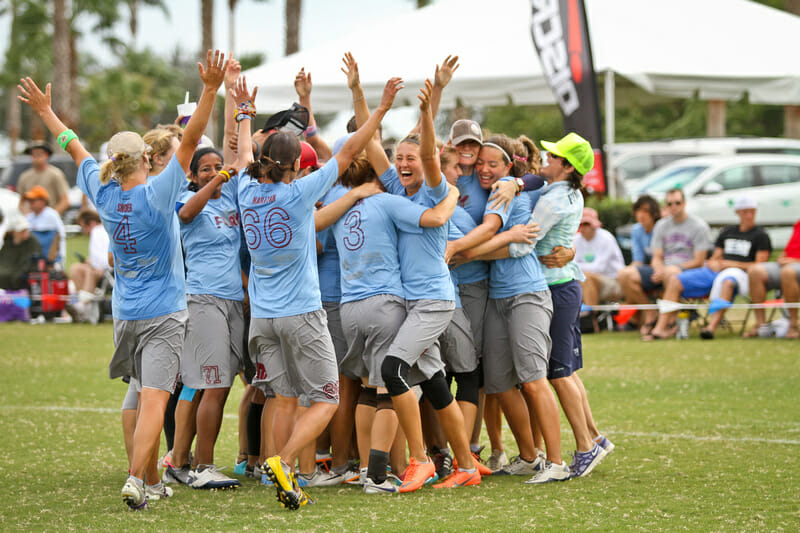 Ultimate is different from other sports. Some of the differences are obvious: there are no referees and you can't run with the disc. But what separates the sport more than anything else is the club offseason. There is no draft, no free agency period. There is no money and there are no regulations. Players often find work that allows them to play with a particular club team. Sometimes, they even fly cross-country from home just for tournaments with an out-of-state team.
Unlike many sports with enforced competitive balance, Ultimate is a sport that allows legacies, dynasties.
Look at the some of the results. San Francisco Fury has won eight of the last ten Women's Championships. In the nineties, Men's team Death or Glory won the Club Championships six times in a row. Four teams have been able to repeat championship wins since then. It is almost as though, in ultimate, championships come in twos.
But what is it that separates the winners from the rest of the pack? Many teams are deeply talented, but few can capture the elusive national title.
Every champion I spoke with said that it started simply with a goal: they wanted to win the championship. But every top team wants to achieve that goal, so what is it that turns it into reality?
Some of the obvious commonalities were present. The players I spoke to from San Francisco Revolver, Austin Doublewide, and Fury harped on strong work ethic. Doublewide Captain Jeff Loskorn placed importance on getting in the gym, which provides another degree of strength and endurance at Nationals. Fury captain Ness Fajardo and Manisha "Slap" Daryani emphasized their hard work at practices, always "giving 100 percent."
"It's a lot of work to play knowing that everyone out there is training to beat you and you're the one everyone is thinking about when they're running sprints," Revolver captain Nick Schlag said.
Serious club teams perform the same measurable challenges, but they do not have the target on their back as being number one. So, our conversations dug deep into some intangibles that allowed these teams and players to reach the top of the sport.
1) Mentality
"We harp on our core principals… intensity, humility, and discipline," Schlag said about the foundation of Revolver's success. "Our maintenance and focus on those three things translates to success in a number of ways."
Schlag and Revolver have won two World Championships and back-to-back national titles in 2010 and 2011. Bookending those titles are finals appearances in 2009 and 2012. Revolver has been the picture of Men's Division success over the last five years.
Despite substantial turnover in recent years, they still made it to four straight National Championship finals.
"While the players who are on the team and the people who are on the field have changed, you know the team's identity—one that's hardworking guys who are out there fighting for each other—really hasn't changed that much over the years," Schlag said. "There's a lot of strength being drawn from basically knowing you have an entire program at your back."
The program becomes a crutch during adverse times. Schlag referenced a close game against Sockeye in 2011 Regionals that turned their team around.  Facing an 8-5 halftime deficit to their old Regional foe, they had to rally late and eventually captured the one point victory, 15-14.
The win continued a precedent, a hook of hard work and confidence upon on which they could hang their trophy. The team had won in 2010 and had "mentally prepared to overcome obstacles" extensively for moments like this. Schlag said that these were the sorts of obstacles people had spoken about fearing. By facing those fears ahead of time, the players tackled their demons.
"Every team is going to face challenges and points at which they could crumble," Schlag said about that game. "It's knowing in advance how you respond that that helps you overcome those kinds of obstacles."
Where Revolver has relied on continuity, Fury's enjoys success through evolution. Fury's team leaders try not to think about past success.
"I think the fun thing for Fury is that there isn't a road map," veteran Daryani said. "Let's see what works, let's see what doesn't. And the team is very willing to experiment, to try things and to throw things out when they don't work."
Fury approaches every year, every practice like an inventor. When thing are going right—the composition, the aesthetic—they embrace it. However, they will readily throw away pieces that do not work. If an idea is a thing of the past, then it belongs in the trash. The ever-changing mentality requires trust. When it comes to winning eight championships, that trust must be the constant.
"There's really an incredible amount of buy in…and that has everything to do with respect we have for our teammates," Fajardo said. "We all have this respect with each other and ourselves and this pride in what we do that allows us to push each other—and ourselves—really hard."
None of the champions mentioned leadership without being pushed on it (though it is worth noting that I was speaking to some of the strongest leaders on the teams). The players expected leadership from everyone. Daryani, however, made a point of mentioning her coach, Matt Tsang.
"Matty," she said. "[He is] a consistent coach that is so aware of the how the women's game is being played and how it can be pushed… Look at the years Fury has won and the years Matty has coached and there's a significant overlap."
Matt Tsang has long been ahead of curve in the women's game. He keeps Fury one scheme and step ahead of the competitors.
2) Players
Considering how quickly the sport of ultimate changes can shift, Fury's success, spanned over such a long period of time, is even more impressive. It comes as no surprise that they approach each year with a clean-slate mentality. They don't have any of the same players that began the dynasty in the mid 2000s.
They are constantly winning with a different core group of players and different schemes. And while mum is the word on dynasties, they openly talk about attracting championship caliber players.
"It's not a question of going to these programs (in the bay area) and picking players, it's that these players possess the qualities that Fury is looking at and so those players make the squad," Daryani said. "Success begets success."
As mentioned, there is no competitive balance in club tltimate. The sport works more like a Division I college sport than it does a pro sport. Fury is like the Alabama of ultimate (and if Fury is Alabama, coach Tsang is Nick Saban). Their success makes them synonymous to championships, and that's attractive to champions.
A similar phenomenon has occurred with Doublewide, as they recruited back-to-back college champions Alex Thorne and Tyler Degirolamo this season with little more than a phone call. They know they can win a championship, Loskorn said. The addition of Thorne and Degirolamo adds a pair with the winning mentality. Still, his focus echoes Revolver's second principle: humility.
"The team was built around the idea of a brotherhood," said Loskorn. "You play for the guys next to you. Grinding through tracks, 110 degree mini camps, late night flights. Every sacrifice we make is so the team can be successful."
Both Doublewide and Revolver have some of the strongest and most successful players in ultimate. Revolver's Beau Kittredge, perhaps the world's best player, has a long list of accomplishments: a World Games gold, a game-winning goal at this year's US Open, and one of the most famous videos in ultimate. But he is also relentlessly team-focused, despite all of his success.
Schlag said Revolver looks for players "that don't really want to be a lone superstar. [They] get a bunch of guys together and get on a field and perform a specific role and rely on their teammates to fulfill their respective role."
***
Doublewide has done a good job this year adding their key additions to their system. Their foundation, however, is built locally.
"[The University of Texas has] been a great source of talent for [Doublewide] for a long time. We keep a pretty close relationship with them – we scrimmage them often leading up to the college series," Loskorn said.
TUFF, University of Texas' team, has an excellent system and is a perennial college ultimate powerhouse. Loskorn is a graduate of Texas, but he explained they welcome new blood, new ideas.
"We've expanded our recruiting efforts pretty significantly," he said. "This year alone we have players that have recently played on A&M, UNT, Texas State, TCU, and Oklahoma… Bringing in talent from outside of Austin has elevated the level of our tryouts significantly and it makes everyone work that much harder to earn a spot."
With an influx of talent in Texas and Oklahoma, Doublewide has risen to prominence and plans to remain.
3) Competition
It cannot be coincidence that the two dominant teams are located in San Francisco and teams that they frequently butt heads with are conveniently located in Seattle. There is no ignoring that as ultimate is still a hot spot sport — some cities simply have a stronger ultimate culture. San Francisco, Seattle, Denver, Boston, Atlanta, Chicago, Toronto — you consistently see the country's best teams rising from these cities.
Revolver is in constant competition with Sockeye. Doublewide is in constant competition with Denver Johnny Bravo. Boston Ironside gets closer to a championship with growth of New York PONY and Toronto GOAT.
The women's division is much the same, but with one rivalry rising above all. Only one team has really disrupted Fury's success over the past decade: Seattle Riot.
"There are a few teams that challenge us every year. We welcome it. We love this battle. We invite teams to help us get better," Fury captain Fajardo said. "Together, we raise the bar for women's ultimate."
With each Championship team, there must be another, especially another in their region, nipping at their heels all season long.
Particularly in the hot bed cities, the competition starts at the high school level. Players start young and develop a competitiveness that stays with them deep into their club years.
***
As ultimate becomes increasingly mainstream, the sport will change. It already has. Although purity still remains somewhere between cleating up for tryouts and the final point of the championship game, only one team finishes with a win. History tells us that the players I spoke with are most likely to take the title in Frisco next week.
An earlier version of this story incorrectly stated that Kittredge won a Callahan award and that Revolver only has one World Championship — they have two.