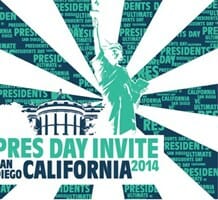 When even the Club Championships now go straight from pool play to prequarters, it seems a bit curious to have a three-day tournament with power pools in mid-February, especially with just five teams in the top 20 of Ultiworld's power rankings, only two of which are in the top 10. But President's Day has customarily been a revealing litmus test for those in the Southwest, as well as for the handful of out-of-region teams that attend every year, and the 2014 contest looks to continue this tradition.
Held late enough in the season for teams to have spent a solid number of weeks practicing together and developing their systems, the tournament serves as a good test of where teams are currently situated and often reveals surprise contenders, such as when sixth seed Dartmouth rose out of nowhere in 2012 to take the title.
Each of the past few years a different champion has emerged, none of which was the one or two seed. With a less-dominant Arizona and a strong crop of hungry competition in 2014, the trend could continue, but a road block stands in the way: Colorado.
Pool A
Coming in with a nearly flawless early season, including winning the club New Year's Fest last month, top seed and #2 ranked Colorado looks to further establish themselves as a peak Nationals contender. Expect Callahan frontrunner Jimmy Mickle, who was nearly unstoppable at the Club Championships just a few months ago, and Johnny Bravo teammates Tim Morrissy and Hidde Snieder to be getting most of the looks they want and leading Colorado deep into the championship bracket.
Washington (#19) has some solid early results, falling only to University of California-Santa Barbara 11-13 in pool play and eventual champions University of California-San Diego 8-13 in quarters at the Santa Barbara Invite. With a number of Nationals appearances and a consistently solid program over the past few years, the Sundodgers are the kind of team that can win any matchup, especially if underestimated.
Following on the heels of their 14-13 comeback double game point win against Las Positas College in the finals last weekend at Stanford Open, Cal will be eager for yet another chance to grow as a unit and develop their system, which. if history is any indication. will be one that emerges as clean and efficient by the time the series rolls around. Though both Whitman and UCSB have had somewhat underwhelming results the past two years, missing Nationals and falling short of their potential, Pres Day could be the kind of jumpstart they've needed.
Pool B
Losing key contributors like Aaron Honn, Camden Allison-Hall, and Topher Davis would send most teams into a relative status of "rebuilding." But most teams don't return 2013 Callahan winner Dylan Freechild. After cleaning up at Colluvium earlier this month, albeit with an only three-point win over Williams in the finals, Oregon (#2) will get their first test against top competition this weekend, looking to prove once again that they are among the most elite programs in the country.
Defending Pres Day champions Arizona return to San Diego seeking another strong showing, but will have to go through some tough teams to do so. Their fourth place finish at SB Invite indicates they're still among the best in the Southwest — and the return of Callahan nominee Brice Dixon will be a big help — but Sunburn is going to have to dig deep earn a spot back into the finals.
Stacked with elite club players in Simon Higgins, Marcelo Sanchez, and Sonny Zaccaro, as well as experienced members of various other club teams including Greater Good and Wolves (which merged into Boost Mobile in 2012), LPC stands as a wild card always capable of upsets, especially when their starting line is in sync. Their decent performance at SB Invite and crushing finals loss at Stanford Open point to their potential, but how they will fair in a three-day tournament after riding their stars over a high number of games remains to be seen.
Oklahoma has yet to play a winter tournament, and University of California-Los Angeles has some mixed results so far, but as past Pres Days have shown, upsets can come from unlikely places, particularly when the competition is so fierce and everybody is fighting for every point.
Pool C
As the current leaders of the Southwest and victors of the last two tournaments they attended, undefeated UCSD (#16) will have an excellent opportunity to expand upon their already impressive season and see if they can command even more respect with a dominant showing against a bevy of tough teams. With the luxury of home field advantage and a sizable roster providing plenty of fresh legs, the Air Squids will be in prime position to build their reputation through the disciplined play of their stingy offensive line and suffocating defense.
Though historically a familiar face at Pres Day, Brownian Motion will be missing this year's tournament due to flight complications caused by storms on the east coast. Despite a valiant effort in which they attempted to drive to their connecting flight in Washington D.C., the squad will not be able to make to San Diego by Saturday, leaving a lot up in the air as to how Vermont, Victoria and Northern Arizona will fare against each other.
Each of the three teams has either mixed or essentially nonexistent results so far in the season, making the question of who's going to sneak into Sunday's power pools an interesting one.
Pool D
As pretty much the only team in the Metro East to register on the national scale, taking the auto bid to the big show for the past five years, Cornell (#24) has been a program walking along the edges of elite program territory without really cementing its status as a team to be truly feared. But a solid showing at Steel City Showdown last November, where they beat Tufts and Dartmouth and only lost to Pitt and Ohio, shows they have the ability to hang with those elite teams. Unfortunately, they won't have a chance to showcase their 2014 squad this weekend, as flight cancellations have left them stranded in Ithaca.
After their 13-11 finals loss to UCSD at SB Invite, University of British Columbia (#23) will be coming back to California hungry for another finals berth. With four U-23 Canada players anchoring their roster, the Thunderbirds have a solid shot of winning the pool and getting some wins in power pool play to earn themselves a better spot for the start of late Sunday's bracket play.
As the closest thing to a dominant team over the past few years in the Southwest, University of California-Davis (#20) will be trying to regain some of that momentum after their less than stellar showing at SB Invite, which, to be fair, started out without Nexgen star Eli Kerns on Saturday. The Dogs' athleticism and experience playing high-level teams should serve them well and help them reassert themselves as a team to beat in the highly competitive region. Rounding out the pool are San Diego State and Cal Poly-San Luis Obispo, both of which will most certainly be looking to shake off the shadow of their bottom four finishes from last year's Pres Day.