With the college regular season now completed, the Callahan race is now the talk of the division. The nomination process has closed and candidates have had their chance to state their case on the field. The next step is the marketing process: Callahan videos, endorsement posts, and the like.
Our Callahan Power Rankings now reflect the race based on which candidates have been nominated. Here's a look at the top candidates from each division.
Men's Division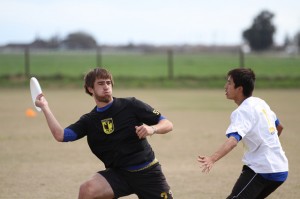 Jimmy Mickle (Colorado)
I said it on a recent podcast: this is Mickle's award to lose. It has been since the start of the year. Now, after a full season of play, he looks more than ever like the clear frontrunner for the award.
After a not-so-great game against North Carolina in the quarterfinals of the Stanford Invite, Mickle took to the field at Centex and dominated all over the field. Racking up six blocks in the finals alone, Mickle was obviously the best player on the field.
Mickle stands above the crowd, leading the #1 ranked team in the country into the Series. Strip away the hype, strip away his time on NexGen, strip away his play at the Club Championships last year: he was still the best player in the college game this year.
Why He'll Win: It's his year and he is the most talented player in the college game.
Why He Won't Win: The only scenario could be that voters punish him for a weak game against UNC.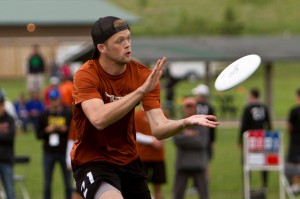 Will Driscoll (Texas)
Here's a short anecdote about Will Driscoll that says a lot about who he is: he had to be nominated by the Regional Director, not his team. Here's what the RD wrote in Driscoll's Callahan bio:
I am nominating Will because he insisted that his team nominate his excellent teammate, Mitch Bennett, but I believe that Will is one of the two best players in college ultimate (the other being Jimmy Mickle). Will is a tremendous weapon as both a thrower and a cutter, and he's a strong and versatile defender. Although he's been hampered by injuries this season, he has still done things that few others can. In addition to his talents, Will competes fiercely but fairly, as he leads by example in encouraging his teammates to play with good sportsmanship.
Driscoll doesn't seek the spotlight. He doesn't demand the disc. He just goes out there and plays within the Texas system, albeit at a very high level. He is the kind of leader that the Callahan award seeks to reward.
His system dedication may be a bit of a negative on his Callahan resume, though, as he sometimes seems to not be the takeover player that the team needs in crunch time. Perhaps that is coming from his injuries, perhaps it is a coaching decision, perhaps it is a flaw. Regardless, Driscoll is an outstanding player and a top leader.
Why He'll Win: Incredibly skilled, incredibly humble, a total team player.
Why He Won't Win: He's too passive and has been slowed by injuries this season.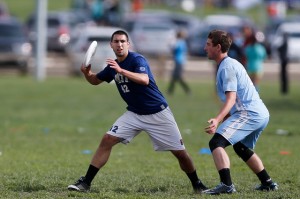 Marcus Ranii-Dropcho (Pittsburgh)
Trent Dillon may have been Pittsburgh's early Callahan favorite — he remains an extremely important piece for the defending National Champions. But it is Marcus Ranii-Dropcho, the long time role player for Pittsburgh, who has emerged not only as the team's Callahan nominee, but also as a takeover player for Pitt.
After a relatively quiet Stanford Invite performance, Ranii-Dropcho reached an entirely new level at Easterns and left defenders in his wake all weekend long.
Using his big frame along with excellent quickness, he muscled his way up the field, sometimes touching the disc every other throw en route to the endzone. The rapidfire Pitt offense often funneled through him. Don't forget that he is also one of the team's best defenders.
While his late emergence as a top contender may hinder his chances, he has proven to be one of the country's most effective players.
Why He'll Win: He's the standout player on the two-time defending National Championship team
Why He Won't Win: Played his best ultimate late in the season; didn't enter conversation until recent weeks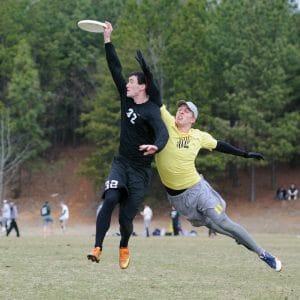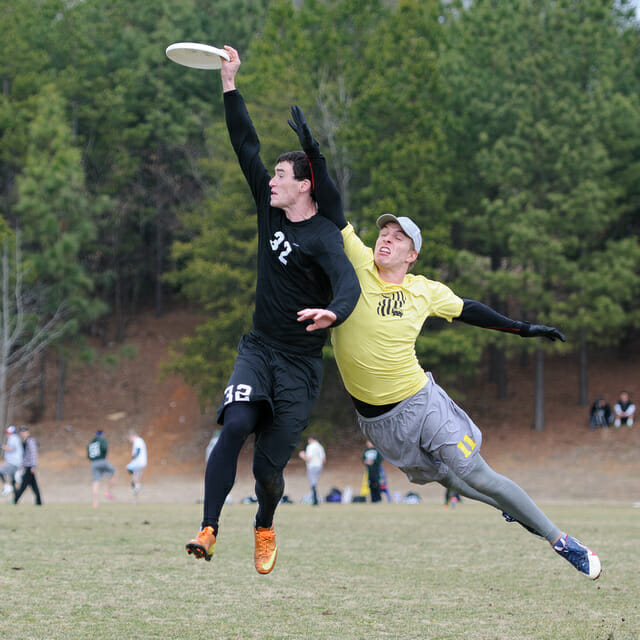 Christian Johnson (North Carolina)
There was some indecision from the North Carolina camp about who to nominate for the Callahan. With three truly deserving players in Christian Johnson, Jon Nethercutt, and Ben Snell, it was not an easy choice: they made that clear in their Callahan preview video.
They settled on Johnson, their early season favorite and one of the top cutters in the game. While Johnson hasn't been making the kinds of highlight plays he made in the late fall at CCC all season, he has been doing the little things that make the team tick.
No player on UNC's roster is as good at creating space underneath and receiving the disc in a threatening position in the center of the field. Johnson so frequently touches the disc one or two throws before the goal after getting a big gainer underneath.
While that skill goes more unnoticed on the highlight reels, it has been vital for the UNC offense's success this season.
Johnson's nomination could be hurt because it isn't clear he is the most important player on the team: Nethercutt and Snell have been so steady as handlers and the team is packed with very good cutters. Still, Johnson is the standout cutter on the team, and when the game is on the line, they will be looking to him every time.
Why He'll Win: He is the best pure cutter in the field and the nominee from the likely #1 seed at College Nationals
Why He Won't Win: UNC is so stacked they couldn't even decide on a candidate. He is not the obvious best player on the team.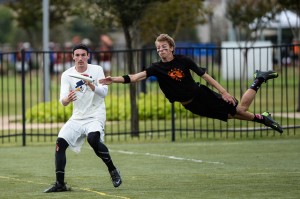 Justin Allen (Appalachian State)
Sometimes a Callahan video can do wonders for your candidacy. Appalachian State's Justin Allen has the buzziest video in the Men's Division so far this year and has risen into the conversation for the award, despite playing for a small program without significant Nationals hopes.
We haven't seen a lot of Allen this season, but we did see him frequently last year — he is a supremely athletic and talented player, without question. He is a tenacious defender and one of the highest skill players in the Callahan race this year. He has a very high ceiling and should be exciting to watch develop as he plays more club and pro in the coming years.
Why He'll Win: Unique style and a top-notch Callahan video.
Why He Won't Win: He's from a small program without much exposure and it's hard to judge his performance this season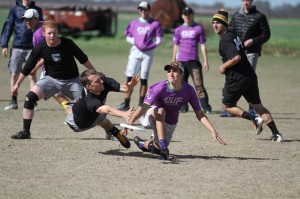 Chris LaRocque (Florida State)
Chris LaRocque burst into the Callahan conversation after the Stanford Invite where he led the team to a semifinals appearance and a near-upset over UNC. He fell back to Earth at Easterns, where he wasn't playing his best; then again, it was a general dip in performance from across the roster.
LaRocque still deserves consideration as a Callahan finalist. He is a humble leader that has been a huge part of the rise of the FSU program onto the national scene. He is a multi-dimensional player who has largely handled this year, but has no problem attacking downfield or playing elite level defense.
He will look to lead his team back to Nationals this year out of the Southeast. As a Captain last year, he took the team to its first Nationals appearance in 17 years.
Why He'll Win: He's a true leader, a complete player, and a proven competitor at the top level.
Why He Won't Win: It's a deep field this year and he didn't sustain an elite level of play from start to finish.
Callahan Final Regular Season Power Rankings
1. Jimmy Mickle
2. Will Driscoll
3. Marcus Ranii-Dropcho
4. Christian Johnson
5. Justin Allen
6. Chris LaRocque
Players To Watch
– Chris Kocher (George Washington)
– Eli Kerns (UC Davis)
– Chris Larberg (Oklahoma)
– Trent Cooper (Northern Iowa)
– Jay Froude (Missouri)
– Mike Ogren (Central Florida)
– Jeremy Nixon (Harvard)
– Michael Matthis (Texas Christian)
Women's Division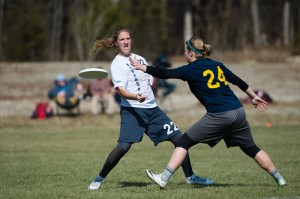 Shellie Cohen (North Carolina)Pleaides' star handler was in a position to make a run at the award well before her top cutter, Lisa Couper, went down with a ligament injury. Now, Cohen's shouldering an even bigger offensive load, and is helping keep #16 UNC in the mix. As the game's premier power thrower, "ShelCo" is finding ways to use her sizable stable of receivers to pick up Couper's slack.
"Shellie has probably the most beautiful forehand huck I've ever seen. [It] can go the full length of the field, and her pulls go even further," says Paige Soper, who competed with Cohen for Gold at the U-23 Championships this summer. "She is totally committed to her team and knows how to take over the field."
On the other hand, Cohen's also tackling tougher defensive assignments. She patrols the skies for North Carolina on defense.
While power is her calling card, her intuitive ability to know when to ease off the gas is another strength. Whether it is on her throws — it isn't uncommon to see her dropping blades behind defenses — or in her game management, she's the type of ideal player that makes her teammates better by allowing their strengths to shine.
Cohen is also a well known and documented servant of the ultimate community. She's heavily involved with the thriving Triangle Youth scene and various other ultimate organizations.
Why She'll Win: She's a true workhorse, carrying a heavy load for North Carolina, and a highly spirited candidate with high visibility and a strong regional footprint.
Why She Won't Win: North Carolina has struggled to put up the high powered results usually associated with a Callahan candidate, and their struggles in tight games could lead to questions about Cohen's leadership.
Credentials: All-Region 1st team 2012 & 2013, Atlantic Coast FOTY 2011, Team USAU U-23 Women's 2014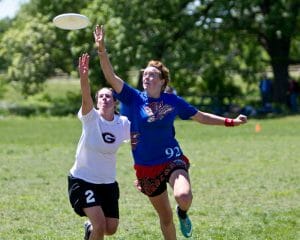 Lisa Pitcaithley (UC-Santa Barbara)
Pitcaithley came into the season already a big name and a shortlister for the Callahan. Her unique combination of size (5'10"), explosiveness, skill, and aggression makes her probably the single most difficult cover in the women's division. A season with San Francisco Fury has only sharpened her cuts and rounded out her skillset.
She's been instrumental in Santa Barbara's biggest wins of the season: a double game point victory over #2 Oregon at Pres Day, a roaring double game point come from behind victory against #3 Central Florida at Stanford Invite, and a double game point victory over rival #7 Stanford in the Santa Barbara Invite final.
Pitcaithley's led the Burning Skirts to one of the top ranked teams in the country. She might be the most valuable player in the nation, and it'd be tough to argue UCSB would be considered top flight team without her imposing presence.
"It is impossible to shut her down, you can only hope to contain her a bit," says Sophie Darch, a senior captain on Oregon, as well as Pitcaithley's U-23 Mixed teammate in Toronto last summer. "Even when you put tons of pressure on her she still goes up and makes an incredible play."
Why She'll Win: One of the biggest playmakers and perhaps the most talented in college, and a massive success driver.
Why She Won't Win: Pitcaithley is the engine that drives the Skirts, but does she make her teammates better or their jobs easier? In our first edition, Pitcaithley's spirit was also called into question. While anonymous criticisms should always be taken with two – or a hundred – grains of salt, public perception is a big part of the award.
Credentials: 1st Team All-Region 2013, Club Championship (Polar Bears – 2012), Team USAU U-23 Mixed 2014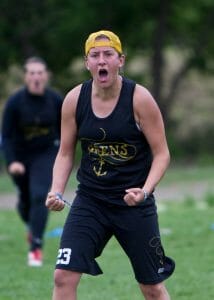 Sunny Harris (Central Florida)
Sonya "Sunny" Harris has an unorthodox approach to the game of Ultimate. Her form doesn't look the same as everyone else's. Her imposing figure doesn't match the typical elite women's player. Her boisterous voice, booming across the field, cuts through the air in a way few other voices can. She played Stanford Invite – and led her team to a 4th place finish – and on ankle most players would probably rest.
Her level of productivity is also unique. In fact, her unusual play style seems to make her even more effective, especially against the mark. Lengthy reach, varying release points, quick snaps, and unreproachable power make her one of the nation's most dangerous college women when she's holding the disc. And for her Sirens, that's often: give and go's, early count resets, and dish cuts are all major parts of Harris's game.
"Sunny is an extremely active and quick handler, always looking for the throw and go," says #1 Ohio State captain Cassie Swafford, who has battled Harris's #3 Central Florida team three times this spring already. "Her athleticism, deliberate movement on the field and ability to take over the flow of the offense make her a formidable player and opponent."
Harris is a gunner: aggressive as a handler, happy to take difficult blades, long shots, and over the top looks. On defense, the 5th year veteran is an opportunist; as soon as an onlooker labels her as lazy, she makes a huge play, like her magnificent layout D against #2 Oregon in the Stanford Invite semifinals.
Why She'll Win: She has incredible toughness and grit combined with big play ability, and has thrown UCF from relative obscurity to a title contender.
Why She Won't Win: Harris may be the heartbeat of UCF, but a non-traditional player from a non-traditional team may face an uphill battle. Harris's spirit has also been debated.
Credentials: 2nd team All Region 2012, Southeast POTY 2013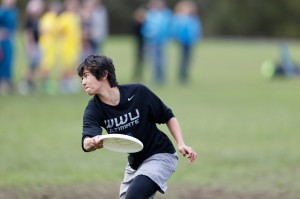 Callie Mah (Western Washington)
Mah casts an unassuming shadow. She's easy going, with lax body language and goofy sense of humor. Inside lurks an intense competitor and impressive player guiding her team to improbable heights.
"When it comes down it, Callie Mah [represents] Chaos," says Western Washington teammate Abbie Abramovich. "It's obvious how much she means to the team and how much effort she puts in."
There are times when it is hard to tell how Mah is killing you. She hits all the right open looks, throws smart breaks, and does it all without showing how much effort she's expending. Then there are other times where her huge backhand break hucks, portfolio of forehand breaks, and big skies do nothing to hide that she is taking over. She's highly capable of claiming any offensive possession as her own.
#5 UC-Santa Barbara, #7 Stanford, and #6 British Columbia all failed to find an answer to Mah, but a number of teams weren't even asked the question at Northwest Challenge after Mah went down with a concussion. With her playing status questionable and her exposure limited, Mah's candidacy is not without issues.
Why She'll Win: A spirited player with a great underdog story of bringing a little known squad to the forefront of the division.
Why She Won't Win: Mah's name hasn't really reached far past the Northwest, even after playing with Seattle Riot. Westerns name is similarly obscure. She also has to compete for Northwest votes with some of the nation's other top candidates. And she barely saw the field at the highest profile women's tournament of the year.
Credentials: 2013 1st Team All-Region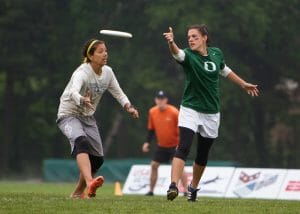 Sophie Darch (Oregon)
An early favorite for the Callahan, Darch's acumen extends past the "best player on the best team" assumptions that may accompany mention of her name. The senior handler is a unique ingredient in Fugue's recipe, the one that ties the bold flavors of their slashing offensive and defensive attacks.
"Sophie is the rock for Oregon that allows everything else to function," says Kyle Weisbrod, coach of regional rival #11 Washington.
What Darch does so exceptionally is make the game easy. Her demeanor is focused and she's a fierce competitor, but all you see when she bombs a forehand that a receiver could catch with their eyes closed is effortlessness. Unrivaled disc control and encompassing field vision make it tough to stop her from granting her offense access to almost every inch of field.
Her defense also continues to improve, and she's become one of Fugue's defensive stoppers: see her defensive execution against Paige Soper of  #1 Ohio State at Northwest Challenge. She sees lanes and tracks the evolution of an offensive possession, interrupting offensive flow with expert timing and positioning. Darch strikes when the offense least expects it.
And she delivers that play regardless of the stage, as she did at the 2013 College Championships in her fantastic semifinal performance.
"[Sophie's] poised and precise, and steps up her play when the pressure is on," says Weisbrod. And when you're ranked number one and hold the Championships belt, the pressure is always on.
Why She'll Win: A proven winner who brings her best when it counts, with a big name on a top team.
Why She Won't Win: Faces challenges with the number of stars that take the line with her, plus challenges in her regional voter network from strong national candidates.
Credentials: 1st team All Region 2012 & 2013, 2nd Team All Region 2011, Northwest 2nd Team FOTY 2011, Team USAU U-23 Mixed 2014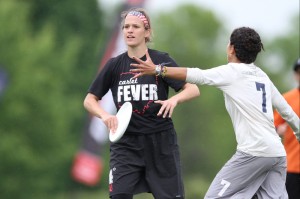 Cassie Swafford (Ohio State)
While Swafford could give Shellie Cohen a run for Most Smiles Per Game by an Elite Player, it is her consistency and versatility that land her on the list. There is no place on the field where she isn't one of the most effective options: using her 5'10″ frame in the air on deep cuts, using her footwork to generate under yardage, using her poise to command an offense from the backfield, or even on the sideline, where she's hyper communicative.
In 2013, Swafford's contributions were ever-so-slightly overshadowed by the Callahan nomination of her teammate, Paige Soper. However, her fifth year may be Cassie's year to take on the spotlight.
"She is so versatile in everything," says Soper, Swafford's long time teammate, including with the women's U-23 team in Toronto, "Cutting in general, being a huge aggressive deep threat, [and] being a fantastic handler."
Swafford's impact is easy to see in performances like Ohio State's upset over Oregon at Northwest Challenge. Swafford's steady guiding hand was critical in withstanding Fugue's pressure and she wasn't afraid to take difficult defensive assignments.
Finally, Swafford is a bastion of spirit, well known for her positive attitude by those her play with and against her.
Why She'll Win: She's one of the most versatile players in college and brings great spirit to the table, and has built Ohio State from a regional program to a national leader over the past few years.
Why She Won't Win: She's got a Callahan finalist and very strong roster with her, so she suffers from some of the issues that face Oregon and Washington's candidates. She doesn't fill a highlight reel the same way many of the other candidates do.
Credentials: 1st team All Region 2011, 2012, & 2013, Ohio Valley FOTY 2010, Team USAU U-23 Women's 2014
Callahan Final Regular Season Power Rankings
1. Cassie Swafford
2. Shellie Cohen
3. Sophie Darch
4. Sunny Harris
5. Lisa Pitcaithley
6. Callie Mah
Players To Watch
– Mira Donaldson (British Columbia)
– Alika Johnston (Virginia)
– Christina Mickle (Colorado)
– Steph Lim (Stanford)
– Diana Charrier (Texas)
– Michelle Chang (UCLA)
– Shira Stern (Washington)
– Meeri Chang (Michigan)