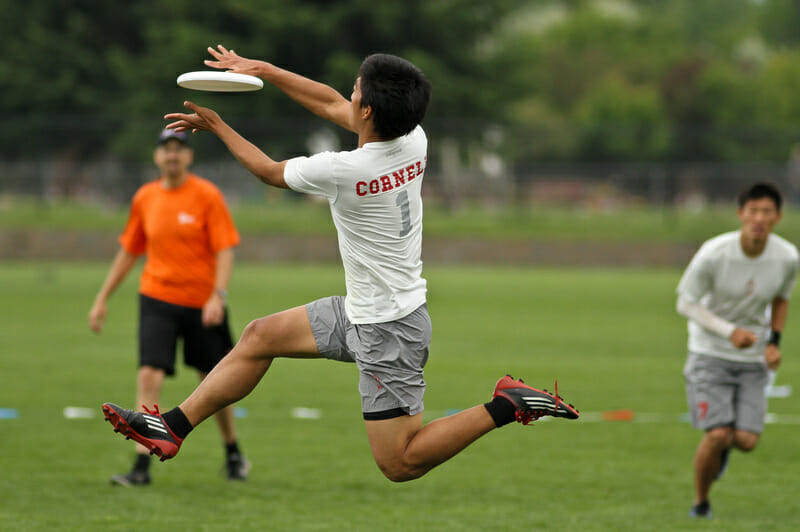 In the Metro East, different teams rise and fall within the region every year. A great senior class can make the difference between finishing Regionals on Saturday and reaching the finals. Last year, Connecticut was that finals team. Two years ago, it was Princeton. Three years ago: NYU. The one constant? Cornell. The team has yet to cede their crown since the Regional redraw.
The Metro East is the country's most notorious one-bid region. It has been years since Cornell — let alone any other Metro East team — even finished in the top 25 in USA Ultimate's rankings. Every year, teams from other regions call for the region to lose its auto bid. That's nonsense, but it does show just how weak the region has been this decade.
What is notable about the Metro East is that — intraregionally — there is actually a good deal of parity. Four or five teams every year have a realistic path to a finals appearance. But nobody has cracked the Cornell code. And it's unlikely that anyone will figure it out this year.
THE FAVORITE
Cornell is the least imposing regional powerhouse in the country. But their history of success (remember, it's not so long ago that the team reached the semifinals of Nationals) and their big game experience continues to propel them past all challengers. Year after year, we've watched as teams come up against Cornell in the finals only to crumble under the Buds' superior defensive pressure and their own high expectations.
Cornell is driven by long-time leader Jake Stevelman, a skilled, all-around player that shoulders a lot of the handling load for the offense. Franklin Li is perhaps the region's premier handler defender and would play on any D line in the country.
Transfer sophomore Joe Thompson made 1st team All-Region last year as a freshman at Syracuse. He is one of many talented defenders that Cornell can throw out point after point. It is that defense that has taken Cornell to Nationals every year since 2008. They haven't had the offensive talent to make much of a splash at Nationals since 2010, but against the less polished foes they face at Regionals, they dominate.
Last year's Connecticut team that made the finals at Regionals was, on paper, more talented than Cornell. But they fell apart at the seams in the finals. Cornell is simply deeper — every year.
THE CONTENDERS
Connecticut
2013 Metro East finalist Connecticut may not be quite the team they were last year after graduating All-Region standouts Kamil Skwarek and Matt Baum, but they have developed a program over the last five years that will ensure relevance for years to come.
They've played this season like you would expect a mid-tier Regionals competitor to play: wins against some decent teams, lots of losses to good ones. A 15-14 loss to UNC Wilmington is a standout; their best win is probably their 14-12 victory over Wash U.
This is no longer a star driven team like it was last year, when Skwarek often fired 50 yard hammers to Baum when the offense was stagnating. Lots of freshmen — like Corey Danko and Gavin Clemmy — are getting significant minutes.
Still, veterans like 6'1″ junior John Wodatch and senior RJ McFadden are the on-field leaders.
The team is always athletic and physical, but in year's past hasn't had the fitness level necessary to really challenge the best teams on defense. They've been plagued by mental toughness problems and, after playing some of the best ultimate in the Metro East last year, collapsed against Cornell in the finals early in the game.
Regardless, they are always in the mix on Sunday and should be again this year. If seeds hold, they are slated for a semifinals matchup with Rutgers, which should be an entertaining game. Will their experience in those big game situations outweigh the talent gap that should give Rutgers an edge?
Rutgers
Anyone who follows the Metro East might look at the increasing success of this year's Rutgers team and say: it's about time. The team is stacked with talent and has been for two years. Last year, they vastly underperformed their preseason expectations, getting blown out by Cornell 15-8 in pool play at Regionals and then getting bounced by the same score against Connecticut in the quarterfinals.
But a coaching change and a shifting culture have contributed to a turnaround this season. Rutgers won the Metro NY Conference for the first time since 2006, unseating NYU with a 12-10 victory in pool play and then dominating Columbia 15-3 in the finals.
New head coach Ari Weitzman, a product of the Pittsburgh program (he coached the B team last year), has stabilized a program that was in disarray and has started to draw out the best from a very talented unit. Albert Alarcon (PoNY) is one of the region's best, despite playing with a broken wrist in his throwing hand (he learned to throw with his offhand). Jibran Mieser is a super athlete, and even earned his own highlight reel last year. He's really improved his overall ultimate IQ and disc skills, making him a more potent weapon on offense.
Matt Weintraub and Scott Xu are both excellent players in their own right, taking on the brunt of the handling duties on the offense. Xu was an instant standout from his freshman year, and is the more well-rounded, high skill player to Weintraub's grittiness and workhorse attitude.
The problem for Rutgers, as it has been for so many Metro East hopefuls, may be their depth. They are very talented at the top, but don't have the same kind of skill from spots 10-14 on the roster. Cornell has a way of exploiting that.
That said, this team may have the highest ceiling in the region, and if they can get through pool play and most of Sunday with minimal effort, they may be able to run their top 8 or 9 guys out their for most points in the semis and finals and have a good shot at stealing the bid.
The Wildcards
Queens-Kingston
When you have a player like U23 Team Canada's Andrew Carroll on your team, you're gonna have a chance to do some damage in the Metro East. Carroll may be the region's very best player, honed by years playing for Toronto's GOAT. He single-handedly kept Queens-Kingston competitive in their finals matchup with Cornell at Conferences; they ended up losing on double game point.
Queens Kingston hasn't been able to crack through into semifinals in recent years — last year, they only lost to the finalists at Regionals: Connecticut in pool play and Cornell in the quarters. Could this be the year they break through? They sit atop their pool with the fourth overall seed, meaning they'll need to beat SUNY-Buffalo (they beat them 13-8 at Conferences) and Princeton. They would likely get Yale in the quarters — not an easy game, but certainly a winnable one.
Still, even if they reach the semis, it all comes down to whether they can finally overtake Cornell.
SUNY-Buffalo
Buffalo is always in the mix for a semis appearance — this year is no different.
Rob Smith is a speedy, talented cutter and an excellent defender, and the team has a number of quality role players that play solid fundamental ultimate. They lack punch at the top end of their roster, though, and have consistently fallen to teams with more skill at Regionals in past years.
They're probably happy to get another shot at Queens-Kingston, which is the most beatable of the one seeds in pool play.
Yale
Hard to make much of Yale this year, as they only participated in a single regular season tournament — New England Open — which got rained out on Sunday. They finished behind Connecticut at Conferences in a blowout finals loss, but they always have a solid system and some quality players.
The lack of game experience this season could prove to cost them against the more weathered teams in the field.
Columbia
In recent years, Columbia has never had the depth necessary to make a serious run at the Metro East finals. They have some talented players in Tim Gilboy and Derek Yan — both handlers — but really lack quality disc skills down the roster, a common sight in the Metro East.
A second place finish at Metro NY Conferences is an encouraging sign for the team, however, and we've seen every year that a team can surprise.
NYU
It's been a down year for an NYU team that suffers from the same problem as its uptown neighbor: not enough depth. NYU is a talented team on the defensive side of the disc and has long prided itself on tough D, but lacks punch on offense.
Ian Guerin is one of the region's top playmakers and has been a picture of consistency, delivering huge layout blocks, stifling handler defense, and improved throws every game.
The team will sorely miss senior handler Jayson Lian, who is out with an ACL tear. They will need big performances from Max Cohen and Sam Pollack to help fill his shoes.
The question for NYU will be how their offense takes care of the disc. The defense will earn breaks, but the downfall for the team so far this year has been decision making and execution on offense. They will have a puncher's chance at a finals run.
Princeton
It sounds like a broken record, but…Princeton has some great athletes, but doesn't have depth down the roster. In many ways, they face a similar situation to NYU, where one of their stars — Jae Young Lee — is out with an injury.
Ross Smith and Matt Rogers are both big-time playmakers who can take over a point at anytime, making Princeton a threat in any game. If they play their best game, they can certainly threaten at a deep bracket run, but consistency has been an issue for Clockwork.
Betting Lines
Odds to win the Metro East and advance to Nationals
Cornell: -650
Rutgers: +225
Connecticut: +350
Queens-Kingston: +350
Other: +650