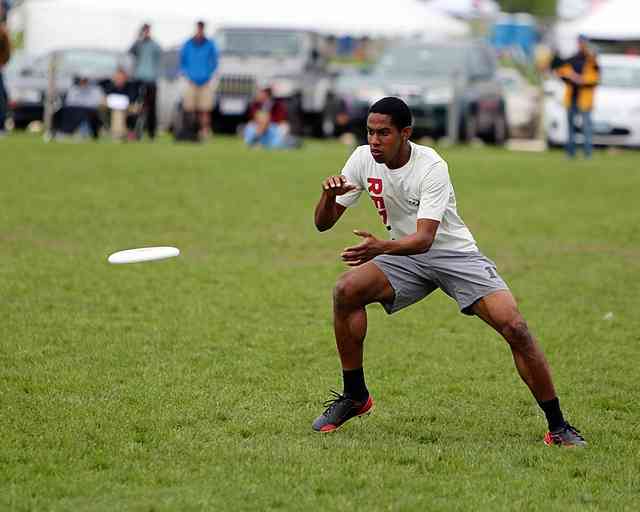 The entirety of the New England Region has been smiling since the announcement of the final bid allocation to this year's College Championships. Somehow, someway, the region landed four bids to the show after the region's top teams — Harvard and Tufts — were joined by rising programs — Brown and Massachusetts — in the USA Ultimate top 20.
Not everyone is thrilled. Critics of the final bid allocation have pointed to Brown's results — lots of wins against mediocre teams and a blowout loss to Luther — as a sign of the USAU algorithm's dysfunction. But Brown simply went out and played the games they could in a brutal New England winter. They got rewarded by handling their business.
The result is a bid free-for-all, which will give hope to lower seeds that they can sneak in through the back door bracket. The four bid format, though, will force the big upsets to happen early in the tournament. Winning the pool is a critical part of success, as the pool winners advance straight to semifinals. Both finalists are guaranteed to advance, as the 2nd/3rd place game's outcome does not affect bid allocation — both teams advance.
Let's look at the field.
The Favorites
Harvard
Harvard is the reigning New England champion and clearly the Region's best team. They have been going toe-to-toe with the nation's best teams all season and more than capably held their own.
They have quality wins over Florida State, Central Florida, Michigan, and UNC Wilmington, and close losses to UNC and Texas. They would have to slip up to fail to win this year's New England Region.
The team is deep and talented. Mark Vandenberg is an offensive rock and gets great downfield support from 2014 NE Player of the Year candidate Jeremy Nixon and William Dean. Standout freshman John Stubbs is a key defender for Redline and is a dangerous cutter after a turn.
You could keep naming names — the team gets production all the way down its roster. In typical Boston fashion, everyone is well-rounded and fundamentally solid.
Of course, Harvard knows as well as any team in the region that they won't have an easy road. But this year will be easier than average. Pool play should be a cake walk, and they will then likely face Dartmouth or Massachusetts in semifinals. Both teams are good, but probably not good enough to stop them.
Harvard won the region last year after narrowly beating Tufts in the semifinals and then rolling over Dartmouth in the finals. This year's format should make another dominant victory likely for Redline.
Tufts
In many ways, Tufts has been a sidenote of this year's New England region, if only because the focus has been on the surprising Massachusetts and unlikely bid earner Brown. It's unlikely Tufts cares much, and they will be ready to challenge for the top spot in the region yet again.
After a terribly disappointing 2013 that saw them miss Nationals after an outstanding regular season, they will be motivated and hungry to get back to the dance. They had a solid, if not spectacular, regular season, notching wins over Texas A&M, Central Florida, and Florida State. They took a lot of losses at the two elite tournaments they traveled to, however.
Like Harvard, they are very fundamentally sound and bring their young players up in a consistently successful system. Callahan nominee Gene Buonaccorsi exemplifies the Tufts style of play: well-rounded, skilled, and consistent.
The team also gets great production from Tyler Chan and Carter Thallon, and a bevy of role players, including star freshman Nick Roberts.
Tufts will need to be sure to bring their best game against Williams, always a sleeper team in the region. If they finish atop their pool as they should, they will likely get Brown in the semis. It will be an excellent game, and probably a close one.
Brown
Brown silenced some critics at Conferences after coming away with the title with a 15-14 win over Massachusetts in the finals.
The team has been developing very nicely over the past two years and looks poised to return to Nationals.
Matt Barnes and Jake Price — both 2nd team All-Region players last year — have been outstanding this season, and the team has a legitimate plug-and-play freshman in Eli Motycka, who captained his Nashville team to a High School Southerns victory over Paideia in 2013.
Brown captain Charlie Kannel is also a big contributor.
The question mark about Brown is whether their lack of challenging regular season games could haunt them in a deep tournament. The only truly good team they faced was Luther, who crushed them 15-8 in the finals of Huck Finn.
Brown played very tight with both Williams and Massachusetts at Conferences. In the plus column, though, is their overall number two seed. That means they get the benefit of a much less challenging pool and, as mentioned above, a clear path to the semis.
Massachusetts
You shouldn't be shocked that Massachusetts has emerged as a favorite to advance to Nationals in New England. Last year, they went 3-0 in pool play, upsetting Brown, before losing by one to Dartmouth in semis and then falling to Tufts by two in the game-to-the-game-to-go. They have been on the periphery of success in years past.
This year, they are even more talented. They picked up one of the region's most feared playmakers, Jeff Babbitt, who transferred in as a sophomore. He was a standout cutter for Garuda this summer and drove the team to an almost-upset of PoNY in the game-to-go at NE Club Regionals.
Like a number of the other top UMass players, Babbitt got hurt at Easterns (the team qualified by winning the Easterns Qualifier) and UMass was not at all the same. They started the weekend with wins over Michigan and Carleton, before losing players and then losing the rest of their games.
Don't be fooled: when they are at full strength, they are very good. Ben Katz, an Ironside practice player in 2013, is another huge playmaker. Ben Sadok and Wesley Johnson are also key contributors.
Look for UMass to put up big shots to Babbitt, and for him to pull them down. The question for the team will be whether they can withstand the mounting pressure to succeed. Having famed coach Tiina Booth in their corner will no doubt help.
The Contenders
Dartmouth
A 2013 Nationals quarterfinalist, Dartmouth hasn't had the same kind of charmed season they had last year. They graduated superstar Ian Engler and a number of other important players — they just don't have the same depth of talent.
Counting them out, though, would be a mistake. They have an outstanding coach in Brook Martin, who really got the best of the team last year as they nearly upset Central Florida in quarters at Nationals.
Spencer Diamond and Andrew Pillsbury are standouts on their roster, and they always come to Regionals prepared.
They will have to reach a new level of play at Regionals, though, if they want to get past one of the four teams listed above. They showed signs of being a middle of the pack Regionals team this year with losses to Wisconsin-Milwaukee, Alabama, San Diego State, and Georgia Tech.
They won't be able to rely on the sheer brilliance of Engler this year to bail them out of tight spots at Regionals. Do they have enough depth to challenge for a bid?
Williams
A close loss to Brown at Conferences has to instill some confidence in Williams, who might be able to pull off one or two upsets in order to grab a bid away from a team that earned it.
They kicked off the season at Colluvium with an impressive performance, losing 15-12 to Oregon in the finals, before returning more pedestrian results for the rest of the year.
Last year, they lost 15-14 to UMass in the 2nd place bracket at Regionals, which shows where they fit in the strata of New England: well above most of the Regionals teams, but below the top five.
They will need an inspired performance this weekend to grab a bid, but it's not out of the question.
The Rest Of The Field
Realistically, four of the six above teams are going to take the bids to Nationals. There is a big step down from those six to the next 10. Northeastern has perhaps an outside chance, but would need to play the best ultimate of their season by far. Boston College, seeded eighth, got smoked by Northeastern at Conferences.
The Format
The four bid format means that winning the pool is vital to your chances of earning a bid. Of course it is still possible without winning the pool, but it means a much longer road and a lot more games to win. Expect major battles in the Tufts/Williams and Dartmouth/Massachusetts games in Pools C and D. Winning that game could mean the difference between making Nationals and not.
Betting Lines
Odds to win the 2014 New England Region
Harvard: -325
Tufts: +175
Massachusetts: +290
Brown: +320
Dartmouth: +500
Williams: +775
Other: +1000
Odds to advance to the 2014 College Championships
Harvard: -800
Tufts: -350
Brown: -180
Massachusetts: -150
Dartmouth: +120
Williams: +200
Other: +300