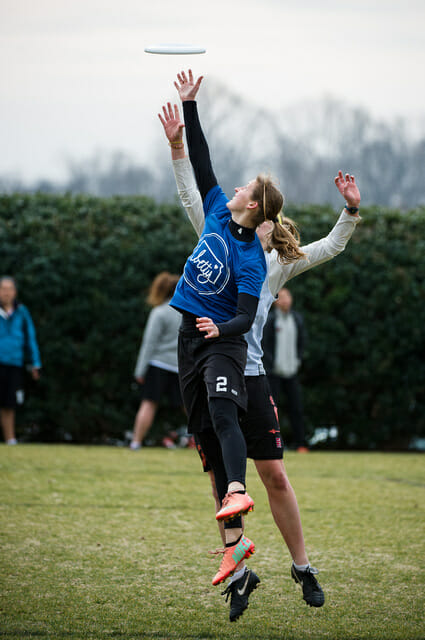 1999. 2005. 2010. 2011.
These years mark the last appearances of this year's 5-seed teams at Nationals. The last time Kansas Betty, Colorado Kali, and the Cornell Wildroses attended Nationals, they sent their tournament bids to the UPA. Kansas Betty returns after 15 years, long enough that alumnae from their last Nationals could bring their toddlers to watch.
Welcome back.
The Cornell Wild Roses battled back after years of losing to those pesky Canadians at Regionals in a region that most people brush off. Colorado College plays the comeback kid with a young roster lead by talented veterans, and Colorado Kali returns to Nationals after several rough years in a limited South Central region.
All three South Central teams and the lone Metro East team round out the bottom layer of pool play. Multiple bid regions typically spread their wealth, but Kansas' shaky season record combined with their Regional Championship pushes the entire South Central region into the bed skirts of the bracket. Yet the South Central is growing like a weed, so this may actually benefit these fresh-faced teams who can learn from old hands like Oregon and Ohio State.
You won't see these teams on ESPN on Monday. But each of the 5-seeds defied expectations to get here this year. None of these teams had laurels to rest on, and none of them will take it for granted. We will have a lot of Cinderellas in Cincinnati: take your pick.
Kansas Betty (Pool A, #17)
Kansas was able to win South Central Regionals with smart zone offense, tight lines, and an all-out dedication that drove them to not only steal a bid, but to seal a Regional Championship. They're known for their fast transitions and their matching set of capable handlers: Christina Baker, Caitlin Fitzgerald, and Kat Songer. They were able to upset Colorado with gusty upwind shots from Nadine Rowen that secured them breaks, and they persevered past their upset buddy Colorado College to take the Region.
Betty is preparing for the big leagues by sharpening their biggest strength: fundamentals. From the basic inside forehand to pivoting as they throw, Kansas is fortifying their foundation, on offense and defense.
"We work on a little bit of fundamentals, we work on recovering on the mark and recovering defensively if you're out of position or if there's a transition," said coach Loren Schieber. "We want to reset the mark, reset the force; I don't think that can ever be worked on enough."
And thus Betty arrives at Nationals as the top team from the South Central region, which still puts them below, well, almost everyone. They know that they aren't expected to produce miracles, but their game will still be effective, particularly against teams they have already seen. Kansas sits below two vulnerable teams, and they have a chance to surprise either Virginia Hydra or Victoria Vixens, both of whom have had moments of inconsistency in their season that Betty can exploit.
Kansas' best shot at an upset is Virginia, and their first hurdle will be closing off Alika Johnston's reset cuts and blocking her breaks. When these teams played at Centex, Virginia took a 4-0 lead before Kansas was able to put points on the board, and Virginia held at least a 2 to 3 point lead for the entire game, winning 13-10. If Betty can change Johnston's game, they will still have to reckon with her dangerous supporting cast, but they will have a much better opportunity to grab a lead and a win.
Betty has been blown out by Michigan and Ohio State this season, and even with a deeper range of defensive strategies, Kansas has and will grapple with these teams' rosters and their talent. But Kansas acquired a taste for surprises this season. They will be looking for more.
Colorado College Strata (Pool B, #18)
"No one thought we were a threat, so we had the ability to do as well as we could, and we had nothing to lose. We were in the best position possible."
Colorado College captain Maggie Bailey was talking about their Regionals performance, but her words still apply going into their Nationals weekend. Few of their opponents will lose sleep over their match against Strata, and that's okay. When you have nothing to lose, you have no reason not to bid as far as you can and see where you land.
Strata has been developing their team since their last nationals appearance in 2011, but this season's influx of experienced and dedicated rookies gave them breathing room to play deeper rotations and to develop their cutters' throws.
Incoming freshman like Corey Baron (Lakewood Highschool, U19 tryout player) and Robin Fassett-Carman (Southwest Highschool) add experience and speed to Strata's game. In addition, the rookie class added something more intangible this season: their enthusiasm and commitment to the sport helped the entire team focus and decide to go for it in the Series.
Strata plays a balanced game that depends on their full roster, despite the undeniably powerful plays from their Callahan nominee Lisi Lohre. Lohre has captained and shaped Strata since she was a sophomore, so the heart and character of Strata mirrors many aspects of her personality: they are driven and intense, yet they're relentlessly positive and happy to play.
The Strata captains joke about sweeping Nationals, but they seem just as excited to show up and give teams a good run. Strata doesn't often have the opportunity to play at the elite level, so they're ready to learn from the best teams in the country.
They will get what they wished for, in spades: their weekend begins early against Oregon, and then they will face Western Washington before the day is through. Their best shot at a win will be against Tufts, a team they have never played before and a team who commanded the Northeast with deep team chemistry and diverse weapons. Strata plays their best defense in windy zones, but a sunny, still weekend will force them to work for the turns they need.
Strata will play hard this weekend and work to improve in their final tournament. Nonetheless, Strata may leave nationals with at best a held seed and lesson-filled notepads. But for a team that exceeded even their own expectations, that will still be a victory.
Colorado Kali (Pool C, #19)
Colorado Kali is without a doubt the most threatening 5-seed at Nationals. They barely grabbed their region's third bid from Texas in a windswept game in which neither team managed to score upwind, but they are nonetheless an accomplished team that has a lot to prove, to the country and to themselves.
Their roster is laden with Molly Brown players, from Meagan Cousins to Dori Franklin, and they have stars that would headline most other teams in the country. Christina Mickle will uphold her family's honor in the Women's Division with huge throws and elite experience, guiding Kali's offense into calmer waters than they were in this Spring. Nhi Nguyen remains a popular name on their defensive line, and she earns it in every game. With all this talent, it's hard not to wonder if their flaws stem from focus late in the game.
Colorado can win big games, and they can win close ones. We've seen it. A 12-11 win over Whitman, a 13-12 win against Victoria, and the crucial victory against Texas stand as evidence. They have competed in a higher echelon of ultimate this season, and while it hasn't always worked in their favor, they enter nationals knowing two out of their four opponents already.
They faced Carleton twice this season, with Syzygy coming out on top most recently at Northwest Challenge, 15-8. Both teams are talented, deep, and stocked with experience; if Carleton wins, it's because their discipline prevailed. If Colorado wins, it's because they found a tempo and an energy that allows their play to shine.
Like Colorado, Northeastern is similarly underseeded after a double-loss to Tufts at in the Series, and they will be a big hurdle for Kali to overcome in pool play. Both teams make big plays around the disc, and beating Northeastern would be an injection of confidence for Kali, even if the win doesn't get them closer to the bracket.
Central Florida would be untouchable to most teams at nationals. They have every booster pack available in women's ultimate, from high-release breaks to cutters who throw, and their style and drive will outlast Kali's stellar lineup.
But Colorado Kali has the pieces. They have a field, some rules, a playbook, and an opportunity to weave together a beautiful final tournament that better embodies what Kali can be.
Cornell Wild Roses (Pool D, #20)
It is a truth of college Ultimate that the Metro East often toils and grinds in relative obscurity, rarely traveling far outside the Northeast and sending a lone representative annually to Nationals. For the first time since 2011, the Ottawa Lady Gee-Gees will not be that ambassador. After years of almost beating Ottawa, the Cornell Wild Roses instead snagged the Metro East Regionals' one bid in an intense battle against Columbia NYPD. This game tells the story of a team who doesn't give up in the middle of a fight, and it shows the Wild Roses' character as a team that has come close too many times.
The Wild Roses may not encounter a lot of close games and battles this weekend. Despite proving they can win against experienced competitors like Georgia and UNC-Wilmington this season, neither team will be in Cincinnati. Cornell instead will meet the most dangerous second seed at the tournament, UC-Santa Barbara, a deep and dangerous top seed, University of Washington, and two strong teams above them that are looking forward and up for wins instead of behind and below.
Despite their double-black diamond schedule, the Wild Roses will work hard to prove that they deserve their place in the top 20. Sarah Zhao is their most consistent player with reliable hucks, smart decisions, and athletic plays. Her experience couples well with that of 5th year Margaret Zientek, a physical and deep defender, and together these two bring expert focus to the Wild Roses' play.
Cornell will face their ordinal competitors first, playing Whitman and University of Washington on Friday. If they can reduce unforced turns and find easier options downfield, they could keep their pool play games close. But in all likelihood, this College Nationals will mean more for the Cornell Wild Roses as a massive stepping stone that they can use to move upward and on next year.