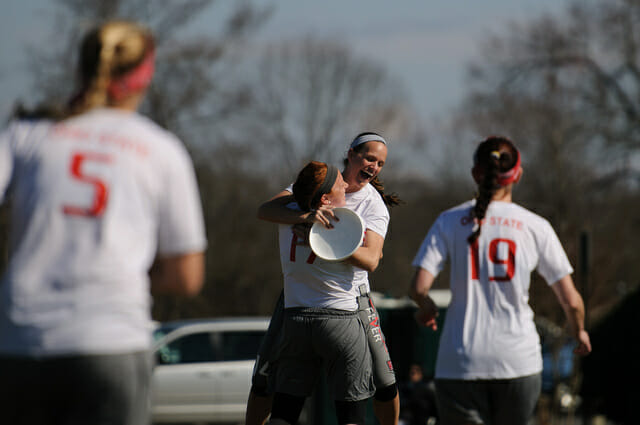 It stands to reason that the number one seeds at the women's College Championships are often the division's powerhouses and perform quite well. You have to go back to 2007 to find the last – and only – time a non-one seed won the title (Stanford was the two seed in Pool D). In the past six years, 16 of the 24 semifinalists were one seeds and 9 of the 12 finalists were from the same group.
On the one hand, that means 2014's Champion is likely contained in this group and it is likely the runner up is as well. However, it also means someone is fairly likely to get knocked off their pedestal in pool play, and someone is probably going to miss out on the semifinals.
Most people would aptly call it a three horse race. Ohio State, Oregon, and Central Florida asserted themselves this year. Ohio State has wins over both, including a decisive defacto final win over Oregon at the Northwest Challenge. Oregon notched a victory over Central Florida at the Stanford Invite in probably the most dramatic game of the college regular season. Central Florida has beaten Ohio State on multiple occasions.
That leaves Washington, who has been less competitive, and thus lands outside the triumvirate. Element was utterly dominated by Ohio State at the NW Challenge, has suffered embarrassing losses to rival Oregon, and has yet to see Central Florida on the field. But the team is also starting to click, playing their best ultimate yet at Regionals, and has the requisite talent that made them a preseason title favorite.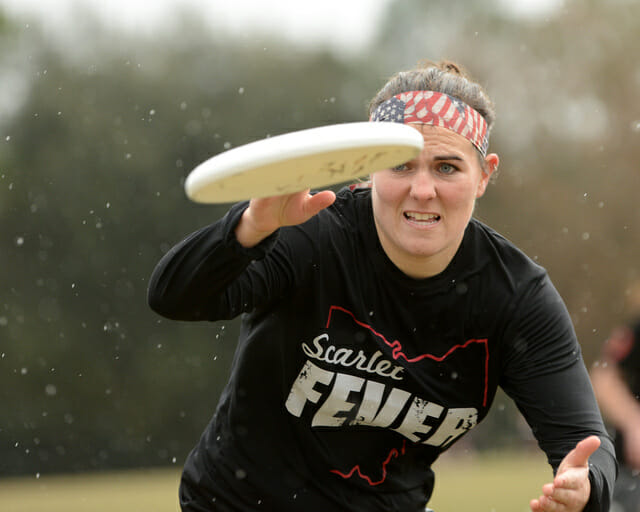 Ohio State Fever (Pool A, #1)
"Fever at their best, or even their near-best, however, just so happens to be a team capable of shutting down any opponent and dictating their will on offense."
This line from a piece by the Ultiworld's analytics crew on Ohio State's hard earned NW Challenge win over Oregon says it all. This Ohio State team is a complete package that has the potential to be the best team in the country, and not just beat anyone, but do so in an imposing fashion.
Fever hasn't lost since January, when UCF beat them twice at Florida Winter Classic. But they've often been dominant: Seven blowout wins over nationals teams, including double digit thrashings of quality opponents like Washington and Northeastern. When their defense grips and constricts, like a python squeezing the life out of hapless prey, and their offense operates with surgical precision, they lay waste to even elite teams.
That is not to say Ohio State is without flaws. Like any college team, the Columbus ladies can struggle with infectious poor decisions or fail to contain the open side defensively. But what they do well when faced with these standard issue challenges is minimize the damage and stay strong through even these bouts of weak play.
"It doesn't matter what we are, we've got to show up for every game and every point if we want to come out of this weekend with wins," said captain Cassie Swafford. "The seeding is an honor, but in the end, it doesn't determine anything other than our schedule."
In large part, their consistency is due to their outstanding leadership and the mentality they disperse. Swafford's spirit flows throughout the Fever ranks, but the experience and poise of teammates Paige Soper and underrated Caitlin Harley are also critical to their success. Coach DeAnna Ball is finally beginning to get the recognition her work, along with Coaches Nick Hamilton and Brent Reeb, deserves.
Fever's top end is well known, with Swafford's dynamics giving her a sure spot as a Callahan finalist and Soper's skills make her an offensive maestro. But their steady body of role players have takeover ceilings: Harley, Stephanie "Stevie" Miller, Katie Backus, Liz Gates, and the list goes on for who could rattle off big plays.
Ohio State's fundamentals are strong and their instincts impressive. They essentially have no set plays, but their understanding on the game and of one another makes them one of the best at initiating play for a stopped disc. There aren't any real tricks in their repetoire, but they are stocked with club level execution and awareness.
Ohio State has been rising, building, and preparing for this journey. There are eight players, including both Soper and Swafford, graduating after this season. They finished 17th in 2011, 5th in 2012, and 3rd in 2013. A championship game is next on the list.
Oregon Fugue (Pool B, #2)
You lose three games, and suddenly everyone thinks you're exposed.
That's what happens when a team sets the bar at astronomical heights. Anything that isn't a title is a failure.
Oregon Fugue has been Darth Vader for the #evilempire, and while their visage still casts an impossibly dark shadow over their opponents on most points, every once and a while, the mask comes off. A team like UC-Santa Barbara, or Ohio State, or British Columbia peels off the face that teams have seen in their nightmares for so long.
With day one of the championships creeping ever closer, Fugue remains a favorite for a repeat, even in there are chinks in their armor. They'll be forced to conquer Cincinnati without the services of hometown girl and jack-of-all-trades Bethany Kaylor.
"It would, without question, be easier to win Nationals if we had Beth," said senior Lily Herd, "But we don't."
The team certainly isn't packing it in or lowering expectations. They may possess the most talented roster in the game, headlined by potential Callahan winner Sophie Darch. With Ashley Young, Jesse Shofner, Alex Ode, Hayley Wahlroos, Dre Fontenot, Olivia Bartruff, and many more, there's no shortage of players to fill in for Kaylor's production. Ode, in particular, lines up well to become a feature.
"Every player on this team agreed to take it upon themselves as an individual to step up and play for Beth, to fill her roles on the field and to support her off the field," said Herd.
Oregon remains confident, having already gone 3-0 against the two next teams in their pool, Stanford and Western Washington. Stanford came close, falling 10-9 in a sloppy Stanford Invite battle. WWU has no answer for Oregon's relentless attack and depth. They've even beaten two of the teams that beat them when they played in rematches, and did so cleanly and without question.
The Fugue leadup has been unorthodox, perfect for a team known for doing things their own way. They've been getting up for 6 AM pool practices – a tactic used to minimize costly injuries – that have helped the team grow together. "Learning to play water ultimate posed a unique challenge for the team that has strengthened and prepared us for the series," said Herd.
Having already played against all of the other top seeds, and beating almost all of them, expect this smart and hungry group to be in the thick of things till the end. The reigning champions won't cede the belt without giving up everything they have first.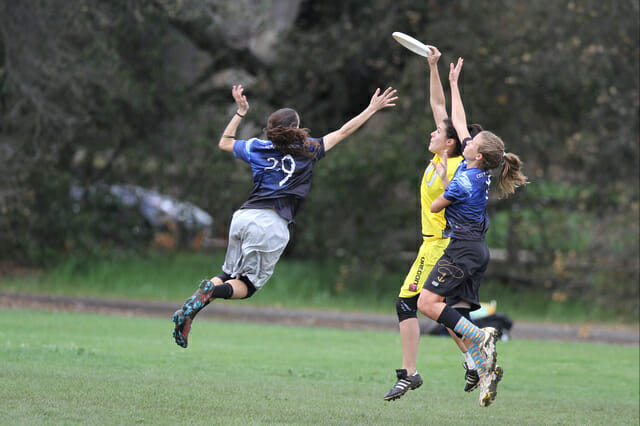 Central Florida Sirens (Pool C, #3)
Few teams have so dramatically changed their standing the way Central Florida has. From nobodies to underdogs to favorites, their transition has happened at relative light speed. 2013 was the program's first nationals, and they certainly left an impression on their way to a 17th place finish. Now, they're practically seasoned veterans of the big show, and enter the tournament as one of the juggernauts at the top.
"We're just trying to keep everything as normal as possible, still practicing hard," said captain Mariel Hammond. "We're trying to stay hyped up without making ourselves nervous."
The Sirens' ascension has coincided with the growth of their dominant duo, Hammond and Sunny Harris. While Harris has blossomed from a chucking deep thrower to one of the game's premier handlers and a relevant Callahan candidate, Hammond has evolved from an athlete into a total package threat that can singlehandedly guide an offense. Point after point, they ask teams "can you stop us?" and rarely does a defense have the right answer.
But you've heard those notes before. They didn't make a regional champion's song nor a national title contender tune. So what's the new sound that makes the Sirens' song a hit?
As their stars have broadened their reach and range, so have the role players and the team as a whole. Erin Goding and Stephanie Williams seem to be more well rounded each time they take the field. Amy Price, Jodi Dearing, and Alexa Wood will all be noticeable, and Shayna Brock gives the team a safety blanket they can plug in pretty much anywhere.
That said, when the team needs a point, expect Harris and Hammond to touch the disc as many times as necessary. They are happy to put up a big huck, to dink and dunk for break side yardage and give and gos, or some combination therein. Goding, Williams, and Brock also may figure into their high-touch rate offense, but the team knows their bread and butter.
This team is intensely passionate and loyal to one another. At Southeast Regionals, one of their players approached me, metaphorically jabbing a finger in my chest, and telling me how one of her teammates deserves recognition. The player she was speaking of, coincidentally, took over a point just after she was declared capable of doing so. The player smiled, her point proved.
"I just really love my teammates," she explained, somewhat shyly.
You can see it in the Sirens, who play with their hearts on their sleeves. At Stanford, their never say die attitude carried them to impressive comebacks and a very near upset of Oregon. Coach Joe Tilley remains one of the top coaches in the game, having turned UCF from a blunt instrument of force to a sharpened blade that can cut through even the hardest situations. He's also helped them build the mental toughness to not let the dark side of their emotional play cause any implosions.
Central Florida has seen some of their future opponents, but will be unfamiliar with others. Carleton's patient and fundamental throwers should be able to challenge UCF's defense, but they'll need to find some defenders to slow down the UCF barrage. Meanwhile, UBC and Northeastern have already fallen victim to the Sirens; Northeastern has been inching closer, but found themselves coming up short. Colorado remains a mystery, but may have the athletes to give UCF's offense trouble, but could struggle against a vaunted Sirens defense.
Washington Element (Pool D, #4)
As is typical of the fourth overall seed, Element seems to most vulnerable of the one seeds. Their resume is weaker than their top ranked kin and the second team in their pool is hot on their heels. This squad, however, should be more than prepared to handle the challenge.
This is still the same Element team that had strong claim to the preseason number one ranking. It is built around an experienced, well rounded, and special core of veterans. Six players came into the season as known entities: Shira Stern, Lucy Williams, Amanda Kostic, Alysia Letourneau, Barbara Hoover, and Sarah Edwards. They've been in heavy rotation, taking on lots of touches and hard assignments all season in preparation for the rigors of the Championships. Those are rigors this group is very familiar with.
"A lot about this season is how do we build around that," said Coach Kyle Weisbrod, "Developing depth around those players, who are skilled and confident enough to contribute to a contending team."
Washington's role players, like Central Florida's, could be what separate them from other teams with talented top ends. Kelley Hall, Bailey Kilmer, Grace Noah, Camille Kanter, and Nora Landri all will have the opportunity to help Element realize their championship dreams. Molly Boyd, perhaps the team's best athlete, has been an immediate difference maker with her speed and strength. Weisbrod credits this group with stepping up during the Series and delivering on the promise of Washington's talent.
The coaching staff for Washington is heavy on prep, and will use their notes from earlier battles with Whitman and UCLA to ensure they are ready for their Pool D opponents. They beat UCLA 10-7 at NW Challenge, where they also dropped a game to Whitman, but Washington didn't seem committed to either game. At Regionals, they put the Lady Sweets down hard, 13-6.
The remaining two teams are unfamiliar to Element, who will attempt to use their systems to make that their advantage. UC-Santa Barbara and Cornell will be facing down a diverse Washington attack.
Kostic is one of the gutsiest handlers in all of women's Ultimate, and will test defenses early with her aggressive throwing looks, while Shira Stern will buzz around with speedy releases and resets. Hoover and Letourneau will be making plays with their legs. Edwards is a rare talent, and it'll be her team next season, but she's happy to toil away with big time defensive plays this season.
The team has been running scenarios, simulating opponents ("Making some players wear skirts," joked Weisbrod), and these couple of weeks may be where Element's experience really begins to give them an edge. They know the mental space they need to be in to succeed in Cincinnati.
That mental space has been an area Washington has been fighting to win this season, and where they'll need to be strong. They've demonstrated a lack of focus and fortitude in blowout losses and some sloppy wins this season. Element can click and leave lesser teams in the dust. They need to prove they can do that against elite opposition.
If the signs of peaking ring true, Washington could make a deep run and maybe reveal they are still the title contender they could be.