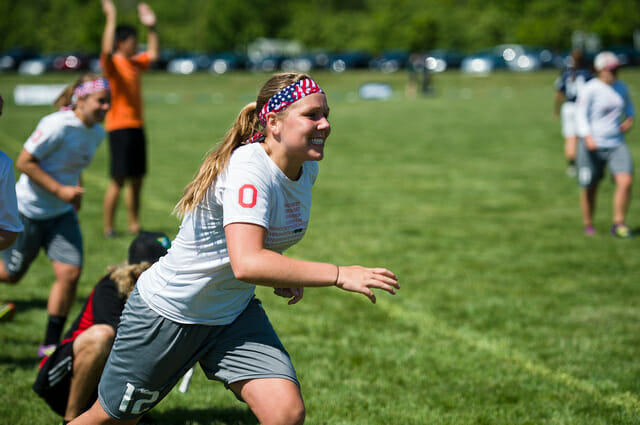 Here is a recap of the Round 5 Pool Play games at the 2014 College Championships.
MEN'S
Oregon (#4) v. UNC-Wilmington (#5)
We speculated a fair amount about Oregon Ego as a one seed coming into College Championships. A fourth seed overall seemed high for a team that really had yet to prove itself against other cream-of-the-crop contenders. Their first test to prove themselves as the top seed of Pool D came today in their second game against UNC Wilmington, and prove themselves they did.
15-12 doesn't tell the whole story, though, as Ego was initially unsettled by the crafty side-stack put forward by the Seamen. UNC-W's isolations cuts allowed their extremely athletic cutters (notably Erik Esposto and Jake Gallagher) to score early, and Seamen stayed on serve until Ego tied 7-7.
Down a break, Oregon was able to sneak a short field turnover and convert it to take half.
While UNC-W switched between a number of different vertical stack looks, Oregon stuck to their horizontal stack later on in the game, and their offense began to show both its speed and composure as they worked their unders and held their offensive points.
Seamen, perhaps rattled by the relentless unders of the Oregon O-line, gave up some slack and ceded a set of breaks to Ego's defensive unit, where Dylan Freechild had not-so-quietly inserted himself earlier on the game. Freechild's trademark backfield dominance led the way, and Ego finished Friday leaving much less question about how much they deserved a seat atop the pool.
Michigan (#11) v. Dartmouth (#18)
Two teams coming from two different places.
Dartmouth had been handled easily Pitt in the first round, took their cleats off, and had six hours off. Michigan had the coveted 10:30 AM start and got a big win against a hungry Central Florida squad. Objectively, it would have been tough to give 18th seeded Pain Train a puncher's chance against MagnUM. That's why they play the games…
"We knew they have good plays and they're really good deep throwers," Dartmouth coach Brook Martin said of Michigan. "We felt like zone could contain them."
It did. Dartmouth pulled off one of the big surprise upsets of the day with a 13-11 win over Michigan.
Michigan worked it against the zone – no doubt. MagnUM did a good bit of scoring against the Pain Train wall, too. However, these goals typically came after a ton of throws. Just like against UCF, Michigan stayed the course, played possession, and worked the disc.
But Dartmouth kept running zone. Michigan works it deep into Pain Train territory. Doesn't matter. Still in zone. Dartmouth's offense turns it at half field. Yep. Here comes the zone!
Dartmouth is never, ever going to run man ever again. Got it.
Turning Point
Dartmouth is down 9-7. They pull and set the zone. MagnUM works it to the Dartmouth brick but Andrew Pillsbury blocks a hammer bound for the end zone to Michigan's Ryan Schechtman. Dartmouth puts in the break. Then BAM! Here comes the man look out of nowhere and the game is tied at 9's.
Dartmouth goes right back to wall, almost like the man defense point was an accident. Pain Train goes back to man at 10-10 to take their first lead of the second half. Dartmouth doesn't look back and gets a huge win, 13-11.
With so few chances, possessions were extra important. Spencer Diamond and Daniel Rosengard really carried the mail offensively for Dartmouth. "Spencer is unstoppable. He's a monster," Martin said of his 1st team All-Region player.
I asked Martin if he was feeling the effects of the 16 hour bus ride. "No," he said. "We're sky high right now."
Keys to the Game
Very few teams have the discipline to run zone defense for 17 points and then change it up when no Michigan player, observer, or oblivious, yet supportive, parent is expecting it. That was the turning point. Michigan didn't even do anything wrong. Dartmouth hung in there, didn't let Michigan huck it, and played the Queen of Spades at the end.
Other Notes
– A Dartmouth zone defender got TMF'd during a stoppage for casually swearing. Not aggressive, or even that bad. More conversational than anything, but, hey – stuff happens.
– Dartmouth has three lefties that get significant time on offense, which is odd.
– An errant plastic bag slowly blew across the field during a Michigan O point like a tumbleweed. The mind wanders to weird, fantastical places in situations like that. Like somehow the bag will create a turn. These feelings were corroborated by an awkward moment when the bag caught on Michigan's Yoni Rafael's cleat. The bag was removed without incident.
Texas (#3) v. Massachusetts (#19)
In what seemed like it might be an unimportant game, Massachusetts showed again that they are not here just to fool around. A very tight game would ultimately come down to the depth of both teams, and Texas prevailed 16-14.
For TUFF, Will Driscoll was not having a great day downfield. However, Calvin Lin adjusted. Driscoll began staying behind the disc and showing off his high caliber arm. Driscoll consistently put perfect throws to his receivers deep. One receiver in particular that stepped up was Chase Cunningham. Chase, one of the many towers for Texas, made great use of the downfield space.
Unlike in the UNC game, TUFF used this game to show off their depth. Tomorrow TUFF will see FSU first, and Tufts second.
For UMass, the loss of Jeff Babbitt just before halftime was a big blow and forced UMass to adjust. The adjustment came in the form of Kevin Norton, who stretched the field deep and even unleashed big throws a few times. Even Norton still needed somebody to put up the deep throws, and that person was freshman Ben Sadok, who had a monster game with multiple scores and assists.
UMass will look to put their first win on the board tomorrow against either Tufts or UNC.
Colorado (#1) v. Eastern Michigan (#17)
Looking like the kind of team that deserves to be a one seed, Colorado rolled Eastern Michigan 15-9 in the last round of the day.
Though the score might indicate a match never within the Fighting Hellfish's grasp, EMU stayed close for much of the game. Trying to climb out of the 8-3 hole they found themselves in at half, however, proved to be too much.
Inspired play from Great Lakes Player of the Year Johnny Bansfield, who scored five of the goals himself, and First-Team All-Region James Highsmith, who threw one assist and caught another two goals, kept them alive, along with Gary Grant's two goals and two assists. But the depth and experience of Mamabird were insurmountable.
Colorado went up early at 4-1 and coasted on that lead to a five-point halftime lead. EMU rattled off three straight out of half to make it a game again. Some trading to 12-9 kept it interesting, before Mamabird cleaned out the match by securing the final three points.
Dennison Bechis put up an impressive five goals, while Jimmy Mickle added a handful of assists. Most of the rest of the scoring found roughly equal distribution among the deep Colorado roster.
Colorado captain Todd Wolma was happy with his team's overall performance, particularly with their ability to reduce the effectiveness of EMU's top guys, forcing them under and not letting them get all the deep looks they wanted.
Yet he and fellow captain Pawel Janas noted that mental mistakes prevented them from being as efficient as they wanted to be, which was a cause for concern with regard to future opponents.
"The farther we get in this tournament, the more (elite) teams are going to punish us for that," Wolma said.
Hellfish captain Austin Engel expressed similar sentiments about his own team, saying that poor choices on offense let Mamabird amass a number of breaks. He also said that Colorado's dangerous versatility meant that when EMU tried to stop their around breaks, Mamabird would simply burn them with precision inside-out throws.
Despite the tough loss, however, Engel found a positive side to the match and the day. He said that since the Hellfish don't get to play too many high-level teams, their ability to stay relatively close with them illustrates that EMU can compete with anybody.
"They're good, but they're not out of our league," Engel said. "We clean up a few things, and we're in these games."
Such a claim may very well be true. With UC San Diego and Harvard in their sights for Friday, EMU will once again get their chance to further prove that they belong in the discussion of the nation's top teams.
WOMEN'S
Central Florida (#1) v. Colorado (#19)
UCF got more than they expected from a skilled Colorado team that has been yearning to put the pieces together. They were able to do so for the first half against Central Florida, but unable to sustain that pace as the Southeast powerhouse flexed their muscles and rolled to a 15-7 victory.
In the early part of the game, the teams went back and forth, with Kali mimicking some of the stronger aspects of the Sirens' playstyle. Colorado attacked with quick handler movement against the UCF zone, bouncing the disc around to open up holes in the defense. They challenged the Sirens' stars to work hard on offense, as well, keeping up in the first half; UCF was up 8-6 at the break.
The second half, however, was a clinic from the Orlando women. The first few points were hard fought, but once they built up some steam, Central Florida had no trouble punishing Colorado for their mistakes. Colorado seemed to fall flat, opting to go over the top of UCF's zone rather than outrun it, and they didn't make much headway against man defense either.
"They came out really fired up, and we were trying to get our legs back from a tough game," said UCF Coach Joe Tilley. "But I think we wore them down, and they started taking a few chances that they didn't take in the beginning."
The #3 overall seed toughed out a strong second half by taking advantage of, and continuing to force, those risks and subsequent mistakes. Once Colorado was out of their game, UCF got more into theirs, allowing them to close out the win.
Washington (#4) v. UC Santa Barbara (#15)
The showdown at the top of Pool D was more or less set, with both every other team in the pool already having a loss. The 4/5 game is always expected to be dramatic and the first half of the game lived up to it. It was a battle in the early going, with both teams making adjustments, but Washington pulled it out. The second half belonged to Element and they'd cruise to a 15-11 win and control of Pool D.
The Burning Skirts jumped out to the early lead, going up two breaks behind their stars: Lisa Pitcaithley and Noelle Neason were all over the field in the first few points. Pitcaithley had a pair of goals and a pair of assists as UCSB went up 5-2.
Washington responded with rapid handler movement to generate break side hucks. Lucy Williams turned it on to help bring it to 5-4. Another Burning Skirts run made it 7-4, but that was most of the "run" left in Southwest champions.
"They're just not deep," Washington Coach Kyle Weisbrod said after the game. "We knew that going in. We just kept running them."
The Element strategy of varying defensive looks – often with some of UCSB's stars manned up, to keep them moving – and activity around the disc on offense really threw the Skirts off their game. By tiring out their engine, the Skirts offense turned into a sitting duck. Element reeled off four in a row to take the half 8-7.
From there, Washington asserted themselves while UCSB grew increasingly tired and frustrated. The Burning Skirts did little to adjust to Washington's defensive looks, struggling to figure out where to put Lisa Pitcaithley and how to space the field against the Element poaches and switches. The Washington offense ate up yardage on the break side and opened up uncontested throwers for deep shots.
UCSB Coach Carolyn Finney admitted after the game that her team was facing down exhaustion. "We have to not extend points that are unnecessary," she said.
Washington came into the game having cruised through their first game against Cornell, where their top players barely had to break a sweat. UCSB, conversely, struggled to put away their first opponent, UCLA. The Northwest squad's depth proved valuable, something Weisbrod was proud to point to.
"I never felt like we weren't in control of that game," he commented.
Now they're in control of their own destiny.
Western Washington (#11) v. Colorado College (#18)
Colorado College took hold of their fifth round game, and they never let go, upsetting Western Washington 15-8. Colorado College began the game stealing a break from Chaos, and they continued to steal breaks until the score was 7-3, and they had been on a four point run.
Strata ran an effective ho-stack that relied more on chemistry than on set plays. When Western Washington attempted a zone, Strata moved easily through and around the cup, finding open looks everywhere. Chloё Rowse, freshman Alexie Millikin, and Lisi Lohre had easy flow together, and their cutters knew where to go downfield.
Chaos was missing Callie Mah after she was injured in the first round, but her presence may not have helped their low-energy. Their cup struggled to keep up with Colorado College's easy looks, and they couldn't get their offensive flow going when they did earn turns, and they had too many unforced errors. Abbie Abramovich held the team together, offering her receivers nice puts downfield and throwing nearly all of Chaos' goals. They had brief moments of beauty, but they didn't have enough moments to combat Strata's energy and their young, deep roster.
Strata sailed through to 11-4, and despite Chaos' best efforts, they couldn't get the necessary breaks, and Colorado College locked down to win after a Chaos turn near their endzone. Strata had huge plays from their full roster: from an epic out-of-bounds layout from Annie Brewster to Millikin's confident resets, Strata proved that they aren't a one-man show, and they aren't a 5-seed team.
Ohio State (#1) v. Kansas (#17)
Kansas Betty came into the fifth round pumped up, but they faced the colossal wall that is OSU, and they hit as hard as they could, as OSU took the game 15-6. After a double game point finish against Victoria, Kansas had the energy to keep it close early, taking the first point of the game and trading points with OSU, energy high until Ohio State broke the pattern to make it 5-3. Kansas continued to press against the inevitable, putting up great looks and finding open lanes, but Ohio State took every disc down.
Ohio State's lethal offensive line pulled ahead to take half 8-4. They could have coasted through the second half, but Ohio State stayed pumped and driven to finish their first day of nationals on a high note.
In the second half Ohio State stacked up points until it was 13-4. Kansas dug deep for energy late in the game, and they put away two more points on Ohio State before Fever finished off the match.