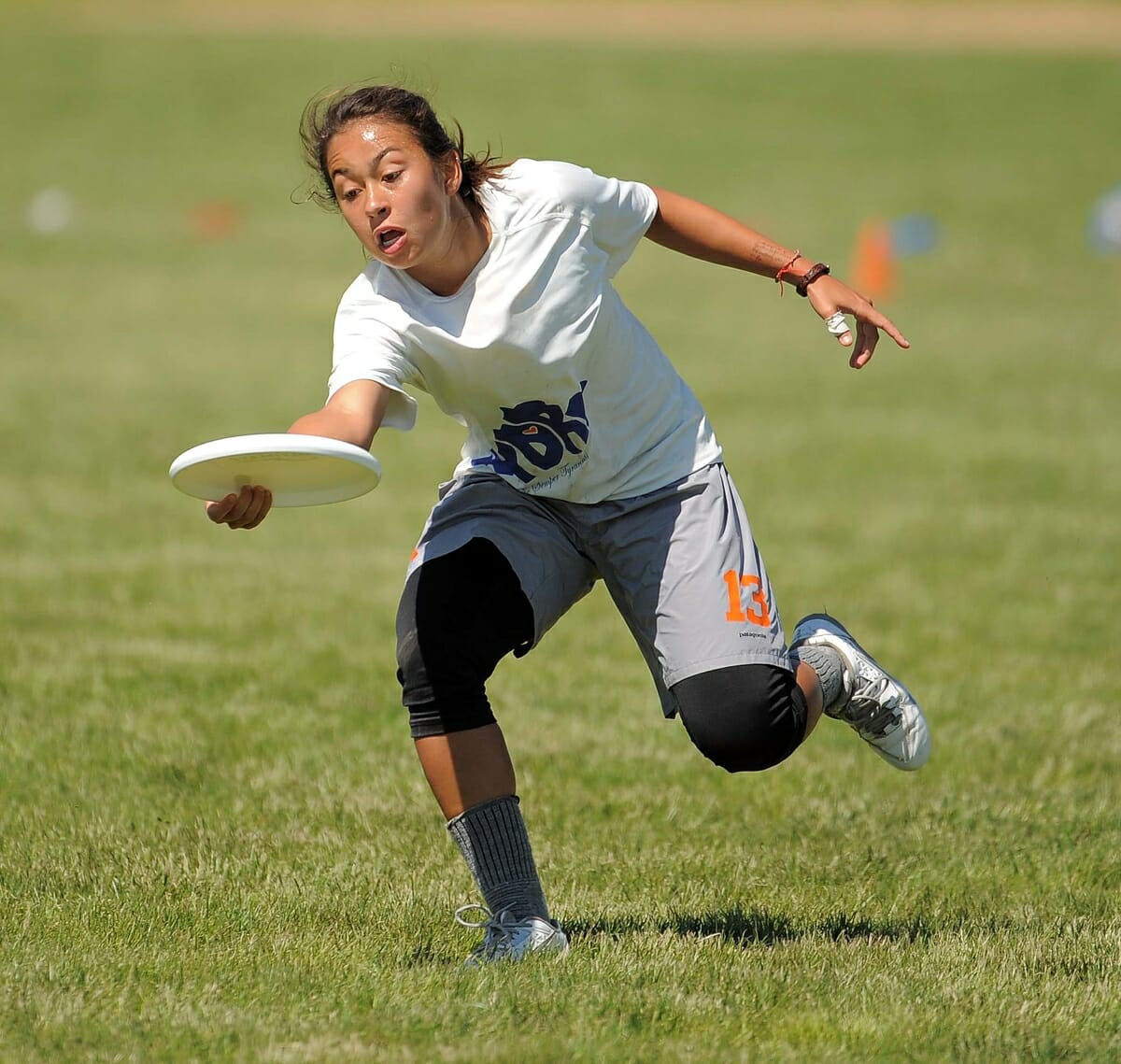 Nobody counted on UCLA breaking into prequarters, but an energetic win over Whitman and a tight game with Washington buoyed their enthusiasm, their cheers, and their confidence rolling into their game against Virginia. Hydra, for their part, broke seed over the Victoria Vixens early on Friday to grab the 3-seed, and they came into the prequarter game focused, intense, and determined to take the game they knew they deserved.
Virginia proved they were the team that belonged in quarters with a 15-9 win over UCLA. They never trailed.
Virginia took a lead 3-1 early, using a loose wall against the UCLA handlers that made them hold the disc longer than usual. The higher stalls pressed their handlers to boost big plays, which UCLA loves to do. But under pressure their throws and hammers flew to empty spaces, which gave Virginia many of their turns.
For their part Virginia played their game, using dozens of short tight passes to move the disc forward, sometimes working it the full field through Alika Johnston, Amy Wedmore, Janie Mockrish, and Nada Tramonte.
Hydra held their break and their lead throughout the first half, continuing to hold Michelle Chang and Katie Swinnerton at bay. Hydra took half at a close 8-5 with UCLA still very much in the fight. But Virginia was resolute: they have gritted out enough close wins in their season and in their region, and they took the first two points out of half with hard work from Theresa Hackett.
Alika Johnston flew for Virginia. Before you realized where she had thrown it she was sprinting for the up the line look or the reset. Plenty of women are fast at Nationals. But not like Johnson. Nobody shut her down or altered the game she wanted to play.
Hydra took their most significant lead on a laser inside pass from Johnston to Sarah Hansen for a stretched snag in the endzone, and this fierce score sealed their game.
They still had to march it to a final score of 15-9, but the sheer grit in that bullet throw and Hansen's firm commitment to the grab revealed a Hydra that's ready for bigger things in quarters.