Colorado College was one of the biggest surprises of the College Championships, rattling off two huge wins in pool play to reach the prequarters, and finishing 9th after being seeded 18th. Read how they did it.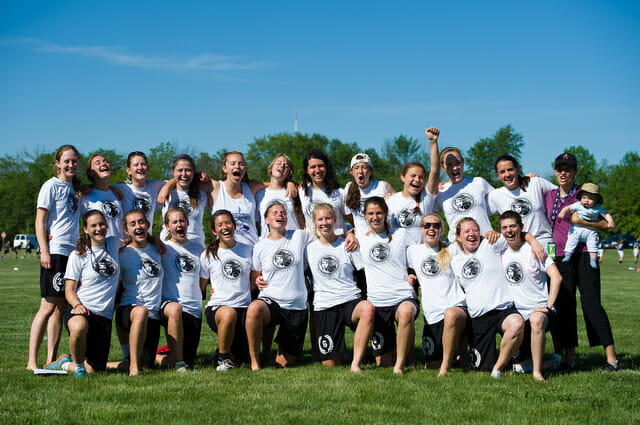 Colorado College played the last 7 games of their career as the underdog. Like a broken record, everyone – myself included – set their expectations too low, giving Colorado College the opportunity to obliterate them. Four Cinderella stories arrived in Mason, OH on Friday, but Strata ended their season with the most surprising story of all.
Strata knows how to play to the unexpected: they upset Western Washington 15-8 during pool play on Friday, and then they upset Stanford 12-9 on Saturday, effectively ruining Superfly's ambitions for a deeper run into the bracket. They lost to Tufts later that day, and they were eliminated by UBC in prequarters, but they had more upsets than any other women's team at the College Championships, placing 9th after coming into nationals seeded 18th.
They never attended a competitive tournament. They didn't land any impressive wins during their regular season. They thrived below the radar. So how did they end up at Nationals, let alone in prequarters?
The Rookie Factor
Colorado College played fairly tight lines at the College Championships, as many teams do. Lisi Lohre played most points of the weekend, and many of her veteran teammates clocked a lot of hours in their tighter games. But Strata wouldn't have reached Nationals without the crucial influx of fresh blood into their program this year. They gained freshmen this year who not only had previous experience – Corey Baron and Robin Fassett-Carman, for example – but who also became completely dedicated to the team.
"[The freshman have] been the depth that got us through Regionals and Centex," Captain Christina Maruyama noted. "To be able to put in lines of freshmen who have the legs and who are super athletic has been a huge strength for us."
The commitment and passion from the youngest members of the team propelled the upperclassmen to work harder, too, and Strata entered their post-season with few signature wins, few tournaments, but a much deeper bench that made all the difference. This weekend freshmen Corey Baron and Alexie Millikin stepped in to handle, while freshman Annie Brewster worked the midfield. These women are clearly still raw talent and energy for Strata, but their presence changed the nature of Strata this season.
Nothing to Lose
"We've come in as the underdog in every tournament so far this season," Strata captain Lisi Lohre gushed after their first upset on Friday. "So we're just excited to be here, to play our best. And everyone stepped up their game…it looks like we've been here before."
When a team succeeds with regularity, a target develops on their back. Teams know their players, their style, and their threats. Colorado College had no such worries.
"No one expected us to go anywhere at Nationals; no one expected us to be here in the first place," Lohre said.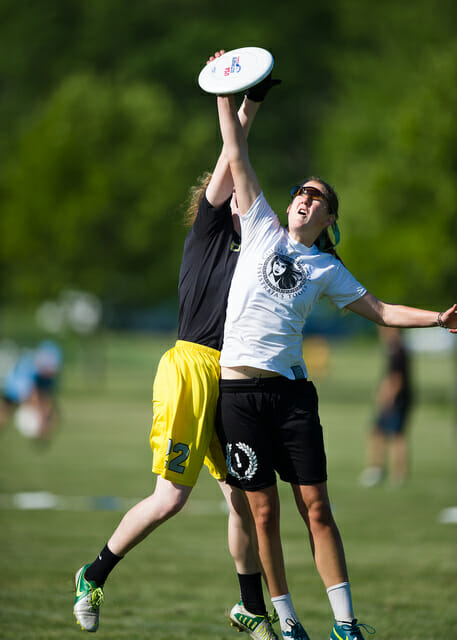 Every team they faced treated the game like everyone treats a game against the 5-seed, and two teams paid dearly for the assumption. Strata entered their game against Western Washington with every gun blazing, and their energy shone through: they took a 7-3 lead early that grew into an 11-4 lead, and Western Washington was never able to recover.
Strata successfully navigated through man defense and an ineffective zone with a unique combination of intensity and fun. They were free from expectations, and they were ready to prove people wrong. On a different team, it would be a chip on their shoulder. For Strata, it was the perfect opportunity.
When they faced Stanford Superfly, their California opponent had every reason to doubt as well: at that point Strata's success could still be marked as an aberration. But Superfly made several execution errors early with tentative play and overthrows, and Strata took advantage early with deep looks from Lohre.
Superfly adapted by putting a zone and one on Lohre, but with little wind the other handlers, particularly Chloë Rowse, easily created space and breaks downfield. Junior Virginia Hill was crucial in the midfield for their zone and in the endzone all day, scoring 6 of the team's 12 goals that game. Colorado College took half 8-5, and they won 12-9 in spite of an attempted comeback from Stanford. Their energy never wavered.
The Lisi Lohre Effect
There are three kinds of influential players. Some players make huge plays on the field to earn their teams a break, a score, whatever they need. Some players make subtler plays off the field to maintain team morale, build chemistry, and develop a team identify. And them some players – the players we love to honor – do both.
Lisi Lohre played most points of the weekend, and she became the immediate target for every team's defensive strategy. The Strata offense builds off of her movements, and they only seemed to struggle when her defenders took her out of the game. She lead the team with 20 assists and scored 11 goals, which meant that she was involved in about half of the points they scored at nationals. She played each part that Strata asked of her, from bidding defender to patient handler, and she excelled everywhere.
Even teams that were able to neutralize her influence admitted to her talent: "She's a dominant player," UBC Captain Devra Waldman said emphatically after their victory over Strata. "You can write that I said that. She's really good."
Lisi Lohre has also been a Captain of Colorado College Strata for three years, which means that her teammates decided to trust her leadership when she was only a sophomore. Since then Lisi has crafted a team that mirrors her character. Lisi is driven, dedicated to her teammates, and endlessly positive. Strata is driven, dedicated to each other, and endlessly positive. During their toughest games the team continued to run back to the line. They continued to chant their cheers, and they kept their energy high even as they lost in their prequarter game against UBC, 9-15.
Positivity doesn't work for every team. Some teams need their motivation to stem from a darker, more guttural place within them. But Strata's mental game was so effective that it propelled them through games that even they didn't expect to win. This mentality isn't an accident: it has grown naturally out of three years of leadership from a captain who understands what her team needs in order to perform at their full potential and beyond.
What's Next for Strata?
Strata's weekend wasn't perfect. Cracks showed in their final game as their offense grew haphazard while UBC's offense grew more polished. Sometimes teams effectively defended Lohre, and the rest of the team grappled to initiate an offense that didn't run through her. They're deep, but they still find comfort in resetting to Lohre. They're new to the big stage, where your performance's flaws are highlighted more than ever. They have more to learn if they want to return and run deeper in the bracket.
Many people had not been aware of Strata before this weekend. But two upsets over two teams – one a talented rookie and one an established program – put them on the radar. Strata will graduate only four seniors, losing the invaluable Lisi Lohre, Sarah Freeman, and Christina Maruyama, but they hope that their success this year will motivate their young and skilled program going forward.
"[We haven't] been to Nationals since 2011…that was our year," Maruyama said after their final loss. "I wasn't on that team, but Lisi knows what it's like to be here, and we've talked a lot about having our rookies have that experience: to know what it's like, and they're going to want to be back."