The US Open's Men's Division offered up fireworks on Day One in Minneapolis.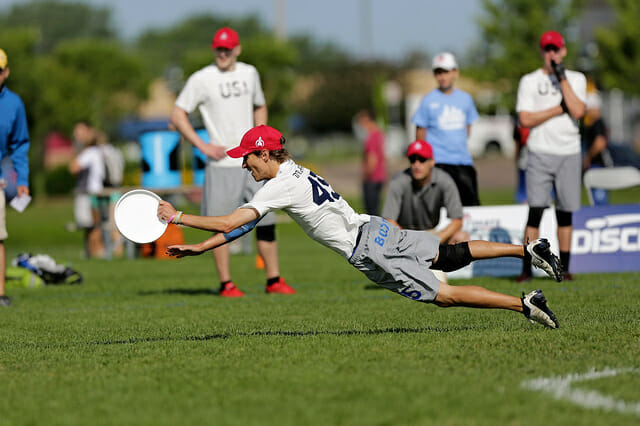 Top competition from across the country and overseas converged in Blaine, Minnesota, today as the formal opening to USA Ultimate's Triple Crown Tour kicked off with eight men's teams battling it out on the first day of the U.S. Open.
It may be early — very early — in the season, but with Worlds in Lecco, Italy, looming in just under a month from today, and six of the squads in attendance planning on making the trek, teams were definitely looking to work out their kinks and put together strong performances in the best kind of preparation one could hope for before the international tournament next month.
To say teams were seeking to win at all costs would be a stretch, but there's no denying that everyone wanted to compete and play well, even amidst experimenting with their new rosters along the way.
Given this approach, there was no shortage of intriguing storylines to follow. Here's a look at the happenings from day one:
Bravo Domination
With what was assuredly the most impressive offseason makeover, the revamped roster of Denver Johnny Bravo took the field for the first time today, and the results were just about what you'd expect: domination.
All day long, Bravo's depth proved problematic for opponents, as Denver often simply outmatched teams with their scary levels of athleticism, massive hucks, dirty breaks, and wealth of experience.
When their O line consists of some combination of Jimmy Mickle, Brett Matzuka, Sean Keegan, Ryan Farrell, Owen Westbrook, Jesse Roehm, Ryan Morgan, and Craig Forshee, it makes it terribly difficult for opponents to know where to place their best defenders.
And on the flip side, with athletes like Kurt Gibson, Will Lokke, Stanley Peterson, Jackson Kloor, and Austin Gregersen on the D line, not too many opponents' mistakes are going to slip through without being capitalized on — and quick.
Though Captain Ryan Farrell said his team has already endured a handful of ugly practices, the transition period one might expect from such an influx of talent could barely be noticed.
Sure, a lot of offensive points didn't look the smoothest. But when they have the athleticism and throws to bail them out of a lot of high stall counts and risky situations, it hardly seems to matter.
Farrell also attributes much of Bravo's success to the program's strong foundation and core values.
"We build on our ethos," he said. "[Recruits] can come in and we can use their skills, but it's always in the context of the foundation."
Their opening game against Ironside was an offensive display on both sides. Few points saw multiple turns, if any.
A Gibson point block on Boston's Brian Garcia and ensuing conversion at 11-9, however, gave Bravo a big enough cushion to ride to their 15-13 win.
In their following game against San Francisco Revolver—perhaps the most anticipated pool play game of the tournament—that cushion inflated to a size big enough to house a whole fraternity of couch crashers.
After trading to 6s, Bravo broke the match wide open.
In a blink, it was 15-8.
Denver looked nearly unstoppable, and the defending champs received what might have been their worst loss since their first title in 2010.
Bravo's O line turned it only once, and their D line converted nearly every opportunity thrown at their feet.
Though they may have let off the gas a little in their final game against Evolution and allowed the team from Colombia to stick around longer than Denver maybe would have liked, the day nevertheless remained a definitive statement, only hinting at the awesome potential of a team that looks real hungry for a national, and international, title.
And to make matters that much more interesting, Bravo was missing Josh Ackley, Brodie Smith, Bart Watson, Nick Lance, Tim Morrissy, Hidde Snieder, Hylke Snieder, Evan Padget, and Ian Toner. Yikes.
Revolver Looks Fallible, But Still Revolver
When the team that's won three of the last four national championships gets trounced 15-8, it certainly looks bad. Real bad.
But that really misses a lot about what actually happened in that game and the day as a whole and simultaneously evades giving enough credit to Bravo. Or Revolver.
Because the thing is, Revolver didn't play poorly in that game. Bravo just played that good.
Revolver still ran the same isolation game with horizontal and side stacks that they always run, and they were still getting open. Their defense was disciplined and rarely played catch-up for more than a few steps. It just wasn't good enough.
Most all of San Francisco's turnovers came on good looks to open receivers streaking deep. The throws were just a little too far. And Denver capitalized on nearly all of them.
It wasn't like Revolver's whole system fell apart, or that they lost all their chemistry with the new additions. There were just some errant throws in the windiest part of the day, and some great conversions by their opponent.
Nevertheless, they are still Revolver, and they did still lose by their widest margin in quite some time.
Though if past seasons are any indication, San Francisco are the kind of veteran program wise enough to take their punches early in the season in the effort to get stronger and know themselves better. Such an approach is surely at work here.
Almost nobody would be surprised if they turned it around by Worlds, or by the end of this tournament, and return once again to their usual place on the other side of wallopings like their loss to Bravo.
Their double game point win over Seattle Sockeye in the last round will help that turnaround. But they're going to have to do a lot better than that to win this tournament.
Ironside and Sockeye Remain Question Marks
Going into the season, one could not be blamed for having a few questions about how Boston and Seattle were going to look this year.
By the end of day one at the U.S. Open, much of that doubt remains.
It was tough to get a read on either team today, as they both had their flashes of brilliance interspersed with some dubious lulls.
Sockeye went up 13-10 on Vancouver Furious George in the first round before winding up with a 15-13 loss on their hands in a matter of minutes.
It's not a good sign when you're looking gassed near the end of the first game in a four-day tournament. Now, such an occurrence could assuredly be chalked up to first-game nerves.
Their rolling of London's Clapham Ultimate and near-upset of Revolver might help to alleviate some of that stress.
If they're not careful though, they could easily slip up again in their match against Minneapolis Sub Zero and forfeit their spot in semis.
Boston, too, could find themselves in a similar situation if they don't figure out how to assert greater separation between them and their opponents.
Ironside's O line looked particularly strong in their first game against Bravo and gave the latter their best game of the day at 13-15.
But close calls with Furious George and Clapham don't inspire too much confidence.
If they don't figure out how to convert more breaks, and hold more O points, then even if they beat some combination of Sub Zero/Sockeye/Revolver, they likely won't have enough juice in the tank to make it out of semis.
Sub Zero and Furious George on the Cusp of Semis Berths
While some might have seen last year's Chesapeake Invite victory and quarters appearance at Nationals as flukes or matters of little consequence, Sub Zero continue to quietly work at proving their doubters foolish.
A 3-0 finish admittedly doesn't seem quite as impressive when one takes into account the fact that they played the six, seven, and eight seeds. What did look particularly notable, though, was how they did it.
Only Clapham came within three, and even that match largely appeared within Sub Zero's control, even when the score indicated a closer game.
Their O line looked sneakily dangerous, especially with Simon Montague, Grant Lindsley, Eric Johnson, Nick Stuart, and Josh Klane all bouncing off each other with quick passes and ever-shifting release points.
Maybe even more intriguing, however, is that their defense looked perhaps the best of any team today. They played tight with a lot of bodying and dictating. And when they got the turn, Minneapolis often looked poised and patient in their push to convert.
They opened up against Furious George with three straight breaks and never let up steam.
Sub Zero's real tests will begin tomorrow, however, as they'll have to best one of the top four seeds in order to secure a spot in semis. Don't be too surprised if Sockeye, Ironside, or even Revolver soon wind up scrambling to make bracket play.
From the sound of it, Minneapolis has a simple, but smart mindset going into Friday.
"We don't have any tricks up our sleeve," Captain Jon Gaynor said. "We just hope we can execute better than the other teams."
Also looking for the upset, and certainly appearing capable of such a feat, is Furious George.
Their 5-0 run to steal a win from Sockeye displayed the possible value of what playing so much semi-pro ultimate together can do for your chemistry. But their 15-10 loss to Sub Zero conversely showed what can happen when you bring a small roster to an elite tournament, especially if much of that roster has been playing in the MLU since April and might need a little break.
Yet, despite their underwhelming 2013 season and underdog status, Vancouver played with perhaps more heart than any other team in the open division, smiling all the while.
They're getting a lot of mileage out of their U-23 Canada ballers, particularly Gagan Chatha, who wrecked defenses—and turnover-prone O lines—all day.
It will be tough for Furious George to push into semis, as they'll now likely have to beat another two of the top four seeds to do it, but at the very least they've illustrated that the monkey just might be on the rise again.
Captain Morgan Hibbert summed up his team's mentality thusly: "We're relaxed and having fun, and why not us?"
International Teams Struggle to Compete
You may not know it from their 0-3 records on the day, but Clapham and Evolution are solid teams.
Clapham runs a carefully patient ship, often willing to wait for cuts to develop downfield and rarely taking poor shots.
Evolution has a number of gifted athletes with big hops and huge bids.
But unfortunately for both squads, without consistently getting to play opponents at the elite level at which these U.S. teams sit, they have only slim chances at besting clubs with this depth of experience, knowledge, and versatility.
They'll have four more rounds to try and figure it out, but without the kind of training and the privilege of superior competition that the top U.S. teams benefit from on the regular, they both have little hope of challenging America's best.