Minneapolis Sub Zero has been a fringe Nationals contender for years, but an impressive 2013 campaign was just bolstered by a hot start at the 2014 US Open. The team is ready to jump into the elite.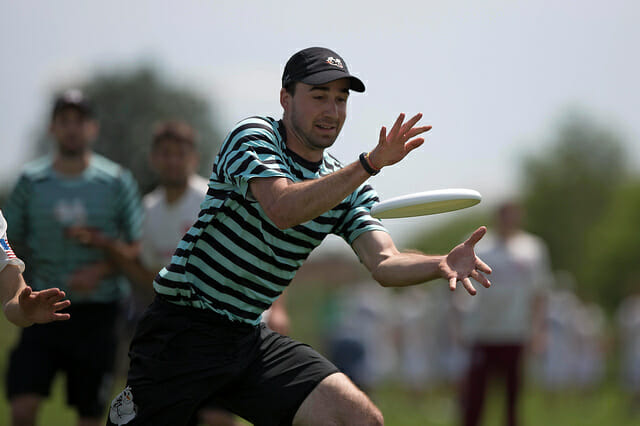 Fresh off a hot start at the U.S. Open, Minneapolis Sub Zero has, once again, played themselves straight into the spotlight.
In a year of roster consolidation, big name moves, and Worlds teams, Sub Zero has often been out of the conversation. And yet, once again, a major tournament has rolled around, the results have come down, and people are inevitably talking about the team from Minnesota come Monday.
Self-described as a silly team, Sub has a fun mentality, but works hard. "We practice twice per weekend," says captain Grant Lindsley, "once during the week. Determining and refining player roles early on will help us come together and be successful at the end of the season."
Central Stars
"As the youngest team at Nationals last season," Lindsley explains, "we are a year older, wiser, milder-mannered. We've also welcomed a few great new players with roots in the Midwest."
While their roster might not have made the 2014 headlines of other open clubs, the talent is apparent as you go down the list, with name after name of North Central school star appearing.
Eric Johnson returns to Sub Zero after a year with Johnny Bravo, and Greg Cousins, in his debut, is already making a defensive impact. On offense, Nick Stuart and Andrew Moore are very strong cutters, while Simon Montague and Josh Klane are handling with precision. Add the speedy Lindsley, Julian Childs-Walker, Ben Feldman, and Jon Gaynor into the conversation and you create some deep lines on both sides of the disc.
"We are also excited to see how new players step up as the season progresses and play larger roles," Lindsley adds, indicating that this roster has room to grow.
A Fun Philosophy
Sub Zero isn't ice-cold, but rather a team that enjoys its fun; often, outsiders might view their manner as unfocused or unserious. The reality is, this squad plays best when it is relaxed, but there is a balance that needs to be maintained.
One of the team's philosophies speaks to this. "Our story line is 'can we earn goofy?'" Lindsley says. "Meaning: can we work hard enough and play with enough discipline and support to be the fun-loving and very strange-humored team we are. If we can, then we can expect to challenge any team in the world."
And challenge they can; after earning a semi-finals appearance at the U.S. Open, Sub Zero has control over their own destiny. The results are early in the season, but they've proved they really can compete with any team in the country.
Successful Skills
On offense, Sub Zero moves the disc quickly. Montague seems to be the master of the throw-and-go. With Lindsley, Klane, and Johnson all dishing the disc as well, it may be one of the toughest handler groups to defend.
The quick disc movement makes the field very fluid; it's hard to hold a consistent mark on the team from Minnesota, harder still to trap them on a sideline. Precision throws to the fast, capable cutters can come on all sides of the field, under and away. Often their pull plays isolate their cutters to great effect.
On defense, Sub Zero plays physical and intense, not afraid to use their bodies to close off men downfield. Often, on a turnover, they like to attack quickly, but conversion has been a problem for this team.
Questions
What questions remain?
The matchup against Johnny Bravo in the U.S. Open semifinals gave fans a chance to watch two very different squads.
Many consider Sub Zero's game to be a "small-ball" type offense, with quick disc movement and precision throws, versus a team like Johnny Bravo that prefers to use its athleticism and deep spacing. Sub Zero proved small-ball wrong that day and wasn't afraid to match Bravo huck for huck, but mistakes cost them in the end.
When they are on, Minnesota can steamroll a team. Sockeye saw that earlier in the tournament, in what was effectively a quarterfinal game. Up 7-6, Sub Zero mercilessly shut down their opponent's offense and scythed through the Seattle defense, capitalizing swiftly on each turnover, to put up a crushing run, ending 15-8.
On the other hand, when pressured, Sub Zero can make mistakes of its own. The semifinal game saw tight play against a good O-line, a few throwaways, and uncharacteristic drops; Sub-Zero had the most trouble converting chances because of their own mistakes, and Bravo's firepower proved to be too much.
In the end, it will be hard to strategically find a way to slow down the team; a physical, athletic game of man to man defense may be the best bet, and even then, it will come down to conversion rate. Sub Zero will make teams chase them around the field all day, but if they do make a mistake, expect many of the elite squads to take a deep shot.
End Game
"Regionals is our light at the end of the tunnel," Lindsley explains, "where we know that the end of the season is close, either that weekend or a few weekends later."
The team — and the world — now see that Sub Zero can beat the best out there. All the rest of the conversations — everything from strength bids to roster moves — falls away when the players step on to the field. Sub Zero doesn't need to win the game here, on paper, but simply play hard and do what they always do.
"Are we worried? About anything (ie, bids, other teams, weather, differences in other teams from previous years)?" Lindsley asks. "Never. Our goal is to win regionals before we start to earn the right to think about nationals, and we intend to achieve that goal."
Sub Zero will next be in action at next weekend's Pro-Elite Challenge in Virginia.