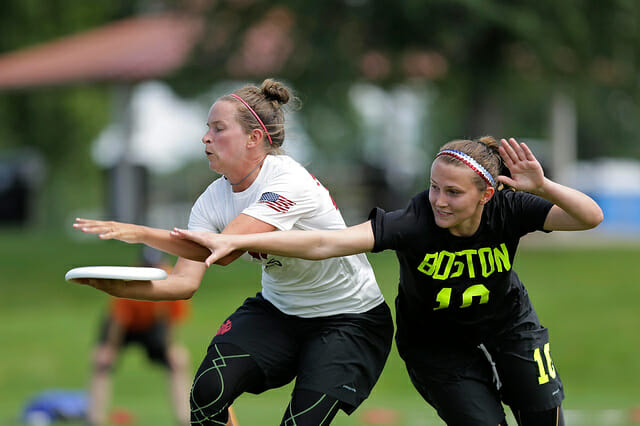 1. Seattle Riot: A hefty dose of strong handlers have injected Riot with more skill and leadership to match their athleticism and defensive intensity. It led them to a very impressive US Open that solidified them as the team to beat.
2.Boston Brute Squad: Two major tournaments has equaled two finals appearances and a win at Chesapeake; they also won Boston Invite. Boston is matching results to the hype right away. The talent is there, the Ultimate IQ is there, and the leadership is there. The stars have aligned for Brute.
3. Bay Area Fury: Sure, they lost four games at the US Open, but were still a semifinalist. Obviously not Fury-esque, but the returns of Cree Howard and Maggie Ruden should help significantly. No one in their right mind would count out a team this experienced and talented.
4. Washington DC Scandal: What's not to love about a championship winning team returning most of its best players in their prime? Early season results, for one. Their offense has been far too generous and their defense has been unable to make up for it. World's will be revealing.
5. Vancouver Traffic: Navigating the US Open without Danielle Fortin, Kira Frew, and Mira Donaldson? No problem! Deep, skilled, and aggressive, Vancouver has a nice balance of youth and experience and their semifinals showing at US Open indicates they are scary.
6. Denver Molly Brown: The third most impressive team at Chesapeake, Molly Brown is invested and focused. Claire Chastain is an instant impact addition, and she has some very strong athletes to utilize.
7. Bay Area Nightlock: Significant pickup of Claire Sharman (Fury) and the return of Abby VanMuijen for injury should help offset the loss of Andrea Romano. The question is if the development of players like Briana Cahn and Marisa Rafter can push them over the hump.
8. Texas Showdown: Unsurprising that a team replacing Cara Crouch, Sarah Blyth, Enessa Janes, and Holly Greunke struggled out of the gate at the US Open. The Forths are aging, but still playmakers, so the next generation of Showdown will need to step up to the plate.
9. New York Bent: Despite losing their top cutter, Ashley Daly, to Scandal, Bent is back even fiercer than last year. They went 5-2 at Chesapeake, beating Ozone and thumping Heist twice. They are more experienced and it shows in the early season.
10. Atlanta Ozone: The Ozone core is aging and losing starting cutters Maddy Frey and Anna Hare will hurt them. The question is if their younger returners – Lane Siedor, Hannah Leathers, Emily Lloyd, etc. – can begin asserting themselves.
11. Ottawa Capitals: The Ottawa scene always has a lot of moving parts, and even moreso with QUB headed to Worlds. Don't expect to find out who the Caps really are until late in the season, when Drummond, Pohran, and their more developed team come to play.
12. Raleigh Phoenix: When you lsoe three of your biggest young playmakers (Claire Chastain, Shellie Cohen, and Lisa Couper) it can be tough to recover. Fortunately, returner Jessi Jones has talent bursting at the seams. Their 4-3 Chesapeake was a promising start to this season.
13. Madison Heist: Youth fills the Heist roster, but they've been gathering experience and overperforming the past couple of years. Liza Minor and Jen Nowak could prove splashy additions that help cover the loss of Sara Scott and support Georgia Bosscher and Robin Wiseman.
14. Portland Schwa: Some of the Northwest's top athletes, like Adrienne Bovee and Alex Ode, just got some of its top college throwers in Amanda Kostic and Sophie Darch. Schwa failed to make much noise at Chesapeake, playing Ozone close on their way to a 3-3 weekend.
15. Chicago Nemesis: The losses of the Nemesis roster are too massive to ignore, especially following a disappointing showing at nationals. Can Nemesis use the blank slate? Not so far, getting rocked at Chesapeake.
16. Quebec Nova: Last year, Nova kind of snuck in the Club Championships, but they return a lot, including Audrey St-Arnaud. Decent showing at Boston Invite, but we just don't know what they can do yet.
17. Philadelphia Green Means Go: Already have three tourneys under their belt! 3-3 showing at Chesapeake leaves something to be desired, but both their roster and results indicate potential.
18. Chicago Dish: The Nemesis upset is one to hang your hat on, but Dish gave good games to Molly Brown, Phoenix, and Schwa, plus beat Wildfire. Nemesis's struggles are blood in the water.
19. Minneapolis Pop: Gone is Sarah Anciaux (Drag'N Thrust), but the returns of Grace Quintana and Rebecca Enders should be at least a band-aid for that wound. Julia Snyder and Megan Molteni will lead the way for Pop this year. Already have a win over Green Means Go.
20. Seattle Underground: Beat Wildfire at Solstice and lost to Schwa 13-12 at the same tournament. Roster talent is there, but execution will have to get them out of tough Northwest.
21. San Diego Wildfire: A borderline nationals team last year will definitely benefit from the addition of Kelly Tidwell. But so far, they haven't done much worth noting, aside from losing to Dish, shorthanded Caps twice, and Underground.
22. Florida Tabby Rosa: Won most of their games at Huckfest pretty handily and added good local talent to make up for some key losses, like Mariel Hammond and Sunny Harris. Long road to go.
23. Pittsburgh Hot Metal: Close losses to Nemesis and Schwa, plus a win over Backhanded, aren't the worst Chesapeake takeaways for Hot Metal.
24. Houston Inferno: Played Tabby close, lost to Encore, but beat Spicy Tuna at Huckfest.
25. Chicago Spicy Tuna: Big win over Encore at Huckfest, but fell to Inferno in semifinals.