Johnny Bravo's talent-packed roster hasn't put all the pieces together for one tournament yet. Can they gel -- and win -- in Frisco?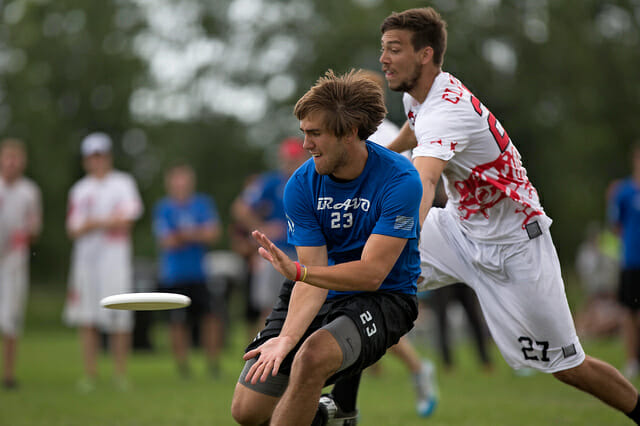 What you see in this year's Johnny Bravo team is reminiscent of the 2010 Miami Heat: a team that bolstered its roster with big name players in the offseason, which instantly raised the expectations to 'greatness or bust.'
After the addition of names like Nick Lance, Kurt Gibson, Brodie Smith and Bart Watson, many thought this Bravo team to be the favorite to win come October. Anything less than a national championship would be considered underachieving for this star-studded squad. However, like that Miami Heat team, Bravo has needed time to work out its style, and get accustomed to playing with each other.
Coming into Nationals, Bravo is looking more like a force to be reckoned with. The question is, will this team realize its full potential? Or will Bravo be bounced yet again without a chance to play in that elusive final?
Bravo In a Nutshell
Overall Indicators: 
Overall #5 seed at Club Championships

2013 Nationals Finish: 4th
#5 in Ultiworld Power Rankings
#5 in USAU Club Rankings
Positives:
Won the South Central Regional final over Doublewide on double game point, finished tournament undefeated
Have arguably the most talented roster in all of club ultimate
Have many players with championship experience, both in college and club
Reached the finals of the U.S. Open, losing to eventual champ, Revolver
O-Line anchored by Jimmy Mickle, who continues to be one of the best in the game.
Have wins against both Ironside and Revolver
Concerns: 
This team hasn't quite hit their stride yet, according to captain Ryan Farrell. They have struggled to find a style of play that best fits their talented roster.
Have gone 7-7 against teams whom have qualified for Nationals, including a 2-4 performance at Pro Flight Finale
Sometimes rely too heavily on their stars to make big plays. This can easily wear down their biggest players, which hurts their overall performance (See E.C.C).
Have enormous expectations to live up to. As mentioned before, many had and still have this Bravo team winning it all. Immense pressure.
Season Recap
Back in early July, the buzz surrounding Johnny Bravo was loud. They had announced their new roster, with some new faces, and people were excited to see how this team would perform on the field, rather than on paper.
The first test for Bravo was the U.S. Open, and they started with a bang. Bravo took down both Boston Ironside and Revolver in its first two games. This bolstered them to a 5-2 record in the round robin — losses to Sockeye and Furious George — and put them atop the rankings after pool play. After taking down Sub Zero in the semifinals, Bravo faced Revolver, who they beat 15-8 in pool play. After jumping to an early 3-1 lead, Bravo started making mistakes, and Revolver was able to take half and never look back.
After their strong start to their season, Bravo traveled to Italy to compete in the World Ultimate Club Championship. There, the Denver based team were hardly challenged until the semifinals, where they again met Revolver, and again were defeated by the reigning champions. Bravo went on to take the bronze medal in the tournament, but after playing nine games and dealing with international travel, the team needed to physically recover.
A few weeks later, the Pro Flight Finale was upon Bravo and it was clear that they had not recovered from Worlds. This was the lowest moment of the season for Bravo, who finished the weekend 2-4 and in dead last. After beating Doublewide and Chain Lightning in their first two games, Bravo lost steam. Losses to Sockeye, Ironside, Revolver, and Doublewide in a rematch sent the team home with a bitter taste in their mouths and without a win in bracket play.
Still, heading into Regionals weekend, Johnny Bravo were the favorites to win the South Central title for the first time. Bravo lived up to expectations and looked the part of a true championship contender. They easily took care of every team in their pool. Their offense was finally starting to click and their defense was suffocating. It looked like things were coming together for Bravo. The finals saw Bravo meet a Doublewide team that had struggled, but that had been gaining momentum. It proved to be a great test for Bravo. Doublewide gave Bravo everything they had and forced the Denver team to be at their best. In the end, it was Bravo's star players who made the plays needed to win on double game point, as they took home the South Central crown.
Johnny Bravo has all the tools to make a run at the championship this year. With a healthy, talented roster, Bravo should be looking at a semifinals berth at worst. Anything less should be considered a major disappointment.
Playing Style
Bravo predominantly run a vertical stack, though they still play horizontal and side stacks frequently. Bravo is an excellent hucking team, and is especially effective at big throws from the breakside. Jimmy Mickle is very good at setting up his cut in the right location to give the thrower a lot of space.  Their handlers, especially Kurt Gibson and Brett Matzuka, release aggressively and often.  Matzuka will often throw a swing only to score deep two throws later.
Defensively, Bravo is an incredibly aware team.  They run a lot of effective switches, with Sean Keegan notably being one of the best at executing them. Nick Lance and Mickle both play very heads-up defense, and get most of the team's help and poach blocks. Mickle, especially, owns the deep space in this regard, and Lance has found many opportunities to create short-field turnovers throughout the year.
This is all to set up their athleticism. Bravo has an array of very good, very athletic complementary talent that allow the big throwers like to always have a dangerous option downfield.  Mickle is going to win almost every aerial battle.
Personnel Changes
Bravo is a team that's been searching for its offensive identity the entire season.  The popular narrative surrounding Bravo is that they're an all-star team that hasn't quite found their chemistry or hit their stride. They've gone through multiple lineup changes looking to maximize their players' talents and fit them into their proper roles.  Let's look at how their O and D line has evolved over the year personnel-wise, and how it's affected their play.  We'll focus on the handling corps.
At the U.S. Open, Bravo was missing two key players: Nick Lance and Bart Watson. Brett Matzuka began the tournament as the main O line handler, though Owen Westbrook and Gibson also got reps in the position. With Matzuka releasing often, Westbrook was left back to fill the void, and performed well.
For an early-season tournament, Bravo's O line looked pretty smooth.  The D line, however, looked completely lost. Operating in a vertical stack, Gibson single-handedly ran the D line with a frustrating lack of help. Gibson's desperation hucks were caused by a clogged break lane and a lack of force cuts.  Overall, Bravo looked like a team with a great O line and an ineffective D line.
With Nick Lance and Bart Watson returning in late August at ECC, both were plugged directly into the starting O line to begin the Sockeye game. Watson received most of the centering looks across from Matzuka, and Lance operated as a cutter. The rest of the O featured Mickle, Keegan, and Westbrook, with Craig Forshee, Jesse Roehm, Ryan Farrell, and Chris Morgan splitting PT.  Lance and Gibson were both given time on O and D to find out where they would fit.
Eventually, Nick Lance had found a permanent home on the D line. His defensive awareness and playmaking ability is top-notch, and his presence on the D line dramatically boosted their offensive effectiveness. He was able to attack the break side much more consistently, and equally willing to switch it to the force when things were open there. When Gibson was off the D line, Lance and McShane had great chemistry and worked effectively together. The D line looked more confident, and with the break side opened up the vertical stack was able to move much more smoothly down the field without having to rely on hucks.
The O line, however, struggled.  Watson did not look the part of a rock solid handler. He had moments of great throwing ability, but far too many turnovers. It wasn't merely the number of turnovers that was the issue. The types of turnovers were unacceptable for somebody of his pedigree: multiple ill-advised blades, throwing into the mark, and milking a catch (though not a turn, the defender was about an inch away from creating the block) are not things you want from a position that needs to be extremely consistent.
At Regionals, the D line looked entirely different than the beginning of the year. The two fixtures have become Lance and Gibson, with Jack McShane and Matzuka filling in as the next options.  McShane likes to fast break anytime he can pick the disc up immediately after the turn.
When not fast-breaking, Gibson will pick up and set up a more spread out offense.  With Gibson picking up and Nick Lance as the isolated cutter, the immediate deep option is now incredibly dangerous.  After showing at ECC the D line was able to work it up the field, adding this extra dimension makes their D line very difficult to stop.
The D line's offense now looks like this:
https://gfycat.com/GlitteringIlliterateComet
https://gfycat.com/EarnestPoliticalGrunion
The O line, however, is still struggling. Brodie Smith and/or Josh Ackley were brought on to attempt to fill the void of a dominant handler, but the sample size of the regional final game is far too low to make any conclusions. On paper, I think Smith is a great choice — he wasn't contributing to the D line and he's a terrific thrower (their O line needs one badly). I think it's the right move.  But if it isn't working out at Nationals, I'd expect to see Matzuka coming onto the O line.
While a defensive line of Gibson, Matzuka, Lance, and McShane handling is tempting, it's an embarrassment of riches. Matzuka was not a driving force in the D line's offense, but a complementary piece.  He is not essential, especially with McShane on the line.  Matzuka was Bravo's best O line handler this year, and they will need that consistency if they want to go far in Frisco.
Likely Floor
Quarterfinals exit. With a better draw, you could pencil Bravo into the semis. But Pool D is brutal, and unless Bravo can secure the #1 spot, they'll have a difficult path to the semis. Bravo may still be looking to find the right roles and mesh together — not ideal for any team at this point in the season — plus they have had some Nationals disappointments in the past.
Likely Ceiling
National Champions. Is there a team with more raw talent? Is there a team that scares Revolver more? They may not come together, but if they do…
Worst Matchup
Machine. The Chicago squad is great at help defense against the huck (see their win over Chain at Chesapeake) and has the athletes on defense to match Bravo's potent offense. Both teams are packed with strong players, but Machine has been more disciplined and more consistent all season.