Here's what happened in the first round in Frisco.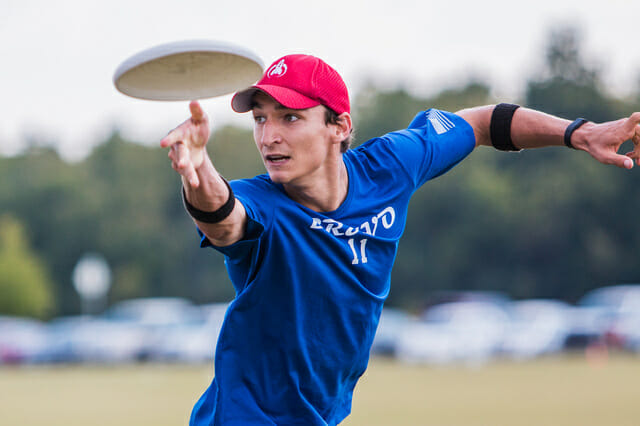 Here's a look at the first round action from the 2014 USA Ultimate National Championships.
Men's Division
POOL A
Austin Doublewide (#8) v. Kansas City Prairie Fire (#13)
It's early, but Prairie Fire is undefeated at Nationals. In their first ever game at the Club Championships, the Kansas City club took down perennial contender Austin Doublewide 15-12.
Prairie Fire was in control of the game from the very start. They took a 3-0 lead thanks to some mistakes from the Doublewide offense, and never looked back. Even when Doublewide tied the game at 5's, Kansas City didn't flinch. They took half on serve 8-7.
The defining moment of the match came right out of half. Doublewide received the disc going downwind, but couldn't complete more than one throw. Austin handler Trey LaMastres was hand-blocked on the goal line, which led to an easy break for Prairie Fire. A second break straight gave Kansas City a 10-7 lead, which they never relinquished.
"We were familiar with their system and some of their players," said captain Joe Young. "Our defense was able to carry us like they have all season."
Prairie Fire, who has two former Doublewide players on their roster, was able to contain Doublewide's offense all game. Star Will Driscoll got his scores, but was far from the dominant force we are used to seeing. Prairie Fire was just better in every aspect of the game.
Austin will now have to battle to avoid a pre-quarters matchup with Ironside or Johnny Bravo, the likely top seeds in Pool D.
San Francisco Revolver (#1) v. New York PoNY (#12)
The other Pool A matchup saw San Francisco Revolver and New York PoNY face off in a cross-country battle. Revolver was entirely dominant and cruised to a 15-9 win.
Defensively, San Francisco was magnificent. It was a struggle for PoNY to complete even the simplest of throws. Offensively, Revolver was its usual self. Efficient and meticulous, the Revolver O only had a handful of turnovers.
It's early, but Revolver, as expected, looks like the team to beat.
POOL B
Chicago Machine (#2) v. Minneapolis Sub Zero (#11)
Sub Zero held tight, but couldn't take away the upset, losing on double game point to Chicago Machine 15-14.
Machine met Sub Zero in a highly anticipated first round matchup with sunny skies and light breezes blowing down the field. This game was tight from the get-go and neither team was ever up by more than two points.
The team from Minnesota may have been the three seed in the pool, but their talent, untapped much of the season, was obvious.
Both teams had some mistakes early, but it would be Sub Zero to first take advantage. Machine's errors came mostly in the form of downwind away hucks that went too long, and tied 1-1, Sub pounced, scoring with a Logan Weiss huck to Jon Gaynor (who was covered by a trailing Bob Liu) and a few swings later Sub was up a break.
The teams traded until the game was tied 4-4, when Machine would get their break back with a layout block on an inside out swing. That led to quick movement up the field and a goal.
Both teams were running their plays, although Machine, alternating sets often, would also use new variations that hadn't been seen by the elite squads. Machine's A.J. Nelson dominated the endzone, scoring six of their offensive goals. Sub Zero liked to isolate its best players and throw to the break space often. Most throws saw the Simon Montague and speedy Grant Lindsley chasing down a nice float to the dead side, with Eric Johnson and Nick Stuart (another goal monster, with five).
Defense was tight and Machine was playing around with different matchups, but couldn't seem to slow Sub Zero down. Lots of quick movement saw Sub hitting both sidelines with ease and then lead to some good hucks to space that were chased down.
Tied 7-7, Sub Zero with a loaded up d-line got another turn on an errant downwind Machine huck and Eric Johnson hucked to Nick Stuart to take half.
Sub scored on offense out of the half and took the first two point lead of the game 9-7. Another poach layout D on a quick pass to a handler from Machine gave them the disc, and then Goose hucked to Kevin Kelly, who bodied out his defender to sky for the big goal.
Sub Zero turned again and it looked like Machine had gained momentum, but Grant Lindsley got a layout D of his own and then scored for the bookends to save the offensive hold. 10-9 Sub Zero.
The teams traded a few more points before Machine would break back again (their second break for the half, their own offense held the entire second part of the game) after Sub made a high-stall turn and Goose immediately hucked from mid-field to a streaking Walden Nelson of the handler spot.
Machine then held control of their own destiny. Points tightened and both teams began to experiment with moving offensive players to the defensive line, but each offense still was able to score quickly (Sub off of some great catches by Grant Lindlsey) and the game would trade out until 14-14, Machine receiving on double game point.
Machine brought out its typical offensive line and began to march down the field. A few tight plays led to picks and observer stoppages, but A.J. Nelson, getting under after under on this point, eventually got the disc outside the endzone and dished to Pat Shriwise. Game Machine 15-14.
"It was a tough one," said Machine captain Kevin Kelly. "We tired to limit them with some clam and some different matchups, but they have some great players and we could never really slow them down in their isolation."
"The W is a mental thing," he added. "It was a hard game, but we still were able to save legs and look to move forward."
Sub Zero was disappointed by the loss, but not worried.
"No need to bounce back," said Sub Zero's Charlie Reznikoff. "We need to tweak a few things, but everything is working well and we'll get stronger every game."
Portland Rhino (#7) v. Washington DC Truck Stop (#14)
Truck Stop got a no doubt upset win 15-10 over Portland Rhinoto start their 2014 Nationals campaign.
From the start, Truck Stop dominated the game with their intensity and their efficiency. There was an obvious difference in the Truck offense with the addition of Alan Kolick. Kolick spent the better half of the club season out with an injury (broken hand), but was able to join his team at Regional; boy did it show. Completing the trifecta of Kolick, Markham Shofner, and Jeff Wodatch, the Truck O showed consistency in the first half with only two turnovers.
Rhino was a different story. Captains Dylan Freechild and Jacob Janin had a hard time distributing the disc to their different playmakers, which always seemed to result in late desperate attempts to push the disc downfield. DC's Brian Marshall took the tough Freechild matchup. While it wasn't pretty, the ability of Marshall to limit Freechild's production was key in Rhino's five turnovers in the first half. Truck Stop would take half 8-4.
In the DC halftime huddle, Coach Will Smolinski shouted, "We can be better. We have to be better." With three converted breaks in the first half, the expectation might have been too high. But by the end of the game truck had only converted five of their eleven break chances. "If we struggle with D line offense then we struggle to win, he said. "Our O was pretty clean, but toward the end we got too calculating. We like to keep our throw count down." The second half was mostly traded points, with Truck Stop finding a few breaks to seal the win.
Moving forward Truck Stop will have to be more efficient if they want a chance of beating second overall seed, Chicago Machine. Rhino will look to rebound against a Sub Zero team thats coming off of a tough double game point loss, and they'll look to stretch the field deep. Theres no doubt that Rhino is most successful when they find their field space deep.
POOL C 
Raleigh Ring of Fire (#6) v. Pittsburgh Temper (#15)
"Someone's going to underestimate us," Temper captain Nick Kaczmarek told me at Gate B16 while waiting on a connection from Chicago Midway to Dallas.
It's possible. Maybe in consolation after Temper has been eliminated in pre quarters. They could get a win. You could see them taking down a similarly seeded team in consolation.
Sure enough, Temper did get a win.
A 15-10 statement victory over the tournament's six seed Ring of Fire.
There was no dew on the turf fields for the 9am first round in Frisco, just a whole lot of wind and a number of early miscues by Raleigh. The Pittsburgh squad went up 4-1 on several unforced miscues
"50/50 discs we were coming down with. Our defense put a lot of pressure on them and that pressure caused them to make a lot of unforced errors as well," Temper head coach Stu Kellner said after the win. "We made a couple slight adjustments on our defense since regionals and it paid off."
One of those adjustments appeared to be an emphasis on hard man defense. Ring looked deep a lot early and Temper was close enough to generate turns. Pittsburgh converted. In upwind/downwind conditions like these, it pays to follow the disc. This game's defining example of this came when Temper's D line made a turn and put up deep look upwind that hung in the air for what seemed like an 90 seconds. A crowd of players gathers underneath but the wind pushes it up and over the huddled mass to 5'7″ University of Pittsburgh's handler cover Carl Morgenstern, who pancake catches it a hip height. That was the real backbreaker that put Temper up 11-7.
It's 11:30am on Thursday and Temper has a signature win. It's official: they belong here.
Seattle Sockeye (#3) v. Toronto GOAT (#10)
Sockeye and GOAT was a chess match. In the first half, anyway.
It was 6-6. Then it was 15-7.
Sockeye broke to take half 8-6 and never looked back. It was a masterful performance by Sockeye in the second half. When they started rolling on defense they still mixed it up forces and looks, including the surprise zone point at 10-7 to get the quick break. Seattle also dominated GOAT in the air. Many of those 50/50s weren't 50/50s. GOAT looked great early. They switched the force on defense in the second half and made a multi turn point but couldn't get more than a few throws off before giving it right back to Sockeye – who's O line was never broken.
POOL D
Boston Ironside (#4) v. Atlanta Chain Lightning (#9)
Boston Ironside commanded the opening round game against Chain Lightning, winning easily 15-9.
A deceptive thrower's wind was blowing at the first horn here in Frisco. Heading into the matchup, one might have thought an extra push on the disc would open up the field early for Atlanta. Boston, however, had their game plan ready and shut down the Atlanta deep game early, using some very athletic defenders to back Chain cutters. Before long, Ironside had a hold for their offense and two breaks against Chain, which looked stagnated and out of options early.
Boston's defense disrupted well the entire first half, keeping Atlanta throwers limited to unders and forcing them to score on the open side. Jared Inselmann seemed to be nearly everywhere at once, working hard to catch resets and then appearing downfield to catch, but it was much of a two man effort in the early points between him and Tyler Conger. Ironside had a number of different players score early, including George Stubbs, Mischa Herscu, and Will Neff.
Ironside didn't go deep into their bag of tricks on defense, and both lines were able to break Chain marks and find quick scores -many of which favored the backhand front corner of the downwind endozone. It wasn't until Chain started connecting on their quick hucks, early in the second half, that Ironside threw a couple of zone-to-man transitions.
Seeing their offense connect on hucks may have charged up the Chain Lightning defense, and though Ironside stayed in controlled throughout the game, Atlanta forced some turns off bad resets on high stalls.
It was never going to be an easy game for Chain Lightning, but Ironside came out of the gate ready to play and caught Atlanta sleeping for a good number of points.
Denver Johnny Bravo (#5) v. Vancouver Furious George (#16)
Big favorite Johnny Bravo had little resistance in their 15-6 first round win over an inexperienced Furious George.
Bravo played with wide open lines from the opening pull and simply outmatched Vancouver at most positions on the field, even with the bench players out there.
It was an 8-2 half and a nice easy start to the weekend for Denver.
WOMEN'S DIVISION
POOL A
Atlanta Ozone (#8) vs. Toronto Capitals (#13)
Atlanta Ozone survived a scare in the first round, forced to make a huge comeback in the second half to force double game point against Toronto Capitals. They broke on the final point to win, 14-13.
Like many round one matchups, things started off a little jittery for both teams, but it was Capitals who settled in first. They broke out to an early lead and were able to grow it to an 8-5 score at halftime, with Darcy Drummond and Sarah Bobak leading the way.
The second half looked like more of the same when Capitals took three of the first five points and made it 11-7. Drummond was consistently there with great resets and able to make plays under pressure and the wind became a significant factor. But Ozone staged an impressive comeback, spearheaded by Mira Walker, who found all the holes on offense and came up with some big Ds.
Ozone employed a trapping zone that frustrated the Caps when they were going upwind and helped Atlanta notch a couple key breaks. Five points in a row went the eight seed's way and they went up 12-11 when Katherine Wooten launched an upwind forehand that was yanked out of the air by Lane Siedor.
Mistakes became glaring in the spotlight of a close game. After a Caps hold against the Atlanta zone, Angela Lin's hitch pass floated up and gave Capitals an easy short field possession to retake the lead, 13-12. On the ensuing point, Capitals got confused on their defensive assignments and Kate Wilson got wide open for a deep shot, leading to 13-13 in a game to 14. After turns from both teams, it was Ozone who punched in an upline goal from Wilson to Wooten to complete the comeback and defend seed from Toronto.
Boston Brute Squad (#1) vs. Portland Schwa (#12)
Boston rolled through their first round matchup with Schwa, cruising to a 15-3 win. Schwa didn't score until the second half and was overpowered by a bigger, stronger, faster, and more experienced Brute Squad team that is hungry for a title shot.
POOL B
Seattle Riot (#2) vs. Madison Heist (#11)
Things out of the gate were close, with Heist within one at 3-4 before Riot blew open the lead, taking an 8-4 half. Madison could never bring it back closer than three and Pool B top dog closed out with five straight, winning 15-8.
Nightlock (#7)  vs. Green Means Go (#14)
San Francisco Nightlock took an early lead and controlled the first half against 14th seeded Philadelphia Green Means Go. An 8-2 halftime score was too much for GMG to recover from and Nightlock closed out their first win of the tournament, 13-6.
POOL C
San Francisco Fury (#3) vs. Austin Showdown (#10)
The women's opening showcase between San Francisco Fury and Austin Showdown did not disappoint. The South Central champions remained close throughout the contest, but the most seasoned program in nation pulled away with a 3-0 run at the end to come out victorious, 14-11.
Both teams came out a bit sloppy in the opening points, but Fury managed to clean it up just enough to take half 8-6. Showdown emerged from the break hungry and looking for the upset, however, breaking out of half to close the gap.
For a while, Austin's O line looked to be having a much easier time punching it in, while San Francisco had to work through a few turns to convert. A late Showdown break to make it 11s just before the soft cap went off signaled that the match might come down to a double game point.
Instead, Fury turned up the defensive pressure and forced Showdown to take some less advantageous looks. When they got the disc, San Francisco remained patient and flowed well with nice continues and crisp throws.
Though they came out a bit shaky, Fury eventually found a way to click and should be in a good position for their match against the dangerous Vancouver Traffic at 3:45.
Vancouver Traffic  (#6) vs. Seattle Underground (#15)
Vancouver Traffic's start to nationals was not ideal, going down a break against Seattle Underground in the early goings. But once Traffic started flexing their muscle, they were able to fend out their Northwest brethren and notch a comfortable 15-7 victory.
POOL D
Washington D.C. Scandal (#4) vs. Chicago Nemesis (#9)
If there was any question as to whether the defending champs still have a shot at a repeat, they silenced them with their first game against Chicago Nemesis. Washington D.C. Scandal came out fully dialed in and crushed to an 8-1 half, eventually winning 15-3. Nemesis had a combination of errant throws and simple drops that gave Scandal a lot of chances.
Washington D.C. seemed to be hitting all their marks, from deep shots to break throws. They locked down on Chicago's dumps, forcing a number of high-stall punts.
Much like their strong performance at the Emerald City Classic, Scandal looked like a squad full of weapons. Their first big test of the weekend probably won't come until they play Denver Molly Brown at 1:30.
Denver Molly Brown (#5) vs. Florida Tabby Rosa (#16)
Denver Molly Brown came out hot in their first game of the tournament, looking like the semis contender they've been touted as all season. After an initial trading with Gainesville Tabby Rosa, Molly Brown racked up break after break to take it 15-6, ending on an 11-3 run.
The Denver zone flustered Gainesville all game, as Tabby Rosa just didn't have enough weapons to navigate Molly Brown's wall of defenders. When Denver received opportunities to break, they marched it down easy, often with only two or three throws.
Though Gainesville displayed some solid play on offense, nearly all of their slip-ups were capitalized on by Denver.
If Molly Brown continues to play at the level they showed in the opening round, their third round match-up against Scandal could prove to be an upset, or at the very least terribly exciting.
Keith Raynor, Alec Surmani, Preston Thompson, Matt Reese, Alex Rummelhart, Simon Pollock, and Tad Wissel contributed reporting.