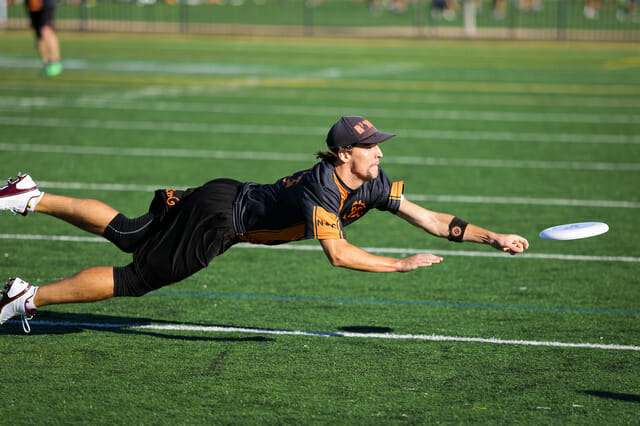 Ring of Fire has not lost to Chicago Machine in recorded ultimate history.
That continued Friday morning as Raleigh gutted out a win against Chicago, taking them down in prequarters 12-9 on soft cap.
Mike Denardis, coach of Ring of Fire, recognized the possibilities of the format on Monday night.
"This Nationals is interesting because, at the end of the day, Thursday isn't really significant," he told Ultiworld. "I mean, it is for whatever matchup you have, but once some upsets happen that game plan gets completely blown out of the water. You have to put all your chips on the table right away to get that prequarters matchup, but you never know what happens in this tournament."
Ring, after a terrible first day at Nationals (losing to Temper and GOAT, with only a meaningless win over Sockeye), like all other teams in the field, got a second chance in a prequarter.
That prequarter was against the hottest team in the field — Chicago Machine, a team with a new coach and new Madison stars this season, a team that took care of business Thursday, and had what looked like the easiest road to semi-finals in the tournament.
But sometimes history trumps the hot streak.
The teams did not meet in 2013. Two years ago, Machine was defeated by Ring of Fire in a sloppy game in pool play. Ring, elevated by the win and momentum went on to semi-finals; Machine had to face Revolver in quarter-finals and lost. The year before that, Ring of Fire also knocked out Machine, on double game point in prequarters.
Denardis, a former Machine player, is aware that his current team had never lost to Machine coming into 2014, and thanks in part to his guidance, continues their unbeaten streak.
The match was sloppy early, but in many ways that played to Ring's advantage.
Machine received the disc to start and Hunter Taylor, in his first year with Ring, set the tone early with a huge layout D on Machine A.J. Nelson.
Raleigh couldn't take advantage however; Bob Liu came up big with an immediate footblock on a huck attempt. Later that point, after another Machine turnover, Liu was targeted as a weakness on defense. His man went deep, but Liu used his body and position to get the sky block and get the chance back.
Liu had two turnovers that point, however: a long huck and a bad throw near the endzone. Both sides gave away chances and the disc touched the turf six times before the first point went on the board. Eventually, Machine punched it in with a huck from coach Ron Kubalanza.
The next point was just as turnover heavy as Machine's defensive line began to pressure Ring's vertical stack offense. Ring was letting off wild hucks that were either going too far downbreeze or getting defended, and Machine was at times matching bad huck for bad huck.
Ring eventually captured the point, however, and things began to settle down for both squads.
Machine rolled on their offense for the next few points, with A.J. Nelson taking over and scoring four goals in the first half.
Chicago got a break, working the disc after another bad Ring huck, and was up 5-3 at one point, and things seemed heading back to seed.
But with Denardis at the helm, Ring began to clamp down in terms of defensive strategy. "He's really instilled a bunch of great plan for our team," said Ring's Taylor Pope. "It's the first year Ring has had a coach. We really feel like we are much more finely tuned for our game plans game to game."
Ring got their first chance after a high pass from Machine was turned and they hucked full field to score. That took the score to 5-4.
They had been playing some junky sets to start points, throwing straight up marks in on early counts to limit continuations. Players would occasionally find themselves wide open on offense, but would often be forced out of their playbook and sets. Flow was clearly disrupted and Machine seemed out of sorts.
"For the most part we did a good job of talking about what they did well yesterday," said Denardis, "and how we combat them and it took them out of their game plan. We made their handlers throw a lot of long throws to spaces and they struggled…We especially wanted to stop their 1-2 cutting combo."
Denardis elaborated that Machine's flow worked best with a set play, regardless of stack, leading to a 1-2 cutter continuation. One cutter would come under and get a shot to throw deep or continue.
Ring forced them out of these sets.
Craig Poeppelman talked about the defensive strategy leading to Machine mistakes. "They play a really poachy style of defense and that made us think more and challenged us," he said.
This led to a greater number of mistakes from the squad, which proved to be the difference maker.
Machine's style was very different than it had been all season. Almost none of their set plays went off to success, their cutter flow was practically non-existent, and they were forced into high stalls often.
Ring went on a small run to take a lead; another Machine mistake came from a Bob Liu high pass in the endzone. This lead to a long, huck-filled point, which Ring eventually won taking a 6-5.
Every long, sloppy point was only fueling Ring's intensity. Their squad got louder and more ferocious, and the players on the field grew more and more physical as their d-line continued to get chances. Machine appeared frustrated, grew quiet, and they got out of their game plan, which greatly aided Raleigh.
"Our D-line was stellar," said Denardis. "Once we found a rhythm and found that we need to move the disc instead of looking for big shots, we had success. They have a lot of bigger guys that aren't quick. And we took advantage of that."
Chicago put on a hybrid line but still had a miscue turn. Ring had thrown their poachy zone and Machine started to cut through it, but had a bad continuation pass. This led to arguably the biggest play of the day, Pope throwing a huge hammer and rookie Hunter Taylor of Virginia Tech making a great grab in the endzone, skying his defender for the break. Ring led 7-5.
Bob Liu tried to match with a hammer of his own on the following point, but it was a bad decision (after the offense stagnated) that floated and was defended. But Liu saved the point by getting a handblock back and eventually Chicago punched it in, narrowing the lead to 6-7.
Ring of Fire worked it up the field, going downwind, but a miscue of their own in the endzone led to a throw behind a cutter, and Machine's Goose Helton hucked to Captain Kevin Kelly for a big sky score. This break brought Chicago's spirits back up.
At 7-7, both teams loaded up. A great matchup to watch was #00 vs #00, Goose Helton vs Ken Porter and a huck went up to Porter on O. Goose got the d, but stepped on Porter as he was going up. Porter took an injury, calling the foul, and it was upheld by the observer.
Ring, with the disc on the goal line, swung to score and take half 8-7. Raleigh then received the disc and held the offensive point to go up 9-7. Machine scored on a lucky huck to get 9-8.
At 9-8, Ring leading, Machine had its best and last chance to tie the game. Goose Helton made a huge sky, going up and over Micah Hood for a huge sky d….and then immediately threw a bad pass. Two throws after that, Goose got another huge d on Hood, this time a layout, giving his squad another break chance.
But Helton was dropping back to handle quite a bit this game. Ring's poaches were frustrating many of Machine's cutters leading them to go into the backfield. Goose's throws had led to a break earlier, but this was not his finest point. Another bad throw from him floated high and Ring scored quickly after that.
This would prove to be the backbreaking point for Machine. Ring led 10-8.
The long points then turned into Raleigh's advantage once more. Soft cap went on and it would be a game to 12.
Bob Liu scored on a lefty break to make it 9-10 and Machine called a timeout and loaded up a line. It was a point of straight tight-man defense with lots of bids from stars Nelson and Kraemer playing defense, but Ring walked it down and a high release flick from Jon Nethercutt to Christian Johnson in the endzone (a UNC Darkside connection that came through often for Coach Denardis) and lengthened their lead to 11-9.
The next point Josh Mullen threw himself into the lane, poaching off his man, and Taylor Kraemer missed the pass intended for him. Ring took that turn and called a timeout. They would work it, score, and win. 12-9.
Ring of Fire proved that they are the immovable object that wins against what proved to be a stoppable force. Machine was clearly disappointed by the loss and it will likely affect the rest of their tournament. The group had high hopes and the reality came up very short.
Their mistakes were the difference-maker; they had chances, but some key errors — particularly a few from star Jonathan Helton late — gave Ring chances and they had the grit to come out on top.
The drought of winless matchups seems to cement Ring as Chicago's kryptonite. But both teams were quick to discount that idea.
"I think that there are certain teams that you do match up well with. But to Machine's credit they have really elevated their game in the last two or three years; they are a much different team now," said Pope. "Hat's off to them, they played a great game and we just gutted out a win. But I wouldn't say that we have a mental edge over them, we just came to play and had a better game than they did."
"It's hard to compare year to year," said Craig Poeppelman. "I think today what it came down to was, we made a lot of mistakes and execution errors. You can only give them so many chances. Ultimate's a tight game….it's a game of inches…at the end of the day we made more mistakes than they did."