Sockeye cruised to a #1 spot in the pool, but Temper stole the day with a 2-1 performance.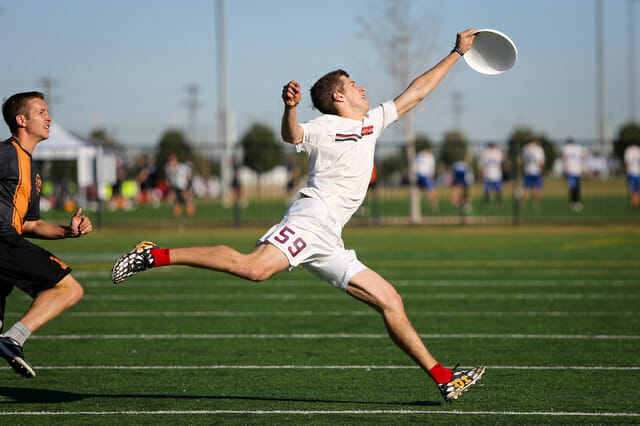 About the only thing that followed the script in Pool C was Sockeye's dominance. Seattle had locked up the top seed after only rounds, allowing them to rest starters and sub openly in a meaningless game against Ring of Fire who had likewise locked up a seed. The last seed.
In the end, two seasoned programs found themselves behind the 8 ball and one first year team was making some serious noise.
Temper Tantrum
Like Sockeye, Temper was appropriately seeded at Nationals based on their body of work. They had one win over a Nationals qualifier, beating a streaky PoNY team at Chicago, and were handled by Truck Stop in the Mid Atlantic regional final, 15-7. Not a full trophy case. But they took the second bid — the bid they earned — and here they are, appropriately seeded at 15th.
Whatever team got that 15th seed here at Nationals — this ain't it.
This team knocks off Southeast Regional champion Ring of Fire 15-10 in a first round game where Temper got breaks to go up 4-1 right away and never looked back. Temper then plays Seattle, who could very well be playing for all the marbles on Sunday, to 8-8. Finally, in an old school upwind/downwind slugfest, Pittsburgh tops GOAT, breaking to win 15-13.
Maybe this team was able to play fast and loose with the low expectations of being a bottom seed. Maybe they've figured out a way to vastly improve in the few short weeks of practice since regionals. Or maybe Pittsburgh just never knew how good they really were. Their light tournament schedule kind of bears that idea out. With limited games against quality competition, it can be difficult to measure yourself. Fortunately for Temper, there's no shortage of high level competition at this tournament.
In prequarters tomorrow, we'll get to see if this new Temper team is playing that same DC Truck Stop team from the Mid Atlantic final.
"They really did dominate us that first time around," Temper head coach Stu Kellner recalled about Temper's first meeting with DC. "I think we learned a lot about how we should be playing defense at this level. They did a great job and we've got to find a way to get them out of their comfort zone."
Whatever the Temper leadership adjusted defensively from regionals — it's working.
Truck Stop was big brother in Poolesville… this is Frisco…
Second Half Sockeye
All this action in the rest of the pool and here's Sockeye, taking care of business and not making a fuss about it. They subbed openly in their final game against Ring and lost, but by that time they had already put a ribbon on the pool.
In Sockeye's two wins, you really saw them separate as the games wore on.
"Good second halves in both games," Seattle coach Roger Crafts said. "First halves were tight but that's just getting used to the other teams."
Figure the opposition out they did. The fish outscored their opponents by a combined 13-3 in those second halves, including a door-slamming 7-1 run on GOAT.
The way Seattle was able to keep separating and keep pulling away in those games made you glad there was a point cap. It seemed like their D line was never going to come off the field.
Once Sockeye knows your tendencies, you're toast. This doesn't bode well for Rhino who they defeated 15-9 in the finals of Northwest regionals. See you in quarters.
GOAT Looks to Bounce Back
There's a lot to like about this team and GOAT gave glimpses of it all day.
Derek Alexander and other O liners displayed great chemistry by throwing on-point shallow scoobers to the break side. Scotty Nicholls was getting open as the reset at will. GOAT's Cam Harris helped them get great field position on pulls. They ran crisp end zone offense.
They also had some mistakes you don't expect from a veteran heavy team like this.
Completely falling apart offensively against Sockeye. A wrong force to give Temper a one throw goal at 9-9. Missed opportunities in fast break situations to break upwind.
The loss to Temper is big, but they're still playing for a title. GOAT's in a great spot to respond against Sub Zero in prequarters.
Last Call For Ring
Long day at the office for Raleigh.
They were the first team to find out Temper is legit, then they lost a must-win game to GOAT to keep them from the bottom of the pool. Ring finished the day with a win over Sockeye who had already won the pool and was subbing open.
Ring's offense never really found their game. They got breaks but gave them back in bunches. Raleigh will have their work cut out for them against Machine, but the Nationals format forgives slow starters.
"This tournament is completely different than two years ago," Ring of Fire coach Mike Denardis. "If you have a great Thursday, if you have a poor Thursday, at the end of the day it doesn't matter… except your matchup."
Backs against the wall for Denardis and company — and at this point there's no pressure. They've got a puncher's chance.
Machine isn't the matchup anyone wants to see in the round of 16. Then again, this is Nationals. Anything can happen and some crazy upsets have already happened just three games in.