A deep look at the top teams, players, and stories for this upcoming college season.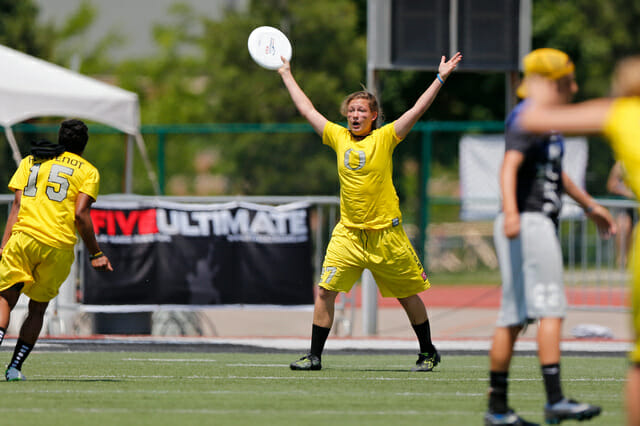 It's fall, the college preseason. As is the tradition of all preseasons of all sports everywhere, it's the time for optimism. In this magical world of what could be, all we see is everything breaking our way, the stars aligning, and everyone reaching to their ceiling and beyond. Nobody gets injured, no one underperforms, and, most importantly, nobody is eliminated. Everyone gets their shot.
Permit us to cut through the clutter (or, depending on your perspective, amass more of it) and show you the things people will be talking about this college season. We didn't cover it all. We're not clairvoyants, and the show of the season is that it's bound to bring surprises.
This time last year, Central Florida was a curious darkhorse and no Paige Soper left Ohio State looking like a quarterfinalist. Who saw the Colorado State women claiming the South Central a bid to nationals? Who saw UNC and Minnesota missing the cut again?
But that's last year. This year is a fresh canvas. Let's add some color to the emptiness. Here are the first strokes.
Thunderbirds: Talent vs. Leadership
There may not be a bigger question this season than "How good is UBC?" Their army of freshmen made it all the way to Quarters at nationals last year and they'll only be bigger and better this year. In fact, their pipeline hasn't even dried up yet, so they will have even more quality youngsters playing their first college points this season.
Being a team full of sophomores – even very good ones – may not be enough to make a deep run at nationals. Offensive powerhouse Mira Donaldson (2014 Ultiworld All-College 2nd Team) is an incredible catalyst, but she needs to be focused and deliver some leadership that her team sorely needs. She knows that as well, deciding to forego her club season with Traffic to focus on UBC. Devra Waldeman, Gera Stancheva, Laurel Jay, and Kimberly Ho are all gone. This makes Terynn Chan even more important, and will also be a chance for underrated Coach Tasia Balding to help her team live up to their enormous potential.
Their pure ability may just overpower their inexperience. Victoria McCann (2014 Ultiworld Freshman of the Year Runner-Up), Esther Au, Leah Mulholland, Naomi Johnson, and Emma Madden-Krasnick (Traffic) are all capable of competing with some of the country's best, and they'll have to in the hyper competitive Northwest. With reinforcements on the way, they may have the raw pieces to rival Oregon and the nation's other top teams.
From Bottom to Top To…
Ohio State Fever and Central Florida Sirens rose to prominence over the past few years and battled with college royalty in Oregon and Washington. Both teams had a core of impressive seniors built around a pair of graduates stars: Ultiworld's 2014 Player of the Year Paige Soper and Runner-Up & Callahan Winner Cassie Swafford piloted Ohio State, while Ultiworld 2014 Defensive Player of the Year Mariel Hammond and All-College 2nd Teamer Sunny Harris led the way for UCF. And now, they'll need new stars.
For Ohio State, they've got a ready made playmaker in junior Stephanie Miller, Ultiworld 2014 Breakout Player of the Year Runner-Up. Miller, called simply "Stevie" by her teammates, barely seemed fazed by any pressure last year, reveling in the big situations. Jenna Galleta and Katie Backus will flank Miller. The team suffered a pretty huge blow when World Juniors player Sadie Jezierski tore her ACL this fall, but fellow recruit Alora Reiff will help Fever fill recently vacated handler roles.
Central Florida also features some players who have been waiting the wings, and are acquiring talent of their own. Stephanie "Eli" Williams will be called upon to do most of the big throwing that Sunny Harris did, while Shayna Brock will register the heavy touches that used to go to Hammond. U23 tryout invitee Janina Freystaetter will waste no time making her presence felt in her first year of college Ultimate.
But teams that lose such huge and influential stars are bound to take a step back. How far that is remains to be seen. Ohio State has long been unchallenged in the Ohio Valley and it is unlikely that will change, but how far can they go at Nationals? Can UCF survive the parity of the gritty Southeast and make it back to nationals at all? Or will they wind up a top 15 team in the hunt for another quarters berth?
Whitman Poised for Program Defining Season
After back to back Nationals appearances, the Whitman Lady Sweets are not exactly newcomers to the national scene. They ended last season ranked #15 in the Ultiworld Power Rankings and made waves coming into the season. And this year's team is going to be unleashing a tsunami, bringing in an incredibly talented and more experienced core that stands to make them one of the best teams in the country.
The roster is stacked enough to give top teams a real run for their money. Ultiworld Freshman of the Year runner-up Claire Revere – her resume is loaded – is back, along with fellow All-Region 2nd Teamers Julia Bladin and Ari Lozano. Alexandra Hardesty and Margo Heffron, a pair of All-Freshman handlers, are ready to compete on the national stage. The team graduated very few players, Corinne Pingul the leader of that group.
And their additions make them terrifying. Nina Finley, who took a year off after starring for Ohio State Fever as a freshman two seasons again, has transferred in and is one of the nation's premier talents. Jessica Kostelnik from Colorado's YCC squad adds additional depth. The Soo twins, both U-19 players, are both playing varsity soccer, but may find time for some Ultimate in the spring. Their recruitment would only aid an already well positioned Whitman team at making a run that could cement them as an Ultimate power.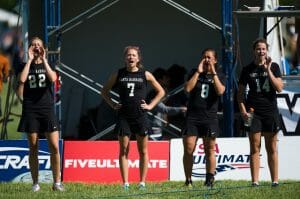 UCSB: Switch Gears or Pedal to the Metal?
The Burning Skirts' M.O. is clear: a couple of stars destroy your matchups while an army of capable cutters run you into the ground. They aren't the first to use the recipe and have found a lot of program success with it. And when you have a star centerpiece like Lisa Pitcaithley, it is hard not to build around that.
But the flaws in that strategy are also relevant and well known. UCSB's lack of depth really cost them last year, and without Kelly Gross and Noelle Neason (criminally underrated as a playmaker) flanking Pitcaithley, can UCSB really go back to the same strategy? Can Pitcaithley and Coach Carolyn Finney create the quality of player they need to succeed? Can Pitcaithley be the leader her team so desperately needs?
It is a lot of questions to answer and what makes UCSB – who are capable of big things, as last year's sparks of brilliance can attest – so intriguing. Talia Barth is primed to step into Kelly Gross's role and Joy Kang will slot into Neason's. But it may be the development of younger players like Rachel Johnston, Angela Dong, and Audrey de los Reyes that the team truly needs to rise up to the occasion if the Skirts dream of more than sparks.
Virginia's The New East Coast Monster
UVA Hydra gave everyone a preview of what they could do when they gave Oregon a very tough quarterfinal matchup. Their consistently high performing program has grown notably over the years and has dominated the Atlantic Coast. These same characteristics described both Ohio State and, for the most part, Central Florida in 2014. They'll pass the torch of defeating the west coast powers to Hydra this year.
Another shared commonality is having elite experienced talent and leadership. Look no further than Alika Johnston (Ultiworld All American 1st Team, Scandal) and Sarah Hansen (Breakout Player of the Year 2nd Runner Up). They return, along with Rebecca Meeker (2014 2nd Team All Region), Janie Mockrish, and Nada Tramonte. Johnston is easily one of the nation's premier big time threats and Hansen's name will be widely known by the end of the season, but this team is deep and gritty.
Expect them to be in the thick of things by the end of the year. They're a definite target for Northwest Challenge recruiting, but will have plenty of elite access with Queen City Tune-Up, NW Challenge or Centex, and potentially a rebuilt Women's Easterns. It seems unlikely anyone in the region can challenge them and they have all the makings of a semifinalist.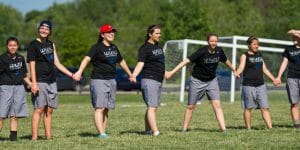 The Evil Empire Strikes Back: Northwest Bid Dominance
If the nation thought their bids were just being borrowed by the Northwest, they can think again. There may be some shifting at the top with the varying squads, but the talent is through the roof again. In fact, the region is probably even better than last year, when they won six bids and sent two teams to the semifinals (and three to the quarterfinals) at Nationals.
Oregon, British Columbia, Washington, Whitman, and Western Washington all look extremely likely to be in the mix for bids. That leaves just University of Victoria, who'll be trying to return to the College Championships sans stud handler Danie Proby. Kate Scarth, Corinne Dunwoody, Lexi Omand, and company are still capable of landing a top 20 ranking, particularly with Northwest Challenge to bring strong teams to their region's front door.
The talent pipeline seems fully stocked and a lot of the region's best players are still growing, so fear is a reasonable reaction.
Dartmouth Can Recapture New England Title
It's been five seasons since Princess Layout qualified for the College Championships and they haven't won the region since 2007. Northeastern and Tufts have been the toast of New England lately, and while neither program is going anywhere, Dartmouth is poised for a big season. The NE may be the country's most dramatic region, between that trio and Harvard's potential.
The Dartmouth women have a lot of reasons to have big expectations. Eva Petzinger (Wildcard) is one of the nation's most underrated players, and Angela Zhu (Brute Squad) is a top notch talent who will be prepared to break out as a sophomore. But there's depth here with captains Katy Peake, Patty Neckowicz, and Amy Lu, among others.
But the new talent give Dartmouth potential for a big year and big future. Julianna Werffeli was teammates with Zhu on the U19 team in Lecco, along with Piper Curtis, who is slated to finally join the team. They'll be huge difference makers, despite their young age. Between Zhu and Peake's handling, Petzinger's and Werffeli's gamebreaking ability, and Curtis's athleticism, expect Dartmouth to shoot up the rankings.
Rebound Challenges for North Carolina and Texas
Two straight nationals have been without the presence of UNC-Chapel Hill Pleiades, and Texas Melee also missed out on the 2014 Championships. Neither team can expect an easy region and graduated a hefty chunk of talent and experience. Only time can tell if they snatch a helpful bid to make a return or is time for two of the division's major programs to rebuild.
Texas Melee's graduating class is impressive. Diana Charrier, Shereen Rabie, and Brady Stoll represented a lot of experience and ability. Kayla Ramirez was a firecracker on D. They'll turn to Lauren McKenna and Nikki Gilbert will be key as productive leaders. But it may be Kelsey LaVine's role as a handler that could power Texas forward; her play will be crucial. Bringing in Caroline Davis from Florida State should help ease the pain of their losses. Battling through Colorado and Kansas is a tough ask, especially when teams like Texas A&M and Colorado College are both eager to prove they belong in the regional conversation.
North Carolina Pleaides have suffered as the runner-up in a one bid region for multiple years now. Virginia looks stronger than ever at the top of the Atlantic Coast. UNC's stable of seniors and grad students with Phoenix experience has mostly moved on; six 1st and 2nd team All-Region selections are gone. Fortunately, there's a new class ready to step up, including three All-Freshmen selections. Jenny Wei (Phoenix) could be a beast her sophomore year, and fellow club teammates Elena Wong and Claire Pauley join her as captains, as does fellow All-Freshman Rachel Simpson. There's a solid rookie class coming from the excellent TYUL program and a new coaching staff to round out the clean slate UNC's bringing to the table.
Duck Duo: Shofner and Kaylor Both Callahan Candidates
It is nothing new for Oregon to have stars. In fact, we've had the "who will they nominate" conversation before regarding Fugue. You'd be hard pressed to find a more devastating top end, with a combination of Jesse Shofner, Bethany Kaylor, Alex Ode, Hayley Wahlroos, Rachel Hershey, Gabrielle Aufderheide, Sarafina Angstadt-Ledo, and Olivia Bartruff.
Shofner and Kaylor are both seniors and who have been key Fugue figures for their whole careers. They are each incredible playmakers that can throw, cut, and defend. Oregon is going to lose a player like Sophie Darch – and her talented senior teammates – and may not falter at all. Soper and Swafford led their team to a title, a Callahan, and an Ultiworld Player of the Year Award in 2014 (Swafford took the silver on that award, too). A run like that for Kaylor and Shofner is not out of the question.
But which player will the campaign run behind? Neither player's game is under the radar, but Shofner's is downright explosive, and that may be exactly the kind of thing people take notice of. Her Callahan video could be incredible; how wonderful it would be if they get a lot of footage to work with.
Stanford Returns with a Vengeance
Superfly had an up and down showing last year, drifting from dizzying highs as one of the nation's top ranked teams only to close out the season with rough showings at Northwest Challenge and the Championships. But with a strong returning core of veterans and young rising stars, they'll be one of the country's most dangerous crews. Callahan nominee Steph Lim (Nightlock) is back and Michela Meister (Fury) is finally getting back to playing shape. Deep threat Halsey Hoster also has another year.
Now, add the next generation at Stanford. Young Monisha White went to WJUC's and the Club Championships this calendar year and is going to be one of the Southwest's premier handlers. She's a rock solid handler with all the big game experience necessary. Amanda Somvilay and Caitlin Go registered numerous backfield touches their freshman year and are going to have huge roles. Returning 5th year Anne Rempel will be a great piece of depth, and Deanna Abrams and Rosemary Sandino will be asked to take bigger cutting and defensive responsibilities.
Talented, experienced, and motivated, Superfly will be a team that could go a long way in 2015. The Southwest is going to be highly competitive – maybe, like the Men's side, cannibalistic – with UCSB, UCLA, Cal, and San Diego State all looking quite strong. One of the best coaching staffs in Ultimate leads Stanford, and if they can bring it together, there's no reason this team can't be in the thick of things until the last day of the season.
Edit: New information brought to light by our commenters led to edits in the Stanford segment of this piece.