Stanford Invite, one of the country's premier tournaments, featured a lot of exciting Saturday action to set the tone for the season.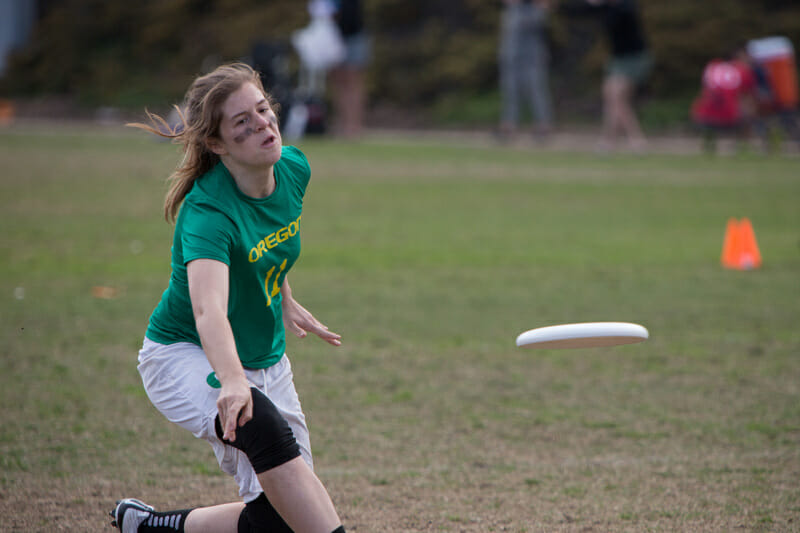 With this talented a field, there was too much uncertainty entering the weekend for Saturday to align with expectations, which were more ephemeral than consensus. The strength of the tournament's attendees established a high quality of play, but it was clear none of the teams were used to seeing so much of it for an entire day. Some upsets were sprinkled throughout, but even those may deserves asterisks.
Let's review the day's events.
Most Early Season Standouts Shine
Four teams attending Stanford Invite had distinguished themselves with their early season play, including making the semifinals at Pres Day: #1 Oregon, #2 Stanford, #6 UCLA, and #7 Washington. Those teams each went undefeated to win their pool, their talent and early season experience separating them from other strong teams at the tournament, and while they had some close calls, they earned a bye into the quarterfinals that should give them a major edge in bracket play.
Oregon was by far the most impressive, despite having arguably the deepest pool. They won their three games over Colorado, UC San Diego, and Victoria by an average of over seven points a game; Fugue's 13-8 victory against Colorado to decide the pool was the closest to challenged they were during Saturday. They were imposing offensively and exceptionally comfortable.
Each of the other teams had moments they had to battle through. In their first game, Stanford went down 3-1 to Carleton before finding a rhythm to win 13-7. Then they let Western Washington battle them all game before forcing double game point, in which Superfly prevailed 12-11. For a team that hasn't won by less than four this season and has rarely trailed, it was a different situation for Stanford. And they overcame.
Washington and UCLA played it close the entire day. Washington's wins over their pool foes came by decreasing margins to 3, 2, and 1. Meanwhile, BLU did one better, beating Davis 11-8 before taking back to back double game point victories versus Colorado College and British Columbia. In the latter game, they came back from an 10-7 deficit to win 11-10.
With the edge they'll have in quarters, it is likely these four will claim the semifinalists spot once again, setting up in region rivalries on a big stage. It is safe to say whoever wins this tournament can position themselves as the leader of the pack in the title hunt.
Rest of Northwest Shows Promise
Saturday was a .500 performance for UBC, Whitman, Victoria, and Western Washington, all of whom found themselves in prequarters. They'd face off with one another in their elimination games, with UBC knocking off WWU and Victoria upsetting Whitman.
The outcome could have been fairly different; three of their six losses came on double game point to top ranked pool winners. Their potential to compete with elite is probably more important at this early juncture than their ability to perform consistently. Western is the only one of the four to have played earlier this season, at an event of much lower caliber, and that showed with bouts of offensive miscues.
Instead, they each took avoidable losses. UBC's 10-7 edge over UCLA should be more than enough cushion to close a game over a gassed opponent. Even a Claire Revere-less Whitman squad should have been better prepared to fight off a Victoria team that was throttled by Oregon and Colorado. Carleton's upset over WWU was their largest margin of victory during a day when they beat Cal and Davis.
Expect significantly added polish by Northwest Challenge at the end of the month. These top teams demonstrated their capacity for elite play, which is more than most teams will achieve this season. Now they need to do the work to traverse the spaces between those peaks.
UCSB Tumbles To Consolation Bracket
It is safe to say the Burning Skirts are disappointed with how their season has opened. Today can't have lifted their spirits, as they added three losses without a single W. This is most of the Santa Barbara team that won the Southwest Region last year. Now they've lost back to back games to Southern California, including Saturday's 13-4 dismantling to close out their day.
It wasn't all doom and gloom. In fact, UCSB played tight to both Whitman and Washington. They hung just a point or two back of Whitman until the game's final points and came back from a first half hole to put a scare into Element. But as has been the case most of this season, UC Santa Barbara failed to execute in late game situations. It keeps them from preserving legs by closing out weaker opponents and prevents that from making comebacks, only adding to the criticism that they lack the depth to compete with the division's best.
Tomorrow is another day and another opportunity. They open with Western Washington, a potentially juicy target for a team hovering around the bid threshold. Some good wins on Sunday could really salvage their confidence and help get them out of their current rut.