#1 Oregon and #2 Stanford did battle in their second final of the season. They put on a show, a back and forth affair that could prove to be the preview of the national championship game.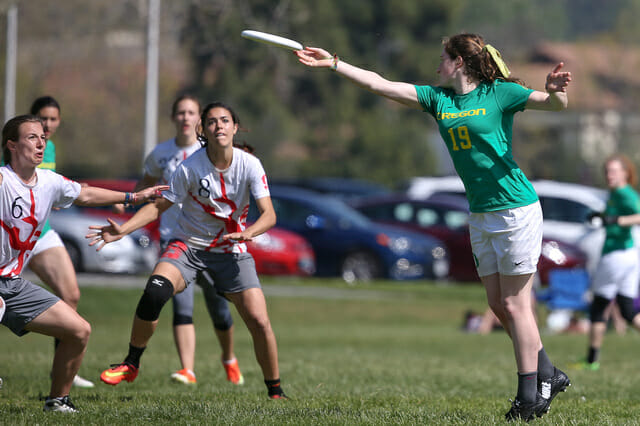 FREMONT, CA — The top two teams in the country faced off in the Stanford Invite final in a highly anticipated clash of titans. The duo entered the game with 38 wins between them to just a single loss. That loss was the last time the teams lined up across from one another, in the President's Day Invite final. The rematch had a much different tenor and was an incredibly close game throughout, but the winner was the same: Oregon Fugue on top, winning 15-14 on double game point.
Both Oregon and Superfly showed off elite defensive capabilities during the final. They utilized varied defensive looks in an effort to disrupt one another, but most of the turns generated by the defensive groups were reciprocated. A flurry of early breaks – three in the first six points, making for a 4-2 Oregon lead – receded into hold after hold once the teams settled into their offensive rhythms.
Fugue notched the opening break after their zone helped generate two Stanford turnovers. It looked as if the host team might hold when rookie Courtney Gegg got a run through D on a swing pass and charged uncontested towards the end zone, but the play was called back by a questionable foul call. Green-clad Oregon turned in a sterling example of red zone play by Bethany Kaylor, Angela Tocchi (who threw an under the radar offhand step-through inside break backhand), and Ashley Young, with Tocchi hitting Kaylor for the break and 2-0.
Once each team broke, they found a cat and mouse game awaited them. Both offenses were consistently challenged, with most points including turns or close calls. Stanford's defensive intelligence was key in playing team defense against Oregon's big space isolation sets for Jesse Shofner and Kaylor, while Oregon chose to mostly stay in a zone defense to slow down Superfly's power position hucks to their bigger deep targets Halsey Hoster, Frances Olguin, and Gegg.
Both teams' veteran throwers seemed comfortable with the defensive pressure.
"The O line found comfort and confidence we hadn't collectively had before," said Shofner. Fugue's Kaylor, Shofner, and Young battled against Stanford's Steph Lim, Michela Meister, and Jennifer Thompson. An 8-6 halftime score favored Oregon.
Those experienced presences ceded the spotlight to a budding young star: Oregon sophomore Hayley Wahlroos.
Wahlroos, Ultiworld's 2014 Freshman of the Year, used her phenomenal throwing talents and unshakable confidence to make gamechanging second half plays. She gave a taste to the viewing audience with a looping crossfield IO backhand around a zone mark and past a deep deep to a waiting Rachel Hershey to make it 10-8. After more trading, it was Wahlroos who responded to Stanford's second break of the game with an IO backhand deep shot that may have been laser guided to Olivia Bartruff's hands. The hold was an efficient one possession stand that sapped Superfly's gathering momentum.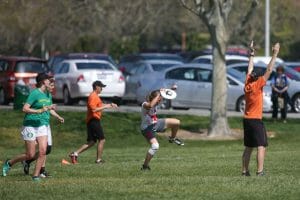 Shortly thereafter, Oregon generated a turn, but Stanford's Monisha White was forced to take an injury sub. Oregon Head Coach Lou Burruss went to the hot hand, subbing in Wahlroos. She immediately received a break throw and launched a backhand huck in front of a streaking receiver that sat perfectly, turning an intimidatingly difficult throw into an effortless pancake catch for Alex Ode. The goal pushed the score to 14-12 and looked like it could be the nail in Stanford's coffin.
To their credit, the host team replied with equal confidence to the Oregon break. A clean 3-throw possession was capped off by a Meister huck to Hoster roasting her defender deep to close the gap back to just a goal. On the ensuing point, the game was nearly ended by Bethany Kaylor, with a spectacular layout grab to save possession and a continue backhand shot that was just beyond her receiver. A great grab by Veronica Cruz dodged a Stanford turnover and Caitlin Go tossed a flick to a laying out Olguin to force the sudden death finale.
Oregon went to their tried and true side stack isolation set, giving space to Jesse Shofner to go to work. Superfly was able to deny her the disc on her initiating cut, but after a few swings, she found some separation in the deep lanes. Ode put up a powerful backhand in front of Shofner, only to see the disc bounce off her hands. Shofner quickly located the mac'd disc, launching herself for a two handed layout game winner.
"I was psyched to go deep, set up the cut and [Ode] ripped a backhand. I thought we were golden. And then I didn't catch it," said Shofner. "And I went through the whole thought process of 'that didn't just happen! Oh wow, it's right there!' and I wasn't going to drop it again. People kept telling me 'great catch' but I think I should have just caught it the first time around."
The Stanford Invite win is Fugue's third straight crown at the pillar event. Five of the past six teams to win the tournament went on to win the national championship; last year's Oregon team was the lone exception. With a 2-0 record this season against Stanford, they are the odds on favorite to claim their second national title in three years. Expect to see these two teams duke it once more at the Northwest Challenge at the end of March.