Here is the latest on the 2015 Player of the Year race.
See our 2014 College Player of the Year selections and other awards here.
The Player of the Year race is heating up now that we are into March. Stanford Invite is behind us; Centex and Northwest Challenge are still to come, and then, of course, the Series. Who is your pick for POTY thus far?
The Favorites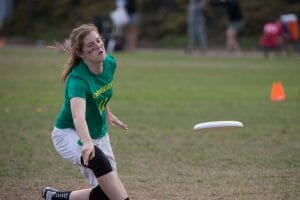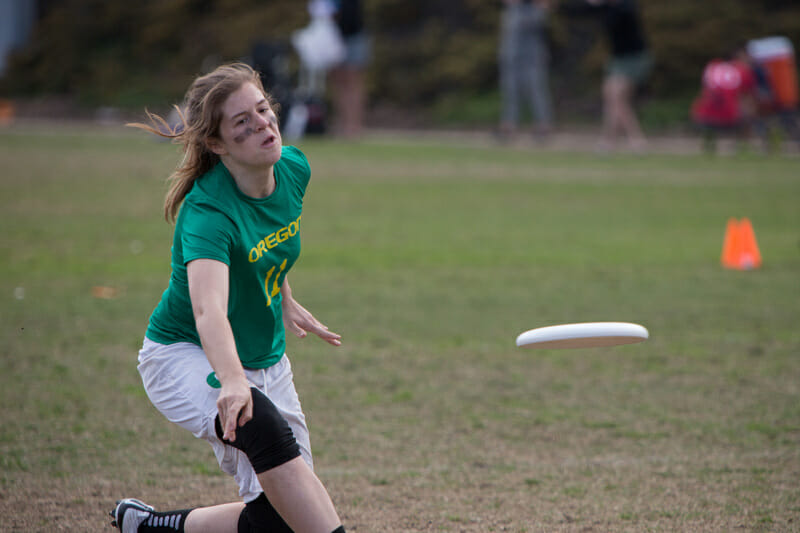 Bethany Kaylor (Oregon)
If President's Day and Stanford are any indication, Beth is back and in a big way. Her strengths are still intact – decisive disc movement, gamebreaking skill, and merciless quickness – allowing her to wreak havoc on both sides of the disc. There was some concern the loss of Sophie Darch would drive her into a bigger hucking role, but Hayley Wahlroos's continuing development mitigates those fears (side note: Wahlroos could be the best player in the country next year).
It is no surprise to see an elite leader of the #1 ranked team hanging out in the upper echelons of the award. Kaylor's impact on Oregon is vital and usually their best offensive points revolve around her, Jesse Shofner, Wahlroos, and Alex Ode. Whether Coach Lou Burruss calls on her to play primarily offense or defense moving forward will be key to watch.
Kaylor missed the majority of the college series last season with a foot injury, but she ditched her famous scooter contraption and is back to being the sparkplug of the Oregon offense. She can then turn around to guard the opposing team's premier threat, a throwback to the college star who excels in nearly all aspects of the game and in myriad roles.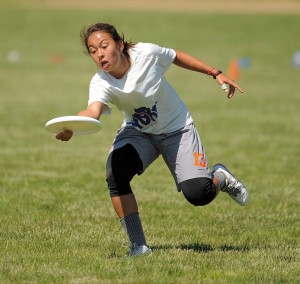 Alika Johnston (Virginia)
Johnston was very clearly one of the best players in Charlotte at Queen City Tune Up, and that's while playing a little restrained. She hasn't been playing a ton of points as Virginia develops and utilizes their depth to claim victories. Even in limited reps, her fingerprints are left all over the game, particularly for Virginia's offense, where she can slice and dice through zones and person defenses with equal efficiency.
It hasn't been big highlight reel hucks, but rather possession saving layouts and incredibly touchy curving and floating throws that have defined Johnston's early play. But we probably won't really know how large her influence is until Northwest Challenge, when she hopefully gets a bit more room to flex her muscles. Virginia has a chip on their shoulder, even while considered one of the nation's best teams.
With her athleticism, defensive work ethic, and field vision, Johnston has really settled in to quarterbacking a line. It isn't unusual to see her verbally directing traffic while sizing up how she wants to break the mark. She knows when to step on the gas and when to apply the brakes, dictating tempo like a maestro, a unique talent for a player still in college.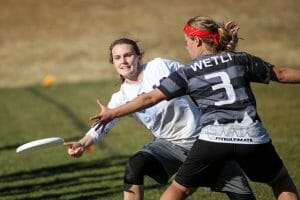 Qxhna Titcomb (Tufts)
When the wind was forcing major adjustments from throwers at QCTU, Titcomb seemed unafraid. She has the power and skill to maneuver the disc through even a stiff wind, especially with her masterful backhand. She's also an impressive defensive player, able to use her size in the air or for extension on layouts. Tufts hold an unsteady spot in the top 10 after making it deep into the Queen City bracket. But with one tournament under their belt, the team is unproven. Titcomb isn't, a real deal handler with some of the biggest throws in the division.
Perhaps what shines the most when Qxhna is on the field is her confidence. Nothing seems to shake the Tufts senior, making her a steady presence for Ewo. That mental strength could prove huge for a team that needed a playmaker to step up after their roster had been punctured at that position year after year.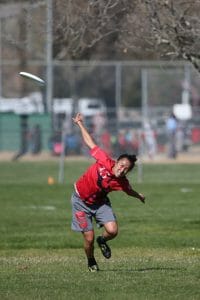 Steph Lim (Stanford)
Lim's fifth year return has been a major part of Stanford's early season explosion; Superfly's offense clearly operates best when Lim is acting as a hub. Few players have been as consistent as the girl with "Slim" on her jersey. Superfly has been happy to have her active and athletic defensive play, but even moreso her ability to facilitate in her offense.
#2 Stanford's been mostly ripping through the division, including playing down to the wire in the Stanford Invite semis and final. They look more seasoned and determined, in part because of the veteran returns of Meister, Hoster, and Lim. The team's decision not to go to Hawaii in order to play in more competitive tournaments is a reflection of the shift in mentality.
Lim has developed into a premier handler, with sharp cutting and snappy throws that can beat even well structured defenses. Marks struggle to contain the radius of her attack, making her a constant threat to break open a point on either side of the disc.
The Contenders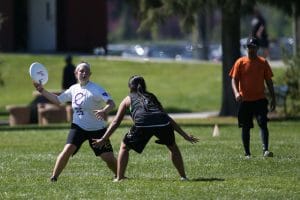 Emma Kahle (Washington)
The 2014 Metro East Player of the Year has not slowed down now that she's on the west coast. The veteran handler still looks at home in the reset spaces, adeptly effective at getting up the line. But it's her break throws, and ability to manipulate and dictate opposing marks, that makes her so devastating for defenses. She's stepped right into a role occupied for many seasons by Amanda Kostic and Lucy Williams, but being new to Element has not hampered her. Kahle will only get better as she builds chemistry with her teammates.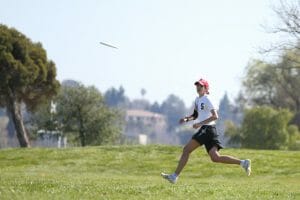 Emily Buckner (Carleton)
There's been additional weight put on Buckner's shoulders with Carleton's losses, and she has shown off her playmaking ability again and again. At her best downfield, on either side of the disc, she's still one of the team's strongest throwers once she gets the disc. That's a dangerous combination.
Buckner's ability to create matchup issues for opposing defenses and stifle offensive stars with her length allows her to definitively impact the game whenever she takes the field.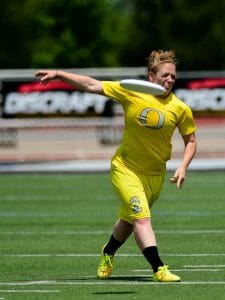 Jesse Shofner (Oregon)
Double game point, biggest game of the season thus far, cameras rolling, fans onlooking, and the disc bounces off your hands in the endzone. Usually, that's devastating. For Shofner, the play isn't over and her determination drives her to conclude it on her terms. Those terms are a two handed horizontal snag to seal the victory.
Playing on her terms is Shofner's game. Rarely will she let her opponent force her hand, whether that means finding a way to set up the cut she wants or using her body to deny a space to a cutter or finding some release point to get off an ambitious but successful throw. Her small stature is capable of huge layouts and bombs, but she's added more field vision to her explosive talent.
On the Radar
Hannah Leathers (Georgia)
Megan Cousins (Colorado)
Han Chen (UCLA)
Stevie Miller (Ohio State)
Mira Donaldson (British Columbia)
Lisa Pitcaithley (UC Santa Barbara)
Michela Meister (Stanford)