Oregon has adapted their offense to their short bench.
It may include a lot of familiar names, but the 2015 Oregon team is different and is built to win games in new ways than in past seasons. With a shortened roster and a bevy of athletic skilled cutters, Oregon's offense looks more than ever to its downfield players.
In part, the strategic adjustments in Oregon's offense are connected to the challenge that has faced Oregon coach Jay Janin all year: how to manage a roster much smaller and shorter than those of the other top teams in the country. Before Regionals, Oregon's only meaningful losses of the year were at the hands of Pittsburgh and UNC Wilmington. But to win their first championship since 1992, they'll need to survive seven games; with only 18 players, that will take a mix of Oregon's tried and true schemes and new strategies.
Oregon's Deep Set Horizontal Stack
As opposed to past years, Ego has made its offense boring. They'll still take deep shots, but they are much more inclined to play a game based on underneath cuts and simple cutter motion that creates space. With a skilled and athletic cutting core, Ego's play is no longer dominated by the give and goes that have defined captain Dylan Freechild's ultimate career and the past half-decade of Ego ultimate.
The most notable feature of Oregon's 2015 offense is their deep horizontal stack.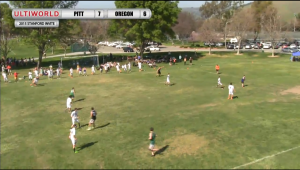 This stack has been noted widely as the defining aspect of Ego's offense. For a team that needs to maximize every cut, this gives them an excellent way to isolate their downfield cutters. This set allows the offense to be primarily cutter driven giving Oregon rapid gains up the field. These high percentage under cuts push Oregon into the endzone almost as fast as one lower percentage huck.
With under cut after under cut, Ego is able to work the disc up to the goal line in a matter of seconds and punch it in on a dump-swing.
Even though it is clear where the next cut is going to go, Oregon's cutters blow by defenders, driving their cuts down the force side. They're not afraid to use half of the stall count to take a look at three different cuts in the open side space; odds are, eventually one of them gets open.
gfycat.com/DifficultKlutzyGrouper
This system makes it so that the offense never has to overexert themselves and just need simple cuts to score. Each cut, whether successful or unsuccessful, only occupies the lane for a few moments and thus keeps the offense moving quickly with cutters cutting hard and clearing out harder.
gfycat.com/CheeryEnviousFlatfish
Force side cut after force side cut, Oregon marches down the field freeing up space on the force side and only looking across the field to reset the disc. Even after a reset the Oregon dump (rather than looking swing) looks back into the open side lane:
gfycat.com/IncredibleComplicatedBovine
The Deep Set Stack Also Opens Up Swing Space
What makes these plays so great for Oregon is that they are very good at maximizing each cutter's actions: mostly, the cutter is either getting the disc or clearing space. The deep horizontal stack also allows cutters to work both sides of the field and swing the disc to clear more space when need be.
Both the cutters and handlers have so much open space that they can easily swing the disc to the dead side and run their cuts from there. Their offense, when it is clicking as showed in these clips, is a thing of beauty and minimal exertion from their O line. If the primary handler clears upline, there suddenly appears a plethora of breakside space to attack following a long reset.
gfycat.com/WigglyPerfumedAsianconstablebutterfly
gfycat.com/NauticalFlickeringEidolonhelvum
There is so much space between their deep stack and the handlers that almost any swing cut can be open by putting the disc into space and letting Ego's quick handlers run the disc down.
These under cuts open up the deep space as defenses will focus on protecting the space near the disc. After centering the disc Oregon flashes into motion with two under cuts from the right side followed by a deep cut from the center left. Bringing two cutters underneath attracts most of the defense's attention leaving an Ego player isolated in a one-on-one deep; Oregon still takes those shots.
gfycat.com/ResponsibleAnyHydra
Notice how the under cuts occupy the Minnesota defender's attention for a split second, the last cutter patiently holds for another second, and the final Oregon cutter can make his cut into wide open deep space and score an easy goal.
By setting up so deep they create enormous amounts of room that the cutters can exploit. Ego keeps defenses on their heels because no defender can cover everything. With an entire 30 x 40 box to work with, Oregon's skilled cutters slice up defenses.
Utilizing Dylan Freechild
With a more cutter-based offense, Dylan Freechild will usually set up downfield, a change from past years where he generally served as their primary handler. His skills as an explosive handler are well documented, but now with the emphasis on the downfield players, Freechild has transitioned to starting in the stack for most of Ego's O points.
With him downfield, Ego has arguably the best player in college ultimate to begin their possessions.
While most offenses disfavor throwing to the flick sideline, Oregon's initial placement of Freechild downfield seems designed to create forehand sideline opportunities for him, where his flick hucks are especially deadly.
Yet at other times, Freechild will play in the backfield, where his quick cuts from the handler position can lead to quick Oregon goals. Here he finds his favorite deep target, Connor Matthews.
gfycat.com/UnconsciousAromaticAsianconstablebutterfly
Sometimes, Freechild not only starts but finishes their offense. With Nathan Kwon on him, he recognizes his height advantage and even with Kwon's explosive speed he is unable to catch Freechild, who has nothing but daylight in front of him.
gfycat.com/PoisedUnkemptFallowdeer
Endzone Offense
When Ego reaches the red zone they implement a fairly common endzone set that is designed to maximize scoring chances. In endzone situations they run a handler driven rotation that puts the responsibility for moving the disc on their star handlers, as opposed to the cutter driven offense that brings them up the field.
This part of their offense is reminiscent of the free flowing Ego offense of old that gives Freechild and Trevor Smith free reign over the entire red zone. The stack pushes deeper than a usual vertical stack, which maximizes the handlers' area of operation.
Skilled defenses have trouble covering Ego's quick handle sets, which aggressively attack upline. In the limited area of the red zone, these give and go's are even more devastating.
gfycat.com/GlisteningBestIsopod
gfycat.com/SpecificHappygoluckyAxisdeer
Oregon's skilled throwers make the most of these chances and dish and swing their way laterally across the field until they find a chink in a defense's armor and hit someone on a break side cut or quick strike from the front of the stack. The defense's fear of getting beat on an upline move makes their job even harder as they struggle to both overplay those and set good marks that can contain Freechild and friends.
This endzone set is not terribly complicated or innovative, but it does give Ego's cutters, who do the bulk of the work moving the disc 60-70 yards, a rest, giving their handlers a chance to incorporate the fast paced handler moves that are an Ego staple.
gfycat.com/IllegalAdoredBergerpicard
Ego's break throws and decisive cutter movement lets them easily move the disc into the endzone. Cutters will rarely cut to the force side which frees up space in the red zone for the handlers to work.
gfycat.com/WarlikeCoarseBrahmanbull
How Other Teams Adjust
The deep horizontal stack comes with many benefits, but also two significant drawbacks: it is easy to poach against and it can quickly push Oregon to the force sideline.
To lessen the damage that Ego can do, opponents have taken to clogging the cutting space by coming down in a junk look for the first few throws. This initial stall in the offense can create problems for Ego. Their offense is built around getting the disc moving and keeping it moving.
When the offense is slowed down, the downfield cutters will stop their motion and the offense will grind to a halt — for a team that has a hard time getting breaks against elite opponents, that can be a death sentence.
gfycat.com/ImpurePastFlyingfis
After a stoppage, Connor Matthews throws it away. Although Darkside was not able to capitalize on that procession they forced another Ego turn and punch it in for a break, putting UNC up 4-2.
With the distance between the stack and the disc, many teams have had their reset defenders take away space in the cutting lanes. This stagnates the offense, as Pitt and UNCW have shown in their games against Oregon the season:
gfycat.com/GlossyGraveAfricancivet
gfycat.com/NeglectedSillyGnatcatcher
This simple technique stunts the ho stack's effectiveness and cuts the handlers off from their downfield counterparts. This is a low risk, high reward approach to defending Oregon's pull plays and does a good job keeping them off balance and stagnating the downfield motion. Of course, the effectiveness of Pitt's scheme is predicated on detail-oriented positioning and timing from the lane-cloggers; they flash but don't stray too far. Against a team as skilled as Oregon, it's an easier adjustment to make in theory than in practice.
gfycat.com/FloweryLimpHorseshoebat
In their game against Ego, UNC Wilmington used a zone (at times soft, resembling a 4-man cup) to slow down Oregon. This zone gave them chances at blocks, but Oregon's handlers proved too competent to let a zone phase them. The throws that got the disc out of the cup were high risk, though, and could be a way to generate a turnover in a match up against Ego.
gfycat.com/SourScornfulAzurevasesponge
gfycat.com/CraftyPerfumedAustraliankelpie
These clips show how taking away Oregon's cutting lanes greatly disrupts their offense and puts their throwers in uncomfortable positions. They do have the poise to work through these junks but are prone to making mistakes and throwing into poaches. Both points of zone gave UNCW a quality chance a block, which may be all you can expect any given defense to do against an offense as talented as Oregon's.
Conclusion
Oregon has proven that they are a formidable team regardless of their roster situation. They have adapted to having a short bench by implementing a new system of space-creating cutting. Under the leadership of Dylan Freechild, this team looks poised to make a run at Nationals in just over a week. They have shown they can match up with the country's elite talent through simple and well-spaced offense. Their cutters seem uncoverable against almost every defense they have faced this season.
Oregon's only meaningful losses have come to the #1 and #2 teams in the country, but those were in two day tournaments. At Nationals, Oregon will only have two games a day, which could allow them to be more competitive over the entire weekend. Their shortened roster will matter less when they can run their top players more each game, putting them on a more equal footing with Pittsburgh and UNC Wilmington.
And while Oregon may not have picked up the horses that we expected them to at the start of the spring, their offensive system puts the pieces they do have in an ideal position to use their athleticism to their advantage. There's nothing accidental about their deep ho stack, their handler-centric endzone offense, or the number of times you watch Freechild catch the disc on the flick sideline from a cutter position.