Take a look at the myths and realities of the season's most mysterious Nationals qualifier.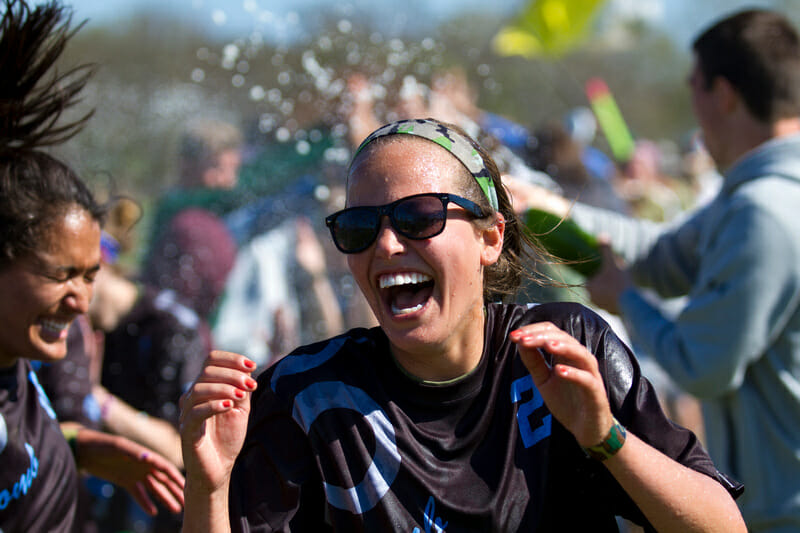 "We are circus people. Part circus, part people."
Bubbles waft over the fields, carried on the Midwestern wind.
"We are circus people. Part circus, part people," players chant on the sidelines as they pass a hula hoop along their chain-linked arms.
Beach balls drift underfoot. Beyond the shouts and the laughter, you can hear the familiar melody of the Lindsay Lohan classic "Ultimate"1 from Freaky Friday.
Welcome to Notre Dame ultimate. They're weird. They're good. And they're headed to Milwaukee next weekend as the biggest mystery of the tournament. They're the two seed in Pool A and #8 overall, yet they've only played the three South Central teams attending this weekend. They don't go to the heavyweight tournaments, so there's no footage for opponents to study. Only rumors and hearsay. Until now.
Welcome to Mythbusters: Indiana Edition. Everything you've wanted to know about Notre Dame, and more.
Myth: "Womb" is an acronym
You know, for something like "Women of One Mind & Body"…nope. Womb means what you think it means.
"When the women's team was formed, there were seven girls who had nothing in common," captain Kelsey Fink explained. "…except they were all women." And thus Womb was born. Today the women's team has a lot more in common, and their intense rapport has been a huge factor in their success.
"We're all best friends. That includes the freshmen," said Fink. "I'm a 5th year and I hang out with them regularly… age just doesn't really mean anything to us. We click really well together."
"So much [of our success] is chemistry," agreed co-captain Kristen Collins, "which is hard to explain when you look at our universe line, which includes a grad student, 5th year senior, senior, junior, sophomore, and a freshman…It's hard to say we're more talented than any team in the past, it's hard to say we're more athletic…We just have that connection. It's there."
The team has an innate flow reminiscent of Ohio State's offense last season; they play off one another's cuts seamlessly, creating space and opportunity with every movement. This rhythm is borne out of chemistry, however, not coaching. Cutters know where the handlers will look, and they know where each of their teammates are as well. This shared field sense makes Notre Dame tricky to defend and hard to predict.
Myth: Notre Dame Only Hucks It Deep
…sort of true. There's no denying Notre Dame exploits the deep space. Their handlers pull triggers most teams won't, and their receivers consistently pull down discs nobody expects them to catch. As the Michigan coach Ben Murphy phrased it after their Regionals loss in the final, "There's only so much you can do to defend the throw you don't expect."
Notre Dame will always throw what teams aren't expecting because they take almost every deep opportunity. Throughout this season Notre Dame has single handedly redefined the term "swill" in the Great Lakes region, prompting the question: can a bladey huck really be called swill if the team's completion rate is 95%? Most teams scorn opponents whose only move is to look deep. But Notre Dame is undefeated and so far unchallenged. Their talented receivers — primarily Julia Butterfield, Sarah Lipscomb, and Amalia Carmona — know exactly where to be, every time.
Myth: Kelsey Fink Is Their Only Star
As a 5th year senior, Kelsey Fink has been the face of Notre Dame ultimate for a long time, and her influence on the team's character and development is obvious. Fink is fearless. Another handler's risk is her opportunity, and she's integral to the team's deep game. But shutting her down isn't the easy A/B combo needed to beat Notre Dame. Sorry folks.
Fink is flanked by Heather Fredrickson and Nicole Vujosevich, both players who play with a slightly diluted version of Fink's gumption and with strong throws of their own. The Notre Dame receivers are actually the most remarkable pieces of their game. Each receiver is fast, physical, and can read any disc the handlers launch. Teams will have to contend with the height and athleticism of freshman Lipscomb, the height and hops of sophomore Butterfield, and the physical play of sophomore Mary Kate Andersen. Carmona, a 5th year alongside Fink, is in a class all her own as the team's fastest and most versatile player.
Myth: Notre Dame Isn't An Intense Team
True. And that should scare every team they face at Nationals. Historically Notre Dame has been a frustratingly laidback team. On the Sunday of Regionals in 2014 they played crawl points against teams who were still grappling with their departure from the bracket. Their mental game is one of a kind. We've all seen teams dance desperately during halftimes to drag their spirits out of their loss, fighting to rally. Notre Dame is always just dancing. They dance during their warmup, they sing loudly, and they smile constantly.
Their approach isn't accidental: "Every girl on the team knows why they're on the team," says Fink. "They want to have fun. Knowing that makes us play loose and as ourselves. People play best when they're having fun." Their loose approach translates into a bulletproof confidence on the field that carried them through their elite upsets this season over Texas and Kansas.
This laidback mental game is jarring when paired with their physical play. Notre Dame players will bid for anything and everything on the field, regardless of their position or their chances. The bidding free for all means they save unlikely possessions, and they earn big D's. It does have side effects: a handful of hospital passes for Womb and their opponents.
Myth: Their Men's Team Is Loud And Rather Annoying
Whenever Notre Dame Papal Rage isn't playing their own games, the entire team floods the women's sidelines, rolling 25 to 30 men deep. They bring flags, inflatable pool toys,  and a creative array of boisterous cheers for every point. They join in Womb's halftime traditions, singing and dancing with abandon. Most opponents are salty about having the intensity of their games undercut by the clamor, particularly this season when each of these opponents was already losing significantly to Notre Dame.
I spent most of the season similarly irked. Until a friend pointed out the obvious: the Notre Dame men's team comes to every game Womb plays. Think about it. Is there another Men's team in the division that can say the same?
Papal Rage doesn't just support the women's team: they treat both teams as parts of the same club. The guys don't just celebrate when Womb scores; they cheer for every play, big and small. They know the names and stats of each player, discussing them on the sidelines like they're playing fantasy football. When Womb won Midwest Throwdown, both teams celebrated like they had all won the national title. The men's B team traveled to Regionals to lend support, and they weren't even competing. Count on the full force of Papal Rage attending this weekend.
Their exuberance may be hampered by the USAU sideline regulations this weekend. But after listening to the Notre Dame men's team for a few seasons, I've come around. If your men's or women's teams is at Nationals with you, it may not hurt to be a little more annoying.
***
This weekend Notre Dame will face their first real challenges, playing some of the division's most notoriously physical teams in Oregon, Florida State, and Central Florida. Notre Dame's fate during pool play is as much a wild card as their season has been. But they are guaranteed to produce some of pool play's most entertaining games…even without the hula hoops.
---
Editor's note: Term "classic" used very loosely -KR ↩