A preview of Pool C in the Women's Division for the 2015 College Championships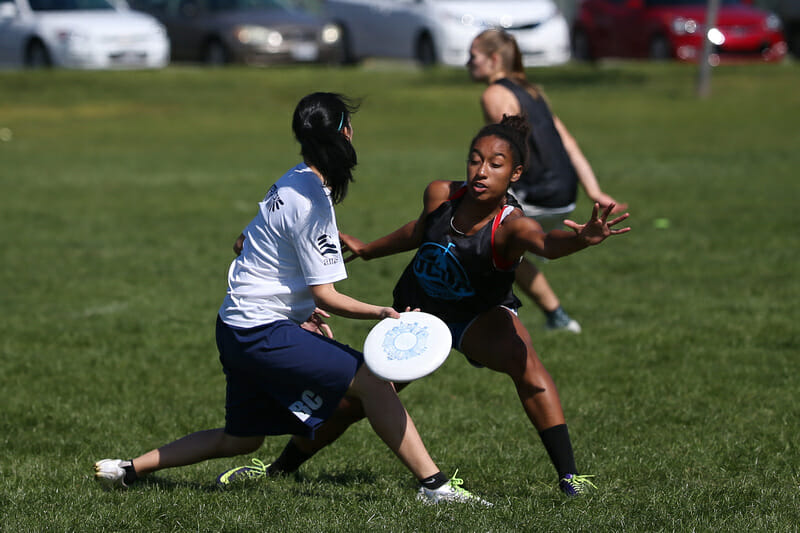 Disclosure: This post is brought to you by Ultimate Central. All opinions are those of Ultiworld. Thanks for supporting the brands that make Ultiworld possible!
Pool C is ripe for a surprise.
Maybe that is cheating, because what is really expected? UCLA sits atop the pool, but they may not even be the favorite! Carleton has been steady most of the season, a good foil to the team slotted above them. UBC is one of the most fearsome talents at the tournament, but enters the weekend with little momentum after closing their Regionals poorly. Even fourth seeded Pittsburgh lends a wrinkle, having upset Carleton to ring in their season earlier in the year.
All of those storylines begin to demonstrate how connected Pool C is. Every team in the pool has played at least one other team in the pool. Those results have not always gone to this seeding, so there's little reason to expect it will in Milwaukee.
#3 UCLA BLU
Who really saw them coming? Sure, we knew they'd be competitive in the Southwest. But they'll head back to Nationals missing players who led them in goals and assists at last year's tournament. 48% of their goals graduated with Alexa Cohen and Kelcie Ralph; 57% of their assists graduated with Michelle Chang, Katie Swinnerton, and Ralph. Even that team failed to leave any significant impact on the College Championships.
"We did graduate some very talented players and many people thought this would be a 'rebuilding' year for BLU," said captain Margot Stert, who was injured this time in 2014. "This year we have more players who have been playing with each other for longer, so I think that's been really important for cohesion on and off the field."
That cohesion and added depth – and a little luck – has garnered them the top spot in Pool C and the third seed overall. It helped them capture big wins over British Columbia, Colorado, and Washington. However, without some mistakes from their opponents, it is unlikely BLU would have found themselves looking down the list to find their pool play opponents. Losses to Florida State, Ohio State, and UC Santa Barbara temper their record.
Like so much of UCLA's profile, their matchup with UBC is tinged with contradiction: their double game point victory is one of their best of the season, but they were also blown out by the Thunderbirds in their biggest loss of the year. It was, in part, UBC's slip ups at Regionals that thrust UCLA to a top seed. Now, they'll see the Northwest powerhouse in pool play.
"Those games taught us that UBC is a deeply talented team," said Stert respectfully. "Players like Mira Donaldson, Amy Luo, Victoria McCann will be really important to match up on, as well as some very athletic young players in Ellen Au-Yeung and Naomi Morcilla."
The Southwest runner-up provides tough covers of their own. The trio of Stert, Han Chen, and Kristen Pojunis headline, each calling an offensive zone their home; Stert commands the offense as a handler, Pojunis embodies the term "workhorse" with long cuts, and Chen patrols the middle, doing a bit of both. But they are all tall, athletic, and skilled, giving UCLA's offense versatility that many lack. BLU brings one of the division's most athletic teams to Milwaukee – speedster Camille Wilson is a human missile – and they're more than willing to simply overpower opponents.
This year's team makeup is so different from last year's. The stars are new, the stakes are new, and the expectations are new. Coach Alex Korb stands as one of the few constants. He's in the conversation for Coach of the Year, but has his work cut out for him managing his emotional, inconsistent, but immensely talented and hard working crew. He could prove to be the most important member of their team.
The double-edged sword BLU wields is their habit of tight games. They've played 13 games decided by three or less points and have emerged from those 9-4. Putting away teams like Colorado College and UC San Diego has proven difficult and sustained dominance elusive. But there will be times where UCLA and their opponent find the margins for error constricted and BLU will feel in their element. You know what they say about the sword: you can live by it or die by it.
#6 Carleton Syzygy
The North Central champion begins their journey in Milwaukee in the same spot as they did in Cincinnati: seeded 6th overall and in the second slot in Pool C. And while other teams have created more buzz, Carleton has built a trend of delivering at the big show. In 2014, they parlayed that seed into a quarterfinal showing, good for tying for 5th. In 2013, they held seed as the tournament's 2nd overall, falling to Oregon in the final. Whatever high expectations are placed on Syzygy with their seed, they don't seem afraid to rise up and meet them.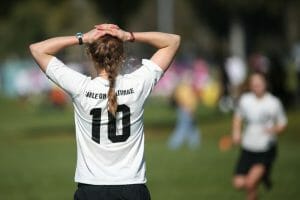 It has been a very solid showing for Carleton this year. While their overall record against nationals team is an underwhelming 4-6 (the same record they had against the field in 2014), four of those losses have came against top contenders Oregon, Stanford, and UBC. They've beaten Dartmouth, Whitman, and some form of Virginia, high quality wins to point to. Some blemishes against non-qualifiers Western Washington and Iowa State are enough to give pause.
Many of those concerns can be eased by looking at their roster. Much like on the field, Emily Buckner stands out, a dynamic and unique blend of devastating size and skill. Buckner brings the downfield physicality and playmaking that Syzygy has lacked since their run to the final. She's comfortable in the backfield, but the team's offense is more potent when she's a scoring threat.
It's not a one woman show for Carleton. The rest of their contributions are very well spread, although Lucia Childs-Walker carries a central role as a possession dominating handler who has great touch and poise. Megan Chavez has emerged as a scoring threat, along with young Claire Thallon and Nami Sumida. Childs-Walker is joined in the backfield by the aggressive handling of Elizabeth Borden and the athletic playmaking of Katie Ciaglo. Ciaglo, a sophomore who had a big showing at last year's championships, could be an X-factor.
The question will be if they are athletic enough and deep enough to adequately defend a challenging pool. They are plenty apt to capitalize on the mistakes of their victims, but don't excel at creating those miscues. But with a strong mental game, smart play, and Carleton pride, they'll be ready and waiting for an opportunity to be exactly as advertised.
#10 British Columbia
The only team besides Oregon to occupy the number one spot in the Power Rankings this season is UBC, the 10th seed overall at the College Championships. The team that won the Northwest Challenge last year went on to win Nationals in a truly dominant season. The team that won it this year? Sitting in the middle of the nationals field and of their own pool.
Aside from where you can find them on the schedule, however, nothing has really changed for UBC. This is still one of the best teams in the division, perhaps the most talented, and anything less than winning a title would be disappointing.
"This is the culmination of our season," said UBC captain Zoe Suche. "…I would expect every team attending to be shooting to win, and we're no exception."
That seems like a strong statement, but the evidence is even stronger: UBC is one of two teams who has beaten Oregon, Stanford, and UCLA (along with Washington). Of their five losses, three were decided by two points or fewer (Oregon, UCLA, and Whitman). They've scored multiple wins against both Washington and Whitman, along with the likes of Virginia and Dartmouth. Notice that there is nobody who has beaten them for whom they haven't returned the favor.
While their 12-9 victory over Oregon in the de facto Northwest Challenge final stands as their brightest moment, is it worth more than a pair of five point losses to Oregon and a 1-3 record against the #1 seed?
"There's a whole extra side to the game that comes with facing an opponent that you know intimately. That's part of the reason that we've had very tight games all season with Whitman, Oregon, and Washington," said Suche. "Obviously it's an advantage because you can tailor your preparation to them, but the opposite is also true."
That's a dangerous platform to stand on. They were a point away (against Washington) from losing three straight heading into Nationals, all to teams they have beaten this season and that may stand in their way of a national title. UBC's games against Washington have gotten closer every time while their matchups with Oregon since NWC account for that combined 10 point margin worth of tallies in the loss column.
"Our losses to Whitman and Oregon came in part because they did a very good job capitalizing on what they know of us," admitted Suche. "The same has been true of Oregon all season. They're a difficult opponent because we still haven't firmly decided what works best against them."
You've heard the names. Mira Donaldson has matured into an offensive maestro. Her most frequent target is Victoria McCann, who has gone from facilitator to playmaker with her opportunistic cutting, speed, and sense of offensive flow. Their handler set is deep, they've got the height and athleticism, and the dynamic difference makers – players like Ellen Au-Yeung and Erin Bussin – to overcome difficult spots.
Maybe this is their year. Considering how many of these pieces return, maybe it is the first of many. One of my favorite stats of the year is that UBC lost fewer than three games at the Stanford Invite, their first tourney of the year; the last time that happened, they took home the program's only National Championship. It would be a flimsy correlation to bet on. But the TBirds are anything but. In fact, they are one of the strongest thoroughbreds in the race.
#16 Pittsburgh Danger
The road back to the College Championships has been a lengthy one for Pittsburgh. They last attended in 2010, after narrowly winning the old Metro East. They'll travel to Milwaukee fresh faced and unburdened with expectations. The question is if they'll be lightweights themselves.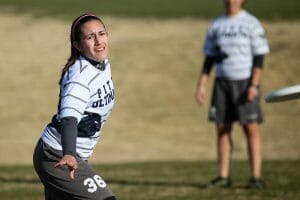 Pittsburgh showed signs of advancement this season that led them to here. February victories over Carleton and Virginia propelled them to a sustainable point in the standings. Danger cooled off later on, dropping games to Georgia, Middlebury, and in the Ohio Valley Regional final to Ohio State by a point. Their victory over Syzygy announced them as a team to watch and now stands as the best evidence that they can make a move towards prequarters.
Like many teams in their situation, they'll have to manage their own sense of "happy to be here." It is one of the challenges that holds back the performance of teams in their first trip to Nationals, whether it is ever or just after a lengthy absence.
"I think that mentality can hinder a team's full potential," said sophomore captain Carolyn Normile. "For Danger, our season long goal was to make nationals, and as soon as we did we had a team meeting and set new goals for nationals. We talked about how we weren't going to be complacent."
Normile, Vaughan Skinker, and fellow handler Katelyn Loughery spearhead the attack on both sides of the disc for Pitt. The trio is skilled and have grown in confidence over the course of the season, but their chemistry poses the great threat when teams go up against Danger. Cutter Linda Morse will be counted upon as a reliable option both in and out, while Sarah Russek the rest of the downfield corps are going to have to bring their A game. Pitt has been working hard to get up to snuff.
"Our cutter to cutter flow has improved and we've focused on communication and efficiency," said Normile.
And for Pittsburgh, it'll be a balancing act, as fellow captain Skinker explained: "It isn't the only mentality a team should have, but for a team that has never been I think having that thought is natural and not necessarily detrimental… I think taking a moment at Nationals to reflect upon a season's worth of hard work that enabled you to get to where you are is important; it makes whatever does happen at Nationals all the more meaningful."
Pitt will be happy to be there, but happier to be great there.
#19 Texas Melee
The women from Austin come from a strong tradition and history, but their recent track record is that of the underdog. Things came together nicely in 2012, when they broke seed by eight places to move from the 13th seed to finish T-5th. But the SC power's fortunes went South: 2013's iteration did score a nice pool play upset and go 2-2 in their pool despite being a bottom eight seed. The 2014 team was left out of the party by upstart Colorado College, finally slipping from the tightrope they'd been teetering on.
That's all to say that Melee is not afraid to play the long shot. They spent most of the season filling the role, especially after flopping their way through their opener at Florida Winter Classic. But after that, they scrapped and battled their way through the division's middle tier, never really breaking through. Their 14-13 edging of fellow South Central squad Kansas is the only win they have over another team at Nationals.
When it came down to it, Texas won the games they needed to, defeating Colorado College in the game to go, turning the tables from last season.
This year's Melee is a bit different than past editions. While previous Melee squads have made defense and speed their calling cards, Texas has turned to handler movement and throwing prowess to drive their offense, their greatest strength. Without the ability to outmuscle and outgrind teams, they'll have to out-execute. That's a tough necessity against the teams in Pool C, who mostly excel in that area.
There's nothing novel about their situation, to them on the inside or everyone on the outside. Texas's 19th seed is a fair draw and lines them up for a nearly vertical uphill climb. Odds are they'll struggle to make headway. But Melee is used to beating the odds.