Doublewide is back on the highway looking for a National title.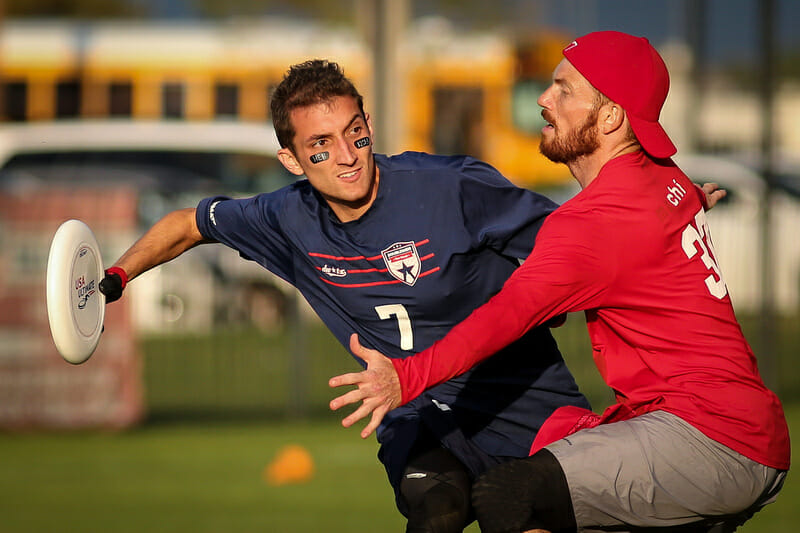 A trip to Nationals and a finish in the Elite Flight of the Triple Crown Tour would mark a successful season for many ultimate teams in the country, but Austin Doublewide is not most teams. After winning a National Championship in 2012—and failing to make Nationals only one time in their 14-year existence—they've got higher expectations than most.
"There are definitely intermediate goals along the way," said Doublewide captain Ryan Purcell, but he admits "the title is one of our team goals."
With title aspirations on their minds, Doublewide looks to bounce back from a 9th place finish at the 2014 National Championships that only historically elite teams have the luxury of calling disappointing. This year brings about a decidedly more dangerous Doublewide squad, reflected not only in the skill level of their revamped roster, but more importantly in the mental strength of their team.
Big Names & Big Games
As if securing Will Driscoll after a move out of state isn't good enough news, Doublewide also managed to bring back former members Kurt Gibson, Kiran Thomas, Kevin Richardson, Ryan Bigley, Zach Riggins, and, most recently, Tim Gehret. Gibson, returning to Texas after playing for Denver Johnny Bravo and the San Jose Spiders last season, is easily the most meaningful pickup out of this group. His importance has been hammered into our collective heads, and it isn't an exaggeration. He's THAT good.
Gibson and Driscoll are going to be stars for Doublewide, as they would be with any team they stepped onto the field with. However, what makes Doublewide's 2015 team so different from last year's isn't the talent or athleticism that comes with the big names, but rather what these guys have in their heads.
This year's Doublewide squad is "more about experience—not only the big game experience, which we are going to have a lot more of this year—but also the ability to process and adapt on the fly," says Purcell. Last year, Doublewide showed flashes of brilliance, taking Bravo to double game point at Regionals, and nearly upsetting San Francisco Revolver at Nationals, but inconsistency plagued much of their play during the 2014 season. This year, Purcell expects consistency and ultimate IQ to be a "marked improvement" and he estimates that it probably is the most notable difference between this year's and last year's squad.
Nowhere is this shift more evident than in Doublewide's D-line. There is no question about their athleticism—Michael Matthis and Dan Emmons will go horizontal for just about any throw. However, what Doublewide lacked last year was the poise to punch in breaks after their athletes got them turns. New acquisitions Brandon "Muffin" Malecek and Matthew "Skip" Sewell could bring that poise. Both have been around the block, playing meaningful defense on the big stage with Boston Ironside and Seattle Sockeye, respectively.
On offense, the theme is similar. Kiran Thomas' return provides them with one of the savviest cutters in the game and takes some of the pressure off  of Jeff Loskorn, Max Cook, and Driscoll, all of whom shouldered a heavy load last year. Chase Cunningham, with another year under his belt leading Texas, enters the season fresh off a U23 World Championship campaign where he excelled on offense. His size and smooth lefty throws should prove useful in the Doublewide cutting corps.
It's A Long Season
Although they didn't secure a bid for the Pro Flight Finale with their performance at the Elite Select Challenge, Doublewide's results in Columbus aren't ringing any alarm bells for the team. When Driscoll, Max Cook, Jerrod Wolfe, and numerous other key components weren't able to attend, Doublewide simply leaned on Kurt Gibson to do their work on offense. He willed them into the semifinals, where they lost to a capable Chicago Machine team. Come Regionals, Doublewide won't be nearly so reliant on Gibson. They have myriad options on both offense and defense, and while finding ways to plug them all in might result in some experimentation for a bit, at the end of the day it's a good problem to have.
In fact, Purcell hints that the strategic identity of this 2015 Doublewide team might remain fluid for quite some time. "There are some people who have been around long enough that we are giving them some leeway to prioritize life stuff now, and then [prioritize] Frisbee in August in September," he said. This is a luxury that you can afford when you have veteran and high-IQ players littering your roster, most of whom have played together for years.
Thus, the Doublewide team that we saw in Columbus earlier this month is not the same Doublewide team that we will see at Colorado Cup, Bro Flight Finale, or Regionals. Purcell expects the team to "fine tune the strategic stuff in the weeks and months to come."
"The guys have been around the block," he said. "They know that July is not October. We're not going to overreact if we play lights-out…or if we've got a lot of stuff to work on."
When the day comes that their roster pieces are all in place, expect heavy doses of smart under-cuts from Thomas and Cunningham into the cavernous space opened up by the deep threat of Driscoll. Loskorn and company have served the role as capable O-line handlers in the past, so if Gibson and Malecek both end up on defense, Doublewide's offense is still in good hands.
Speaking of Gibson and Malecek on defense, how scary would that backfield be? Both players have spent time on both sides of the disc in their career, but with a full strength roster, they both could be good fits for Doublewide's D-line. Malecek pretty much wrote the book on how to play D-line handler: big throws, high intensity, and irrational confidence. Gibson's elite speed and quickness make him a lockdown defender, and his poise with the disc and confident upwind throws might serve to complement Muffin's more trigger-happy style. Expect one or both of them to play some defense by the time the season is over.
When they aren't sending out Matthis and Emmons to hound opposing offenses in man-to-man coverage, Doublewide's elite size allows them to run a four-man cup, which played a marquee role in their 2012 National title run. They seem to rely on it less frequently of late, but opposing handlers be warned: if the wind picks up, don't be surprised if a cup filled with four giants is blocking your view of…well…pretty much anything.
Trusting The Process
One of the major questions most teams in Doublewide's position have is whether or not they can find chemistry with their new acquisitions, especially because some of their key components will be missing chunks of the season. The good news for Doublewide is that most of these so called "new" players have long-standing connections to the club, and many have actually played on Doublewide in the past.
This is why Purcell and the team leadership are so trusting that their team will come together when it needs to. He isn't worried about the expectations of outsiders, maintaining that the team is "excited, but I don't think the expectations of other people or ultimate media has much if any impact on how we approach things."
At the end of the day, Purcell and the team knows what they are capable of. If it takes a whole season to get to their peak, then they are more than comfortable going through that process. They are going into this season "with the objective of getting better together" and knowing that their self-proclaimed "well-nasty brotherhood" will be sticking together no matter what.
Final Thoughts
Doublewide doesn't care what you think. They know they might not win all the regular season tournaments that you think they should. They trust their players, and they trust the process. And why not? They had the athletes last year, and they have the experience this year. When they figure out how to combine those two, watch out. No matter how the regular season turns out, expect to see a full strength Doublewide team peaking at just the right time in Frisco.
Likely Ceiling: National Championship. Doublewide entered the season ranked #2, and it certainly won't be a surprise to see them in the finals at the end of the year. But do they have what it takes to take down Revolver outside of the Sarasota wind tunnel?
Likely Floor: Semifinals Appearance. Barring injury, the team is just too talented to miss out on a trip back to semis this year.
Schedule:
Elite-Select Challenge (Colombus, OH): July 11-12 [4th place finish]
Pro-Elite Challenge (Aurora, CO): August 1-2
Bro Flight Finale (Verona, WI): August 22-23
South Central Regionals (Tulsa, OK): September 12-13