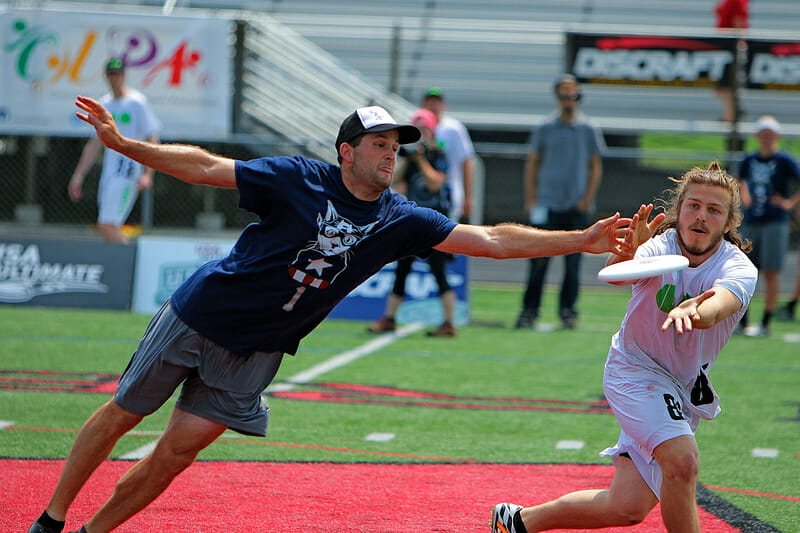 Ryan Oto and his teammates on Minneapolis Bird preview the Mixed division teams competing this weekend in Blaine.
The Pro Flight Finale caps the regular season for the nation's best ultimate teams and this weekend should showcase the very best of Mixed ultimate. Early season results have seen top teams trade victories, highlighting the continued parity among the elite in this division. With Atlanta Bucket and Seattle Mixtape the only top 10 teams from last year's Nationals missing from the field in Blaine, the stage is set for an exciting final leg of the 2015 Triple Crown Tour. Which teams will fall off and which will peak? Will the winds of the North Central pick up and which teams may find themselves struggling in the waning heat of Minnesota August? As the premier Mixed teams of USA Ultimate descend on the fields of the National Sports Complex, here are the key storylines to watch.
CLX has lost only two games all season, both at the U.S. Open and to the two teams that played each other in the finals. While many of CLX's games in Ohio were close and suggest that this impressive team can make mistakes, Chad Larson's chemistry—built over a decade of experience playing together—gives them confidence in tight, late-game situations. Last weekend, they rolled through local midwest tournament Cooler Classic, demonstrating their prowess against top regional competitors. Don't expect that to change against the competition in Blaine, as CLX makes teams respect every inch of the field on offense and contest every disc with their legs on defense. While this makes CLX a menacing opponent, they are still vulnerable. The key for CLX, as it is for them every year, is to establish offensive consistency—they don't practice together much—and effectively manage the small rosters they tend to bring to tournaments. These elements might create challenges for the Iowa team and afford their opponents opportunities to capitalize on CLX's miscues.
Boston Slow White
Slow White has ridden strong early season results to a 2-seed in Blaine. Dan and Evan Patisteas continue to make plays all over the field1 and Mike Miller has been anchoring the handling corps since 2004. But the team has plenty of newer contributors as well: India Stubbs and Davis Whitehead come to the roster with a Paideia pedigree, Karl Ekwurtzel adds some scary athleticism to the D-line (even if he has given up throwing flicks), Mary Glickman has a nose for the endzone, and Middlebury Prankster Erin Rea has been making some big plays on defense.
Slow White's biggest resume boost this season comes from a big 15-9 victory against Seattle Mixtape to start the U.S. Open and their hometown rivalry with Wild Card leads to some coin-flip games that are highlighted by athletic one-on-one matchups. The Mixtape win and a close CLX loss in West Chester have pulled Slow White up to the 4th spot in the latest USAU rankings, but they have shown some inconsistency against the truly elite teams over the last few years. This storied program hopes the Pro Flight Finale will be the final tune-up they need to make a good run at the USAU Championship that has always eluded them.2
San Francisco Mischief
Another team that has plenty of experience together, Mischief is yet another perennial powerhouse that has returned to the top of the division. Although many players may have left and come back to this roster—most notably Tyler Grant and Lori Eich3 —Kevin Smith is as much an institution on this roster as jersey mascot Feathers McGraw. Although Grant continues to draw a lot of attention from opposing defenses, Ellen Rim and Jenny Wang also provide strong cutting downfield.
Mischief got off to a slow start in Colorado at the Pro-Elite Challenge, winning a close game against Minneapolis Bird and losing 13-7 to Asheville's Cahoots. However, they found their offensive consistency and dialed up the defensive pressure in dominant performances against Madison Noise and Cincinnati Steamboat. Their 13-7 blowout win in the final is tempered by the fact that Toronto UNION was down to five men, but a tournament victory in a very talented field cannot be denied.
Although there are a couple of minor blemishes on the season, Mischief has amassed an impressive record across three tournaments, earning them a 3-seed at the Pro Flight Finale. With a first-round game against a very hungry hometown Drag'n Thrust squad, Mischief will need to come out firing from the outset.
Boston Wild Card
With Wild Card, their name can be deceiving. They are no strangers to the level of play they are going to see this weekend, having made Nationals each year since their inception in 2012, and they have been among the most consistently successful squads in the past few seasons. Their regular season results this year are reasonably strong, posting wins over the likes of Slow White and the U.S. Open champions Melbourne Ellipsis. While they haven't played a sanctioned tournament since early July, it doesn't mean they won't be one of the most difficult matchups in Pool A. They have strong chemistry and a disciplined vert stack that allows them to exploit the slightest of mismatches throughout games. Add to this their aggressive person-to-person defense and Wild Card could be in a position to contend for the Pro Flight Finale title.
Look for an exciting rematch against San Francisco's Polar Bears on Saturday to start the tournament, whom Wild Card lost to 15-11 at the U.S Open. The question for Boston will be how quickly they can start clicking as they were earlier this season. Wild Card's last matchup of the day should also prove exciting; CLX will enter the round as their fourth consecutive game, while Wild Card has the luxury of a lunch-time bye, splitting their Saturday into two morning and two afternoon games. If the last round is about who can push their bodies harder, and it often is, Wild Card has a strong chance to upset the current number 1 team in America. Their deep roster affords them more chances to exploit any team that exhibits fatigue.
San Francisco Polar Bears
This season has been less than what we have come to expect from Polar Bears, given their stellar history of Worlds and Nationals appearances and victories. So far in 2015, the Bay Area Bears have placed 2nd place at Cal States, 6th at U.S. Open, and 4th at Pro-Elite Challenge. While these are by no means poor results for the vast majority of teams they will be seeing this weekend, it lacks that traditional wow factor that the Polar Bears swanky shorts typically represent. Losing some major players in the off season may have had a part in this, but their re-tooling suggests that their focus on athleticism and passion hasn't changed. This is a team that plays with big hearts, willing to put their bodies on the line to make important plays to stretch their leads or keep them in the game. PBR will come to Blaine hoping to relive their success the last time they were in Minnesota, when they won the 2014 U.S. Open. PBR is coming off of a strong showing in Colorado, giving them ample opportunities to refine their systems and personnel decisions leading into this final leg of the Triple Crown Tour. Their pool play matchup to watch will be against Wild Card, who will no doubt be out for revenge.
Minneapolis Drag'n Thrust
With homefield advantage, Drag'n Thrust will be the team to watch as they fight to gain entry into the Championship game in the last tournament of the regular season before North Central Regionals. After sustaining multiple injuries and accruing some dissapointing results throughout the regular season, finishing in a 3rd place tie at the U.S. Open and 3rd at their most recent tournament MUDI, the back-to-back National Champions are ready to come roaring back. Several key matchups to watch over the course of pool play, Jay Drescher and Brian Schoenrock match up against the top downfield cutters of opposing teams. The women of Drag'n Thrust are anchored by Sarah Meckstroth—coming off U23 World Championship game appearance—who is a dual threat as a downfield deep threat and as an intimidating defender. Captain Patty King has also been unstoppable downfield so far this season. The game to watch for Drag'n will be their second round battle against Northeast rival Slow White as Drag'n looks to prove to on-lookers that they are ready to take to the skies again.
Philadelphia AMP
This team from Philly has roots going back as early as 2000—a long time in the Mixed world. The wealth of experience they have amassed as a program gives them confidence no matter what the situation, as shown by their season so far: none of their losses have been by more than two points the entire season. After getting bounced by Austin Cosa Nostra in semis of the Elite-Select Challenge, they rebounded to beat Steamboat and finish on the podium. AMP won their pool at Colorado Cup earlier this month, upsetting San Francisco Blackbird to make the championship bracket, but were unable to pull out wins in close games against Mischief and Seattle Birdfruit. While these uneven results highlight their resilience during play, it also provides evidence that AMP is beatable. To get a better sense of what AMP can do in Blaine, keep an eye on their first pool play game against Cosa Nostra. The Elite-Select semifinal rematch will indicate whether AMP is on track as a contender, given that their Saturday schedule progressively gets more difficult.
San Francisco Blackbird
It's hard to disassociate the ridiculously stacked Blackbird rosters of years past from this team's identity. This year is no exception, with a hoard of MLU players and women that can make more plays than Shakespeare. Blackbird is a team that plays calculated, veteran ultimate, meaning they will likely abuse the breakside on offense until Mac Taylor is open enough to catch a big under and bomb a perfect huck. But for some reason, this season their results don't align with the weighty expectations. At local California tournament Revolution, they lost in semis to San Diego Dorado and then again in the third place game to San Francisco American Barbeque, a team they beat in pool play 13-5. At the Pro-Elite Challenge, they were knocked out of the championship bracket in the pre-quarters.
Blackbird unquestionably has the talent to beat any team in the country; it is simply a matter of if they can put it all together in Blaine, with a tough pool in front of them. Their game against Mischief will be fun to watch as these two Bay Area titans duel with Regional seeding implications going into the postseason.
Austin Cosa Nostra
Cosa Nostra fought their way to the Pro Flight Finale after an impressive performance at the Elite-Select Challenge earlier this season, winning the event in Columbus. With impressive wins over AMP and NOISE, their results ushered them into a top seed at the Pro-Elite Challenge. Unfortunately, Cosa Nostra's stellar performance in Ohio was followed up by a mixed bag of results in Colorado, as they finished last in their pool and failed to beat NOISE for a third time this season. However, they did notch a win over a Union squad that made it all the way to the final.
So which team from Texas will arrive in Minnesota: the dominant Ohio version or the one from Colorado? Cosa Nostra is a team known for aggressive, physical defense, so don't be surprised to see them fall back on this grit as they look to contend with the rest of the highly pedigreed teams in their pool. These party crashers will be looking to show us the strength of Texas ultimate.
Cincinnati Steamboat
With a combined record of 1-4 against teams in attendance at the Pro Flight Finale, it would appear that Steamboat has their hands full in Minnesota. But assuming they will be overmatched is the mistake that most teams make against "the Boat," as they refer to themselves. This is a team that is grounded in resilience and a commitment to the game and one another. They use their team Twitter account to post workout results and individual progress to hold one another accountable, which­—according to most education research on motivation—is badass.
While Steamboat may not have the legacies of the rest of the teams in their pool, that doesn't mean they can't spoil someone's weekend. After consolidating Ohio mixed into one team, the Boat looks stronger than ever and this weekend may prove to be their chance to prove they deserve to be considered among the best in the country. Steamboat will have their hands full all day Saturday, but look for them to come out strong, hoping to surprise Blackbird to start their ride in Blaine.
Weather forecast
It wouldn't be a midwest tournament if weather wasn't going to be a major factor. While the heat and humidity have taken a brief hiatus, the biggest factor this weekend will be the wind. The current forecast predicts winds to blow consistently around 10 to 15 mph out of the south throughout the weekend. While not too terrible, this may provide opportunities for junk zone looks which will challenge teams to try and adapt fluidly. The real kicker is that on Championship Sunday, the "great equalizer" will clock in closer to 20 mph, with gusts as strong as 25 mph.
With the field set and the National Sports Complex looking as beautiful as ever, mixed ultimate is ready to highlight the best part of sports: unpredictability.
---
They have to be the set of twins with the most Nationals appearances together, right? If not, I am sure it will get straightened out in the comments ↩

Side note: The @SlowWhite_ account keeps the team's Twitter fans happy and are worth a follow. ↩

both of whom represented the U.S. in the Mixed Masters division at the World Championships of Beach Ultimate this spring in Dubai ↩