Just two bids on the table for Ring, Chain, and Florida to fight over.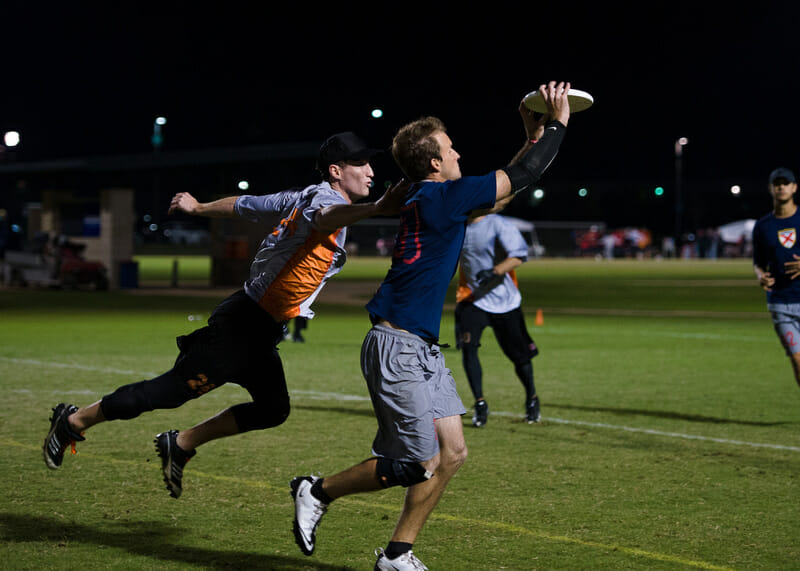 Slice the Regional outlook however you like in the Southeast Men's Division: From the top to the bottom of the field this year, every team has something to prove. Especially for the perennial contenders, more questions will need answers before any team takes home a bid to Nationals.
To make the competition just a tad more intriguing, all three chief competitors (Raleigh Ring of Fire, Florida United, and Atlanta Chain Lightning) have a group of players that met each other numerous times in AUDL South competition throughout the spring and summer. History and regular season performances can inform predictions somewhat, but there's no doubt that these teams know each other intimately.
Don't Judge A North Carolina Team By Its Regular Season
Raleigh Ring of Fire enters as the favorite on paper (despite being assigned the tournament's #2 seed) with a strong organization and a wealth of talent behind one of last year's most exciting semifinalists. Yet Ring's season has yet to stun the division — a focus on the AUDL and minimal tournament experience leaves this team's firepower in question.
The picture of Raleigh's mixed bag of results, while not impressive at first glance, is complicated. Other than a 6-11 loss to San Francisco Revolver at Pro Flight Finale — a game with incredibly strong wind and one in which Ring coach Mike Denardis recalled a number of 50/50 throws breaking Revolver's way — Ring's average margin of defeat is just over two points. That is to say, this team has been in every game, and often led in most of them.
Many pieces have needed to fall back into place for the AUDL's Raleigh Flyers make their first transition back to club's Ring of Fire, a process which has been new for Denardis and his staff. "In year two there's a little more muck with pro," he said. "But with the pro, a large percentage of [Ring] played and we're preaching the same kind of stuff, the same kind of tenets of success."
The AUDL format, Denardis believes, has prepared Ring's talent-rich squad for more high pressure moments and big games. "The single game format is more of an atmosphere that you would find in semis and quarters at nationals," he said. "We got a lot of experience from it that we didn't have the prior year."
As the team moves back to the club field, Joe Cuneo joined Denardis to install a new offense for Ring, and the regular season has focused on getting new sets and principles woven into the team's identity. With roster continuity and a long season creating the foundation, Ring has used the weeks leading up to Regionals to gel. "Now it's molding the team back into a club team and adding the pieces that weren't there for [the Flyers] and putting together the offense," said Denardis.
Raleigh enters Saturday without too much predictable resistance on the schedule before a possible semifinal matchup with storied rival Atlanta Chain Lightning. It'd be smart to give Ring the edge in that hypothetical match up — this team's size, depth, and gameplan will all lend themselves to a win against an Atlanta team with is, for the first time in years, without stars Nicky Spiva (Truck Stop) and Jared Inselmann (Ring of Fire).1
With a team dropping out forcing the tournament into 15-team pool play, and the top four moving into the bracket, Raleigh's route to a bid just got a lot easier. With the second seed placing them in a pool of three, two strong performances Saturday morning can push them into semifinals at 2:30 with a round off. Ring's depth and defense should handle Ironmen and Bullet, but they remained prepared for anything. "I don't want to sleep on any of the mid-tier teams," Denardis said.
Experience favors this storied club team from Raleigh, and, recently, Denardis-coached teams have made a habit of showing up big in the series after mediocre regular seasons. Expect Ring to find their toughest matchup in the 1st place game, but come away with the first bid to Frisco.
Florida Fully United
The #1 seed this weekend belongs to Florida United. Drawing its players from all over the Sunshine State, this team has put together a strong regular season performance in the face of some significant organizational challenges. Practices locations shift and it's almost always a long commute for someone.2 The (nearly) full roster didn't make an appearance until Bro Flight Finale in late August. And yet, the team has come together well.
United has managed a solid winning record, with just the Elite-Select Challenge, Bro Flight, and Sectionals under its belt. Some of those regular season wins have been close, but it speaks to the grit and talent of a team that is largely made up of the best players that Florida has to offer. That group, much like its counterparts in Raleigh and Atlanta, got a lot of run together in the AUDL South as the Jacksonville Cannons, making an impressive run late in the season as they started to gel.
For the club team, the biggest challenge now is staying consistent and strong as the pressure and level of competition increases. At practice in the postseason, the team has stayed focused on realizing a greater potential, knowing full well that the greatest test is yet to come. "The team's mood has been pretty good, everyone seems to be optimistic but also grounded," said Florida player Peter van de Burgt. "We've had some good results, we have potential, but we also have a lot of room for improvement, so I think we've done a good job of maintaining perspective and working to get better as a team."
Part of that perspective should include some humility: of the three favorites in the region, Florida has the most traditional (and thus longest) route to Nationals. Bids went, as expected, to Ring of Fire and Chain Lightning in 2014, leaving United with a mandatory trip to Sectionals before sniffing a bid to Texas this weekend. For a team that hasn't spent much time together this season, in comparison to those teams that live much closer together, Sectionals likely offered important game-time opportunities to build more chemistry, and they'll certainly need those intangibles to be there in order to grit out a bid.
United has yet to see Ring or Chain this year — both teams competed solely at the Elite level and above, avoiding much mixing with the Select and Classic flights. Even so, it's not like Atlanta or Raleigh is an unknown. The teams' personnel know each other well from club, college, and the AUDL. Van de Burgt thinks either or both match ups would fire up his team. "Personally, I'm really looking forward to matching up with either of them. I think Florida United does a great job of playing up against strong competition, so hopefully a match up with either team will bring out the best in us," he said.
With the format changing to pool play from a double-elimination bracket, Florida United now finds itself a much more comfortable position for the first part of Saturday. The danger of seeing regional standouts #4 SoHo and #5 Freaks Uv Nature early on is gone with pool play. United will now see two scrappy contenders in #8 Right Coast (UNC Wilmington's club affiliate) and #10 Cash Crop (as of 2014, Ring's feeder team), along with a game #15 Sour Mash.
When van de Burgt spoke with Ultiworld before the format changed, his team wasn't looking past any of the contenders near to them in the bracket. Now, assuming Florida locks up Pool A, they'd face the winner of Pool D, likely Freaks or SoHo.
Having spent recent practices shoring up offensive chemistry and defensive efficiency, the Florida star power should be able to out-grind their side of the bracket into the semifinals. They take the field without 2015 Ultiworld College Player of the Year Chris LaRocque (who is beginning to get back into form after a collarbone break, but won't quite be available this weekend), but the rest of their talent should be on hand. Though they may fall against a stronger team in Ring of Fire, a trip to Frisco could still await them in the backdoor game.
Atlanta Chain Lightning Fights To Back Up Their Reputation
Outside of a winning record at Huckfest in mid-July, Atlanta Chain Lightning has handed in a dismal record and will enter Southeast Regionals coming off a winless trip to the Pro Flight Finale. While it isn't always smart to judge a team by its most recent results, this last tournament appearance offers a troubling signal for this Nationals-regular: they've had trouble with top end competition.
Part of these results can easily be attributed what most would call a necessary rebuilding year. While many of the same great role players returned to Chain in 2015, the team lost two focal points who have been on-field leaders in years past. Nicky Spiva left Atlanta for DC well before the season and will take the field this weekend with Truck Stop. Jared Inselmann joined Ring of Fire late in the season after appearing to take the year off of club.
While Spiva's shoes are certainly tough ones to fill, it's Inselmann who logged heavy minutes in Chain's backfield in 2014. The team often relied on him to move the disc in order to activate Spiva, Jay Clark, and others downfield. Losing that impressive experience and leadership has left Atlanta struggling to find reliable handler sets.
Chain has added talent on the sideline. After quietly doing some consulting on the side in 2014, Martin Aguilera (Team USA U23 Mixed Coach) agreed to coach the team and brings his high ultimate IQ and two decades of experience to the team.
Combining a top-notch coach and many years of experience at the highest level, Chain Lightning will still be a force to be reckoned with this weekend. Though some talent may have dispersed, a lot of it remains, especially downfield. They have the cutters and sets to claim a good percentage of hucks in the endzone, and will likely have the speed to outmatch many opponents.
Chain also find themselves in a favorable spot with pool play now on the horizon. Durham's Turbine is a scrappy team at the #6 seed, but #12 Lost Boys (South Carolina) shouldn't threaten and slightly depleted-in-2015 #13 Omen will have more trouble repeating their big upset win from last year. Even with the format change, locking up the pool will still give Atlanta what they would've gotten in the semis with the previous elimination bracket: Ring of Fire, who will have a round to rest while every other pool plays a third game before moving to the bracket in the afternoon rounds.
The question is whether or not Chain can maintain composure in a backdoor game. If seeds hold and they fall to Ring on Saturday, they'll have a route through lower seeds to fight into the game to go. Staying consistent and having enough energy to play their best ultimate in that game could be the key for Chain this weekend, especially since their record this year will have all competitors thinking they throw a wrench in history and stop Atlanta from reaching Nationals for the first time in years.
A Talented Field
Cohesive and competitive teams are hanging close by these top competitors, particularly Southern Hospitality and Freaks Uv Nature, who round out the top five seeds. There is more than enough talent on their roster to fill out a challenger who could take Chain's #3 spot (SoHo even beat Chain early this season), but, with Florida and Raleigh both healthy, probably not enough to take a bid.
That shouldn't discourage everyone from #6-#10 from going hard — Select status in the 2016 Triple Crown Tour is on the table for those who can outplay the top half, and the team that can consistently play its best ultimate in every game has a chance to take advantage of Raleigh or Florida if they slip.
---
Note that Inselmann won't be with Ring at Regionals ↩

It's a 260 mile drive between Orlando and Tallahassee. ↩