Sparks could fly in this year's pool of death.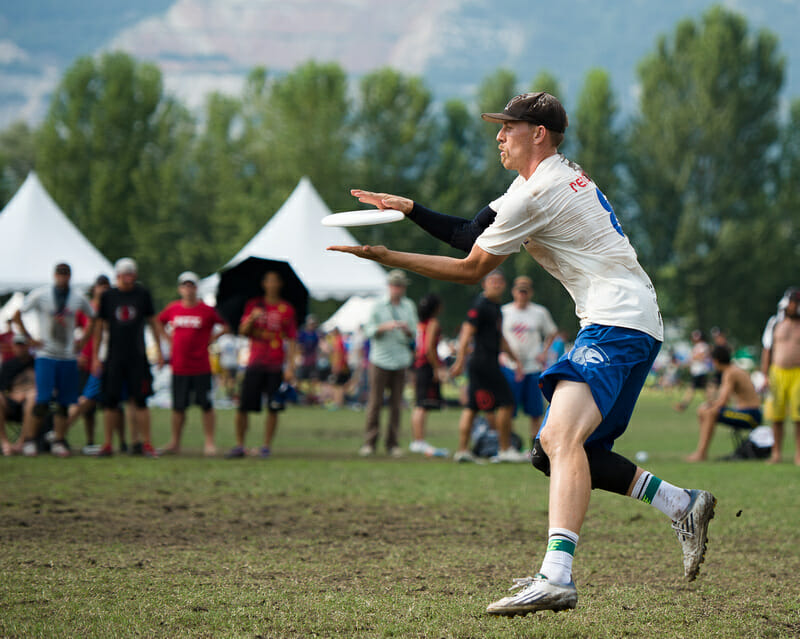 Welcome to Whose Pool Is It Anyway? – the format where everyone's in prequarters and the points don't matter!
Take a look at last year's Nationals. In 2014, only one pool winner — the eventual champion Johnny Bravo — went on to play in semifinals.
You can't win Nationals on Thursday, but smart, hungry teams still improve.
Pool C is a logjam of scary teams that features two regional champions in Truck Stop and Florida United, a Sockeye squad that hung a loss on Revolver, and GOAT, who might be the best 15 seed ever. With heavy hitters like these — all with a real shot at taking the best position in the grouping — don't expect a ton of crossover watching until the final order is set in stone.
Pool C is the perfect dress rehearsal before elimination play.
Sockeye Hungry for Return to Top
For the third time in four years Seattle finds themselves with the tournament's third overall seed. Classic Sockeye. Getting bounced in prequarters like they did in 2014…not classic Sockeye.
"I think we came into this year with a chip on our shoulder to prove to ourselves that that was more of a fluke than it was anything else," Sockeye's Danny Karlinsky told Ultiworld. "It's TBD…we are waiting to write the script for this Nationals."
Outside of a 16-14 loss to Portland's Rhino in the Northwest regional final, the story Seattle has penned thus far has been one of triumph. In the finals of Colorado Cup, they beat Revolver — a feat Sockeye had not accomplished since 2008.
Revolver is the one seed at Nationals for a reason. There's a lot of green on the right side of that score reporter page. A signature win over the San Francisco is huge, but the start to finish effort in Colorado could prove more important in the long run.
"Less so than the Revolver win," Karlinsky said, "I think putting together a comprehensive tournament in the way we did felt really good."
Sockeye's roster is packed with star power. Along with staples like Reid Koss, the big fella Matt Rehder and many others, new addition Zane Rankin has been turning heads and making a name for himself.
This year Seattle saw a surge of young, raw athletes bolster the D line: guys like Sam Hart, Jesse Bolton, and Matt Russell — who Karlinsky praised for having made major strides in his second season with The Fish.
The O-line's defense after the turn ruled ruled the day for Sockeye at their complete tournament at Colorado Cup. If that trend continues expect to see a more classic Seattle deep in the bracket once again.
Now Or Never For Truck Stop?
If Washington DC's Truck Stop was ever going to break through and make a deep run at a National championship, this would probably be a good year to do it.
When Truck's roster was announced back in June there were some notable names from ultimate communities across the country that made you do a double take.
DC picked up Nicky Spiva from Chain Lightning, Nate Castine from Sockeye, and Seth Wiggins, who reemerged from semi-seclusion in West Virginia (after previously playing for Sockeye, Revolver, and Rhino).
Big pickups often add pressure to preform, but Truck has been able to avoid traps involving hype.
"Our explicit goal with ourselves is to let go of expectations. Because that's when we can start to think that things are supposed to happen, or things should happen… and that gets away from controlling what we can in the moment," said second year captain Jonathan Neeley.
"When you have an influx of talent and when you have people that start to say 'you could be better than you've ever been' you start to think rather than play. We are sticking to the montra and the goal of not having expectations."
The "no expectations" strategy appears to working with this new, deeper team. DC made semis at the US Open, where they lost to Revolver (who would go on to win the tournament). Then at Pro Flight Finale they fell to San Francisco again after receiving on double game point. Revolver would go on to win that tournament too.
On offense, look for Truck to run pulls plays from a side stack, with rangy lefty Alan Kolick looking to get the disc to stud cutters like Peter Prial, Nicky Spiva, or Jeff Wodatch out in space. Nate Castine, Jonathan Neeley, and big thrower Markham Shofner will run and gun on the D-line. Look for David Cranston to take difficult defensive matchups.
Truck is scrappy. Their ability to hang in there, even when they aren't playing their top brand of ultimate, is pretty impressive. DC has not lost a game by more than three points this season.
Followers of the Mid Atlantic region will tell you this is the strongest Truck Stop team ever. The cast of guys they had last year — a team that took 7th at Nationals a year ago — was already good enough to make the Pro Flight. Add Wiggins, Spiva, and Castine in that mix with all their big game experience and you have a team that could finally break through.
"The goal is to make our last game of ultimate the best game of ultimate we play this season," Neeley said of his team's approach. "We're looking to take it point by point and constantly be zooming in and focusing on the things we can control, and I think that'll take us far."
Back To The Dance For Florida United
After failing to qualify for Nationals in 2014 at a wild and crazy regional tournament, Florida United returns to Frisco hot off their first Southeast title.
"It was hugely important," Florida United captain Alton Gaines said of his team's regional victory.
"Part of it is getting the monkey off our back of never having won the Southeast region… to not just show that we can be competitive at the elite level but really show that we belong."
This team will certainly get the chance to prove they belong when facing foes in Pool C. Sockeye, Truck Stop, and GOAT are well-established — having combined for 37 total program appearances at Nationals.
To win the Southeast, you have to go through Ring of Fire (who United took down in the finals) and Chain Lightning – powerhouses that have been boogie men to area competitors for a long time. Early success in pool play will help United build on that confidence.
While they may not have a storied history at the tournament, Florida has some other things going for them. They're athletic, they're returning guys who have missed time, and they should be the largest team at the tournament from a physical standpoint. There are some massive dudes on this roster.
And Florida United plays to those strengths. They aren't afraid to put the disc up to a 6'7″ monster like Mischa Freystaetter.
At the college level, Florida, Florida State, and Central Florida are producing some incredible players. Those names are littered across the roster: Jeremy Langdon, Andrew Roney, Bobby Ley, John Best, and 2015 Ultiworld Player of the Year Chris LaRocque (who is returning from a collerbone break suffered during the AUDL season).
On defense United will primarily run their athletes at you in man-to-man. Offensively they'll mix up starting sets and look to guys like Cole Sullivan to do a lot of the heavy lifting. "We [Sullivan and Gaines] both started the same year at Florida and this is the best I've seen him play… probably ever," Gaines said of his teammate's play.
There's a feeling of boundless potential when you look at a team like this. At a glance they appear to lack the top to bottom depth of the rest of the pool, but Florida United has all the tools: size, speed, and skill. If those things are clicking they could pull an RKO outta nowhere and make a surprise run.
Sleeping GOATs Lie
The last thing any of the three previous teams wanted to see was GOAT sitting coiled and ready as the final seed in this quartet. The boys from Toronto are the reason Pool C the most exciting.
"Thursday can mean nothing and it can mean everything," Toronto coach Scott "Shooter" Hastie said of pool play.
Shooter Hastie has some unique perspective. He has coached this team from some very different vantage points.
In 2013 GOAT was the two seed overall and at the top of their grouping, only to go 1-2 in the pool and be eliminated in the first game of bracket play. Conversely, last year Toronto came in as a modest three seed and stayed there at the conclusion of Thursday. They won their first bracket play game then shocked the world by upsetting dynastic Revolver in an instant classic.
"I don't think you can go in to Thursday wanting to win the tournament, saying 'if we lose these two games it's not a big deal,'" Hastie added. "But at the same time, if you're playing the way you want to be playing and improving your team over those three games, and your record isn't 3-0, you can still win the tournament."
So how did GOAT get here from 2014's semifinal run?
There was some substantial roster turnover after last year's semifinal run, when international all-stars like Morgan Hibbert and Aaron Liu of Vancouver, as well as Great Britain's Justin Foord, returned to their local teams. Underrated O line staple Scotty Nicholls quietly retired. Then there was the crushing loss of Mark Lloyd – who was probably the best player at Nationals in 2014 – to an ACL injury.
The schedule hasn't been favorable to high level Canadian players this summer either.
GOAT has close to 20 players who also play on the Toronto Rush in the AUDL, which made the league's final four. In consecutive weekends the Rush went to the AUDL Championships in San Francisco, then GOAT hauled off to Winnipeg for Canadian Ultimate Championships, and then finally Pro Flight Finale in Minnesota. That's a rough stretch of travel.
By the time the Triple Crown Tour's culminating event rolled around much of the team was unable to attend. GOAT sent a skeleton crew to the Pro Flight Finale and managed only one win — effectively losing a bid for the Northeast.
But take a look at Toronto's body of work aside from a disappointing end to the regular season.
GOAT beat Johnny Bravo en route to a finals appearance at the US Open. When they needed it most in the game to go at Northeast Regionals, they went Mr. Steal Your Bid on a very good PoNY team.
When they have all their guys — like they will at Nationals — they're extremely dangerous.
Toronto plays tough, physical defense. Stud ballhawk Remi Ojo can't stay seem to stay out of the highlights. Geoff Powell (the aptly nicknamed "Bomber") can take key matchups and make splash plays of his own. Last year at Nationals their horizontal stack got the disc moving and created deep space for guys like Cam Harris to take shots. Isaiah Masek-Kelly has taken over a lot of the cutting workload in Mark Lloyd's absence. GOAT also has great specialists, like handler Derek Alexander, who is unmarkable.
One thing GOAT learned last year is that goliath can fall, even after a slow start in pool play. It would be tough to find a coach at this tournament better equipped to handle the balance between pool and elimination play than Hastie. Toronto's 9 AM game Thursday against Truck Stop will be one to keep an eye on.
Peeking Ahead to Crossovers
Pool C crosses over with Pool B, which includes Doublewide, Rhino, Ring of Fire, and Sub Zero.
There are a lot of potential gems on the table for Friday. If seeds hold, Ring of Fire and Truck Stop would meet in a good ol' Mid Atlantic finals brawl like they always did before the redraw in 2012. Ring and Florida United could face each other again in a rematch of the Southeast final. Maybe the least likely (but most interesting) scenario would be for Sockeye and Rhino to somehow play each other in prequarters. That's becoming quite a rivalry. Rhino just took them down to take the Northwest crown and ended Seattle's season in prequarters of 2014. That would be a dream matchup.
If they're healthy, look for all four of the battle-tested teams that emerge from Pool C to represent themselves well round of 16. Remember the old biblical saying…
As iron sharpens iron, so one ultimate team sharpens another.