Pool B:
Minneapolis Sub Zero 15-12 Raleigh Ring of Fire
In the battle for second place in Pool B, Sub Zero (overall #14, seeded B4) continued their surprising run of success on Thursday by besting Ring of Fire (overall #11, seeded B3) with an impressive offensive performance.
After resting several starters against Doublewide, Sub Zero came out with energy and intention against Ring. The return of Nick Stuart, who sat out the first two games with injury concerns, was massive as he gave them exactly the kind of physical downfield presence they sorely missed in their match with Doublewide. He made multiple highlight reel plays including an abominable sky in the back of the endzone over three Ring players to give Sub Zero a 9-8 lead.
Sub Zero's offense looked to push the pace all game against Ring, with Simon Montague lancing deep shots to Stuart and speed newcomer Conor Kline. Ring did a good job pressuring Sub's handlers and taking away in cuts, but they couldn't slow down the Minnesota deep game. Sub's offense held the entire second half, never letting Ring claw their way back into the game. It appeared that Ring really missed the defensive spark of Justin Allen, who will not be available to play until Friday and perhaps could have done something to slow down the Sub O-line.
With the score 11-10, a drop from Ring's Joey Cretella gave Sub Zero's D-line the disc and Nick Simonelli immediately launched a big flick huck to a wide open Galen Ryan for the break. Sub would never look back, as their confident O-line was able to kill off the game. On game point Montague found Kline cutting to the break side cone with a tricky low release backhand that sealed the 15-12 victory and second place in the pool for Sub.
Portland Rhino 16-14 Austin Doublewide
Entering the final round of play on Thursday both Rhino (overall #7, B2) and Doublewide (overall #2, seeded B1) were already locked into final positions in the pool, last and first respectively. There was not much at stake in this game, but both teams used it as an opportunity to try some sets out and get the bench some run.
Doublewide shut down several of their key starters for this game, as players like Ethan Pollack and Kurt Gibson will need all the energy they can get once the elimination rounds start on Friday. This gave some of the role players on Doublewide the chance to shine, most notably Chase Cunningham who was given the keys to the offense in this game and delivered a spectacular performance hitting on deep shots and cutting aggressively downfield.
For Rhino the game gave them the chance to get some momentum and good chemistry going before prequarters on Friday morning. Their top players played most of the game, as they sought to work out some of the kinks that had held them back in their losses to Ring of Fire and Sub Zero earlier in the day. Doublewide's defense trotted out several zone looks, most likely to have them in their pocket in case the conditions get windier as the weekend goes on, and it gave the Rhino offense a chance to get reps against poachy looks.
Without Doublewide's studs on the field, Rhino comfortably controlled most of the game. A late surge by the feisty second string defense of Doublewide tied the game at 14-14, but a picture perfect backhand over the zone from Cody Bjorkland put Rhino back on top 15-14.  A nice poach block gave Rhino's D-line the chance to win the game, which they would on a screaming cross field flick from Kevin Minderhout to Timmy Perston.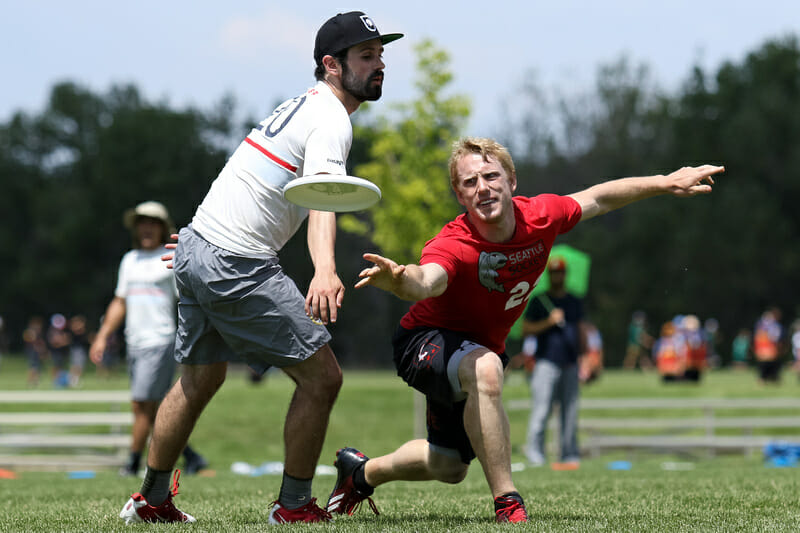 Pool C:
Sockeye 13-12 Truck Stop
It's pool play! It doesn't matter! 
That's been the hip snark tossed around by players, coaches, and media alike. For the four teams jockeying for position in Pool C that slogan isn't totally true.
"I think it doesn't matter on paper but I think it matters for our team mentality," Seattle head coach Roger Crafts said after his team's round 3 win. "We subbed openly. We wanted to get a lot of guys touches but we were focused on our goals the entire day today and it paid off pretty well."
For the first time all day, Sockeye (overall #3, seeded C1) had been tested. Truck Stop (overall #6, seeded C2) had come all the way back from 10-6 to tie the game after an wildly cheeky up wind lefty scoober from Matthew McDonnell, (seriously unbelievable). So the cap comes, 10-10 game to 13, and Sockeye guts out an offensively perfect game to three – as Danny Karlinsky found Phil Murray on a stall nine around flick to the break space. Ball game.
Seattle displayed their depth with subbing in this win. 10 different players registered Sockeye goals.
For the second time today Truck was able to mount a massive comeback. Impressive, though not unusual.
"It's kind of our MO this whole season," captain and D-line staple David Cranston said. "We were down three breaks against GOAT and came back and won. Our regional final against Temper we scored five straight breaks… We need to figure out how to spark that fire for us in the first half and stop being a second half team."
A mutually beneficial game. Both teams got to put in real work. Seattle got to feel a some pressure and Truck should get the memo that they can't start slow against a team of that caliber.
Florida United 15-14 GOAT
Toronto and Florida had pretty different experiences in the first two rounds of play.
After a slow start against Sockeye, United (overall #10, seeded C3) subbed to saved legs, then upset Truck Stop. An uplifting 1-1. A whole different feel than the 0-2 start of GOAT (overall #15, seeded C4), which included a collapse against Truck Stop in round 1, followed by a 15-9 loss to Sockeye.
This was a physical affair with a lot of calls. TMFs were issued to each team for questionable bids before GOAT found themselves down two breaks at the half. Florida United would capitalize on a Toronto turnover again when Cole Sullivan made a spectacular catch on an Andrew Roney around backhand to make it 10-7.
A scoober from Toly Vasilyev to Remi Ojo gave GOAT some life. Then United received their third language TMF and had to play the disc from the middle of their own endzone. Florida would go on to hold.
At 14-13 and with United working the disc down for the win, Vasilyev managed a much needed catch block. A United player receives yet another language TMF, giving Toronto the disc on the attacking brick, and setting the table for the tying Adrian Yearwood score.
On double game point a Jordan Huston huck floated over Cole Sullivan and two defenders where Andrew Roney reeled in the game winner.