How exciting does a foul have to be for it to make the highlight reel?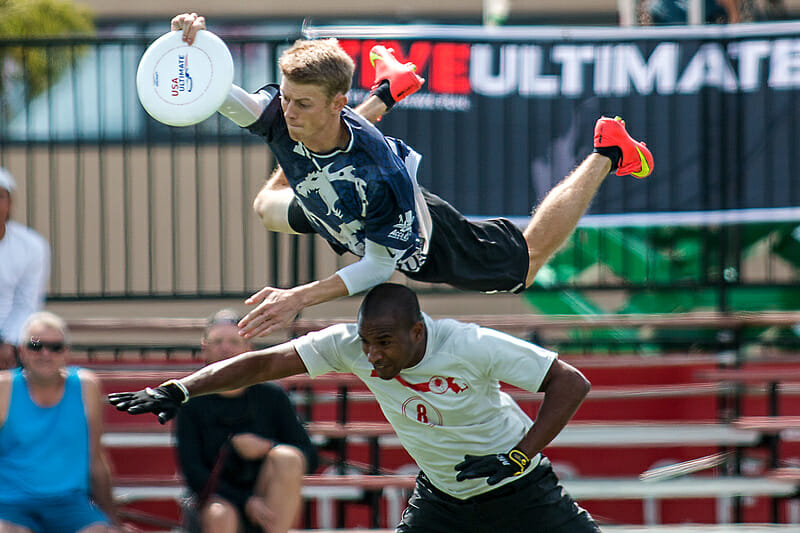 Selling out the sport of ultimate is going to look a lot less like taking a big wad of cash or a television contract in exchange for referees and more like thousands of smaller concessions that make the game worse for players in exchange for bids at "legitimacy" and "promotion of the sport."  Some of these smaller concessions may add up to undermining our ability as a sport to self-officiate and will usher in referees as players begin to demand active 3rd party officials to maintain some basic rules standards.
That type of concession is what we saw last week when USA Ultimate highlighted a play at their Club Championships with what appears to be both a foul and a dangerous play. The video was featured on SportsCenter's Top 10 and then retweeted by USAU.
There's been a good deal of discussion about the play, most of which has focused on whether or not the play was a foul (with the majority of the commenters — including high-level players and one USAU rules committee member — saying they think it is). Much less focus has been on USA Ultimate's role in helping to promote the play or even what their role should be.
In the wake of the discussion, I reached out to USAU's National Observer Director, Mitch Dengler, and the USAU Standing Rules Committee Chair, Colin McIntyre, to get an official USAU position on whether it was a foul and/or dangerous play.  They passed me on to USAU's Director of Communications and Marketing, Andy Lee.  Andy responded with the following:
Thanks for the inquiry and the opportunity to comment, however we will not be providing any official statement regarding the play you're asking about.
I followed up with some additional questions:
Why did USAU choose to not make an official statement on this play?
Who makes the decision on what plays get nominated for SC top 10?  If ESPN makes those decisions, does USAU have any latitude to overrule them and have them not use them?
As a self-officiated sport, is the USAU concerned that USAU-promoted highlights of illegal plays may cause confusion about the rules and create a difficult-to-self-officiate or unsafe playing environment?
I received no response to the follow-up e-mail..
I am disappointed by USAU's lack of of communication1 about the issue, but I sympathize some with the dilemma they face.  The play was athletic and exciting, was not called a foul on the field, and helps to dispel "mainstream" notions about ultimate being "not a sport." As "increasing the visibility of ultimate" is the top goal in USAU's current strategic plan, it's hard to turn down an athletic highlight that ESPN wants to promote on the sport's behalf.
On the other side of the argument, another of USAU's strategic goals is "Make Spirit of the Game real for Today's Ultimate players and community."  The top strategy under that goal is "Lead a community-wide effort to clarify and communicate how Spirit of the Game (SOTG) applies to behaviors on and off the field." Surely, part of making SOTG real and clarifying how SOTG applies on the field includes ensuring a clear and shared understanding of the rules.
Since the play was almost certainly a foul or a dangerous play2, the choice to highlight the play presents a direct conflict between two of USAU's strategic goals.
I believe that before promoting the sport, USAU's responsibility first and foremost should be to those of us that play it to maintain and promote the rules that allow us to participate.  USAU (and before it the UPA) has had a long-standing commitment to self-officiated play, a position that has prevented USAU from working with the semi-professional leagues. Over 99.9% of ultimate played in the U.S. is self-officiated.  In order for us to successfully self-officiate, we need to have some common understanding of the rules of the sport and how they should be interpreted. Having the national governing body promoting play that is against the rules introduces confusion over what is/is not allowed, undermines our shared understanding of the rules, and threatens our ability to move forward with a self-officiated game. This type of confusion is particularly damaging with the dangerous play rule because a lack of clarity on how the rules apply to plays that have a high potential for injury at the youth or recreational level will quickly increase the voices that believe there needs to be a 3rd party to protect the safety of participants.
Promotion and media coverage of the sport is important, but should not be seen as a goal in itself. It should be seen as a tool to grow the sport in the way that the membership and the sport's players want it to grow.  If promoting this particular play undermines the way the USAU wants the sport to be played or draws people into the sport who believe this is a fair way to play, the organization will lose exactly what it's working so hard to grow.
Some have argued that other sports promote plays that include violations of the rules.  But, other sports also have officials at even the lowest levels that can enforce the rules and don't rely on the players having a clear, shared understanding of the rules.
Others have argued that the play should be promoted because it demonstrates the athleticism of the sport, but we have many clips that do that and aren't fouls or endanger other players.  In fact, those plays are often more athletic because the players demonstrate such a high degree of awareness and body control.
http://gfycat.com/ConstantSnappyEagle
I hope that USA Ultimate proactively addresses the situation. I believe that their actions should include the following:
1. An official statement regarding whether or not this specific play is a foul and/or a dangerous play.
USAU should start by removing any confusion around this play and, if it is a foul and/or dangerous play, make clear why they chose to  promote it widely. If the play is not a foul, USAU should rewrite both the receiving fouls and dangerous play rules to provide increased clarity.
2. A policy that USA Ultimate and its media partners only promote plays that are legal under the current rulebook.
USAU putting a policy on what the organization itself promotes should not be controversial; official promotion of the sport should not undermine USAU's goals for how the game is played. I understand that the media side of this is unusual, but if the partnership with ESPN is undermining USAU's other goals for the sport, then USAU should reevaluate that partnership.
3. Creation of a video library to address confusing rules situations, both as clarification for players and to properly train observers.
This probably should have been done years ago.  There is so much video out there and hosting video is virtually free. Shoot, USAU could even have a YouTube channel for rules explanations that makes money — this is a win-win project for the sport.
4. Review the dangerous play rules to provide increased clarity on whether dangerous play is applicable on plays that endanger teammates as well as opponents, as well as how to resolve dangerous play calls.
Currently, the rules say that endangering any player is a dangerous play but only an endangered player can call it. It is also not completely clear how a dangerous play should be resolved. How, for example, should a play be treated where a defender chooses not to make a bid on a disc that would cause a dangerous play, but an offensive player does make the bid, and in so doing, endangers his or her own teammate?
http://gfycat.com/VastClearIriomotecat
5. Review of the observer roles in dangerous plays.
In general, I am strongly against observers making subjective calls without players initiating the call. However, given that players often do not have a clear perspective on whether or not they were endangered, that dangerous plays could include endangering a teammate, and that it is a basic safety issue for the players involved, we should consider observers being more proactive about observer roles in dangerous-play situations.
6. Highlight plays where players avoid dangerous play.
While perhaps not as satisfying, it's also important to highlight players choosing to not make dangerous plays. Highlighting moments where athletes avoid "win-at-all-costs" play is a way to "make SOTG real."
http://www.gfycat.com/ScalyDrearyHairstreakbutterfly
In many ways, the Schoenrock play is small: just a single moment from a four day tournament. In other ways, it is the essence of the challenge our sport faces: the desire to gain legitimacy, promote and grow ultimate, to highlight our athleticism, our efforts, the sport, and the excitement it provides while also highlighting our unique take on player control. If the highlight could have included all of the nuance of this play — that the defender had the opportunity to call a foul but, in the end, decided not to — and an acknowledgement that the play was against the rules, it could have been amazing.  But, the current sports media isn't built for that level of nuance.
I believe USAU made a mistake in promoting this play and must take steps to amend the mistake. And, regardless of USAU's position on this issue, it is on all of us as players and coaches to lead the sport and guide it. We must take it upon ourselves not to promote play that undermines the rules. When our national governing body fails to communicate what is and isn't acceptable, we must guide players that we play with and coach that plays like this are fouls. And we should acknowledge and celebrate the players that can make amazing plays and do it within the rules and those that make efforts to avoid dangerous plays even on the national stage.
A previous version of this article stated that Head Observer Mitch Dengler had indicated that Observers can proactively make dangerous play calls. That is not entirely accurate. Observers can make dangerous play calls if a player stops play with a foul call but can not actively stop play to make a dangerous play. In those situations, the player need not specifically call "dangerous play" for an observer to rule that the play was a dangerous play but the fouled player must first stop play with a foul call.
---
In the past, USAU has privately expressed frustration when articles talked about the organization but did not reach out for comment.  Yet, here, when I've reached out for comment, they've opted to say nothing. ↩

While I believe this is both a clear foul and a dangerous play, without a clear statement from the USAU Standing Rules Committee and with some players saying it is a legal play, I suppose there is the possibility that the SRC believes this should be a legal play and the rules just need some clarification. ↩