Six pieces of advice for how to make the most of your offseason and enter next year with a strong nutritional base.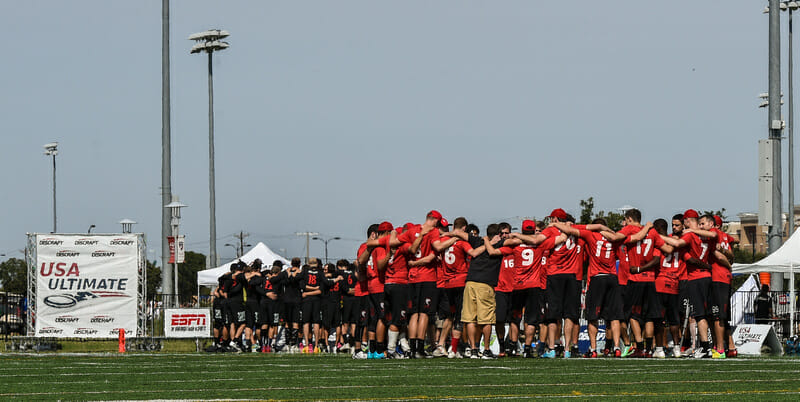 This article is presented by Five Ultimate; all opinions are those of the author. Please support the brands that make Ultiworld possible and shop at Five Ultimate!
I hear this question from ultimate players a lot: "If I could make one quick change to my diet, what should it be?" I love and I hate this question. I love it because it makes me happy that people are at least making the first step towards eating healthier—and I love telling people that they should probably eat at least five times as many vegetables as I assume they're currently eating. But I hate it because the underlying assumption of the question is that nutrition is simple, that good nutritional health can be achieved by a minor tweak here and there.
Improved nutrition is not as simple as adding branched-chain amino acids to your post-workout snack; it's not as simple as eating more anti-inflammatory omega-3 fatty acids after an injury; it's not as simple as restricting your eating to just eight hours a day.
Nutritional health is not a quick change that you can make in a day, or even a week—and maybe not even in a month. So as the Club season comes to a close and players settle into an offseason where they are frequently doing much less to take care of their bodies than over the summer, it's important to keep this timeline in mind. If you want the advantages of your dietary adjustments to show up on the field, now is the time to start making those changes and integrating them into lifelong, sustainable eating habits. Don't wait until tryouts start in the spring.
But we like quick fixes—we like the promise of being faster or thinner or more toned tomorrow. As athletes, we're constantly looking for any little thing that will give us an advantage over our competition. The nutritional supplement industry has taken notice of this: it's one of the fastest growing industries in the world, pulling in $104 billion in 2013. Unfortunately, as consumers, we're being taken advantage of: health professionals and non-professionals alike who consider themselves nutrition experts have taken our love for quick fixes and are selling them to us.
A look at Amazon's "Hot New Releases" in nutrition reveals what diet fads–and their staggeringly efficient and effective promises–are trending today:
Zero Belly Cookbook: "A groundbreaking collection of recipes that will teach anyone how to cook beautifully, lose weight fast, and get healthier in just minutes a day…with its proven formula to rev up metabolism, melt away fat, and turn off genes that cause weight gain."
Ketogenic Diet: "This book has proven meals guaranteed to help you lose weight fast and enjoy doing it! Did you know that a ketogenic, combined with the right exercise, is all you need to lose weight, build muscle, and get ripped?"
The Whole30: The 30-Day Guide to Total Health and Food Freedom: a "step-by-step, recipe-by-recipe guidebook that will allow millions of people to experience the transformation of their entire life in just one month."
You can also look at a list of The 100 Most Influential People in Health and Fitness and, barring Michelle Obama, see that most of them have empires dedicated to selling nutrition books, advice, products, and supplements. But most of these quick fix books are not founded in evidence-based research. They're often based off of a few cherry-picked studies with poor methodologies, flawed statistical analyses, and many biases–disregarding any studies that contradict their claims.
The media plays a huge role here, as well, by reporting on studies with sensationalized and shocking headlines (it isn't interesting or newsworthy to report another study that says that vegetables promote good health).
Together, these factors lead us to believe that nutritional health is easily obtainable in just a few days with just a few small changes to our diets. Instead, you need to look at your diet in a bigger context: you can't simply add a so-called "superfood" to your diet and expect it to negate the effects of too much alcohol and too much sugar or not enough vegetables.
At this point, you may feel like I'm telling you that switching from white rice to brown rice, or even adding an extra serving of vegetables to your diet per day, is pointless. While it won't result in meaningful changes tomorrow or at your fall league game, it probably will have at least a small effect on your health and wellness in the long-term. And if you integrate it into your eating routine now, it may pay off when it matters most—during the season. In addition, starting with small but persistent steps can lead to big changes over time, which will help you become a better athlete. Add all of those small changes together–eating more vegetables, eating more whole grains and less refined ones, eating less added sugar and drinking less alcohol–and your body will be a healthier body.
And that's why it makes sense to think about this now: because no dietary change, adopted just weeks or days before Nationals, could have improved your performance at Nationals. But integrating better dietary habits into your life now, with six months until your next club tryouts, can lead to changes that could affect your performance in a positive way. You may start with these:
Adjust your caloric intake. It's very likely that both the intensity and volume of your training has decreased significantly since the season ended. While 3000-4000 calories may have been the right number to support muscle growth, endurance, and energy expenditure for track workouts and lifting sessions (and recovery), your body probably doesn't need that much energy anymore. Luckily, if you go from training every day to doing nothing, your appetite will also probably decrease, making it a little easier to match your caloric intake to your energy needs. Of course, many people have started taking the offseason more seriously and start lifting regimens right after Nationals; if this is you, make sure you're still eating enough calories and protein to support muscle growth and recovery.
Avoid the extremes. Ideally, you're eating the same diet and foods year-round—with plenty of sources of high quality protein, healthy fats, and fiber-rich foods. The alternative—sticking diligently to a very strict diet during the season and then letting go completely right after Nationals—can upset your body and just isn't a sustainable way of eating (and I'm all about sustainable eating habits). It's fine to celebrate "fat week" or "donut week"—one week with a little more sugar and calories than usual really won't affect you long-term. But if you yo-yo from one extreme to the other for months at a time, it's likely that your body will have trouble digesting foods that it hasn't seen in a few months—and you'll have to deal with the extra weight come pre-season.
Focus on making changes to your body composition now. Whether you're aiming to gain muscle mass or lose fat mass (or both), now is the time to focus on that goal. I heard from a few people in the month before Nationals that they were actually eating less to drop a few pounds of fat. I was skeptical: eating fewer calories than your body needs during peak training will probably set you up for failure before and at Nationals, as you won't be eating enough calories to promote recovery. In addition, it puts you at increased risk for injury and illness and will likely leave you feeling weak during your workouts and more tired throughout the day. Gaining muscle is also difficult when you're in peak season—if you're already relatively fit, it's difficult to put on muscle with how much you're training. But the offseason is a great time to work towards your ideal body composition, as any cuts to your caloric intake won't affect meaningful performances (unless you're really serious about winter league).
Develop good habits now. Finding time to cook during the season can be difficult with work, travel, and all of your workouts/pods/practices/team meetings. In the offseason, though, you likely have more time—and that extra time can be put to good use if you spend some of it dedicated to food planning and preparation. Start developing good habits now (making time for breakfast, learning a few new recipes to add to your weekly rotation) and it'll be much easier to keep those habits once you're back in season.
Try new things and experiment! I always beg my readers to avoid trying something new before a tournament, whether it's a new breakfast, a sudden onslaught of fiber, or more caffeine. The offseason is the perfect time to find out what makes your body function at its best. Play around with meal timing: do you feel better during warmups if you eat a big breakfast two hours before or a smaller breakfast with a few snacks closer to running? Do caffeine pills make you jittery and anxious or do they give you the perfect boost? Whatever changes you were thinking of making last season or that you're interesting in making for next season—these next six months, with few competitive games on the line, are the time to try them out.
While they're not the quick fixes we all may crave, these steps are the foundation to improved nutrition—and ultimately better performance on the field. Think of it like building your fitness: the track workout you do on Thursday won't make you more explosive on Saturday. But the many track workouts you do throughout the season, that build upon one another, will make you more explosive at Nationals. Just as there is no quick fix for developing optimal fitness in a few days, there is also no quick fix for developing optimal nutritional health in a few days.
So start adjusting your eating habits now. And don't forget to eat more vegetables.